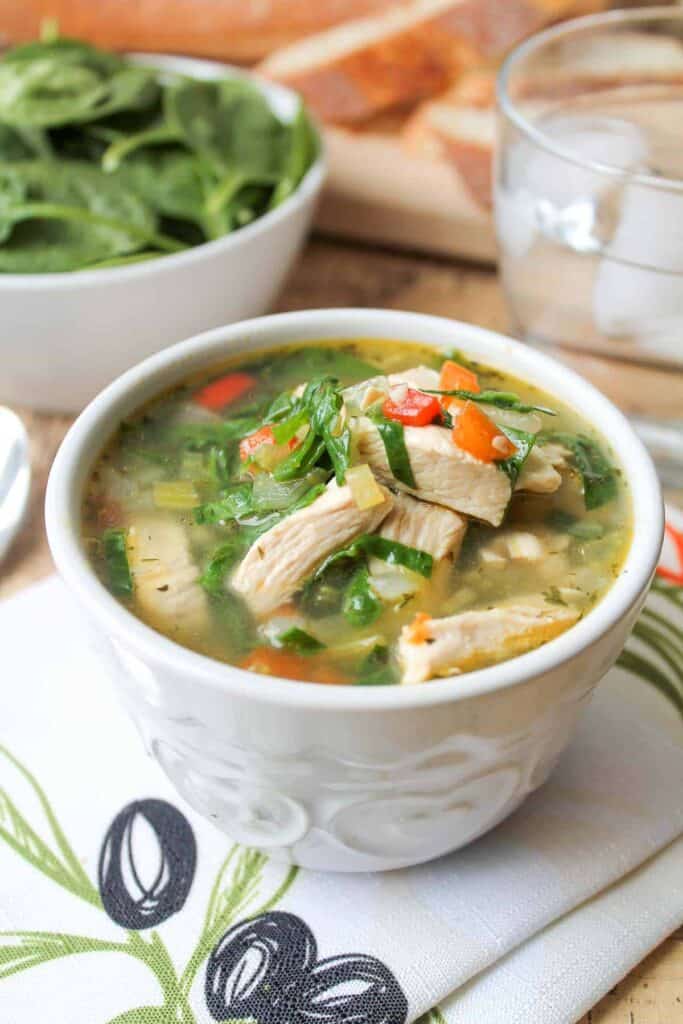 Spring finally arrived in our neck of the woods and after a deliciously warm walk, I decided a nice, fresh soup chockfull of veggies would be just the ticket for dinner. Joe picked himself up a baguette at the local bakery on our way home from our hike to go along with our soup. Well, not me because I'm halfway through the Whole 30 challenge, so no bread for me, but it looked and smelled great. I was a hint jealous, but enjoyed my meal nevertheless.
Do you ever make one of those 'everything but the kitchen sink' meals? This soup was kind of that. I had a big container full of spinach for smoothies but didn't realize the best before date on it was a tad sooner than I thought. For some reason I'm having trouble with it being 2015 and think all of the best before dates are labeled the 15th of the month and not the year 15. Not cool. In some cases, like this one, I'm buying spinach that's going to go bad in a couple of days.
Not to worry, chop a bunch of it up and toss it in your soup. The nutritional value of spinach is said to be higher when it is slightly cooked, so it's probably better off in the soup than a smoothie anyway.
I had a half a pepper and some celery in the crisper and some baby carrots in a container in the fridge. I totally forgot to put the carrots in the soup however, so my soup lacked that colour which bummed me out. I love orange. 🙂
We were ready to eat in under an hour and happily slurped away in our sunny living room. So glad to see that sun. Bring on the summer! 🙂
Chicken Vegetable Soup with Spinach – Gluten Free
Ingredients
1/2 medium onion, chopped
1/2 red pepper, chopped
2 stalks celery, chopped
2 tbsp. olive oil
3 cloves garlic, minced
1/2 tsp dried dill
1/2 tsp dried basil
1 tsp dried parsley
sea salt & pepper to taste
6 cups water or broth
2 chicken breasts, chopped into bite sized pieces
2 cups chopped spinach
Instructions
Heat olive oil in a large pot over medium low heat
Add onions, peppers and celery and season with sea salt and pepper. Stir well and sauté, stirring occasionally, until softened, about 5 minutes.
Add minced garlic and cook, stirring for 1 minute longer. Add spices and cook, stirring for another minute
Add broth, stir, then add the chicken pieces. Bring to boil, then lower the heat and simmer for 30 minutes
Stir in the chopped spinach and cook for another 5 minutes
7.6.4
490
http://thehonoursystem.com/2015/04/15/chicken-vegetable-soup-with-spinach-gluten-free/