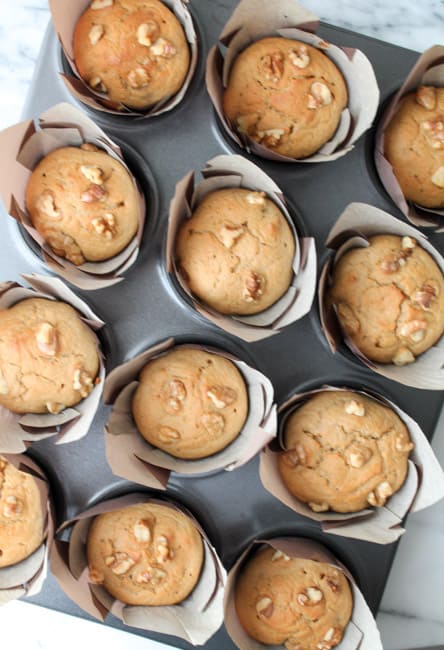 Looking for a not-so-sweet muffin to start the day? What about a nice treat with a cup of tea after dinner? Maybe an afternoon boost to get you through a long day? Well, I have you covered on all three.
These delightful little muffins hit all the marks. Subtle sweetness from natural sources like pure maple syrup, coconut sugar, and of course the deliciousness of the ripe bananas. Greek yogurt helps to make them soft and pillowy and of course walnuts for the crunch factor.
Perfecto!
To keep thing wheat/gluten free I decided to make my own gluten free oat flour in the blender. It was my first time attempting to make homemade flour from oats but how hard could it be?
All you need is certified gluten free oats and the rest is child's play.
Add the oats to the blender.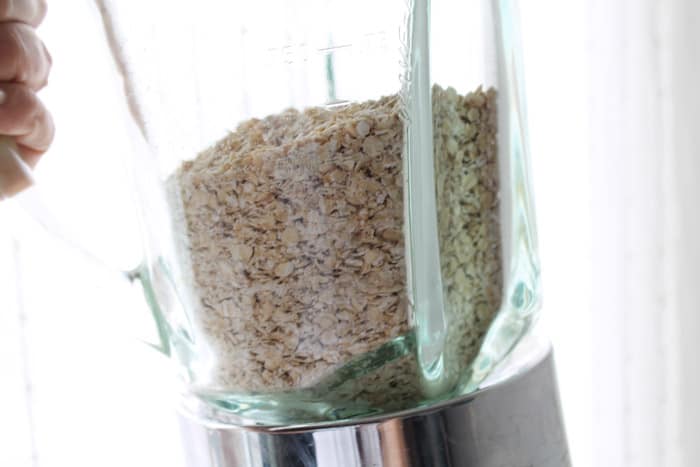 Then blend the oats into a flour. I had to shake mine around a couple of times to get it going. My blender is nothing fancy so anyone with any old blender should be able to do this.
I ended up with flour. 🙂
Check it out!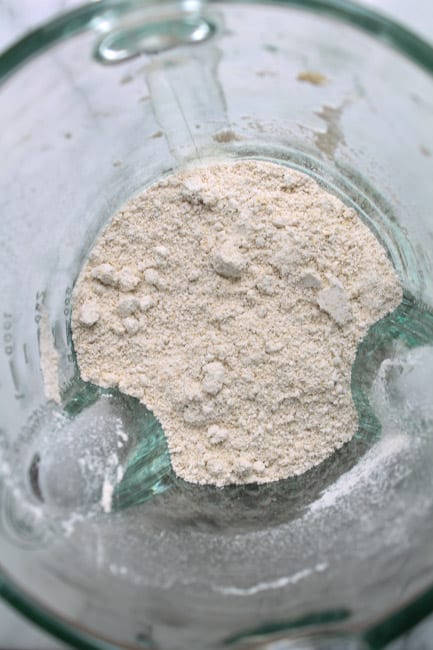 Hmmm. That was easy. 😉 Add the rest of your ingredients to the blender and give them a whirl until you have a nice smooth batter, without any lumps.
And what's a banana muffin recipe without walnuts? Am I right or am I right? 😉
Stir those babies into your batter.

It was the most lovely sunny afternoon and rays of light were just streaming in the window. I was feeling domestic bliss. Wearing my apron, baking banana muffins from scratch and knowing that within the hour my kitchen would be enveloped in the aroma of fresh baked, whole food amazingness.
It was a beautiful day and we could taste it in the muffins. I always say that love is one of my most important ingredients and it never fails.
So on the next sunny Sunday afternoon, maybe bake yourself up some love. 🙂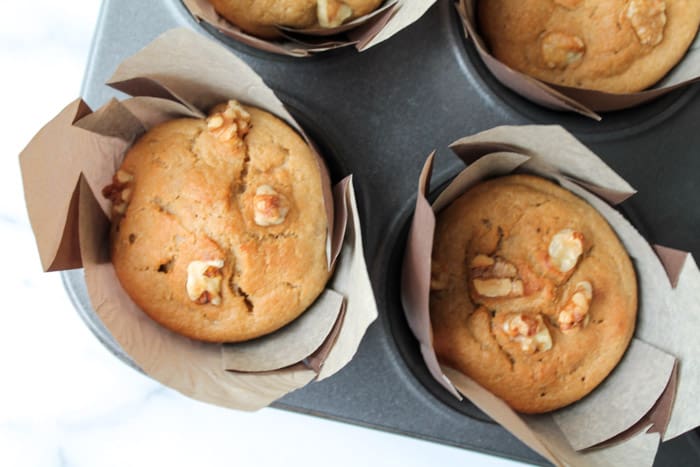 As an Amazon Associate I earn from qualifying purchases.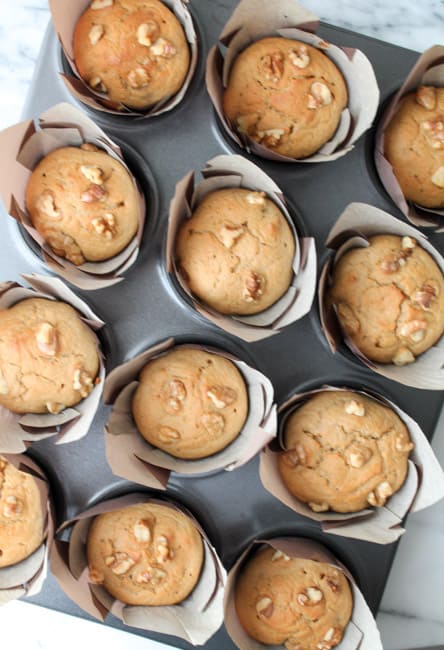 Banana Nut Greek Yogurt Muffins – Gluten Free
Keyword:
banana greek yogurt muffins, gluten free muffin recipe
Instructions
Preheat oven to 400 and line a muffin pan with paper liners

Add oats into a blender and mix until it turns into a flour-like consistency. Add in remaining ingredients except walnuts to the blender and mix until the batter becomes smooth. Stir in nuts with a spoon

Pour batter into lined muffin pan, filling each just over ¾ full, sprinkling each with a few of the reserved walnuts

Bake for 25-30 minutes, doing a toothpick test to make sure they are cooked through

Allow muffins to cool in pan for about10 minutes before removing