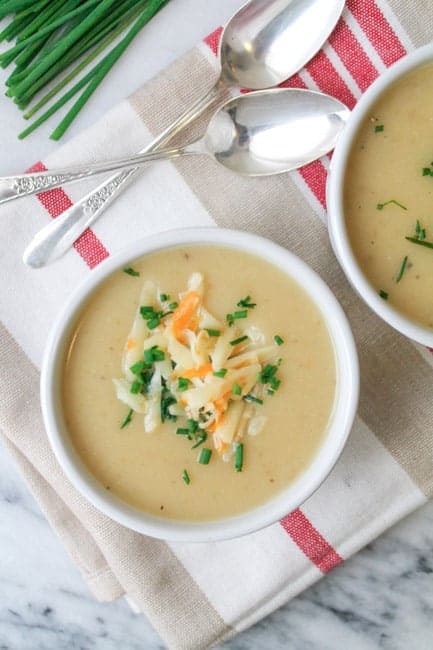 Mmmmmm … Warm, comforting soup. Creamy and velvety. Like a little blanket for your insides.
Feel like soup yet? 😉
After my mini meltdown over website issues ( Don't update all of things at the same time. Trust. ) I was feeling a little exhausted and gloomy. What better way to pull me out of this funk than to make soup.
My inspiration came from my friend, Richel. Twice a week, we meet up and have our butts kicked by Kathy, our trainer. In between plié squats and side bends, the three of us chat about anything and everything. Well, last week the topic was a soup that Richel threw together using cauliflower, broccoli and a cornucopia of veggies. Sounded good to me, so I picked up a head of cauliflower on my next grocery run. I couldn't see any broccoli but I did see potatoes. So glad I went with the spuds because nothing says yummy, wintery soup like potato soup does.
Sweat down some onions and celery with some olive oil and garlic. Recently, I made some of this rosemary infused olive oil, so I used that and the garlic paste for this recipe.
Rough chop for the cauliflower and potatoes. Nothin' fancy because everything's getting the immersion blender treatment anyway. And leave the skins on those potatoes! Extra fibre is awesome. Just make sure you give 'em a good scrub and buy organic. Potatoes are on the dirty dozen. Not negotiable.
After simmering away and blending until silky smooth, I poured in just the slightest amount of full fat coconut milk. Crrrreamy!
Now, I did add a little grated cheese to ours, so obviously, if you are vegan, don't do that part. 😉 I also added chives which are great for all.
So, mission accomplished. My mood was instantly lifted.
Happy soup! 🙂
As an Amazon Associate I earn from qualifying purchases.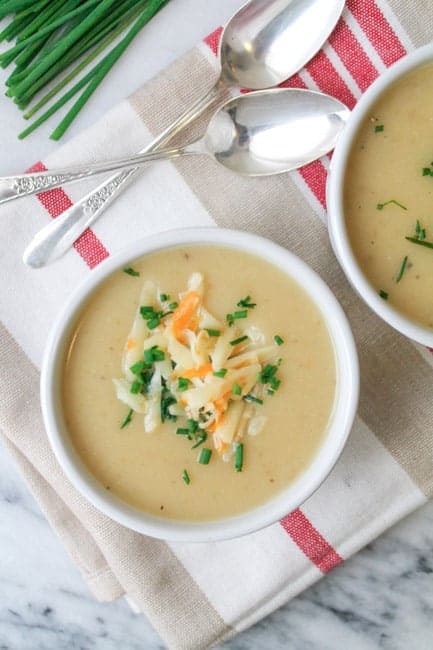 Creamy Coconut Cauliflower & Potato Soup – Vegan & Gluten Free
Keyword:
coconut cauliflower potato soup, vegan potato soup
Instructions
Heat olive oil in a large pot over medium heat. Add onion and celery and a sprinkling of salt and pepper, stir and let sauté over medium low heat for about 5 minutes. Stir in garlic puree or garlic and let cook for another minute

Add potatoes, cauliflower and broth. Bring to a boil; reduce heat to a bubbling simmer for 20 to 25 minutes until potatoes and cauliflower are soft

Remove pot from the heat and, using an immersion blender, blend until smooth. Stir in coconut milk and add more salt and pepper to taste

Garnish with cheese (choose a vegan variety if necessary) and chives (optional, but pretty good!)
Nutrition Facts
Creamy Coconut Cauliflower & Potato Soup – Vegan & Gluten Free
Amount Per Serving
Calories 219
Calories from Fat 54
% Daily Value*
Total Fat 6g 9%
Sodium 1442mg 60%
Potassium 1030mg 29%
Total Carbohydrates 35g 12%
Protein 6g 12%
* Percent Daily Values are based on a 2000 calorie diet.