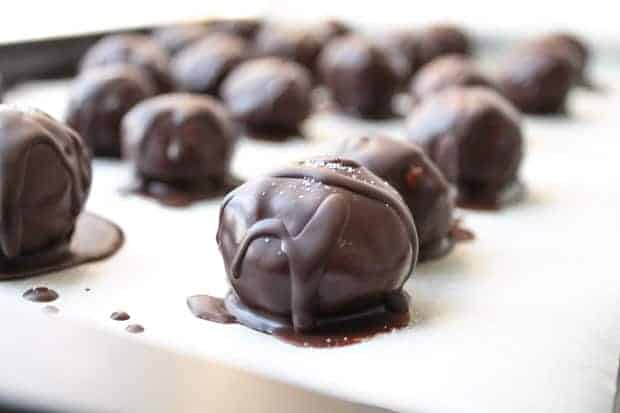 Are you ready for this? For dark chocolate and almond butter heaven? With a touch of maple syrup as a sweetener and ground almonds for texture, these truffles are not only easy and delicious, they are gluten free, vegan and allergy friendly. The true test of recipe success is when I can't stop eating the unfinished product. The almond butter mixture is pretty darn tasty and sampling was getting out of hand. 😉
This is a simple, measure and stir recipe. Love that! After adding the almond butter, ground almonds, maple syrup and a pinch of sea salt to a mixing bowl, you are ready to stir.
Give these truffles some crunch by mixing in some puffed brown rice. This was the stage where I began to sample. Yum-my!
Roll the dough into heaping tablespoon sized balls onto a parchment lined baking sheet and pop them into the freezer.
Meanwhile, melt together some dark chocolate chip and coconut oil. Once it's all silky and smooth, take out the balls from the freezer and one by one, roll them into the melted chocolate and place them back onto the same baking sheet. Off they go back into the freezer for about 30 minutes. Easy, right?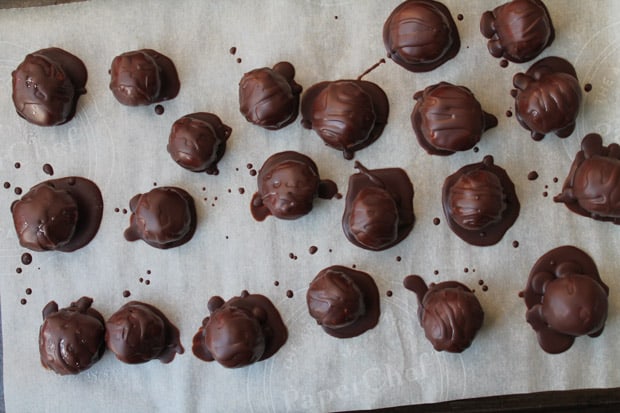 These truffles look and taste amazing. You may have noticed that unlike some other blogs where you see many photos of significant others, you haven't seen mine. Well, he's a little camera shy and a lot private. 😉 However, his greedy little fingers make an appearance below.  Just. couldn't. wait.
Immediately after, this little one started making noise too! Louis was feeling left out and popped his head around to announce himself. Much to his chagrin it was cat food instead of truffles for little Lou. 😉
Regardless of all the distractions, I managed to take some photos and then enjoy a couple of these beauties for myself. It was thumbs up all around. Treat yourself and your loved ones this weekend and whip up a batch of these tasty truffles!

As an Amazon Associate I earn from qualifying purchases.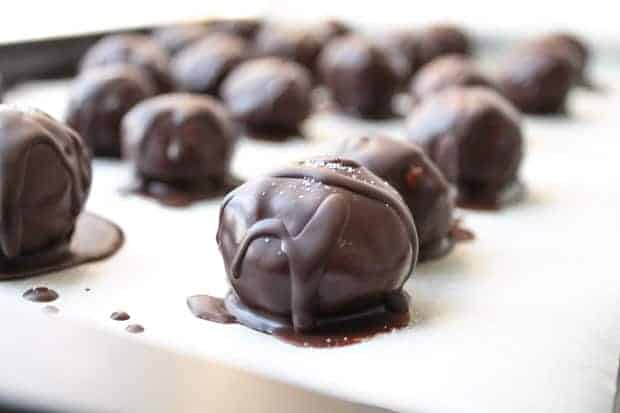 Dark Chocolate & Almond Butter Truffles
Keyword:
chocolate almond butter truffles, dark chocolate truffles
Instructions
In a medium mixing bowl add the almond butter, maple syrup, sea salt, and ground almonds and stir well then fold in the puffed brown rice

Form the mixture into heaping tablespoon sized balls and line up on a parchment lined baking sheet then place in the freezer

Meanwhile, over medium low heat, melt the dark chocolate chips and coconut oil together until liquid

Remove the balls from the freezer and one by one roll them in the melted chocolate and place them back on the baking sheet. I used 2 spoons to do this. Sprinkle each truffle with a touch of sea salt if desired

Place them back in the freezer for 30 minutes to an hour

Keep these stored in an airtight container in either the fridge or freezer
Nutrition Facts
Dark Chocolate & Almond Butter Truffles
Amount Per Serving
Calories 120
Calories from Fat 81
% Daily Value*
Total Fat 9g 14%
Sodium 33mg 1%
Potassium 124mg 4%
Total Carbohydrates 7g 2%
Protein 3g 6%
* Percent Daily Values are based on a 2000 calorie diet.