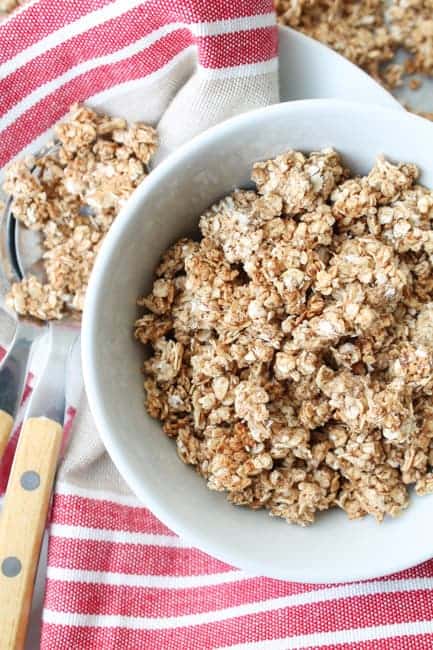 I'm a snacker for sure and cereal is something I always reach for when feeling like gettin' my snack on. A fresh bowl of cereal is like having a cold drink at the same time as your snack. Cool milk alongside crunchy sweetness. Such a perfect combination.
So lately I've been into cereal for my snack attacks and have kind of been feeling a little sheepish for eating boxed cereal. It is organic and non GMO and all that good stuff, but still, I'm a food blogger! Shame on me for not whipping up my own granola. It's so easy after all. Why not?
The ingredients for this quick and easy recipe are things that I pretty much always have on hand. Oats? Check. Almond Butter? Check. (side note – almond butter went down in price by an entire dollar at my grocery store! From $8.99 to &7.99. Still on the pricier side but it's a weakness. What can I say? ). Where was I? Ah yes! We have almond butter. Check. Maple syrup or any kind of liquid sweetener works in this. I went with pure maple syrup because that's what's in my fridge.
Combine said almond butter and maple syrup and melt them together nicely over a medium low heat. You want it to be nice and liquidy, not lumped together so keep the heat lower and stir it every so often.
Meanwhile, toss those oats with a touch of cinnamon. Use certified gluten free oats to keep this recipe totally gluten free.
Mix together the two and stir it up well. Pour it onto a parchment lined baking sheet and sprinkle with a hit of sea salt. With your fingers, toss the salt into the oats and then press the mixture out evenly on the baking sheet. I like to roll up a few balls of the oat mixture to create little crispy clumps when it comes out of the oven.
And when it comes out of the oven? Yum. So much better than from the box and really quite easy. Watch for when the edges start to turn dark. You definitely don't want to burn them so watch for this colour:
I stored my granola in a large mason jar where, it didn't last long.
I liked it with cold milk and I even took to snacking on it dry. The man of the house declared it the best yet! Even though he only got one bowl. Sucker! 😉
All kidding aside, this is a delicious, simple recipe that is sure to be a hit in your house too.
As an Amazon Associate I earn from qualifying purchases.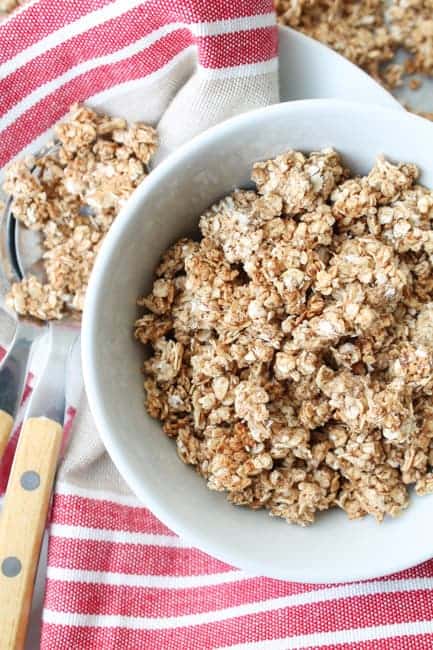 Easy Vanilla Almond Granola – Vegan & Gluten Free
Keyword:
vanilla almond granola
Instructions
Preheat oven to 375 and line a baking sheet with parchment paper

In a large mixing bowl, toss oats together with the cinnamon and set aside

Combine almond butter and maple syrup in a small saucepan and, over medium low heat, melt them together, stirring every so often to make sure it doesn't stick to the bottom or burn

Stir in the vanilla and pour the mixture over the oats. Stir until well combined

Spread the mixture onto your baking sheet and sprinkle with sea salt. Toss with your fingers and flatten out the mixture until flat and even

Bake for about 10 minutes, checking that it is not burning. When it starts to really turn brown along the edges you are good to go

I stored mine in a large mason jar with a lid