This simple, healthy recipe for Spinach and Goat Cheese Frittata is the BEST for brunch or even dinner! Enjoy this easy frittata recipe any time of day. It is also great for meal prep as leftovers heat up well!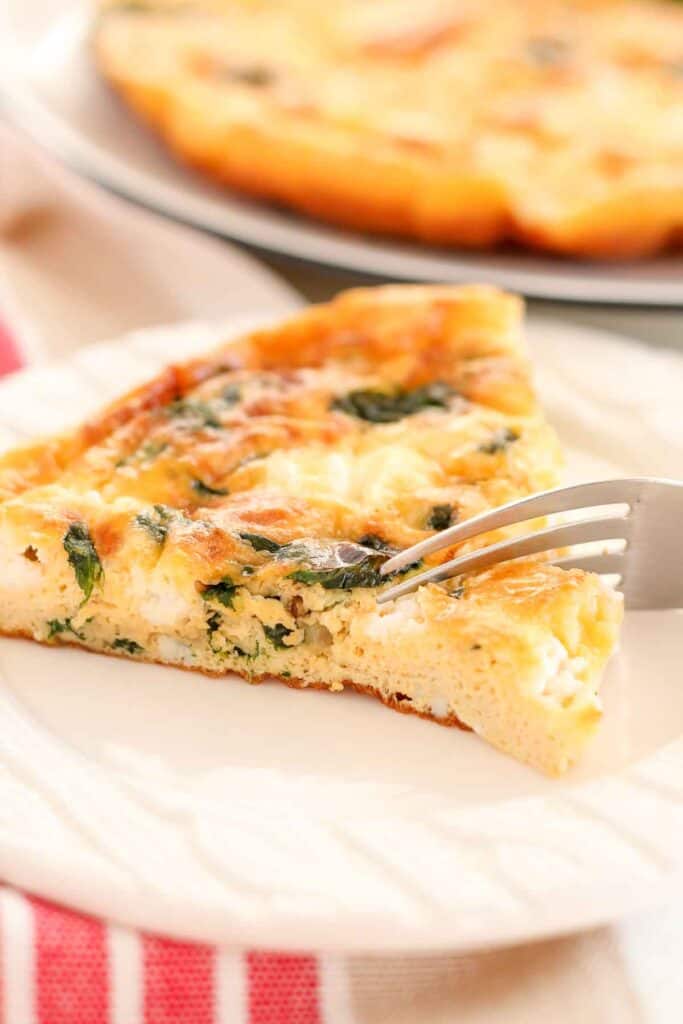 SPINACH AND GOAT CHEESE FRITTATA
Do you know what is the difference between an omelette and a frittata? They are both delicious egg dishes but the main difference is how they are cooked. An omelette is quickly cooked and served as a single portion, generally cooking the eggs, adding the fillings, and folding the cooked eggs overtop. A frittata is a little slower cooking and feeds a crowd, making it more ideal for brunch or meal prep.
How long will a frittata last? Properly stored in the fridge your frittata will last up to 3-4 days.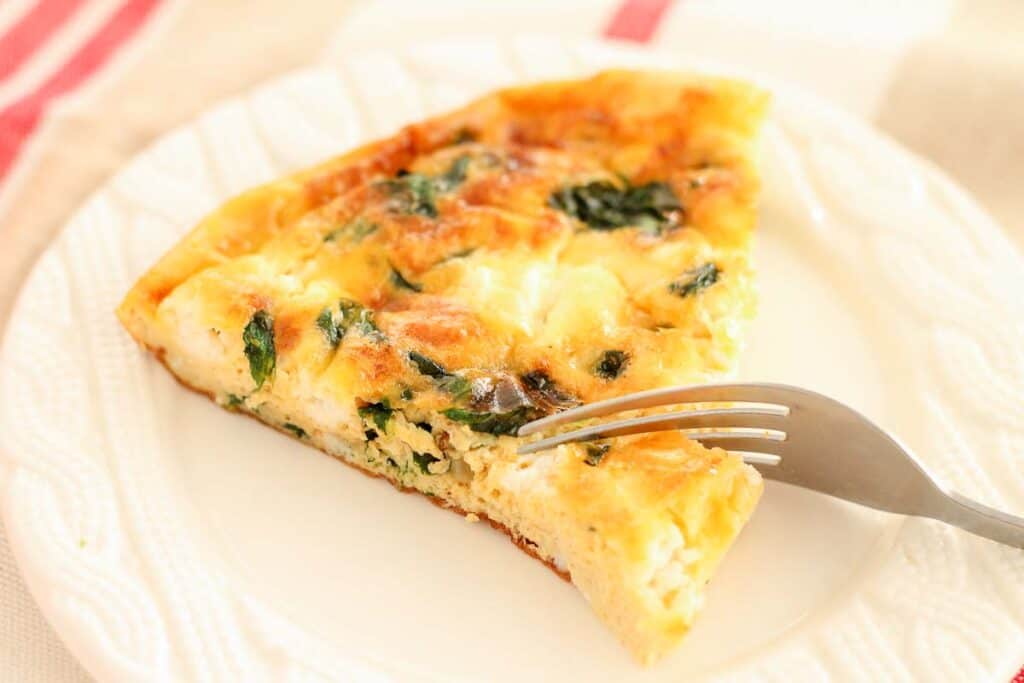 So how do you make a frittata? It is pretty easy actually! Once you get the hang of it customizing your frittata becomes the fun part. Eggs are such a great vehicle for veggies, so load them up!
The first tip in frittata making is choosing the right pan. What kind of pan do you use to make a frittata? My choice of pan is a ceramic, non-stick oven-safe 10-inch skillet (link at the bottom) because it makes my life so much easier knowing the frittata will slide right out when it is finished. I also finish my frittatas in the oven for a nice browned top, so oven-safe, meaning no plastic parts is crucial. Also, be sure you use a non-toxic skillet. No PFOAs etc.
INGREDIENTS FOR THIS RECIPE
Now we have the equipment side taken care of, what ingredients do we need? Let's take a look:
eggs
onions
spinach
goat cheese
milk
olive oil
butter
sea salt + fresh pepper
HOW TO MAKE A HEALTHY FRITTATA
First, crack your eggs into a bowl and give them a light whisk. You don't want to beat the eggs, just combine them so the yolks have been incorporated.
Add in your milk of choice and sea salt and fresh pepper. Do you have to put milk in a frittata? The answer is yes. It can be whatever milk you choose if you want to skip cow's milk, but milk is essential for a fluffy texture to your eggs.
Heat the olive oil and butter in your skillet and add the onions to be caramelized.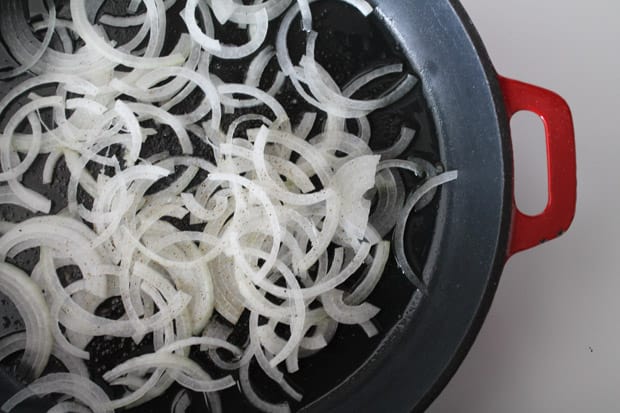 Once the onions have cooked, add the spinach and stir well. The spinach cooks quickly!
After the spinach has wilted down, pour in the egg mixture and crumble the goat cheese on top.
TIP! Using a mild, melty cheese like cheddar is lost in frittatas and you can barely taste it. I recommend a strongly flavoured cheese like goat cheese or blue cheese to really stand out in your dish.
Cook until eggs are set around the sides, using a spatula around the edges to carefully loosen, making sure they aren't sticking.
You definitely don't want the eggs to burn on the bottom. That would be a total waste of 8 eggs! Periodically lift up your frittata with the spatula to make sure the underside isn't browning too quickly. If it is, turn the heat down.
FINISHING OFF THE SPINACH AND GOAT CHEESE FRITTATA
Once the eggs have set around the perimeter and the center is just a little bit jiggly, pop the pan into the oven under the broiler for 3-5 minutes. After the first 2 minutes, I like to turn the pan handle to the other side to ensure it's cooking evenly. Do a quick check every so often to make sure the top isn't getting too brown.
If you are wondering why does my frittata go flat, it could be from overcooking it. It will deflate a little onceit comes out of the oven, that is normal, but it should still have a fluffy texture. Remember the frittata will keep cooking for a bit once it is taken out of the oven.
Once you take the pan out from under the broiler, run your spatula around the edges again so it doesn't stick when you slide the frittata onto a cutting board. Give it 5 minutes or so to cool.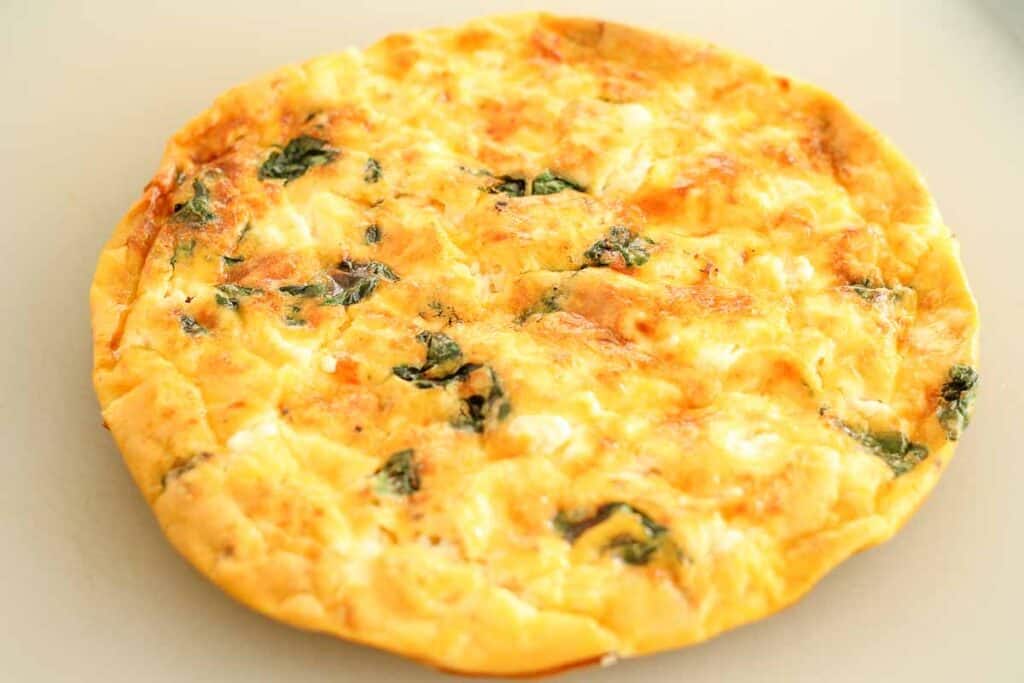 Then slice it into wedges. Easy as pie.
This Spinach and Goat Cheese Frittata can easily serve a family of four or a hungry couple with leftovers for lunch.
WHAT DO YOU SERVE WITH FRITTATA?
Pair it with a simple salad with a vinaigrette dressing and you have a complete meal.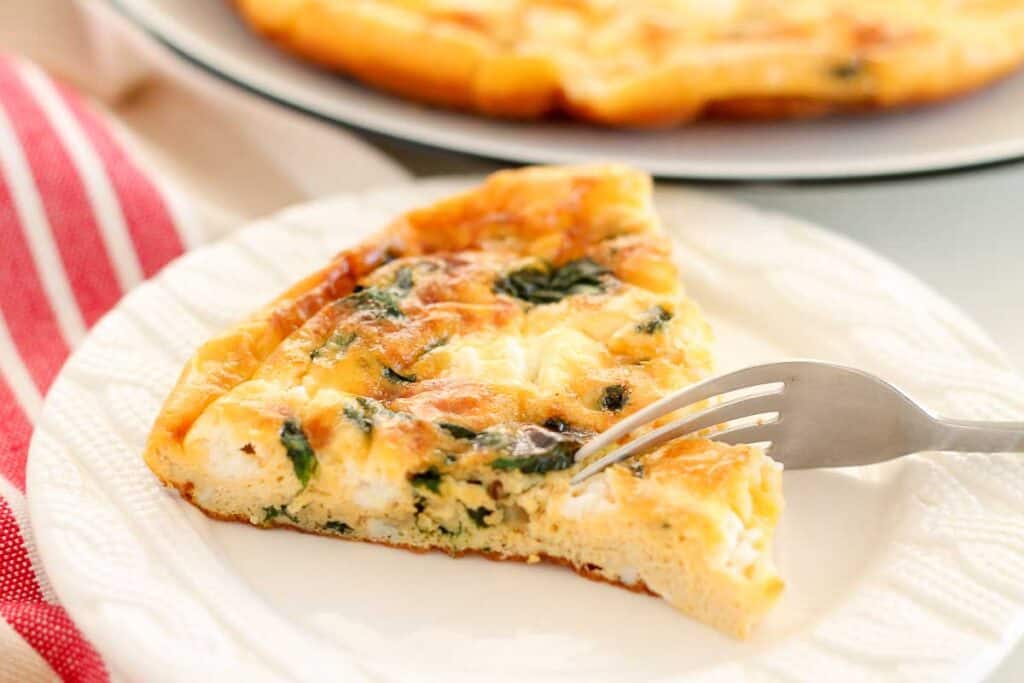 Some other great sides dishes for this frittata: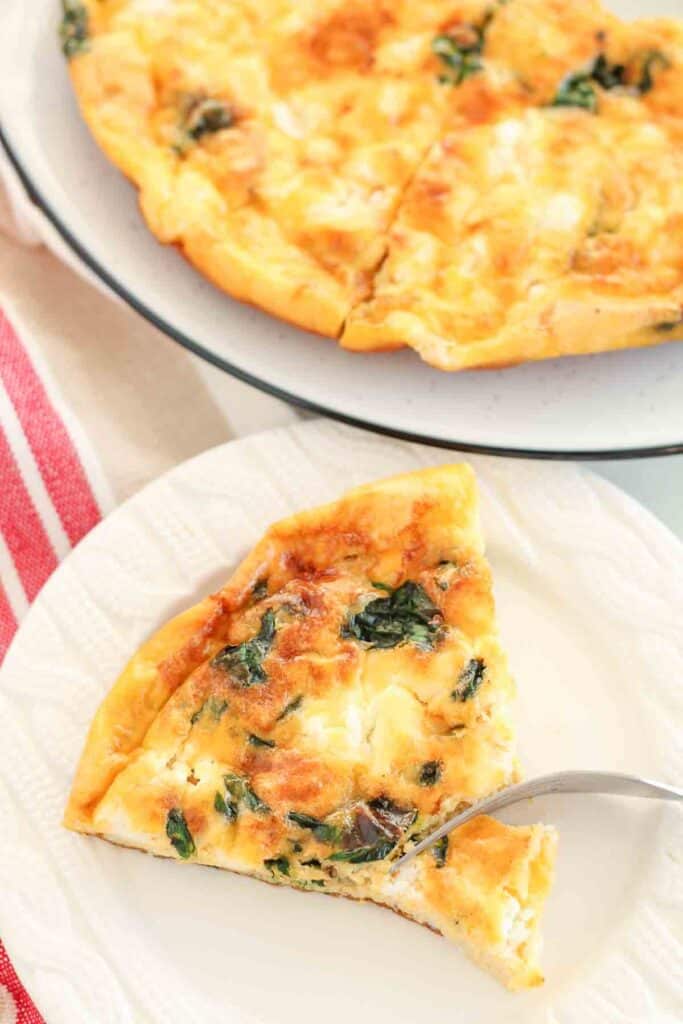 MORE HEALTHY EGG RECIPES:
Originally posted April 12, 2013. Updated December 15, 2020.
Be sure to follow me on social media! I love pinning to Pinterest, sharing on Facebook, and posting pics on Instagram. See you there. 🙂
As an Amazon Associate, I earn from qualifying purchases.
Spinach Goat Cheese Frittata
This easy Spinach and Goat Cheese Frittata is a healthy, simple egg recipe you can have for breakfast, lunch, or dinner! Gluten free.
Keyword:
easy egg recipes, goat cheese fritatta, vegetarian meals
Instructions
In an oven-safe 10 inch skillet, heat olive oil and butter over medium-low heat.

Once the oil and butter have melted and the pan is hot, add the thinly sliced onions, sprinkle with a bit of sea salt and pepper, and stir. Cook for about 5 minutes, stirring frequently until the onions are caramelized.

Meanwhile, in a large mixing bowl, lightly whisk eggs until the yolks are combined, don't beat it. Add the milk, sprinkle in a few shakes of sea salt, and 3-4 turns of fresh pepper. Whisk until just combined.

Once the onions have cooked, add the spinach to the pan and stir to combine. The spinach will quickly wilt and decrease in size.

Spread the caramelized onions and spinach evenly around the pan and pour in the egg mixture. Crumble the goat cheese evenly around the top.

Cook for 8-10 minutes or until the eggs are set around the edges but still a bit jiggly in the centre.

Be sure to run your spatula along the edges to make sure nothing sticks and periodically lift the frittata up gently to see if the bottom is browning too quickly.

Transfer pan to the oven and broil for 3-5 minutes or until the top has browned.

Remove the pan from under the broiler and slide the frittata onto a cutting board. Let it rest for 5 minutes before slicing into 6 wedges. Serve warm.

Leftovers can be stored in a covered container in the fridge for up to 3 days.
Nutrition Facts
Spinach Goat Cheese Frittata
Amount Per Serving (6 g)
Calories 180
Calories from Fat 117
% Daily Value*
Fat 13g20%
Cholesterol 231mg77%
Sodium 176mg8%
Potassium 183mg5%
Carbohydrates 3g1%
Protein 12g24%
Vitamin A 1504IU30%
Vitamin C 4mg5%
Calcium 95mg10%
Iron 2mg11%
* Percent Daily Values are based on a 2000 calorie diet.