Holy moly.
Do people still say that? Well, regardless, I'm sayin' it.
Holy, freakin' moly!
For my last "How do you #Herbamere?" post, (my previous recipes featuring this vegetable infused seasoning line are this Chipotle Bean Dip as well as a yummy Curried Egg Salad), I knew I wanted to make a Salted Caramel Sauce. What's better than creamy caramel with a hit of salt to awaken the senses? Not much apparently. I died a thousand times over this sauce. I also had to seriously restrain myself from not devouring the entire jar. To be honest, I did demolish a good three quarters of it. If I didn't have another recipe planned for the rest of this sauce it would not have stood a chance.
For this ah-mazing recipe I used A. Vogel's Sodium Free Herbamere. If the level of salt you consume is an issue try this product out. It has all the salty goodness you love with no sodium. It's also infused with organic vegetables. Nice.
OK! Onto the sauce.
It was almost too easy. No candy thermometers. Nothing scary like that.
The hardest part is to remember to have your tin of coconut milk in the fridge the night before so that the cream can separate from the water giving us this decadent, uber creamy base for our caramel sauce.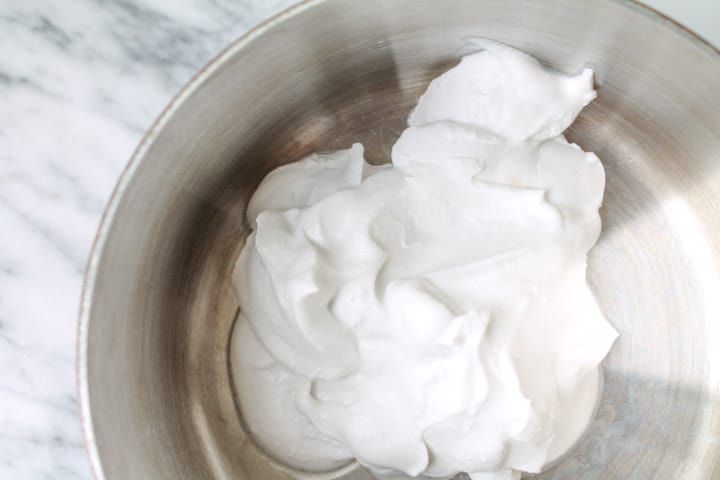 Blend it together with some coconut sugar and pure maple syrup and it miraculously becomes caramel-y bliss.
Get it going under a low boil then, stir it for about ten minutes over low heat. I kept my heat on the lower side so there's no chance of it burning. That would be tragic. No burning the sauce, people!
Remove it from the heat and let cool for about five minutes, then stir in some coconut oil and a bit of vanilla to take this from good to super great.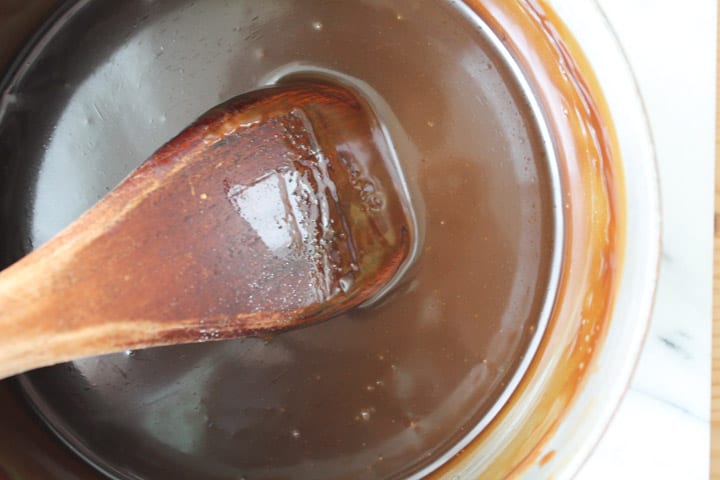 Serve this right away over ice cream or just on your spoon into your mouth like me. My treat was to scrape the pot clean. 😉
Transfer it into a glass jar and store in the fridge. It will thicken up (which isn't bad, in fact, better for spooning directly into your mouth 😉 ) but if you do want to thin it up just heat it up slightly in a sauce pan over medium low or let sit at room temperature for 15-20 minutes.
This may have been stirred into my morning coffee.
I have a feeling a lot of things will be containing salted caramel sauce in the future. A strong feeling.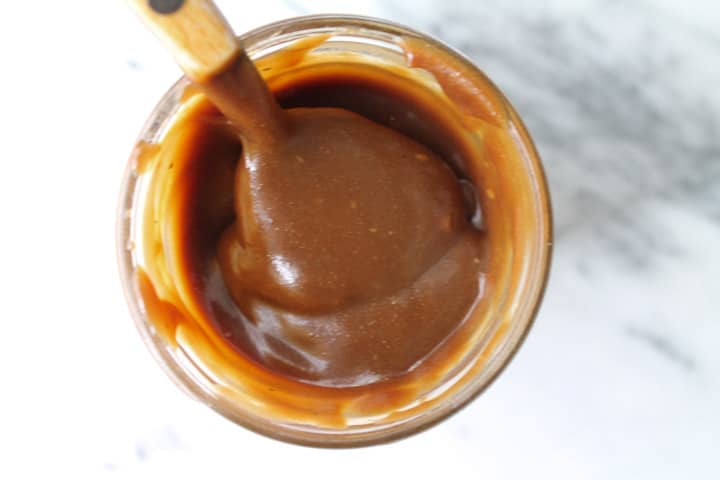 As an Amazon Associate I earn from qualifying purchases.
Salted Caramel Sauce – Vegan & Gluten Free
Keyword:
vegan salted caramel sauce
Instructions
Chill can of coconut milk in the fridge overnight so the cream and water separates. Turn the can upside down and open it, and pour off the water so you are just left with the cream

Place coconut cream, coconut sugar, and maple syrup in a small saucepan

Bring to a low boil, stirring, then reduce heat to medium low

Stir constantly for 10 minutes

Remove the sauce for the heat and let sit for 5 minutes, stirring occasionally

Stir in herbamere (or sea salt), coconut oil and vanilla until completely smooth

Either serve immediately or let cool in a glass jar and store for up to a week in the fridge