Texas Glazed Pecans are both a sweet and salty snack. Looking for something to set out for your Oscar party or next get together? These gluten free goodies will be gobbled up in no time.
It's Oscar time time again! I'm reminded of a quote, I'm not sure who came up with the line, that answers the question, "What's your favourite season"? The reply is "Awards". Hahaha.
To be honest, I'm not as excited as usual about the awards shows this year. I've grown a bit tired of the political chatter kind of replacing what typically would be heart felt speeches of thanks to loved ones and mentors. Being Canadian makes it even more tedious! My feelings are that I enjoy entertainment, like movies and TV shows, as an escape. I even stopped watching the Walking Dead! I was such a loyal viewer but the opening episode of the season this year was just too much, too unnecessarily violent, even for me. Maybe I'm becoming a huge softie?
I'll watch the red carpet fashion, for sure, though. The gorgeous dresses and hairstyles never disappoint. 🙂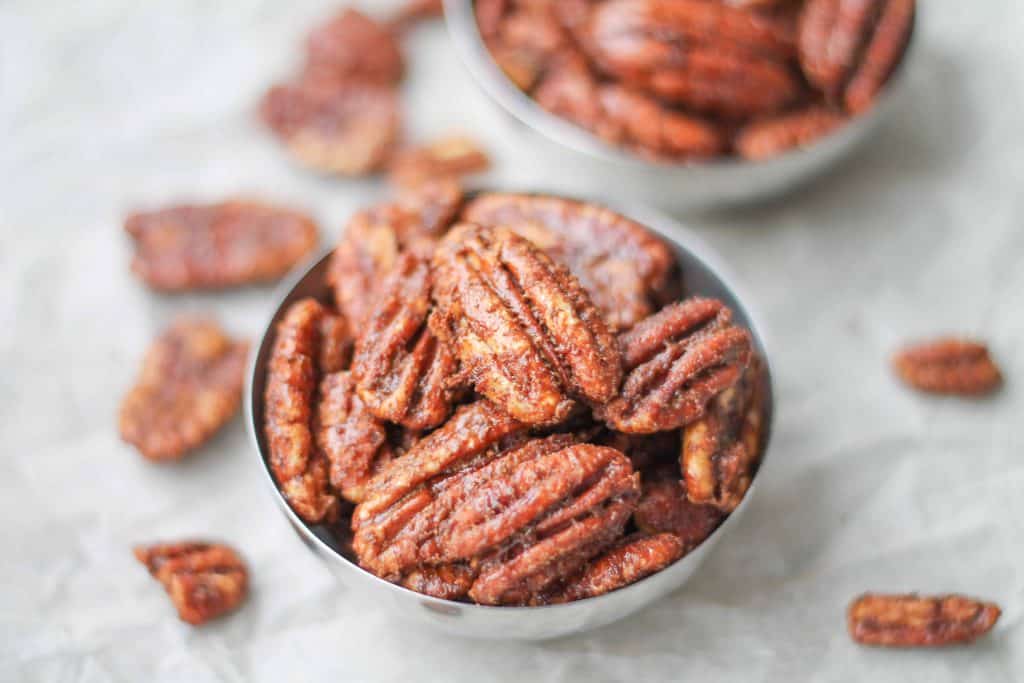 So, who wants to know more about my Texas Glazed Pecans? Hoping a few hands shot in the air. Well, let me tell you. For the past couple of years I've taken part in a blogger project headed up by the super organized and wonderful Haley at the Cheap Recipe Blog. Ten food bloggers have teamed together to bring you Oscar party dishes with a theme from each Best Picture nominee, PLUS a signature red carpet cocktail to keep your party guests jolly. 😉 Fun, I know! My movie is this year is: "Hell or High Water" which is a bank heist flick, set in Texas, hence, Texas Glazed Pecans. Boom!
My original idea was derailed thanks to a nasty second degree burn on my hand. I know, right? Currently the skin from the top of my thumb to my wrist looks like Freddie Kruger's face with a huge blister on it. So gross. Anyway, it was a set back from getting super creative in the kitchen.
The appetizer I was going to make was based on this funny diner scene. Get a load of the cantankerous waitress! And how awesome is Jeff Bridges? I'll answer that. He's awesome. I recommend the movie. Chris Pine is in it too, so there's that. 😉
https://www.youtube.com/watch?v=EFim0IPtmrM
So, my first brainstorm for an appetizer was to make T-bone steak crostinis with a both a green chimmichurri sauce and a yellow honey mustard sauce to represent the green beans and corn. "What dontcha want?!" Too bad I rendered myself incapacitated with chopping and whizzing completely out of the question.
Luckily, Texas is known for pecans ( which must be pronounced puh-cons if you know what's good for ya! ), and a tasty, crunchy, sugary, salty batch of Texas Glazed Pecans will boost the mood of any party. Or someone with a burned hand. Just sayin'.
Likewise, it's obvious these nuts are pretty simple to make if I could do it one handed. 😉 Stirring was in my realm of possibilities. The keys for a nice crust on these glazed pecans are low, slow heat, stirring periodically, and letting them cool down a bit before serving/devouring. Oh, and brush those teeth afterwards.
Don't forget to click through the links below! They will take you to the other bloggers creations for their movies. Every year I look forward to seeing these almost as much than the Oscars themselves! Remember the Cream Puffs based on the Grand Budapest Hotel by Femme Fraiche? Incredible. Such a great movie, too.
Have fun surfing and happy Oscars!
Arrival:
http://picklestravel.com/chocolate-dipped-fruit-spaceship-appetizers-oscars-party/
Fences:
http://www.cheaprecipeblog.com/2017/02/spicy-buttermilk-fried-chicken-and-waffle-bites/
Hacksaw Ridge:
http://www.oatmealwithafork.com/2017/02/12/flourless-muffin-cup-potato-latkes/
Hidden Figures:
http://femmefraiche.com/galaxy-whoopie-pies/
La La Land:
http://www.flourarrangements.org/2017/02/espresso-star-cookies/
Lion:
http://pupswithchopsticks.com/chicken-pakoras-with-creamy-coconut-dip/
Manchester by the Sea:
http://diningwithalice.com/soup/new-england-clam-chowder/
Moonlight:
http://www.kandradventures.com/arroz-con-pollo-rice-balls-with-spicy-cilantro-dip/
Oscars 2017 Signature Cocktail:
http://www.double-thyme.com/blog/2017/2/11/pomegranate-ginger-red-carpet-cocktail/
As an Amazon Associate I earn from qualifying purchases.
Texas Glazed Pecans – Gluten Free
Course:
Appetizer, Dessert, Snack
Keyword:
texas glazed pecans
Instructions
Heat your oven to 250, line a baking sheet with parchment and set aside

In a medium mixing bowl, whisk the egg white until it is frothy. Whisk in the water and vanilla

Stir in the coconut sugar, sea salt and cinnamon

Stir in the pecans and stir until they are fully coated

Pour the pecan mixture onto the prepared baking sheet and spread them out evenly

Pop into the oven for one hour, stirring well every fifteen minutes

Take the sheet out of the oven and stir well once again. Allow them cool for ten minutes

Store in a sealed container at room temperature
Nutrition Facts
Texas Glazed Pecans – Gluten Free
Amount Per Serving
Calories 234
Calories from Fat 180
% Daily Value*
Fat 20g31%
Sodium 98mg4%
Potassium 122mg3%
Carbohydrates 13g4%
Protein 3g6%
Vitamin A 15IU0%
Vitamin C 0.3mg0%
Calcium 26mg3%
Iron 0.8mg4%
* Percent Daily Values are based on a 2000 calorie diet.