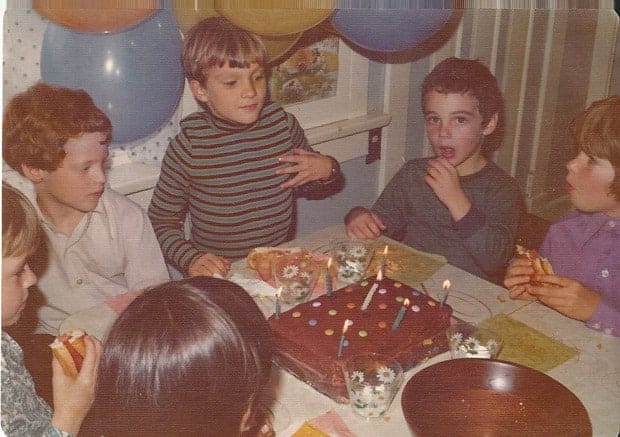 I don't typically post on Sundays, but this particular Sunday happens to be October 20th, my brother Tim's birthday. He's not much into gifts and considering he lives across the country in Vancouver, I can't just take him out for a drink or drop by with some cupcakes, so this is my way of marking the occasion.
Tim is 6 years older than me so I guess you could say I always looked up to him.
He's the best chess player of anyone I've met. This is a picture of Tim playing chess with my uncle. Do you see the concern on my uncle's face? He's thinking "Am I about to lose this game to a 9 year old?!"
I remember a letter I got from Tim when he was travelling through Europe after he had graduated university, and yes … I said letter. Remember letters? Back in the day, when we actually wrote words on paper and mailed it? Then 3 weeks later that person would read it? Crazy! Anyway, I digress … he had written about playing a game of chess in Prague against a man with the smelliest feet. I found it so funny that he would endure some funky foot odour just to get in a good game of chess 🙂
He's a daredevil and a Tai Chi master … I wish I had a photo of him practicing Tai Chi. I tried to steal one off his Flickr account but no go. I'll have to settle for a judo (I think, maybe karate?) pose from the 80's.
Tim's an active, outdoorsy type who loves animals and that obviously started a long time ago.
Tell me we weren't the picture perfect little brood of children.
From left to right is Tim, me, my brother, Daniel and sister, Delia. You can kind of tell I was excited I got to sit next to Tim 🙂 Gotta love that shag carpet!
My Mom noted in a little book she had of 'cute things' we did as kids that Tim had taken me to school when I was a baby for 'Show & Tell'. Ha!
This shot was taken in Parksville, BC, where we spent many summers on the beach. Good times …
Anyway, Happy Birthday, Tim! All the very best wishes for the year ahead 🙂