Do you need something quick in the morning? Are you busy getting the kids to school or running off to work? This Creamy Blueberry Breakfast Smoothie is a simple, healthy solution to give you that energy boost you need.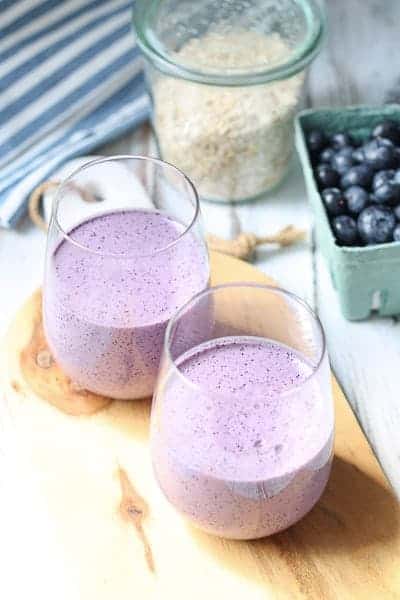 Mornings can be hectic and sometimes a smoothie is the best option for a healthy breakfast quickly.
How does this Creamy Blueberry Breakfast Smoothie stack up?
Can you say satisfied?
That is how you will be feeling once you've downed this thick and creamy beauty. 🙂
No shame if you grab a spoon to scrape down the sides.
I felt none when I did it. 😉
Creamy Blueberry Breakfast Smoothie
The creamy part of this recipe is courtesy of one of my favourite source of probiotics: thick, delicious Greek yogurt.
What are the benefits of probiotics?
I could write a paper on them, so to summarize, scientific evidence suggest that live bacteria (probiotics) can treat and even prevent illnesses related to your digestion. When your digestion is good, most everything else is good too.
Yay, probiotics!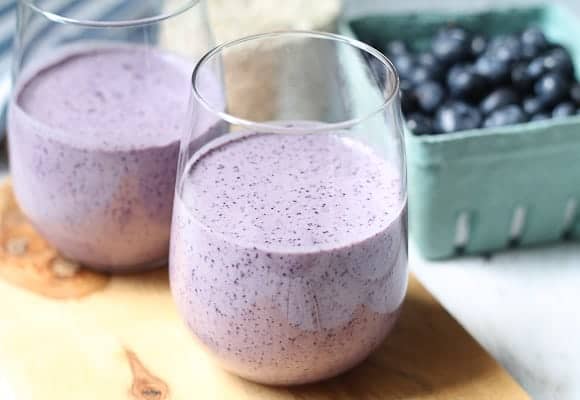 For the berries, I simply used a frozen organic brand that I've been using in my smoothies for ever. Tried and true, they are a great way to add freshness and sweetness to your blend.
If it's blueberry season in your neck of the woods you can totally throw fresh berries in there.
Now what makes this a 'breakfast' smoothie?
Oats!
That's right. I can't believe I've never tried this before. So incredible. A great way to add substance to an average smoothie.
This truly makes it worthy of the meal title. Breakfast smoothies with oats for the win!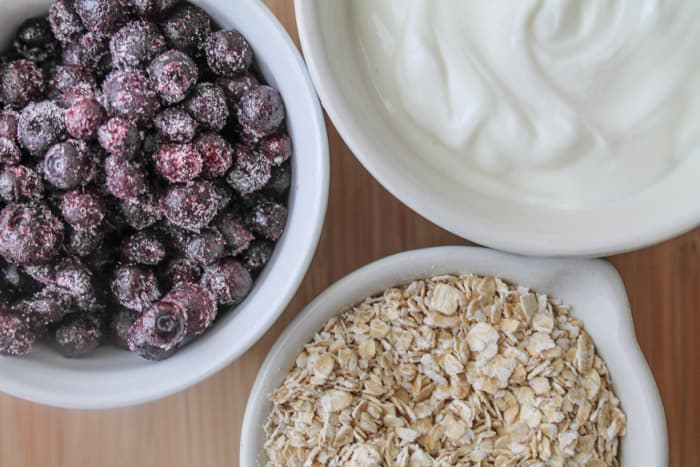 To add some bonus nutrition points, I supplemented with protein powder. My naturopath is pretty insistent on me getting a LOT more protein in my diet and this is such an easy way. Lately, I use a grass fed why from Natural Factors.
I love the consistency and flavour of this smoothie.
It tastes decadent somehow. Probably the creaminess of the yogurt.
With the warmer weather coming, and I've been promised that it is indeed coming, these will be the types of breakfasts I'll enjoy over comfort type brekkies like oats or pancakes.
MORE HEALTHY BREAKFAST RECIPES:
Oat Bran Breakfast Bowl with Almond Butter
Banana Bread Breakfast Cookies
*Updated with new photos and information June 14, 2019*
Be sure to follow me on social media! I love pinning to Pinterest, sharing on Facebook and posting pics to Instagram. See you there. 🙂
As an Amazon Associate I earn from qualifying purchases.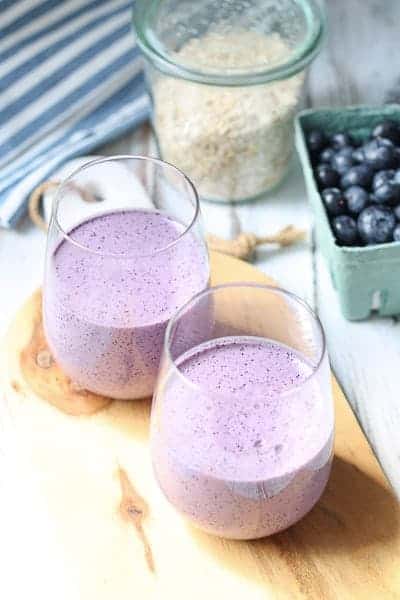 Creamy Blueberry Breakfast Smoothie
Keyword:
gluten free granola
Instructions
Blend all ingredients together until smooth. Add more water if needed