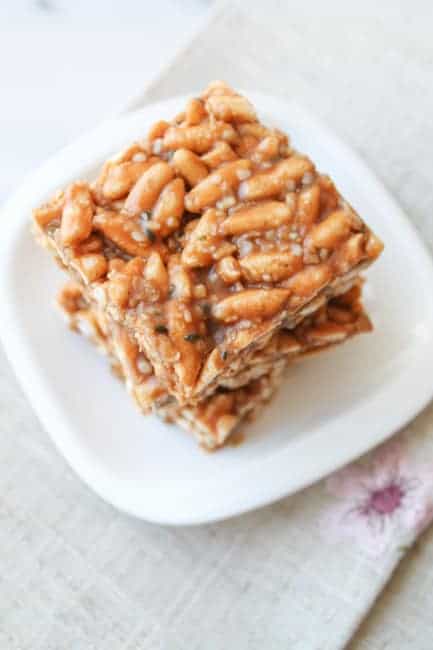 One of my favourite things to do is recreate old recipes and make them into a healthier, much more nutritious versions. These Protein Powered Rice Crispy Squares are a prime example. Instead of the traditional marshmallow-y, chemical laden treat you are familiar with, I've whipped up a tasty alternative using unrefined sweeteners, coconut oil, brown rice crispies and protein from two sources. Protein powder and hemp seeds. Boom and boom. 🙂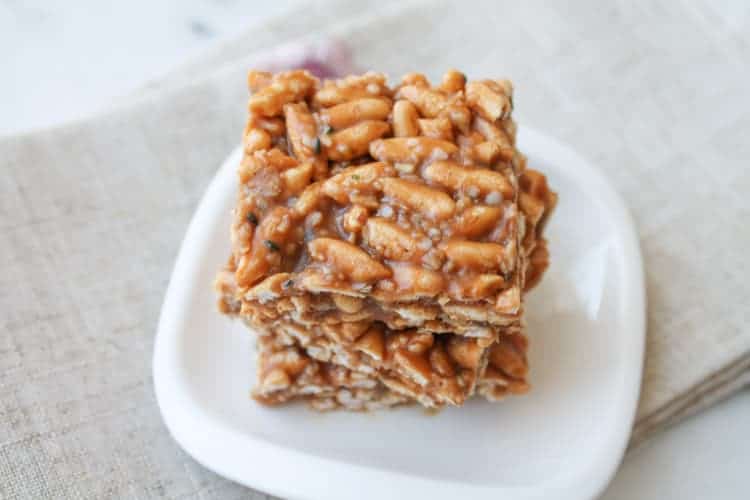 Like the recipe you made as a kid, this one is also fairly simple. I'm guessing the ease of making rice crispy squares is why we were all allowed to make these as children. I mean, you don't hear of anyone saying how much they loved making Baked Alaska or Beef Wellington as kids, do you? Too complicated, right? Well, no complications here. Only yummy-ness.
Melt together the coconut sugar, coconut oil and almond milk, then stir in the remaining ingredients. See? Easy peasy.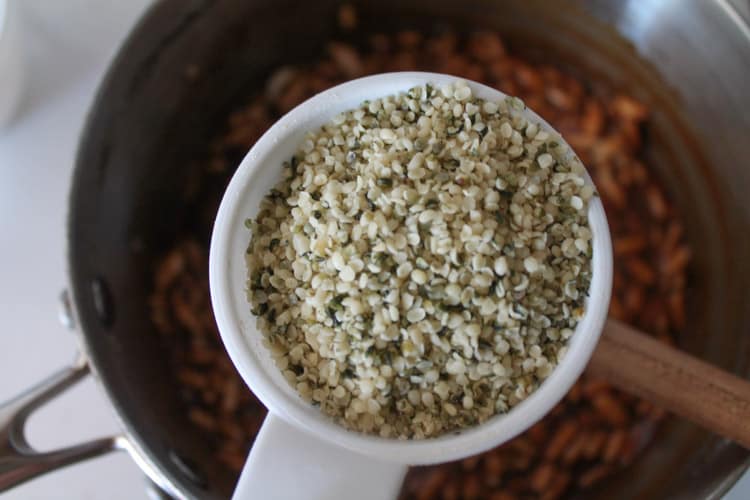 The result is a caramel-y, crispy snack. Ideal for post workout fuel or an afternoon pick-me-up. They are a big hit around this household with Joe gobbling them up and Louis (the cat) trying to lick my fingers after eating one. Poor little guy. He never benefits from the fruits of my labour. Just the same old cat food for him. Sad trombone. 😉
The good news is, you aren't a cat and can enjoy these whenever you choose.
Happy Monday! Have a great week everyone. 🙂
As an Amazon Associate I earn from qualifying purchases.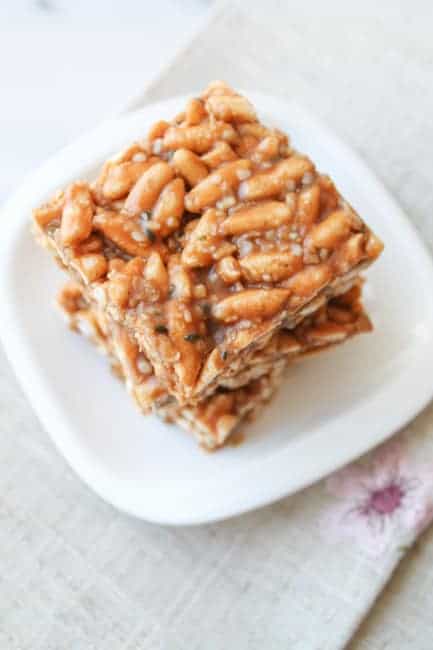 Protein Powered Rice Crispy Squares – Vegan & Gluten Free
Keyword:
rice crispy protein squares
Instructions
In a medium saucepan over medium heat, melt together the coconut sugar, coconut oil and almond milk. Stir well

Remove from heat and stir in the vanilla, protein powder, and coconut

Half a cup at a time, stir in the brown rice crispies. Finally stir in the hemp seeds

Line a 9x9 with parchment and grease the paper

Spread the rice mixture into the prepared dish and press down firmly. I used the back of a egg flipper

Chill in the fridge for an hour before slicing into squares
Nutrition Facts
Protein Powered Rice Crispy Squares – Vegan & Gluten Free
Amount Per Serving
Calories 98
Calories from Fat 45
% Daily Value*
Fat 5g8%
Sodium 30mg1%
Potassium 39mg1%
Carbohydrates 11g4%
Protein 2g4%
Vitamin A 60IU1%
Vitamin C 0.5mg1%
Calcium 19mg2%
Iron 1.3mg7%
* Percent Daily Values are based on a 2000 calorie diet.