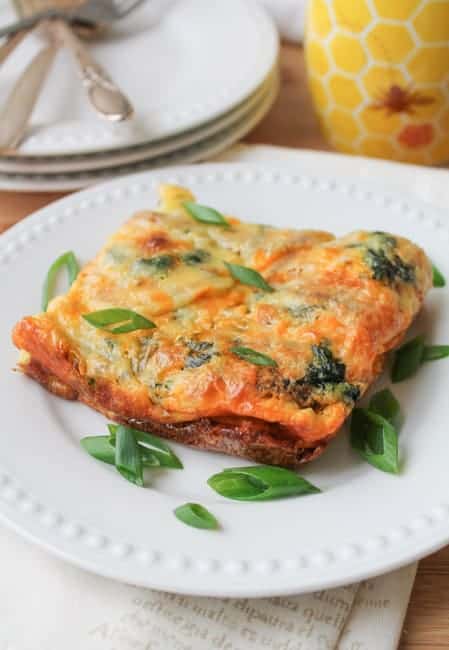 I debated calling this Egg Casserole a breakfast bake. I mean, it is eggs after all. The only thing is … I rarely eat eggs for breakfast. Don't get me wrong though! Eggs are a fabulous source of protein and are a wonderful way to start your day, it's just that I'm not feeling them in the AM. I like peanut butter generously spread on a sprouted grain English muffin or almond butter melting into a warm bowl of oats. Eggs, for me are more savoury. Like this Egg casserole with Sweet Potato & Spinach. I love all of these components but something about spinach at breakfast doesn't work for me.
Ask me at lunch or dinner, however, and you'll hear a different story.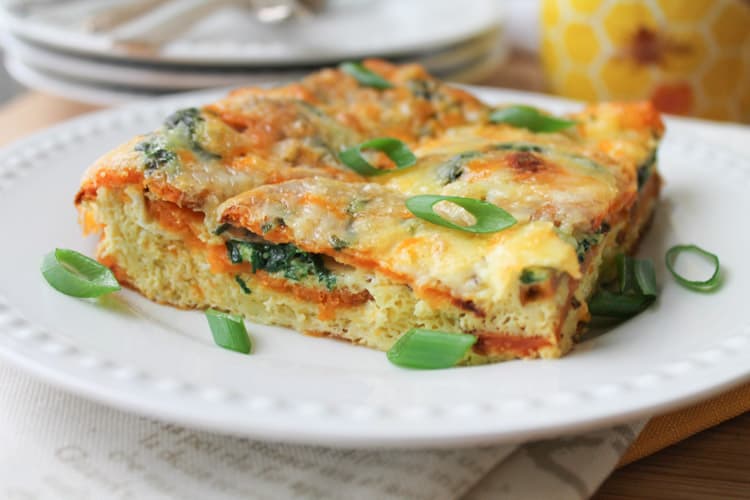 "Breakfast at dinner" is super popular around our house. Eggs are cracked with reckless abandon for a quick scrambled egg dinner, or Joe's famous "Noodles and Eggs". Should he guest post this recipe? Does anyone want to hear from the man behind the woman? 😉 Crickets? LoL.
My point is eggs at dinner are my jam. Lunch too, because eggs reheat like champs. This egg casserole is a case in point. Nicely warmed up the next day it makes a fast, healthy meal. Throw in a salad and you've got all the bases covered.
Thinly sliced sweet potatoes are tossed in the oven to roast.
Meanwhile, garlic is softened to sauté together with the spinach. I never cook with less than three cloves of garlic. It might seem like a lot, but I don't find that to be the case. Garlic is the spice of life as far as I'm concerned. It always surprises me a bit when recipes have no garlic. It's also uber healthy, packed with antioxidants, so I'm in! You can be that judge how much garlic you prefer.
Oh, and don't forget the cheese. I bet goat cheese would taste so nice in this casserole, too. I used marble cheddar to add colour and that slightly crisp top Like the garlic, you can decide.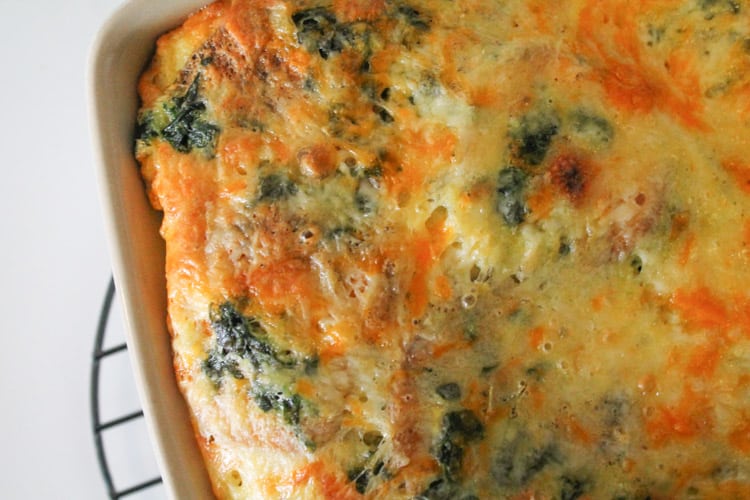 It all gets layered together with the eggs to create a little magic in the oven.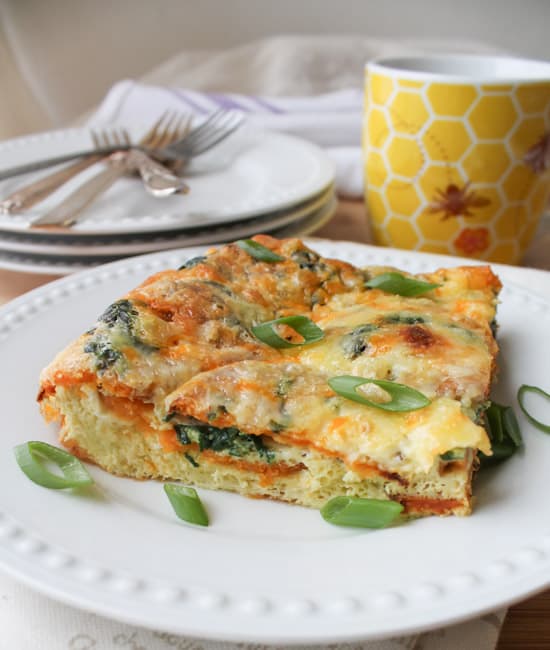 So whether you are having this at breakfast, lunch or dinner, I won't judge. I just hope you love it.
Happy Meatless Monday! 🙂
As an Amazon Associate I earn from qualifying purchases.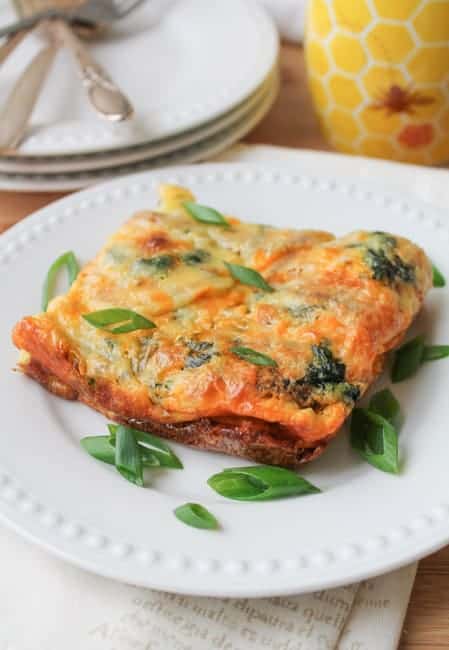 Egg Casserole with Sweet Potato & Spinach – Gluten Free
Course:
Breakfast, Main Course
Keyword:
egg casserole sweet potato spinach
Ingredients
1

medium sweet potato

scrubbed clean

1 1/2

tbsp.

olive oil

divided

1/2

tbsp.

dried rosemary

1/4

tsp.

sea salt

1/2

tbsp.

butter

4

garlic cloves

minced

2

cups

thinly sliced spinach

8

eggs

1/2

cup

milk

1

cup

shredded cheese

1/4

cup

sliced green onions

optional
Instructions
Heat oven to 375 and line a baking sheet with parchment

Thinly slice the sweet potato, then in a mixing bowl, toss it with 1 tablespoon of olive oil to coat. Sprinkle in the rosemary, sprinkle with sea salt and mix well again

Spread onto the lined sheet and roast for 20 minutes. Flip them over and roast for another 5 minutes. Remove from the oven and set aside. Turn the oven up to 400

In a small saucepan over medium-low heat, melt together the butter and 1/2 tbsp. olive oil. Stir in the garlic and sauté until softened, about 1-2 minutes. Keep stirring to keep from burning. Add in the spinach and stir well. Cook over medium low for another 2-3 minutes until wilted. Remove form heat and set aside

Grease a 9x9 dish and layer the potatoes evenly on the bottom. Cover them evenly with the spinach and set aside

In a large mixing bowl, whisk together the eggs and milk, then pour over the potatoes and spinach. Sprinkle it with the shredded cheese

Bake for 25 minutes until the centre is set. Turn the broiler to high and broil for 2 minutes to crisp up the top

Let sit for 5 minutes before slicing

Garnish with sliced green onions