Roasted Vegetable Frittata – Gluten Free
A couple of weeks ago I went nuts roasting a huge pan of fall vegetables and we ended up eating some variation of a roasted veggie dish for about three days in a row.
Thankfully, one included pasta, which is always a winner in our house and this one included a crispy cheesy topping so I kind of got away with it. I did receive a bit of resistance from the man of the house when I pulled out the frittata the next day for leftovers, but I, however, enjoyed it thoroughly with good dousing of hot sauce and a nice green salad the next day.
So there. 😉
I've read somewhere that you shouldn't reheat eggs. Have any of you ever heard that? I wonder why. I mean, I would never try to reheat, say a fried egg or something but baked eggs should be fine, right? I totally reheat eggs all the time.
Usually, frittatas are fairly easy, and this one would be too if you already have leftover veggies like I did when I made that huge pan I referenced earlier. Even if you have to roast the vegetables first, it's still pretty low maintenance and can be enjoyed as breakfast, lunch or dinner.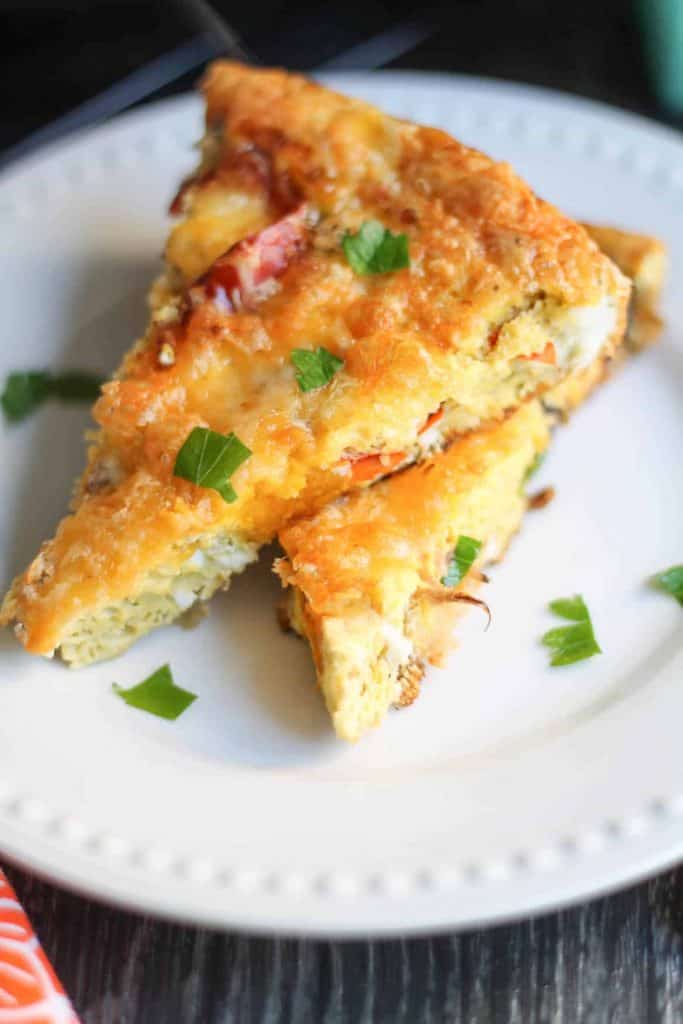 Boom. 🙂

As an Amazon Associate I earn from qualifying purchases.
Roasted Vegetable Frittata - Gluten Free
Ingredients
1

sweet potato

scrubbed clean and cut into chunks

1/2

medium onion

sliced into wedges

3 to

matoes

cut into chunks

3

cloves

garlic

smashed

4

tbsp.

olive oil

6

eggs

1/2

cup

shredded parmesan cheese
Instructions
Heat your oven to 375

Meanwhile chop up your vegetables for roasting, adding them to a 9x9 pan. Coat the veggies in the pan with 2 tablespoons olive oil, season with sea salt and pepper and toss well

Roast for 20-25 minutes, checking once or twice to give a stir and make sure nothing is burning

Once the veggies are roasted and cooked through, remove form the oven and set aside, and turn the oven down to 350

In a large mixing bowl, whisk together the eggs with a pinch of sea salt and pepper

Heat a skillet (I used a medium cast iron skillet) over medium heat with a 2 tbsp. olive oil, brushing the oil around the skillet with a paper towel, wiping it up the sides of the pan. Once the pan is heated add the roasted vegetables, spreading them out evenly. Then pour in the eggs

Top with the shredded cheese and let cook on the stove for 2-3 minutes, until the sides look set, then transfer the skillet (make sure it's ovenproof!) to the oven

Bake for 30-35 minutes, until the top is set. For a crispier top, broil for an additional 2-3 minutes

Let cool for 5 minutes, then slice and serve warm.
Nutrition
Serving:
4
Calories:
310
kcal
Carbohydrates:
9
g
Protein:
13
g
Fat:
24
g
Saturated Fat:
6
g
Cholesterol:
254
mg
Sodium:
313
mg
Potassium:
241
mg
Fiber:
1
g
Sugar:
2
g
Vitamin A:
5065
IU
Vitamin C:
2.5
mg
Calcium:
202
mg
Iron:
1.5
mg