Natural Pumpkin Spice Air Freshener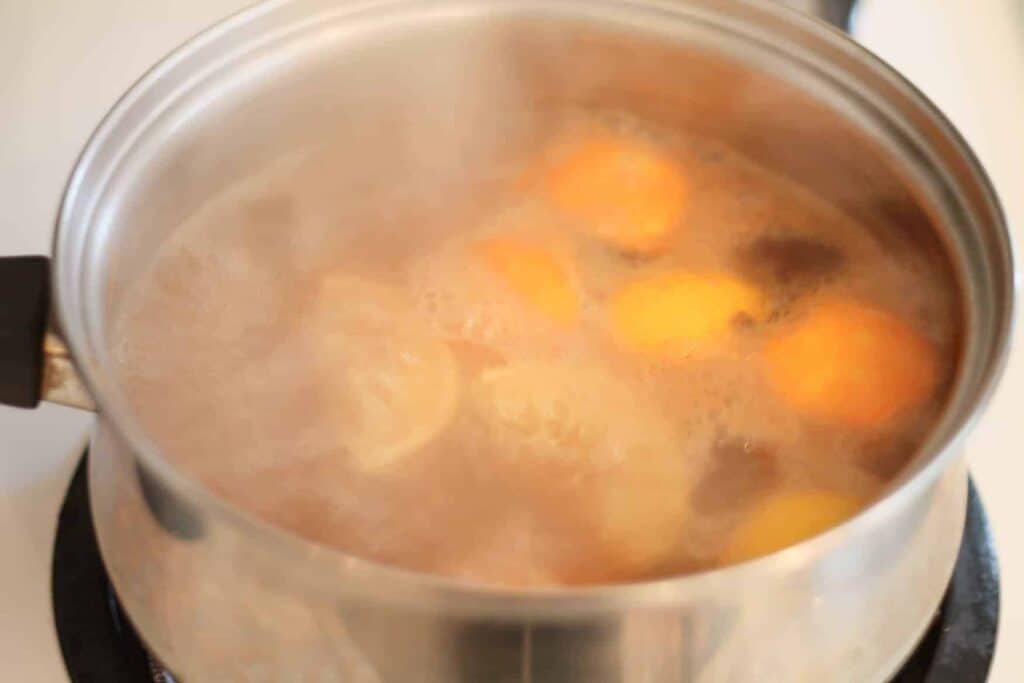 I have a fabulous, Natural Pumpkin Spice Air Freshener for you guys! But first a little complaining. 😉
Man, moving is hard.
Back in the day, we bounced from apartments to friends basements, from city to city. It was all such an adventure and seemed like a breeze. Then we got comfortable and settled in our quaint lakeside community. After the big choice was made to move to Vancouver, it has been constant planning, adjusting, replanning, etc.
While it does still feel incredibly adventurous, it has not been a breeze. We are still getting settled, still figuring out what we need and I still have not figured out when my shows are on.
Yes, I have shows.
As any good obsessive person, I religiously watch certain programs and feel completely out of sorts if I miss them. With the time change from the Eastern to the Pacific zone I have yet to master when the damn Housewives of wherever is on. Agh!
My other challenge has been my food photography. With cloudy days and a north facing kitchen, natural sunlight has not been as bountiful as my 18th floor corner suite that was always filled with light back in B-Town. I've had to set up operations next to our bed as the sun is brighter in the bedroom. Now there is a mix of place mats, napkins and bowls next to my t shirts and socks. It's put a damper on blogging as there are photos that I'm just not proud of.
Kind of like these ones. 😉
I mean it's a pot of oranges bubbling in a poorly lit kitchen. –> Insert loll's here <–
But, this blog isn't about being perfect. It's the Honour System. Life hands you all kinds of obstacles and it's up to you how you roll with it.
Look! It's an artsy attempt at an overhead of the bubbling pot. More lol's. 😉
I've decided to post these pics even though I'm not super proud of how they look. I could have waited out the cloudy days and re shot the photos with leaves from around the neighbourhood and mini pumpkins styled around the pot, but, if I'm being honest, this cloudy, rainy day was when I needed the warmth of this simmer pot. Having the spices and orange bubbling on the stove was so comforting on a kind of miserable day.
It's so easy and not filled with a chemical cocktail of who-knows-what like those air fresheners from the drug store. We are bombarded with toxic crap in the environment everyday with cars and factories, etc., so avoiding it in your home is important. Plus, this method has the added bonus of lasting much longer. Just keep adding water as it bubbles down. I used this recipe for Pumpkin Pie Spice. Thanks Oh She Glows!
Happy Fall, friends. 🙂
As an Amazon Associate I earn from qualifying purchases.
Natural Pumpkin Spice Air Freshener
Instructions
Add all ingredients into a large pot and fill with water

Bring to a boil, then lower heat to low. Simmer for as long as you want, adding water as it bubbles away.

*keep your eyes on the pot! Don't leave the house or anything.;)
Nutrition
Serving:
1
Calories:
247
kcal
Carbohydrates:
55
g
Protein:
4
g
Fat:
1
g
Sodium:
6
mg
Potassium:
785
mg
Fiber:
11
g
Sugar:
38
g
Vitamin A:
885
IU
Vitamin C:
211.7
mg
Calcium:
234
mg
Iron:
2.6
mg