These Crispy Sweet Potato Home Fries are a tasty side dish, if they make it to the plate that is! I've been known to sneak a few pieces before dinner. They are that good! Vegan and Gluten Free recipe.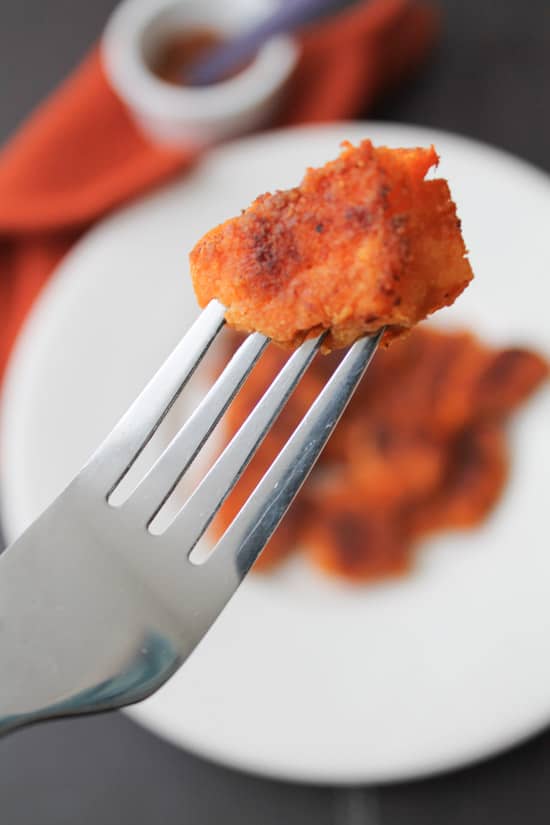 Truth: My kitchen started smelling good about five minutes after these sweet potato 'home fries' went into the oven. I started patting myself on the back about two minutes after that and I hadn't even tasted them yet! The aroma filling the room was all the proof I needed.
Sweet, spicy, smoky, crispy, these babies have it all. 🙂
Truth #2: I totally cheated and bought my sweet potatoes already peeled and chopped. Forgive me but I find them super tedious to peel, especially considering I don't currently own a potato peeler. Yeah.
Truth #3: I need a potato peeler.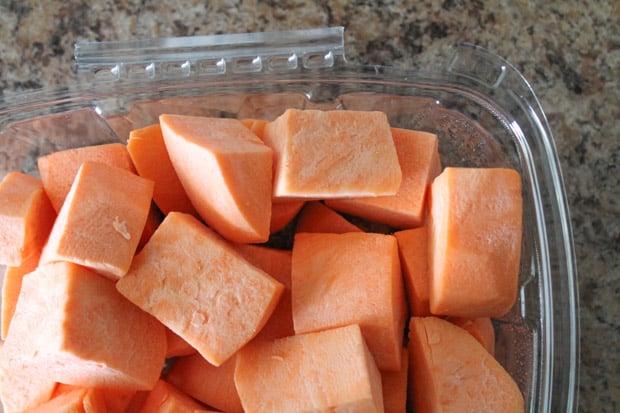 CRISPY SWEET POTATO HOME FRIES
While a pot of water gets to a simmer, you could use this time to peel and chop your potatoes.
Or twiddle your thumbs.
See Truth #3.
Simmer the potatoes just to soften them up a bit. About eight to ten minutes.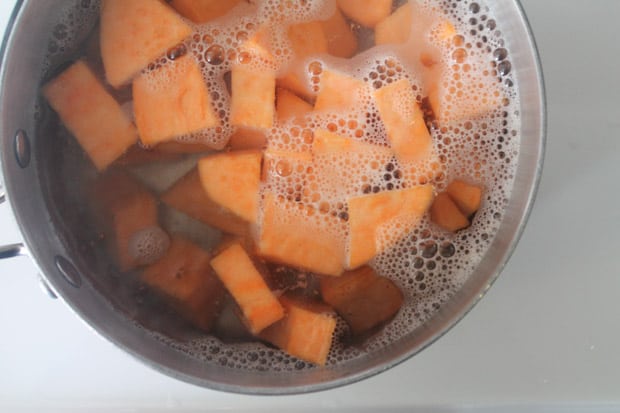 Drain the potatoes and line them up on a wire rack. Let them dry out some so they will crisp up nice when you roast them in the oven.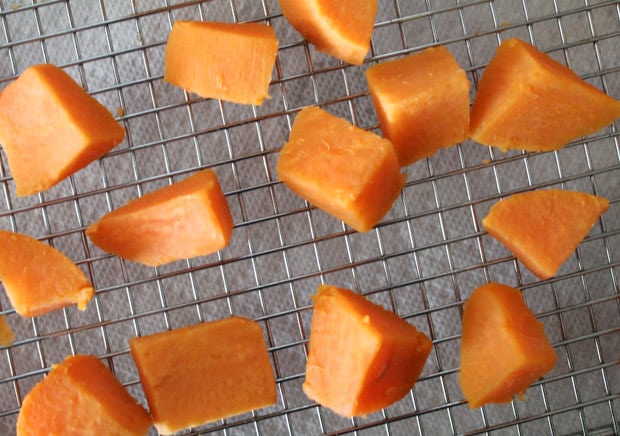 Meanwhile, I melted some coconut butter and coconut oil together. I've had the jar of coconut butter in the cupboard for awhile and my spidey-senses told me that it would be amazing on these 'home fries'.
Gather up your seasonings and stir them together.
I used a blend of smoky flavours including paprika and cumin. To balance it with some sweetness, I added in coconut sugar, which I love.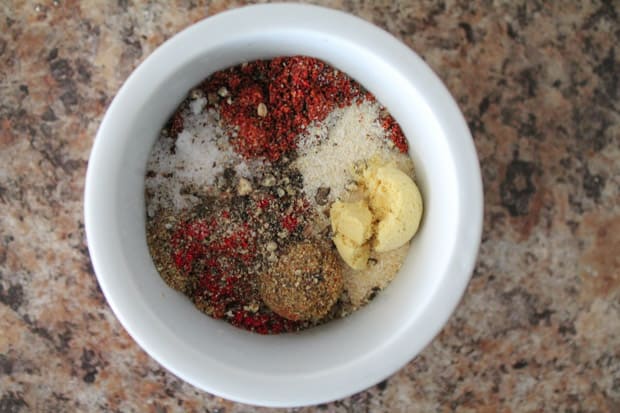 Line your potatoes up on a parchment lined baking sheet and gently press each one down, careful not to mash it completely.
I used a large spoon, pressed down then slid the spoon away. Baste each one with the coconut butter mixture, then sprinkle on the spice blend.
Flip them over and repeat.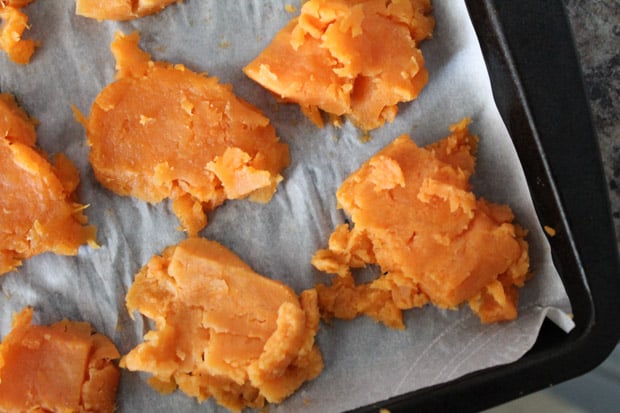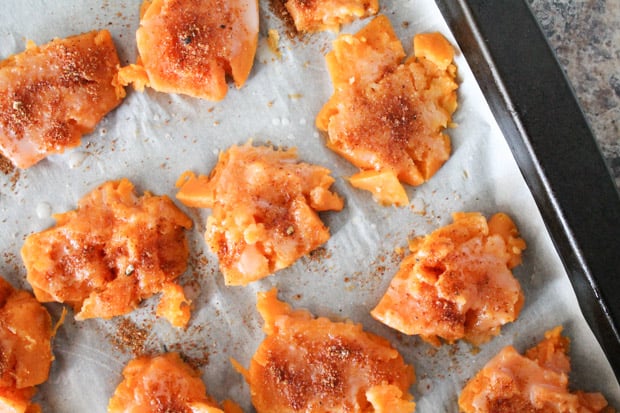 After they've roasted, not only will your kitchen smell one hundred times better than any candle ever, but you will be rewarded with these delicious disks of delight.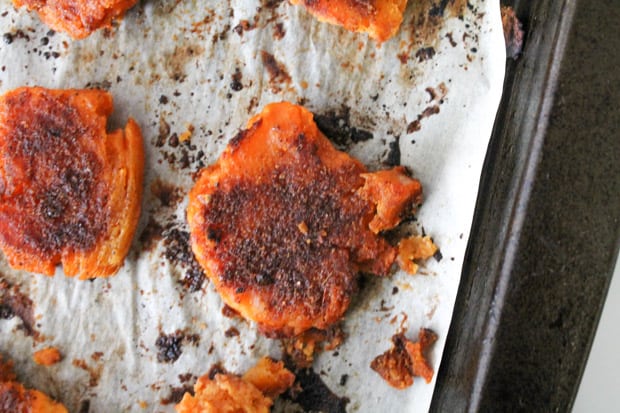 They would pair amazingly as a side with roast chicken, eggs, maybe even crumbled over some cooked quinoa. You name it!
Joe devoured a plateful right out of the oven with a side of ketchup. I, of course, savoured each bite in a very lady-like manner.
Truth? 😉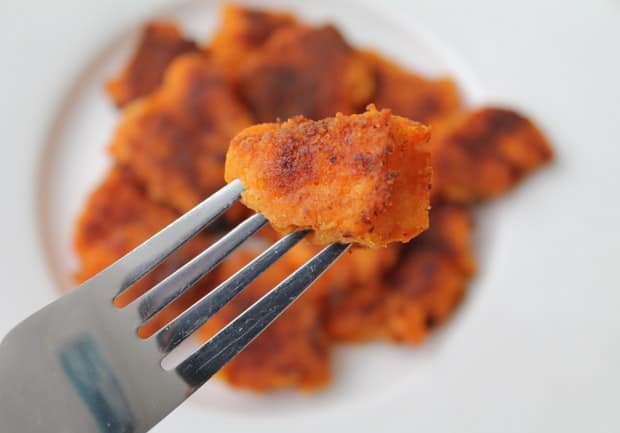 MORE SWEET POTATO RECIPES:
Eggs with Avocado and Sweet Potato Toast
Quinoa Stuffed Maple Sweet Potato
*Originally posted February 26, 2014. Updated March 7, 2019
Be sure to follow me on social media! I love pinning to Pinterest, sharing on Facebook and posting pics to Instagram. See you there. 🙂
As an Amazon Associate I earn from qualifying purchases.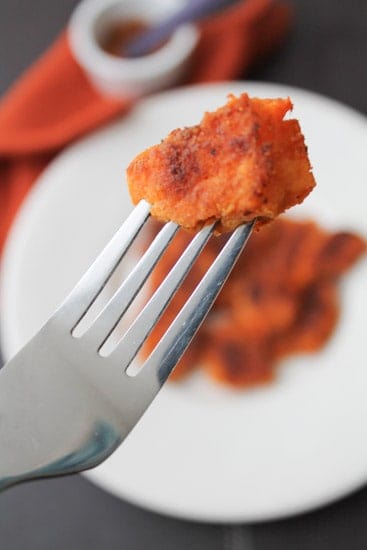 Crispy Sweet Potato Home Fries
These Crispy Sweet Potato Home Fries are a tasty side dish, if they make it to the plate that is! I've been known to sneak a few pieces before dinner. They are that good! Vegan and Gluten Free recipe.
Keyword:
crispy home fries, Sweet potato home fries
Instructions
Line a baking sheet with parchment paper and preheat the oven to 400

Bring a medium saucepan of water to a bubbling simmer over medium heat

Add the potato chunks to the water until slightly softened, about 8-10 minutes

Meanwhile, mix the dry seasonings together in a small bowl

Strain the potatoes and lay them out on a wire rack until the outsides have dried. This is so they will crisp up nicely in the oven

Meanwhile, melt the coconut butter and coconut oil together over low heat, until liquid

Once the potatoes have dried, transfer them to the parchment lined sheet and press down with a large spoon until the edges have ridges

Using a pastry brush, spread a thin layer of the coconut mixture on each potato

Sprinkle some of the spice mixture over each slice, and rub it in a bit with your finger

Gently turn oven each potato, and repeat

Pop into the oven for about 15 minutes, until the bottoms are crispy, then gently flip them over and roast for another 10-15 minutes until they have browned
Nutrition Facts
Crispy Sweet Potato Home Fries
Amount Per Serving (4 g)
Calories 176
Calories from Fat 99
% Daily Value*
Fat 11g17%
Sodium 339mg15%
Potassium 219mg6%
Carbohydrates 18g6%
Protein 1g2%
Vitamin A 9420IU188%
Vitamin C 1.6mg2%
Calcium 19mg2%
Iron 0.8mg4%
* Percent Daily Values are based on a 2000 calorie diet.