If you like easy side dishes, that pair with virtually anything, then these Spicy Maple Roasted Sweet Potatoes will be speaking your language. Obviously, sweet potatoes are on the sweet side (duh!) and adding a little maple flavour will add to that. So to offset the sweetness, I sprinkled in some good ole cayenne pepper and rounded everything out with the richness (and health benefits) of coconut oil. The roasting process caramelized the edges of the potatoes giving them such texture. Soft in the centre and just the slight hint of heat. Yum-my!
I mentioned easy at the top of the post and now I'll show just how easy. Scrub and slice up your sweet potatoes. I like to use organic sweet potatoes so I can leave my skins on and feed my body that extra fibre. Fibre is your friend, people. Your best friend.
Melt together the coconut oil, with maple syrup and cayenne pepper. Modify the cayenne if you aren't sure of how much heat you like. I don't recommend leaving it out entirely, though. Some spice is nice. 😉
Toss them together and get roasting!
The heart shaped potato was unintentional but so fitting, don't you think?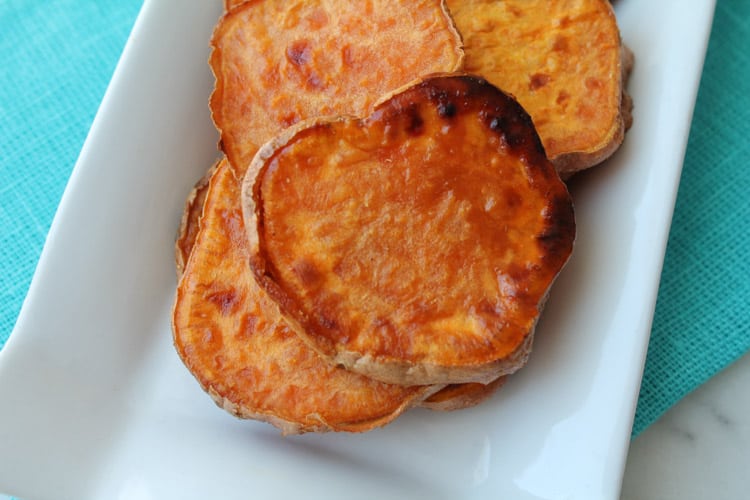 This type of food is pure love for your body and soul. Comfort food that nourishes. Sappy, I know. Indulge me, it's Friday. 🙂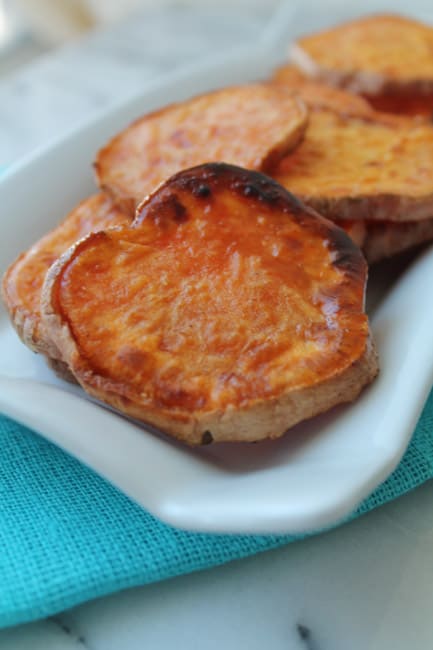 Spicy Maple Roasted Sweet Potatoes
Ingredients
2 medium sweet potatoes, scrubbed clean
2 tbsp. coconut oil
2 tbsp. maple syrup
1/4 - 1/2 tsp. cayenne pepper
sea salt, to taste
Instructions
Heat your oven to 400, line 2 baking sheets with parchment and set aside
Over low heat in a small saucepan, melt together the coconut oil, maple syrup and cayenne pepper. Meanwhile, slice your potatoes into thin rounds, a little less than 1/4 inch and transfer to a large mixing bowl
Pour the coconut oil mixture over the potatoes and toss to coat
Lay potatoes onto parchment lined baking sheets and sprinkle with sea salt
Roast for 8-10 minutes per side, until browned along the edges and soft in the centre
Serve warm
7.6.7
467
https://thehonoursystem.com/spicy-maple-roasted-sweet-potatoes-vegan-gluten-free/