There's something about pancakes that just sings the weekend, am I right? Nobody makes pancakes on a Monday morning. Their delicious, cakey goodness are almost always reserved for leisurely weekend breakfasts when one has the time to slice up some fresh fruit, brew a pot of coffee, and savour the experience.
Well, maybe that's just me because I love food. I don't think I'm alone though. Eating tops a lot of people's lists as their favourite thing to do. 🙂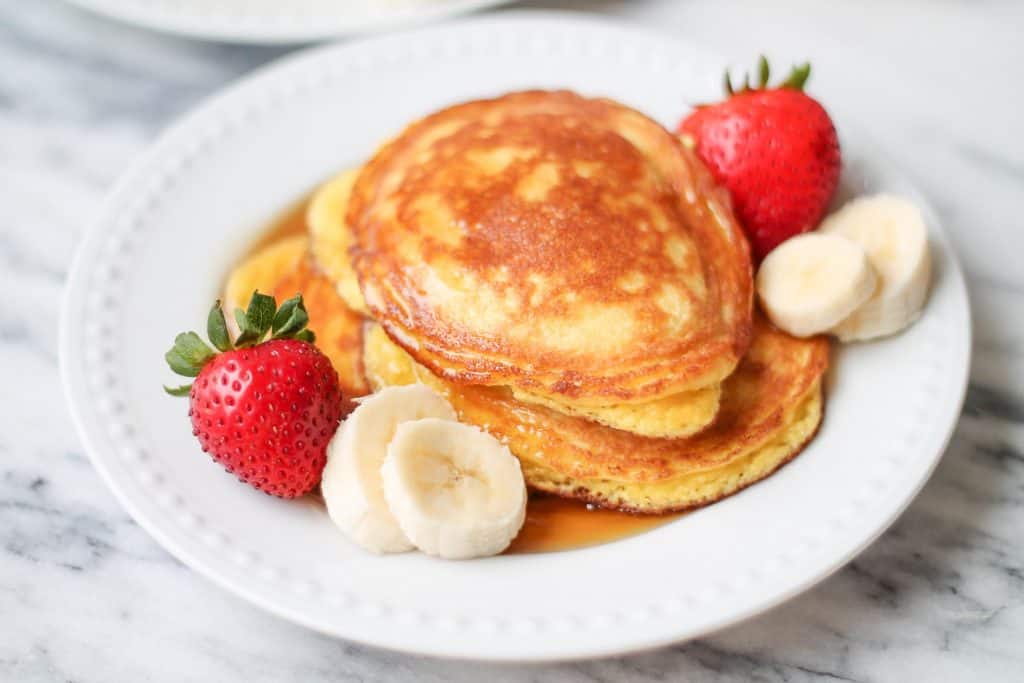 So for this weekend, I thought I'd roll with Coconut Flour Pancakes. I use a bunch of eggs in these so they are packed with complete protein and using coconut milk makes these pancakes pretty decadent, while keeping them paleo friendly, if that's your thing. I picked up a few paleo habits when I did the Whole 30 but of course the allure of my beloved cheese keeps me from claiming full paleo status. Oh well. I'm not big on labels anyways. 😉
Working with coconut flour isn't quite the same thing as traditional wheat flours, so don't be scared if the batter looks a little more yellow and grainy than how you may be used to batter looking. Don't over mix the coconut flour batter either. Lumps aren't really a bad thing when it comes to these pancakes. Just make sure the flour is incorporated and put down the spoon. This will help with the fluffiness.
I make six large pancakes out of this recipe, and it is more than plenty for the two of us. You could easily make twelve smaller pancakes, slice up a ton of  fresh fruit, pour on the maple syrup and you've got an awesome breakfast for four. Try them next weekend! 🙂
Yields 6
Coconut Flour Pancakes - Gluten Free, Paleo
Ingredients
4 eggs
3 tbsp. liquid coconut oil
1/4 cup milk (of choice)
1 tbsp. maple syrup
1/4 cup coconut flour
1/4 tsp baking soda
1/8 tsp sea salt
Instructions
In a mixing bowl, whisk together the eggs, milk, liquid coconut oil and maple syrup. Set aside
In a separate bowl, whisk together the coconut flour, sea salt and baking soda
Pour the egg mixture over the flour mixture and stir until just combined. Don't over mix
Heat a large skillet to medium-ish heat and melt some coconut oil in the pan
Use either 1/4 cup or 2 tablespoons to measure the batter (small or large pancakes)
*Coconut flour pancakes wont bubble on the top so be on the lookout for the edges to brown and lift the side of the pancake slightly to watch for the flip.
I found 2-3 minutes per side was good
Serve immediately with fresh cut fruit and maple syrup
7.8.1.2
22
https://thehonoursystem.com/coconut-flour-pancakes-gluten-free-paleo/
Click for Nutrition Stats