I'm keeping the ball rolling on The Honour System Halloween extravaganza! Check here for the natural candy apple recipe and here for the to.die.for. almond butter cups. Next up on the docket is a nostalgic treat for me. Twix bars were one of my all time faves growing up. The best thing abouth them was that there were two of them! One went in the fridge for later and the other, directly into my mouth 🙂
This month, a recipe for Crunch Bars that I posted for the Food Revolution Day in Burlington last May was featured on a list of Homemade Halloween Treats on Greatist.com. It was actually what inspired me to compile my own list! One of the recipes that jumped out at me was this one for Twix bars. Sold!
I'm jumping at the chance to use my sparkling new quinoa flour, so I used it for the cookie portion of the Twix. I blended it in with some coconut flour, peanut butter, coconut oil, and  a touch of sugar. To keep it vegan I used a flax egg after having success with my carrot cake muffins. I just got down and dirty with my hands to mix this dough. It was crumbly but held together to form a big ball which I then portioned out by breaking it in halves until I had 12 pieces.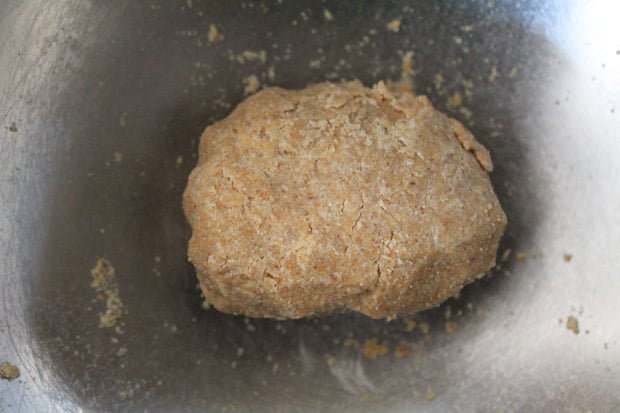 I formed each piece into the rectangle shape of a Twix on a parchment lined baking sheet. I didn't get too fussy with them other than flattening them down with the side of a butter knife. These were baked for about 12 minutes, then left too cool on the pan. They cracked on top but did not crumble when I handled them.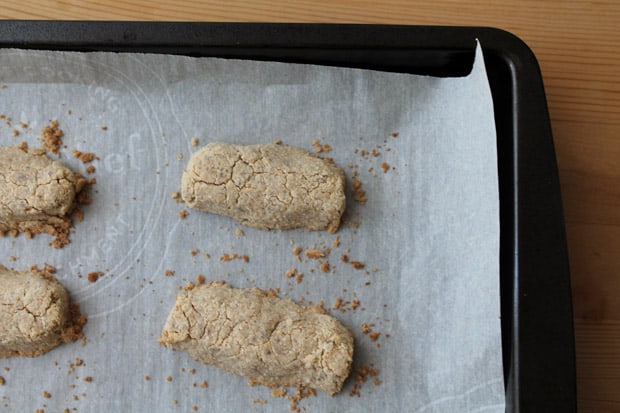 Meanwhile, I made the caramel layer. Using dates, otherwise known as nature's candy, (totally stole that one from Joe. It's what he calls raspberries) as the base of this caramel, I simply processed it along with some peanut butter and a pinch of sea salt Boom! Natural caramel goodness 🙂
Using the same trick I used with the dough,  I broke down the ball of date caramel into 12 pieces, then rolled them length wise and smooshed them on top of the cookie bases. They were really starting to look like Twix bars! Off to the freezer they went.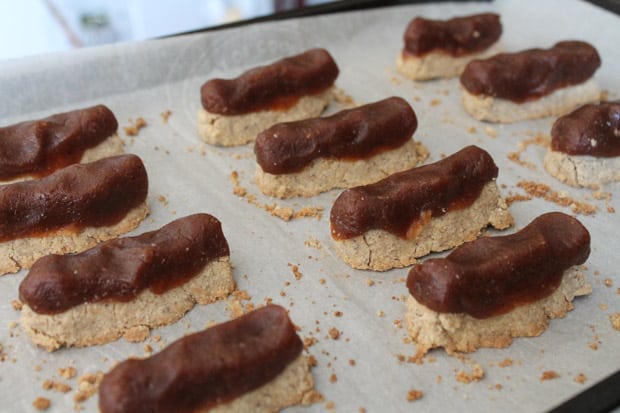 Next, I melted some dark chocolate and a bit of coconut oil over low heat until very liquid. Now it was time to cover the bars with the chocolate mixture. There was no clean, tidy way to do this. I basically picked up a bar, placed it in the chocolate and rolled it over, coating all sides, then coating the ends with my fingers. The transfer over to the parchment lined sheet was a drippy one 😉 Any suggestions on how that could have gone smoother are very welcome!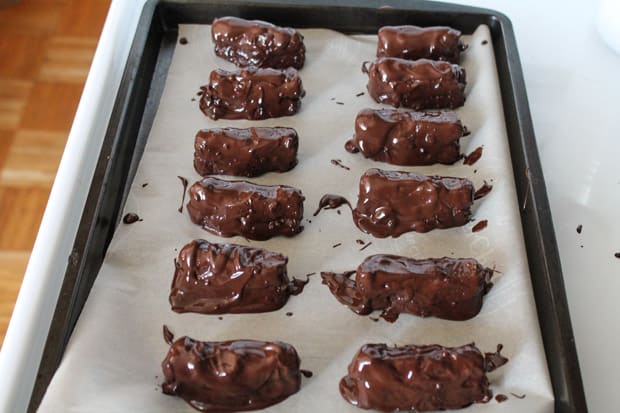 Back into the freezer to set.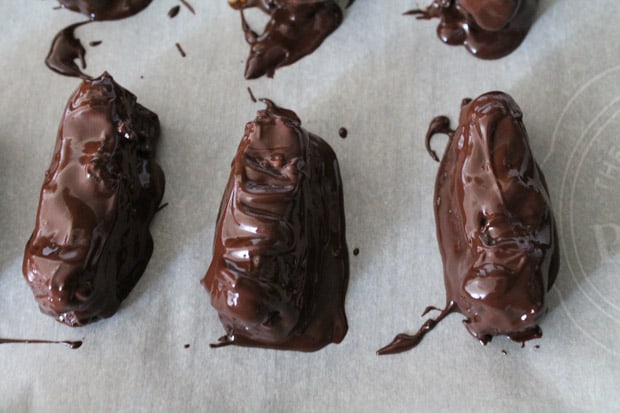 The verdict was two thumbs up. Nice cookie crunch and the date caramel was a smooth and chewy consistency. I cut them in half and packed them up for work to share in exchange for tricks!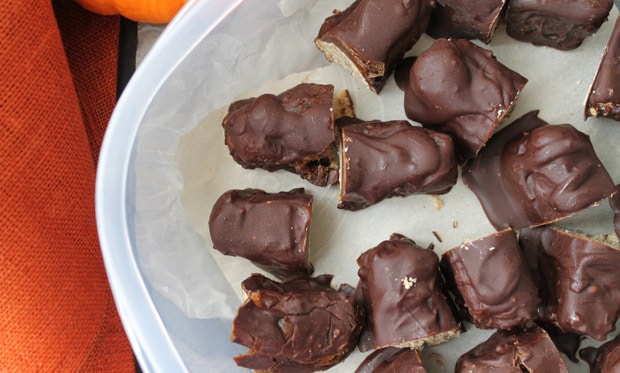 I wish they looked better, because these were so tasty. Not quite as uniform looking as the manufactured brand but all natural ingredients make them beautiful on the inside 😉 Enjoy!
Yields 12 bars
Gluten Free & Vegan Twix Bars
Ingredients
For the Cookie Base:
1/2 cup quinoa flour
1/2 cup coconut flour
2 tbsp cane sugar
3 tbsp peanut butter
2 tbsp virgin coconut oil
1 flax egg ( 1 tbsp ground flax mixed with 2 tbsp water allowed to sit for 5 minutes )
1 tbsp vanilla
For the Caramel Layer:
6 dates
3 tbsp peanut butter
1 tsp water
pinch sea salt
For the Chocolate Coating:
3/4 cup dark chocolate chips
1 tbsp coconut oil
Instructions
Preheat oven to 350, line a baking sheet with parchment paper and set aside
In a medium mixing bowl, whisk together the flours and cane sugar until combined. Then with your hands blend in the peanut butter, coconut oil, flax egg and vanilla until fully combined. The dough should form a ball.
Break the ball of dough in halves until you have 12 even pieces. Shape them into bars on your parchment lined sheet
Place bars in the oven for 12-15 minutes until tops are slightly cracked and sides are golden then set aside to cool on the pan.
Meanwhile, place caramel ingredients in the bowl of your food processor then process until smooth adding more water if the mixture needs thinning out
Top the cookie bars with caramel by using the same method of breaking the ball of caramel into halves until you have 12 pieces and smooshing them on top of the cookie bars
Pop the tray into the freezer and allow to set for at least 10 minutes. This will make the cookies easier to dip in the chocolate. Melt chocolate chips and coconut oil together over low heat, stirring frequently
Once the chocolate has melted, one by one, coat the bars by placing them in the pan, rolling them in the chocolate and coating the side with your fingers. Transfer to a parchment lined baking sheet then pop back into the freezer for 15 minutes
I cut these in half and stored them in the freezer in a sealed container
7.6.7
210
https://thehonoursystem.com/healthier-halloween-treat-week-gluten-free-vegan-twix-bars/