Healthier Halloween Treats like these Fun Candy Apples are destined to become a fall favorite. Gluten free and vegan recipe that is super simple to make!
If you are looking for a quick healthy treat to snack on this Halloween season then look no further!
A healthier twist on the classic candy apple using my freshly made maple almond butter, brown rice syrup and a touch of vanilla.
So simple, yet so full of caramely goodness.
Start with your apple of choice.
My all time favourite is the honeycrisp apple, so that was my pick for this recipe.
I chopped the apple into four, then eight, then sixteen even pieces. Finally, I stuck a toothpick in each. If you happen to be feeling particularly Halloween-y they probably have some theme toothpicks at the dollar store or Michaels.
I rolled with your basic toothpick.
HEALTHIER CANDY APPLES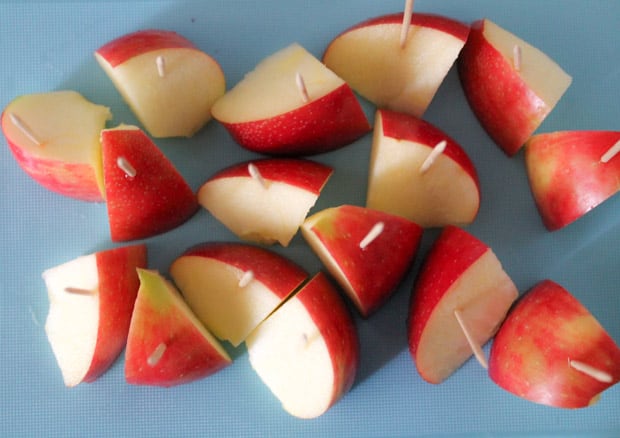 Then, over medium low heat I melted together the almond butter I made earlier in the week and an equal part brown rice syrup. I stirred in a splash of vanilla once the mixture had begun to get a little liquidy.
You want to have a nice smooth, well blended mixture.
Line a baking sheet with parchment.
I used, for some unknown reason, wax paper. I don't recommend using wax paper at all. The caramel stuck to it a bit and I had to peel some of them off very carefully.
Using the parchment will make that much easier. It took a couple of apple slices to get the hang of the best way to do it. Using a spoon, coat two sides of an apple slice and put a non coated side face down on the baking sheet.
Pop the lot into the fridge for 15 minutes.
I was so happy with the way these turned out.
The almond butter caramel was rich and chewy and the apple, sweet and tart.
Just as good as those big brand name caramel squares but with the added benefit of using natural ingredients.
Winner!
Enjoy these tasty little devils right away. They are not the 'keep in the fridge and eat half later' type snack. The caramel will begin to melt, so eat up!
One apple is a good snack to share with at least a couple of people.
Maybe something the family can snack on while carving pumpkins?
Fun!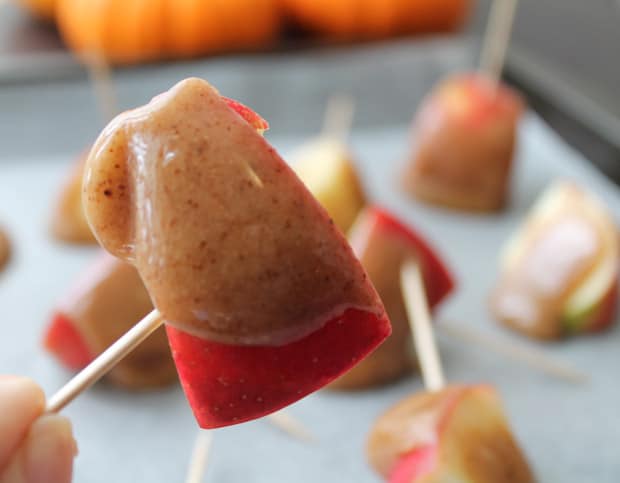 MORE HEALTHIER HALLOWEEN TREATS:
Almond Butter Quinoa Crunch Bar
Originally posted October 28, 2013. Updated July 22, 2019
As an Amazon Associate I earn from qualifying purchases. 
In this recipe, I use non toxic ceramic cookware.
Candy Apples
Healthier Halloween Treats like these Fun Candy Apples are destined to become a fall favorite. Gluten free and vegan recipe that is super simple to make!
Keyword:
Healthy Candy Apples
Instructions
Line a baking sheet with parchment and set aside

Chop the apple into 4, then 8, then 16 chunks and stick a toothpick in each.

In small saucepan melt together the almond butter and brown rice syrup over medium low heat. You want the mixture to be fairly liquid

Remove from the heat and stir in the vanilla

Working quickly, with a spoon cover two sides of the apple chunks and place the uncovered side face down on saran lined baking sheet

Leave in the fridge for 15 minutes to set.

Enjoy immediately
Nutrition Facts
Candy Apples
Amount Per Serving
Calories 84
Calories from Fat 36
% Daily Value*
Total Fat 4g 6%
Sodium 8mg 0%
Potassium 70mg 2%
Total Carbohydrates 11g 4%
Protein 1g 2%
* Percent Daily Values are based on a 2000 calorie diet.