Vanilla Protein Balls with Chia Seeds – Vegan + Gluten Free
Vanilla Protein Balls with Chia Seeds are the perfect go-to snack. Packed with protein and fiber, these bites of whole food goodness will satisfy your afternoon or post workout cravings.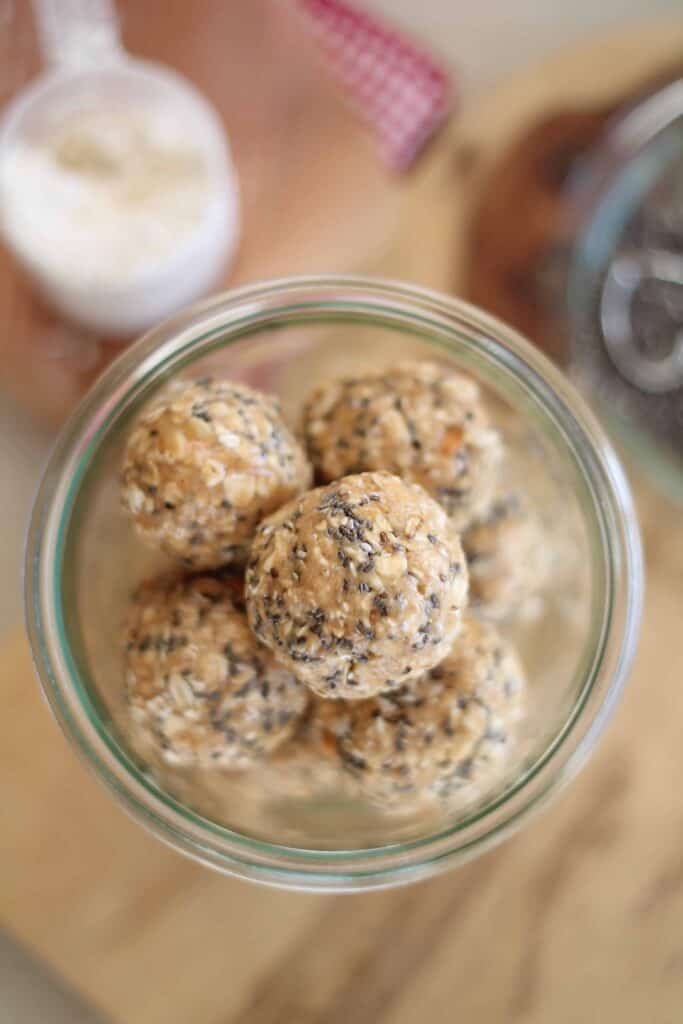 What better recipe than one featuring balls to get me back on track with both my blogging and healthy eating.
I do love a good ball. 😉
These Vanilla Protein Balls with Chia Seeds have become a favourite. What holds them together is a base of peanut butter and brown rice syrup. The brown rice syrup is such a great binder. It helps these balls to hold together and also makes them chewy. Gotta love that chew factor.
After a recent trip to my Naturopath, I discovered two things.
I do NOT get enough protein in my diet.
A lot of days, I've been poaching a couple of eggs, tossing them on some toast, and calling it dinner. I truly thought eggs were such a good source of protein. Well, it turns out they contain like 6 grams of protein each, so 12 grams for my meal. Considering I eat virtually no protein in either my breakfast or lunch this is not good. My Naturopath recommends I get 75 grams per day! I'm so short of that number it's not even funny.
The first thing I did was invest in a good quality protein powder. I've started adding protein into my green smoothies and I'm back into eating protein packed snacks. These Maple Vanilla Protein Bars are also a favourite, if you want something with a bit of chocolate.
These Vanilla Protein Balls have the addition of chia seeds. I love the texture and crunch from the chia and the antioxidants and fiber boost from them don't hurt either. 🙂
The second thing I learned from my Naturopath was that I have a pretty serious iron deficiency. Yikes, I know. If this is something you struggle with also be on the lookout for lots of recipes packed with foods containing that important mineral upcoming.
In the meantime, it's all about the Balls.
Enjoy!
As an Amazon Associate I earn from qualifying purchases.
Vanilla Protein Balls with Chia Seeds – Vegan + Gluten Free
Instructions
Line a baking sheet with parchment and set aside

In a small pot over medium low heat, melt together the peanut butter and brown rice syrup, stirring frequently.

Meanwhile, in a large mixing bowl, stir together the oats, protein powder, salt & chia seeds

Once the peanut butter mixture is fully blended pour it over the oat mixture and stir well. It's pretty sticky so I used my hands with a bit of water on them to prevent stickage

Form into balls and leave at room temp to harden

I store these at room temp or fridge in a sealed container
Nutrition
Calories:
124
kcal
Carbohydrates:
17
g
Protein:
4
g
Fat:
5
g
Saturated Fat:
1
g
Sodium:
82
mg
Potassium:
98
mg
Fiber:
2
g
Sugar:
7
g
Calcium:
30
mg
Iron:
0.8
mg