Bulletproof Coffee – Vegan
This is a no butter version of the trend that has been sweeping the Paleo community and beyond! This Bulletproof Coffee is vegan and gluten free and adds some serious benefits to your morning java. Learn how!
Bulletproof Coffee.
Boom. 😉
I figured Monday morning was the most apropos time to share this incredibly delicious, creamy with no cream or butter, super easy recipe.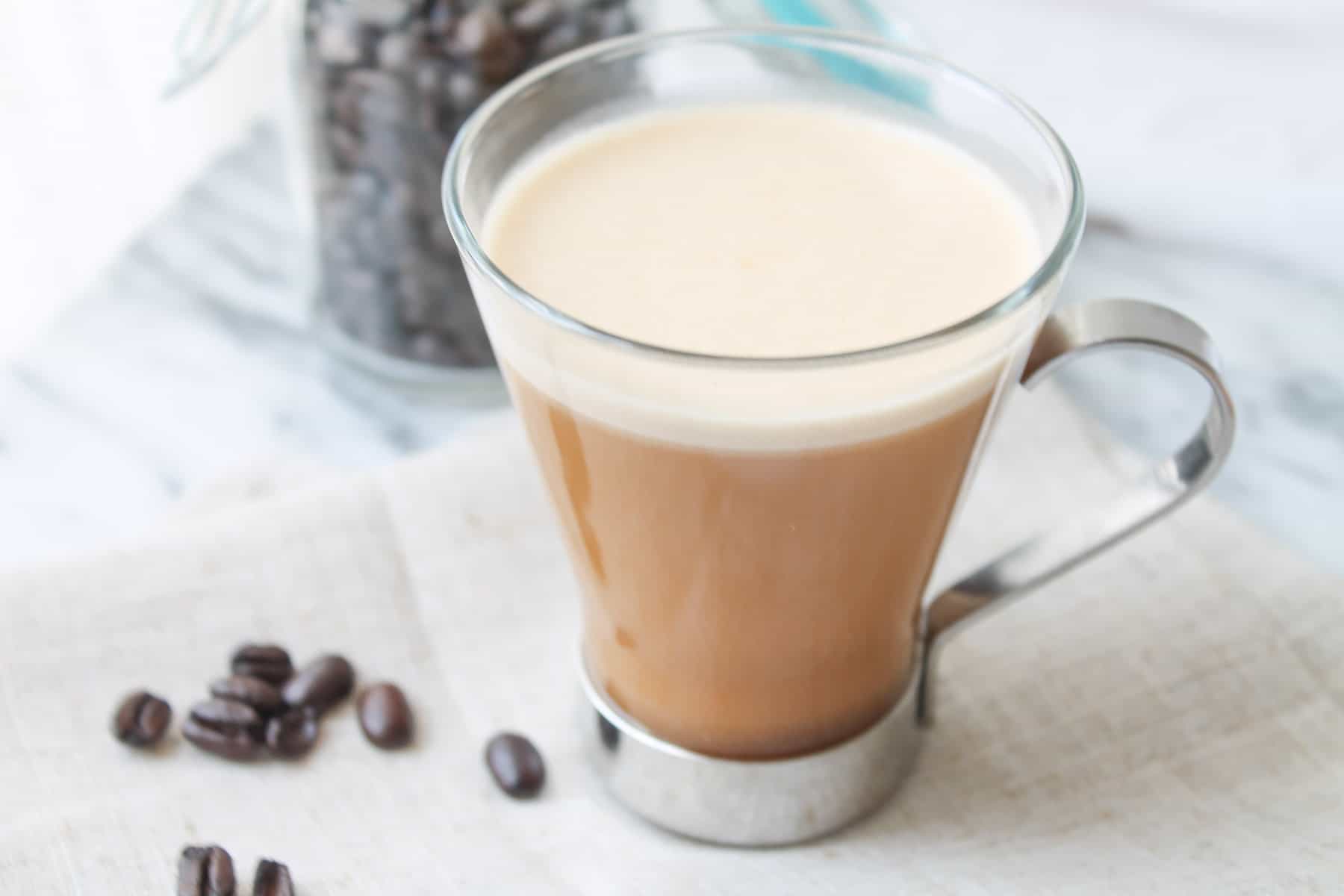 VEGAN BULLETPROOF COFFEE
I'm sure you've heard the buzz. Butter in your coffee is now a thing. And a major thing apparently! Popular in the Paleo community, this coffee drink is traditionally made by blending a fresh cup of coffee with a pat of grass fed butter.
Since I'm doing the Whole 30, dairy is not an option, so I'm rolling with coconut oil.
The method is so easy! Just pour your cup of coffee along with a tablespoon of coconut oil and blend for five seconds.
Joe joked that it looked like chicken soup on the top before blending.
After five seconds it froths up beautifully and incorporates the all of the coconut oil.
This is the first time I've considered buying a Nutribullet. I'm imagining myself blending up my coffee in the mornings, just loving life!
As it is, my old clunker Hamilton Beach did just fine. 😉
So, if you are trying to avoid those heavy double doubles, <–Canadian term for two cream + two sugar, or pricey/chemically sweetened lattes at Starbucks, you must give this a try.
The creaminess with really surprise you and the taste is not bitter at all. This article explains how this new morning ritual could be more beneficial to your health than your current routine.
Granted I do use freshly ground, organic and fair trade beans.
Perhaps the coffee we buy is just naturally smoother, but compared to coconut oil just stirred in or simply black coffee, this is such a fun, healthy option to try.
Let me know what you think if you give this a whirl! I'm totally hooked.
Not surprising, I guess.
It is coffee after all. 😉
MORE HEALTHY VEGAN RECIPES:
Mexican Style Cauliflower Rice
Be sure to follow me on social media! I love pinning to Pinterest, sharing on Facebook and posting pics to Instagram. See you there.  🙂
As an Amazon Associate I earn from qualifying purchases.
Bulletproof Coffee – Vegan
Instructions
Pour hot coffee and coconut oil into a blender and blend for five seconds

Enjoy!
Nutrition
Calories:
129
kcal
Fat:
14
g
Saturated Fat:
12
g
Sodium:
4
mg
Potassium:
116
mg