Avoiding dairy and sugar but still want to enjoy your morning coffee? This Vanilla Cashew Coffee Creamer is vegan, gluten free and completely sugar free.
I'm a coffee in the morning person.
One hundred percent.
But lately I have been avoiding dairy and sugar and this makes my normal double cream with a teaspoon of coconut sugar a no-no.
Enter this Vanilla Cashew Coffee Creamer!
VANILLA CASHEW COFFEE CREAMER
Cashews are awesome for replicating creamy things. I've been successful with this cashew based Caesar dressing and also this creamy Alfredo sauce, so why not try my hand at some homemade coffee creamer using this healthy, useful nut.
It really couldn't be easier! The nice thing about using the cashews is ZERO straining. That means no cheese cloth or nut milk bag to fiddle with or rinse out, etc.
TIPS FOR HOMEMADE VEGAN COFFEE CREAMER:
Soak, soak, soak!
Soaking the cashews makes them nice and soft which in turn makes the blending process MUCH easier.
In fact, the only thing in this recipe that is time consuming is the time spent on soaking. I soaked my cashews in filtered water overnight.
You don't even need a high powered fancy blender for this recipe either! I use my bullet blender and the result is a smooth, velvety cream.
BENEFITS FOR GOING DAIRY FREE:
Improved digestion. You may feel less bloat and intestinal issues.
Clearer skin. Cutting out dairy may improve skin texture and tone and improve skin conditions like acne and rosacea.
Weight loss. Eliminating dairy can help with weight loss.
Heightened sense of smell. Many dairy free converts have discovered the added bonus of a better sense of smell. Casein, the protein in dairy, is closely linked to excessive mucus production, which in turn leads to a blocked nose and sinus pressure. Saying no to dairy can help to reduce this congestion and banish your runny nose.
I hope you all enjoy this yummy alternative to cream.
MORE HEALTHY VEGAN RECIPES:
Peanut Butter Coconut Oil Fudge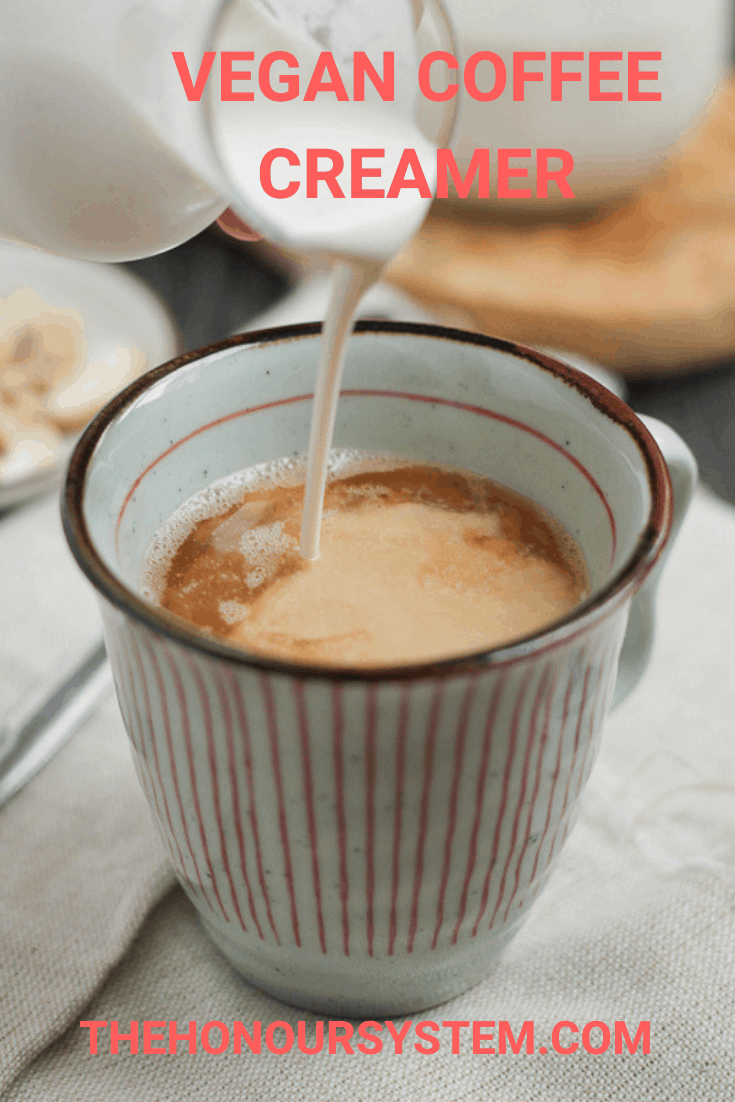 Be sure to follow me on social media! I love pinning to Pinterest, sharing on Facebook and posting pics to Instagram. See you there. 🙂
As an Amazon Associate I earn from qualifying purchases.
I am currently using a Bullet Blender for making this recipe.
Vanilla Cashew Coffee Creamer
Avoiding dairy and sugar but still want to enjoy your morning coffee? This Vanilla Cashew Coffee Creamer is vegan, gluten free and completely sugar free.
Keyword:
vanilla cashew coffee creamer, vegan coffee creamer
Instructions
Place the cashews in a bowl and cover them with filtered water. Let these soak for 4 hours or over night.

Add the soaked cashews to your blender with the 3/4 cup filtered water, vanilla ad sea salt.

Blend until creamy adding more water if necessary to reach your desired consistency.

Store in a lidded glass mason jar in the fridge for up to a week. Shake really well before using!
Nutrition Facts
Vanilla Cashew Coffee Creamer
Amount Per Serving (10 servings)
Calories 54
Calories from Fat 36
% Daily Value*
Fat 4g6%
Sodium 31mg1%
Potassium 63mg2%
Carbohydrates 2g1%
Protein 1g2%
Calcium 4mg0%
Iron 0.6mg3%
* Percent Daily Values are based on a 2000 calorie diet.