This creamy Vegan Alfredo Sauce is the BEST easy, healthier homemade version with a cashew nut base. Discover how to make a quick cashew alfredo sauce that is non-dairy!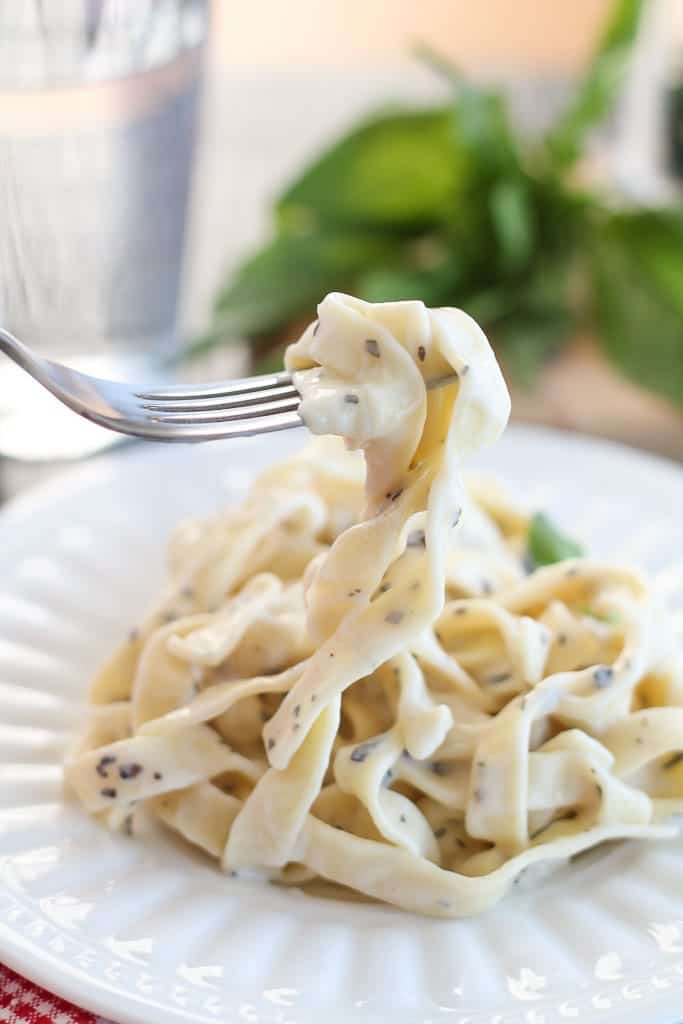 Today we are featuring a vegan alfredo.
Who doesn't love the classic fettuccine alfredo?
VEGAN ALFREDO SAUCE
How do you make Alfredo sauce from scratch without heavy cream? You use the wonder of cashews. Soaking cashews, then blending them magically transforms the crunchy nut into silky, creamy deliciousness. Just check out this Cashew Coffee Creamer!
Trust me. Cashews = vegan cream.
So the next time you ask yourself how do you make something creamy without dairy or what do vegans use instead of heavy cream? The answer is cashews, my friends.
They are THE answer. 🙂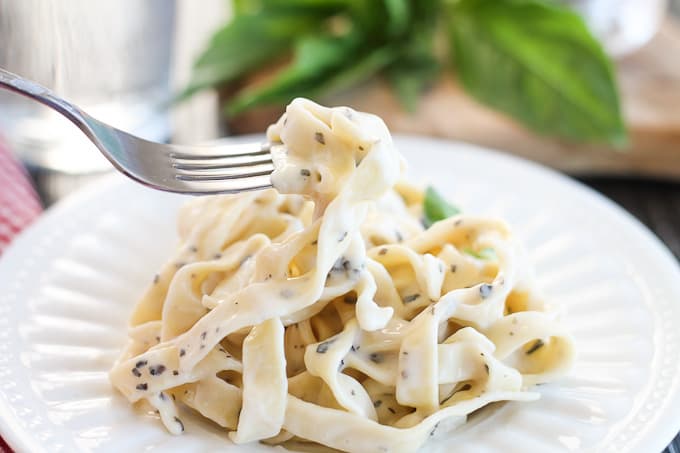 INGREDIENTS FOR CASHEW ALFREDO SAUCE:
Cashews

Water

Flour ( I use spelt flour )

Olive oil

Sea salt, ground pepper, garlic powder, dried basil

Fresh basil for garnish – optional but delicious
HOW TO MAKE VEGAN CASHEW ALFREDO:
Start by soaking your cashews.
Let them soak in water for about an hour to soften them up a bit before blending.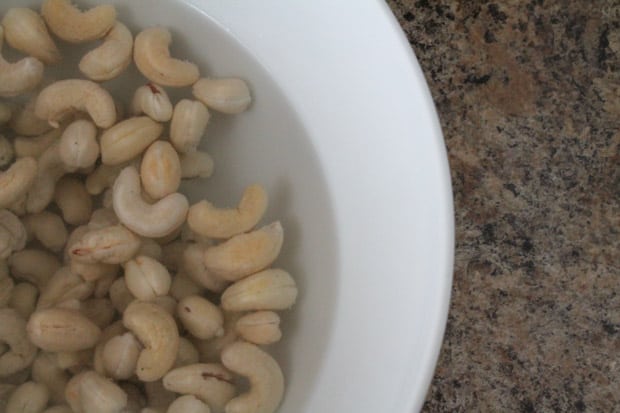 Gather your spelt flour, garlic powder, and salt.
These will season and thicken your sauce.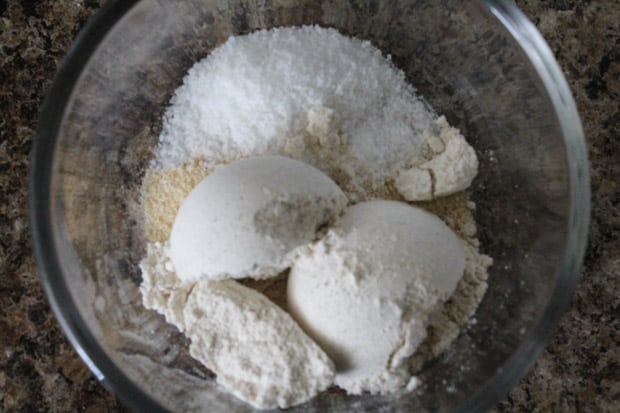 Blend it all together until it's the frothy consistency of milk and no chunks remain.
This takes no time at all.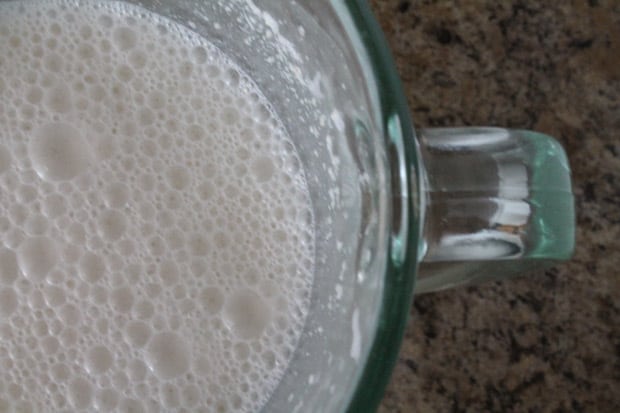 Pour it into a saucepan.
Now it's time to get creamy!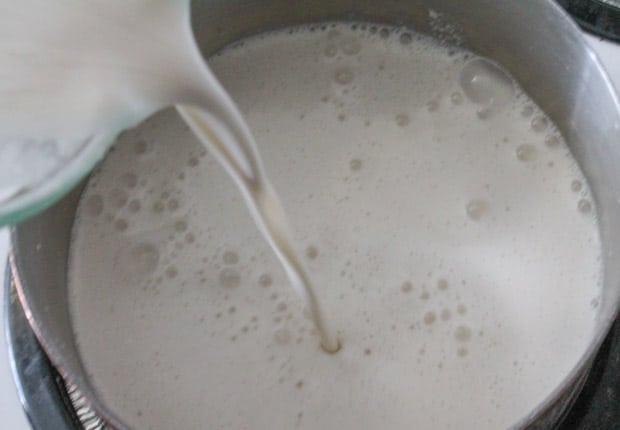 Slowly bring the mixture to a boil, stirring frequently.
You want to make sure it doesn't stick to the bottom of your saucepan.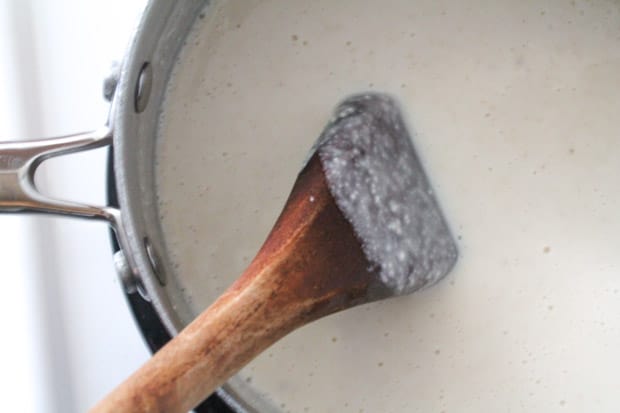 And boom!
A vegan Alfredo sauce that will fool even your toughest critics.
I tossed it with spelt noodles and served up some roasted asparagus alongside it for some greens. 🙂
Give this super simple recipe a try and it will make a believer out of you!
Cashews are the new black. 🙂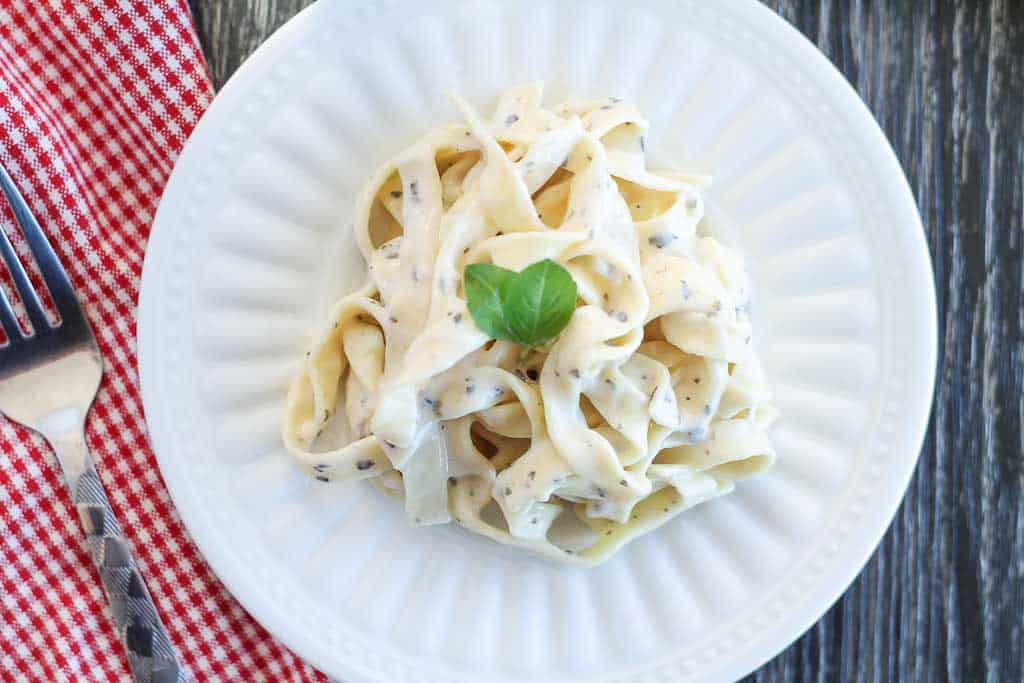 WHAT TO SERVE WITH THIS DISH:
I like to use spelt flour fettuccine noodles but there are also some brown rice noodles that are fabulous if you are looking for a gluten-free option.
Spaghetti Squash! Don't forget this pasta-like veggie for a low-carb, healthy swap for noodles.
Vegan Caesar Salad – if you want to have a whole theme going on this vegan caesar dressing is also cashew-based. So creamy!
MORE VEGAN DINNER RECIPES:
Lentil Marinara Sauce with Spaghetti Squash
Curried Lentil and Potato Stew
Originally posted June 14, 2013. Updated July 10, 2020
Be sure to follow me on social media! I love pinning to Pinterest, sharing on Facebook, and posting pics to Instagram. See you there. 🙂
As an Amazon Associate, I earn from qualifying purchases.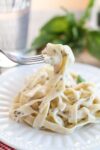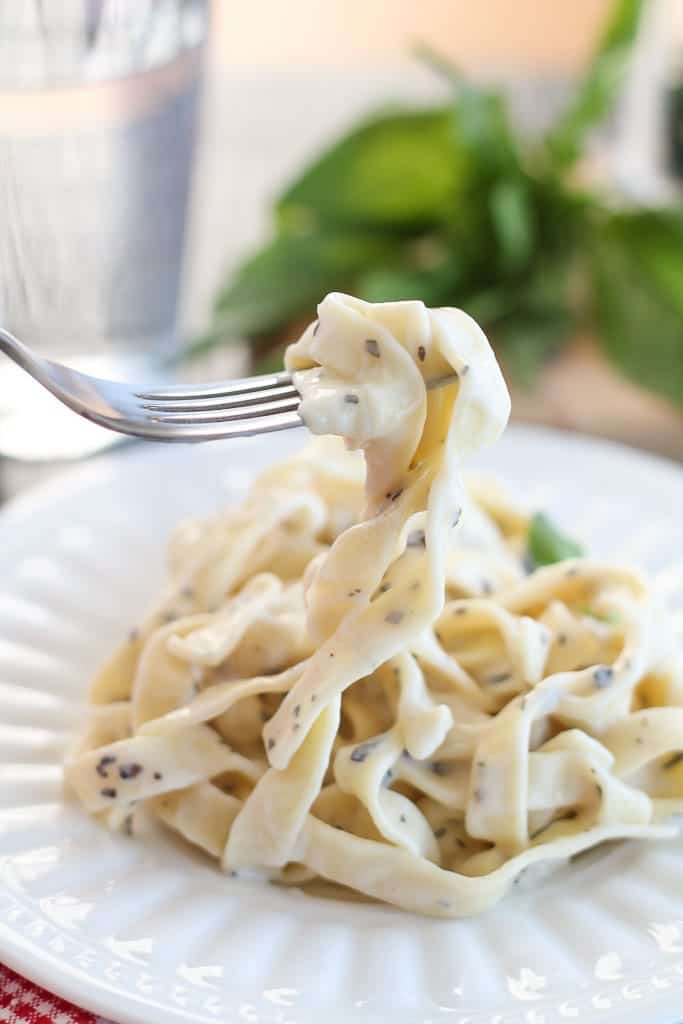 Vegan Alfredo Sauce
This creamy Vegan Alfredo Sauce is the BEST easy, healthier homemade version with a cashew nut base. Discover how to make a quick cashew alfredo sauce that is non-dairy!
Keyword:
cashew alfredo sauce, creamy vegan alfredo sauce, vegan alfredo sauce
Instructions
FIRST - Soak your cashews for at least an hour. This will ensure they are soft for blending and will give you a super creamy sauce. Drain and rinse

Add the cashews EXCEPT for the basil and pepper to a blender. Blend until you reach the consistency of frothy milk and there are no chunks of cashew left.

Pour the mixture into a medium saucepan over medium-high heat and bring to a slow boil, stirring frequently as it thickens.

Once it begins to bubble, remove from heat and stir in dried basil and cracked pepper to taste.

Toss with the cooked noodles of your choice and top with fresh basil if desired.
Nutrition Facts
Vegan Alfredo Sauce
Amount Per Serving
Calories 232
Calories from Fat 162
% Daily Value*
Fat 18g28%
Sodium 594mg26%
Potassium 247mg7%
Carbohydrates 14g5%
Protein 7g14%
Vitamin A 21IU0%
Calcium 25mg3%
Iron 3mg17%
* Percent Daily Values are based on a 2000 calorie diet.