A healthy recipe for Vegetarian Lentil Chili with Roasted Butternut Squash. Kidney beans add even more plant-based protein. Simple and full of flavour.
Making vegan chili can be a challenge. There are purists who say chili is not chili without the beef and they are tough critics to please. You want to make sure that the flavour of the spices is what shines through.
The lentils and beans will add enough texture and protein that the beef will be all but forgotten.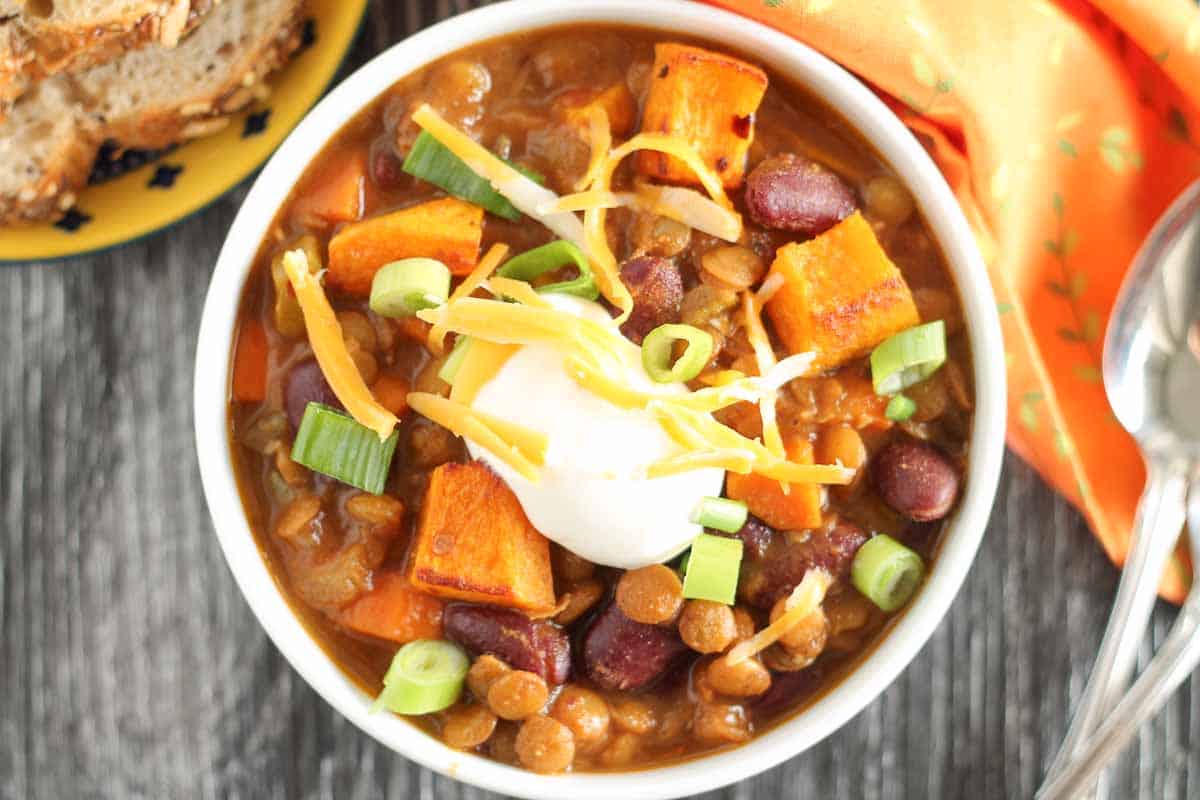 Lately, I've been conscious of trying to maintain a higher veggie intake. With butternut squash dominating the produce at the grocery store, I thought what better veggie to add to my chili?
A little sweetness to cut through that heat. This just might work.
I picked the most obscene squash I could find ( 😉 ) and was off and running.
VEGETARIAN LENTIL CHILI WITH ROASTED BUTTERNUT SQUASH
As mentioned earlier, for a vegetarian chili to shine you need a nice amount of spice. The protein side of the game is covered with plant-based sources. Here is what you'll need:
dry green lentils
a can of beans ( I like kidney beans for chili )
onion
celery
carrot
garlic
butternut squash
crushed tomatoes or tomato sauce
broth
dried spices: chili powder, cumin, smoked paprika, cinnamon, cayenne pepper, chili flakes, salt, and pepper
There is a fair bit of prep work involved with this recipe, but it's worth the effort. It is a lovely, comforting stew. A vegetarian chili with lentils must be enjoyed at least once per soup season.
Let's get started!
HOW TO MAKE VEGAN CHILI
Firstly, sauté the onions, celery, and carrots.
After they have softened, add the spices and let them get a bit toasty.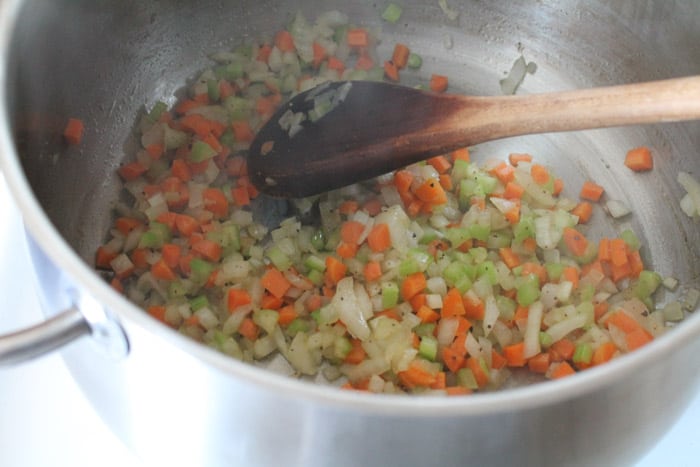 Next, add the lentils and crushed tomatoes. Give that a stir and then pour in the broth.
Let it all enjoy a nice simmer.
Meanwhile, onto the butternut squash.
To give my chili a nice edge, I thought of giving it a roast in the oven instead of cooking it along with the lentils. Sprinkling the chopped squash with a few chili flakes added some zip.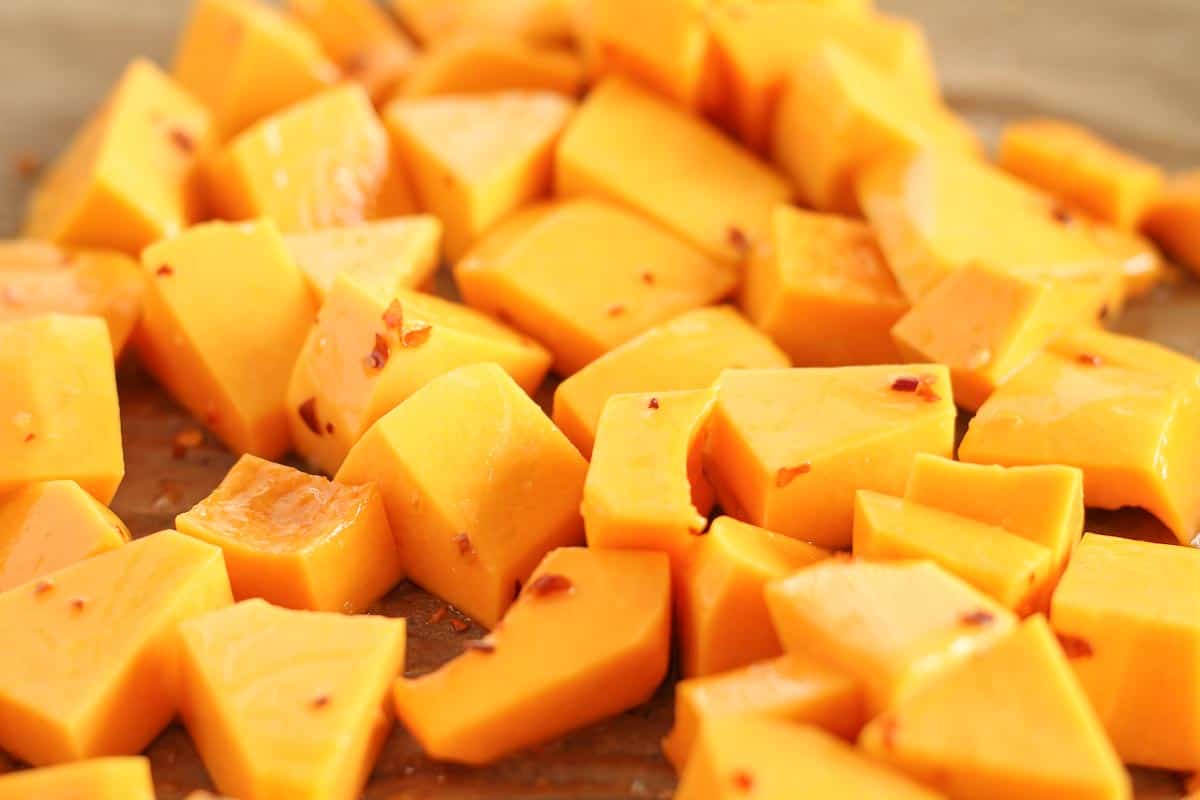 By the time a nice crust forms on your butternut squash, the lentils in the pot have had a chance to cook.
It's perfect timing.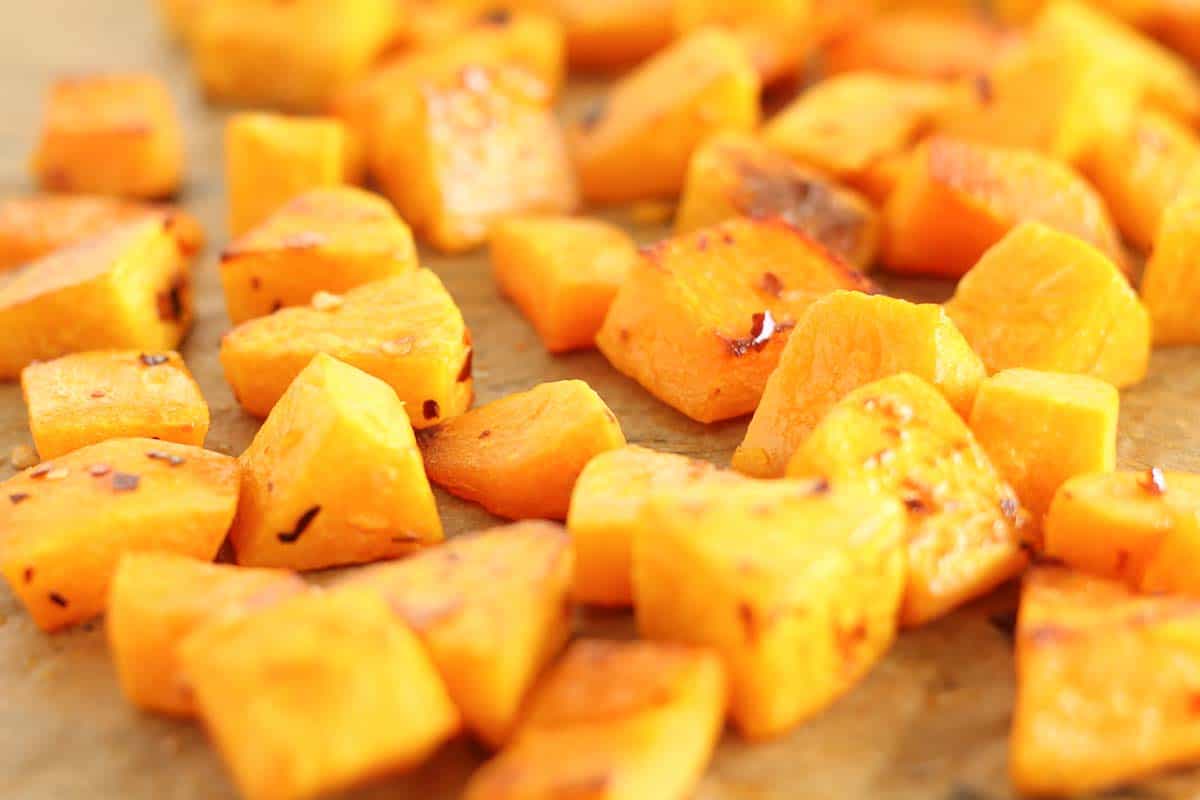 This chili is definitely different but we really enjoyed the balanced taste. Topping the bowls with cheese (there are some great vegan options!) and chives is strongly recommended. 🙂
And can you say filling? Between the lentil and the beans, you have all the protein bases covered.
What better for meatless Monday or maybe to warm your bones on a wintery night.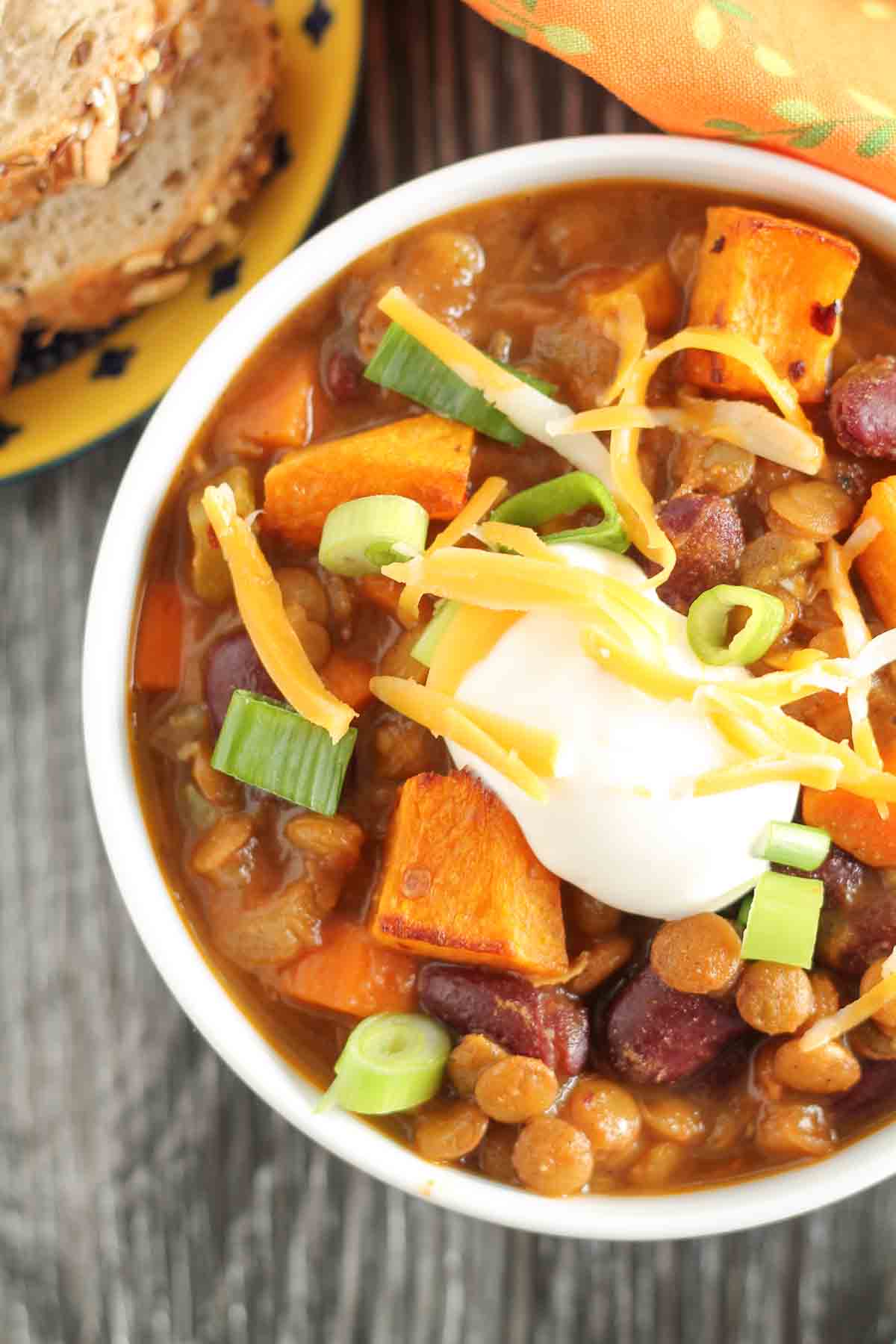 Like this one particular evening last week.
This was the view from my kitchen window: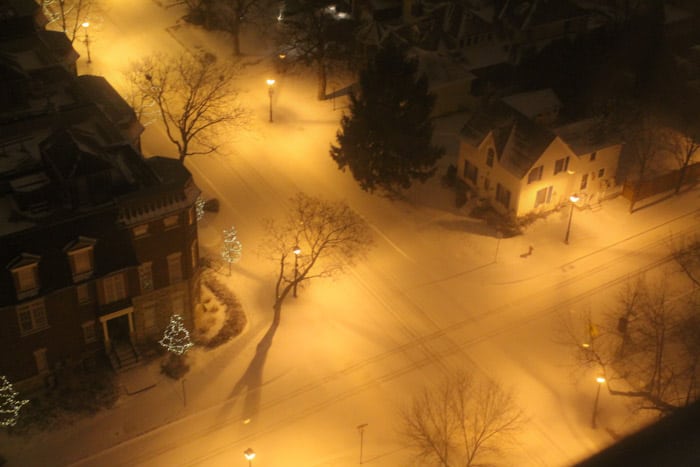 Brrrr …. Chilly!
Or should I say … Chili … 😉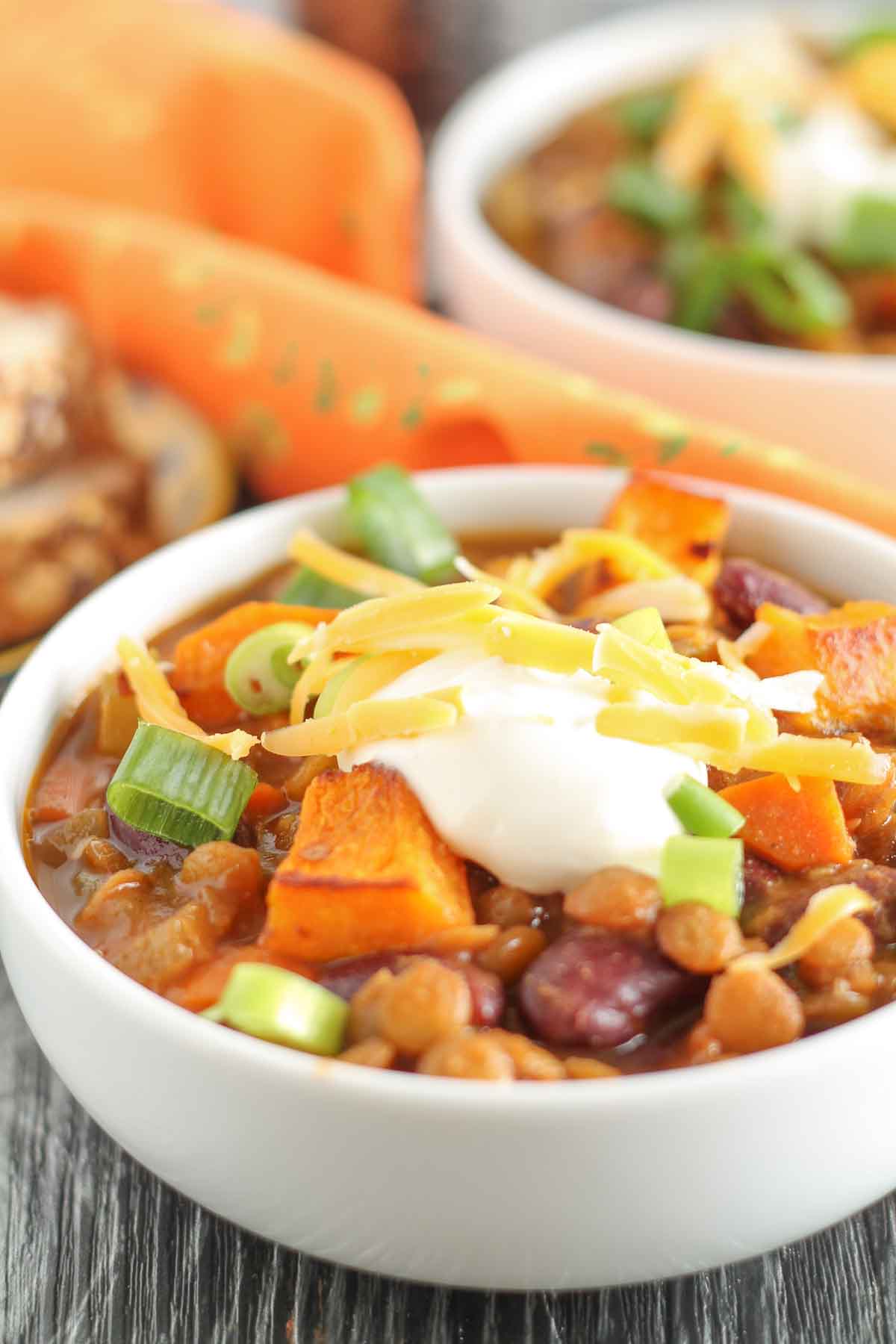 MORE HEALTHY SOUP RECIPES:
Vegan Roasted Tomato Basil Soup
Creamy Vegan Potato Cauliflower Soup
Originally posted on January 12, 2015. Updated October 22, 2020.
Be sure to follow me on social media! I love pinning to Pinterest, sharing on Facebook, and posting pics to Instagram. See you there. 🙂
As an Amazon Associate, I earn from qualifying purchases.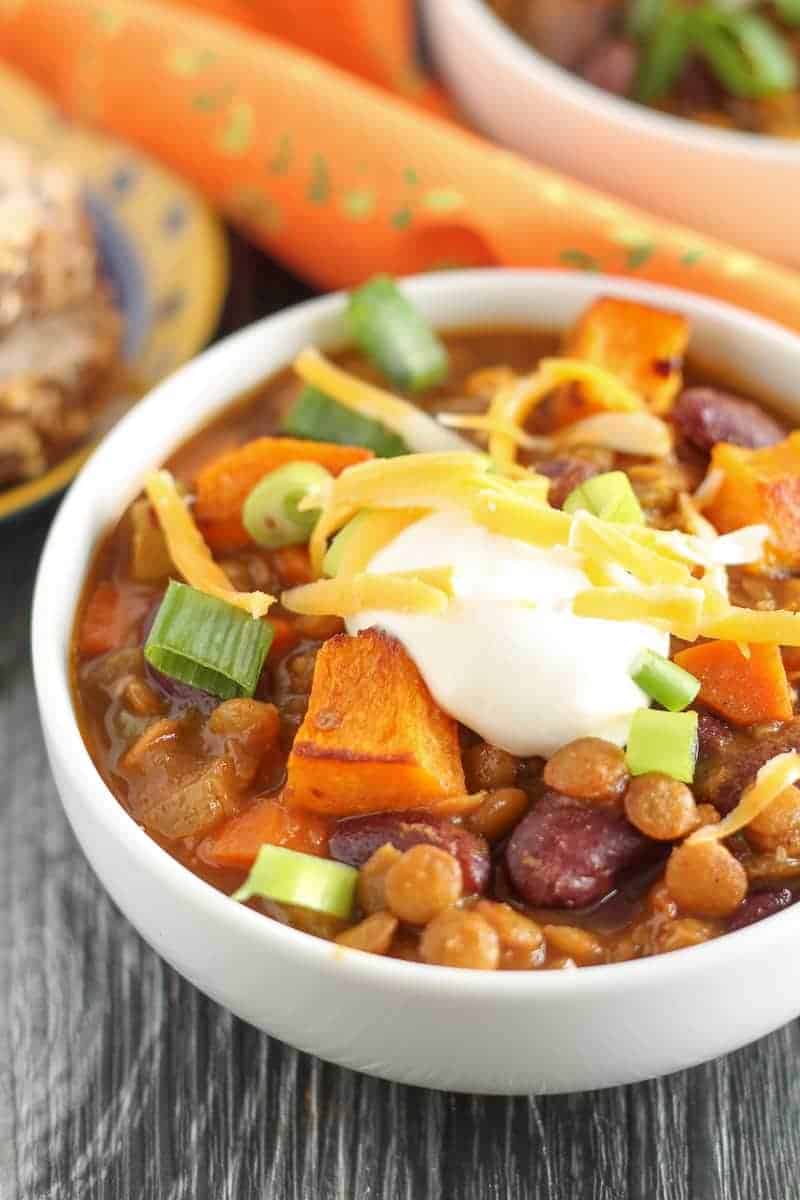 Vegetarian Lentil Chili with Roasted Butternut Squash
A healthy recipe for Vegetarian Lentil Chili with Roasted Butternut Squash. Kidney beans add even more plant-based protein. Simple and full of flavour.
Course:
Main Course, Soup
Keyword:
vegetarian chili, vegetarian chili lentils butternut squash
Instructions
Warm 1 tablespoon of olive oil in a large soup pot over medium-low heat. Sauté your onion, celery and carrots until onion is translucent, about 5 minutes. Add garlic and sauté, stirring, for another minute, until fragrant. Add all the spices, except the chili flakes, and cook for another minute, stirring frequently as not to burn.

Stir in the crushed tomatoes, and then add the lentils, water, and broth. Stir it all well and bring to a boil. Lower heat, cover and simmer on low until lentils are cooked through, about 45 minutes.

Meanwhile, heat your oven to 400 and spread your cubed butternut squash onto a lined baking sheet. Toss with 2 tablespoons of olive oil, chili flakes, sea salt & pepper. Roast for 30-40 minutes, a few times to make sure nothing is burning.

Stir beans into the chili pot and let heat through for about 5 minutes then, gently stir in the roasted squash. Add sea salt and pepper to taste.

Garnish with shredded cheese, sour cream, and green onions if desired.
Nutrition Facts
Vegetarian Lentil Chili with Roasted Butternut Squash
Amount Per Serving
Calories 272
Calories from Fat 72
% Daily Value*
Fat 8g12%
Sodium 425mg18%
Potassium 983mg28%
Carbohydrates 43g14%
Protein 11g22%
Vitamin A 18362IU367%
Vitamin C 32mg39%
Calcium 125mg13%
Iron 5mg28%
* Percent Daily Values are based on a 2000 calorie diet.