Roasted Tomato Basil Soup
Made from fresh tomatoes, this easy Roasted Tomato Basil Soup recipe is homemade at its BEST. It's a healthy fresh tomato soup that is dairy-free and gluten-free. Discover how to make a vegan soup creamy!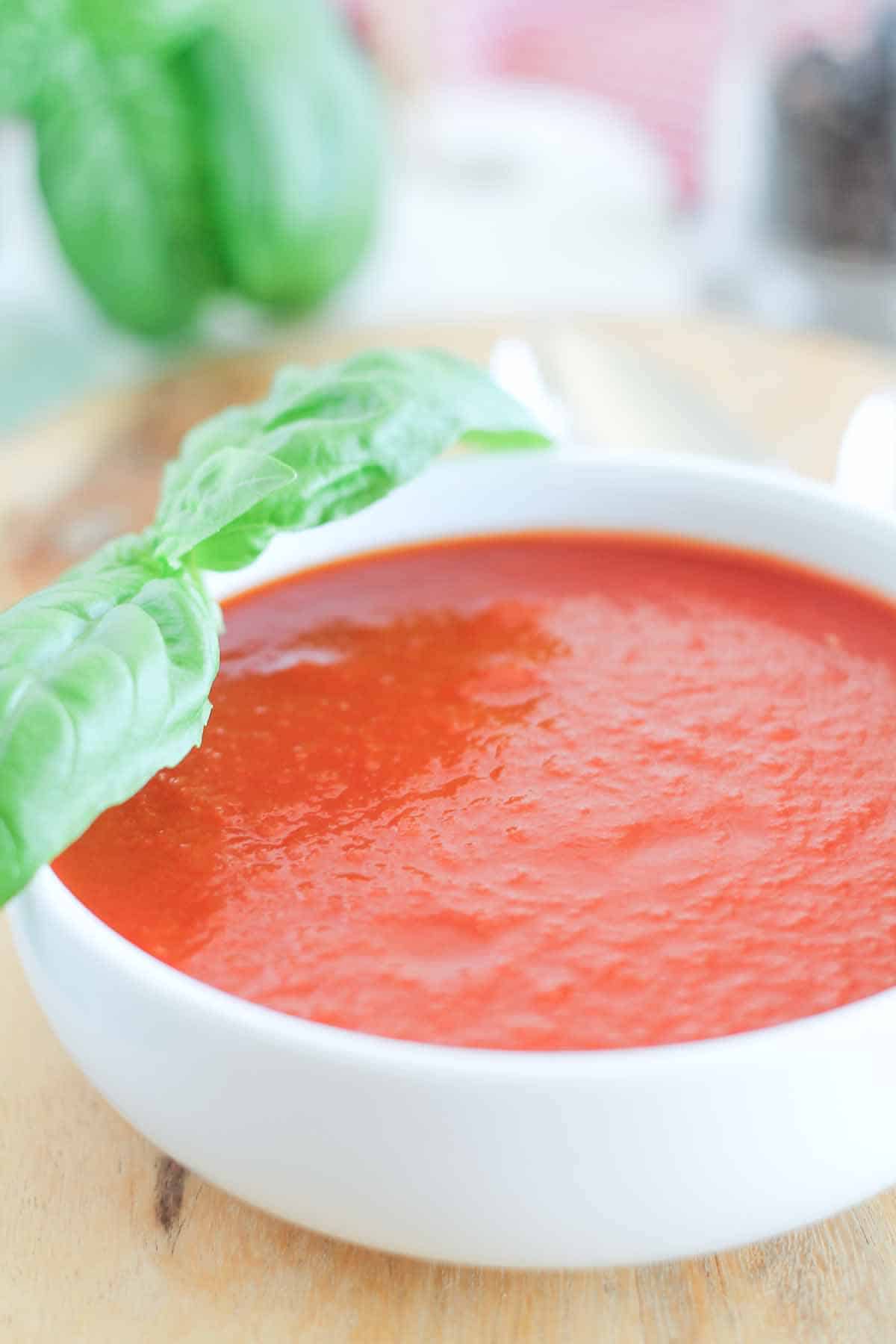 What better recipe for summer than homemade easy tomato basil soup? And I'm talking tomato soup with fresh tomatoes. A roasted tomato soup with garden-fresh basil that tastes like a bountiful harvest.
So romantic, right?
We love serving this soup with sourdough crostini. It is easy to make and adds a nice crunch with the soup.
ROASTED TOMATO BASIL SOUP
So, if I'm being perfectly honest, I don't really like tomatoes.
Like I won't eat them on a sandwich or toss them in a salad but I will eat tomato sauce, and of course fresh tomato basil soup.
The whole 'not liking tomato' thing has been the bane of my existence since childhood. My mom loved tomatoes. Her favourite snack was fresh tomatoes from her garden, sliced on her baked bread and then toasted with cheese under the broiler. I loved that snack too only sans tomatoes.
My mom couldn't understand how I could not like the tomatoes!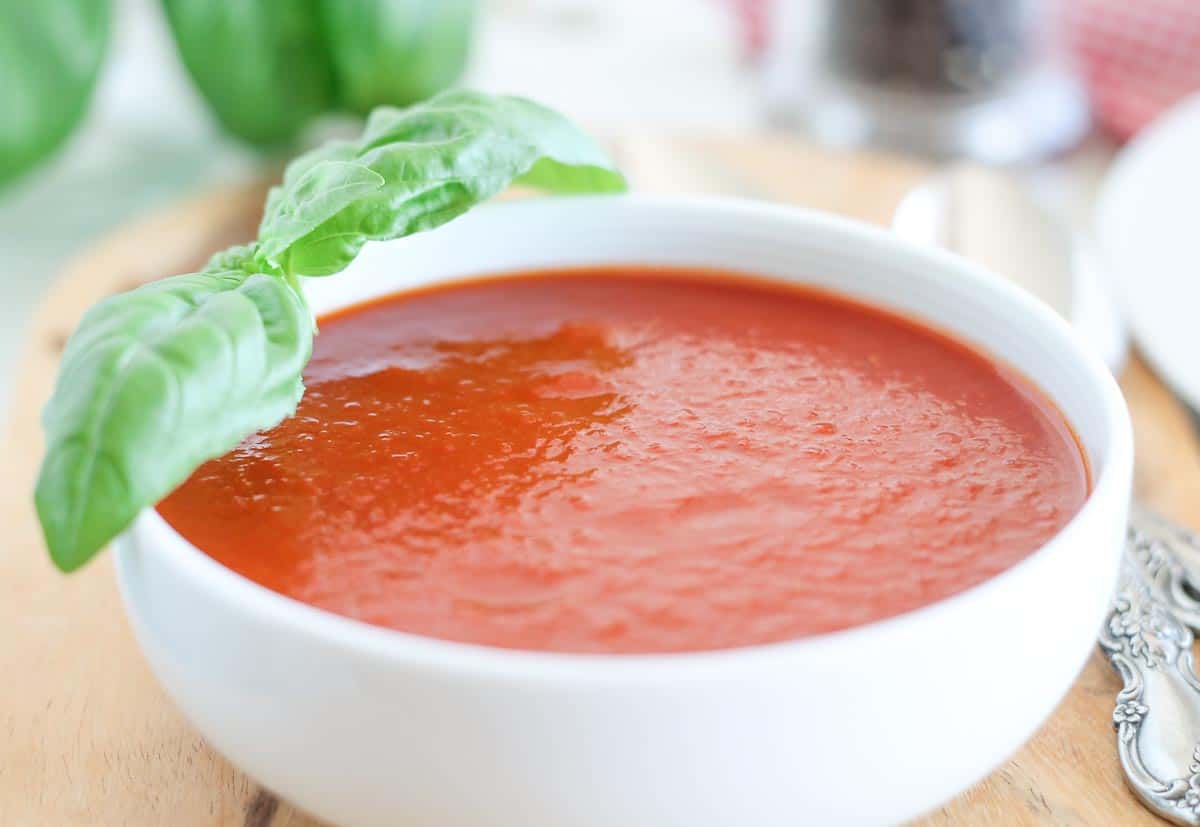 My best friend and her family are all huge tomato fans too. I was invited to many meals with their family and there was almost always at least one, if not two or three, tomato-based dishes that I would have to decline, feeling mortified about being an ungracious dinner guest.
Then there's Joe.
Love of my life.
He calls tomatoes 'God's food' and absolutely thinks I'm nuts that I detest them. Ay, yi, yi.
These beauties, however, are about to be transformed into a luxurious soup that even someone as anti-tomato as me can't resist. 🙂
Just look at them! Like they are ready for a still art painting project. 🙂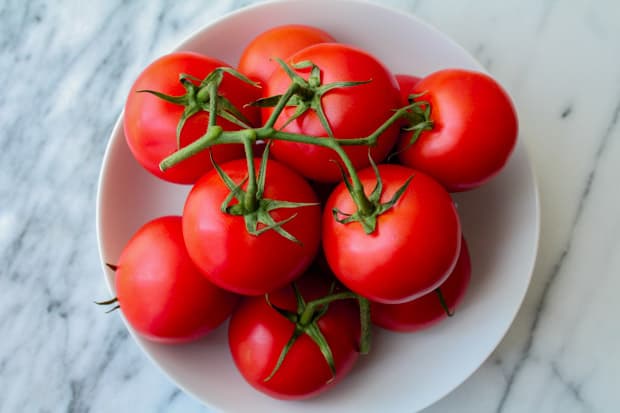 HOW TO MAKE EASY TOMATO BASIL SOUP – STEP BY STEP IMAGES
I conquered my fear of tomatoes by slicing all the tomatoes in half and then de-seeding them.
TIP! Be sure to slice your tomatoes using a serrated knife – it grips the skin giving you a clean cut instead of squishing your tomatoes flat. Also, don't slice through the stem part, slice through the fleshy middle.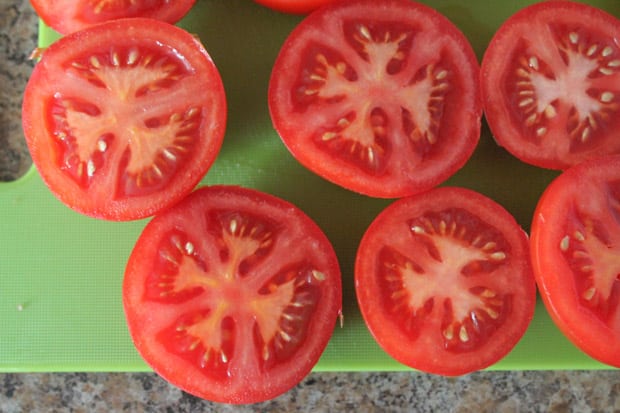 Stir the slices and de-seeded tomatoes around with freshly chopped basil and some glorious crushed garlic.
This all goes in the oven to roast for about 20 minutes.
NOTE! This photo shows foil but I now strictly use unbleached parchment paper. It's still easy for clean up and, in my personal opinion, is a safer option than aluminum.
While the tomatoes are roasting, caramelize some onions.
This is what will take our soup to that next level. ?
Cook the onions over medium-low heat and you will be rewarded with that savory, caramelized flavor.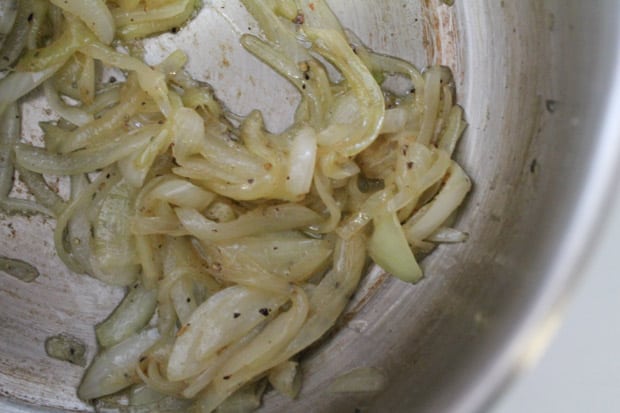 Once the tomatoes are finished roasting they should be crisp around the edges.
More prettiness from the tomatoes.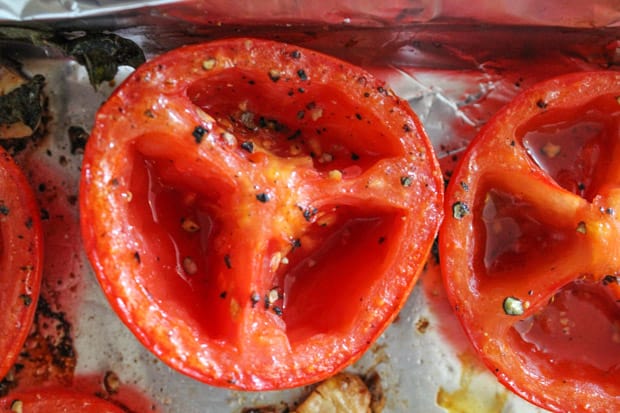 Add the roasted tomatoes along with the remaining ingredients including the water, veggie broth, basil, tomato sauce, and the tomato paste to the pot.
TIP! Buy the tomato paste in the tube instead of opening a whole can. Usually, you only need a few tablespoons maximum of tomato paste, so when you buy the tin, there tends to be a lot of waste.
The tube will last a long time in the fridge and is handy in a pinch.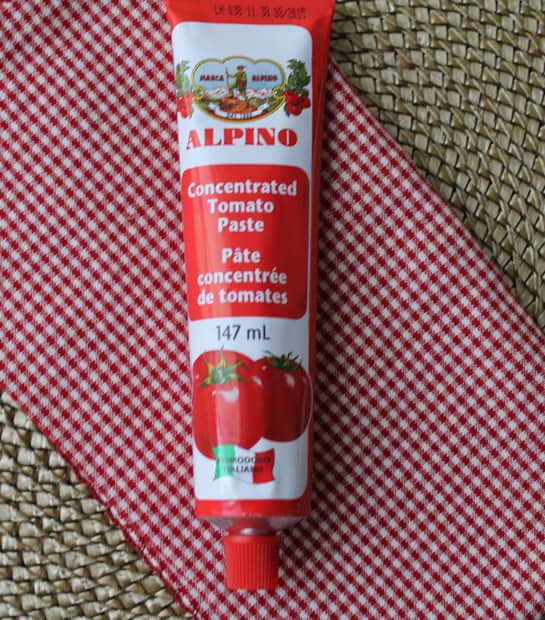 Bring the soup to a boil, reduce the heat, and let the pot simmer over medium heat for about 45 minutes.
This allows the flavors to all start developing.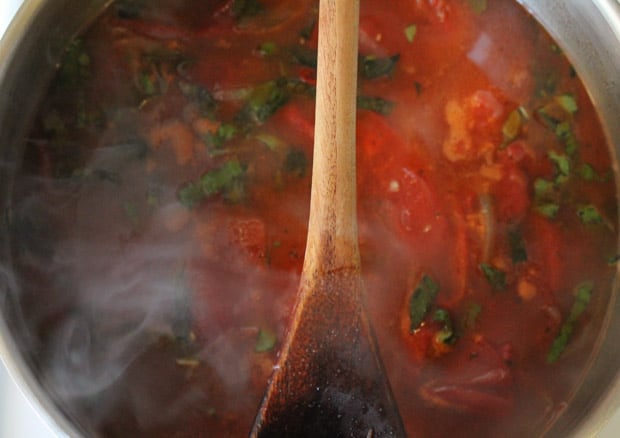 Next, it's time for your immersion blender. This tool makes it so easy, and with just a few pulses, I had a smooth texture, with no creepy clumps of tomato in sight!
Just make sure you don't lift the blender too high above the liquid or you may have about one million tomato spatter dots to clean up.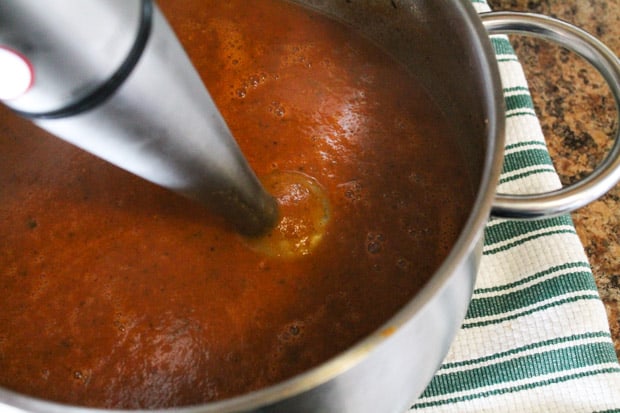 This tomato basil soup recipe has no cream! It is still silky and smooth with the clean, freshness of the basil.
Take a big ole spoonful!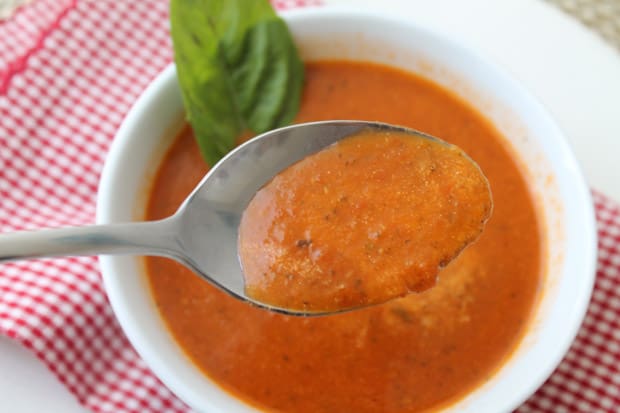 I saved a few of the basil leaves for the top which was nice.
There is also the option to add in milk of some kind if you are looking for a creamier soup.
MORE HEALTHY SOUP RECIPES
Coconut Curry Chicken Vegetable Soup
Instant Pot Turkey Kielbasa and White Bean Soup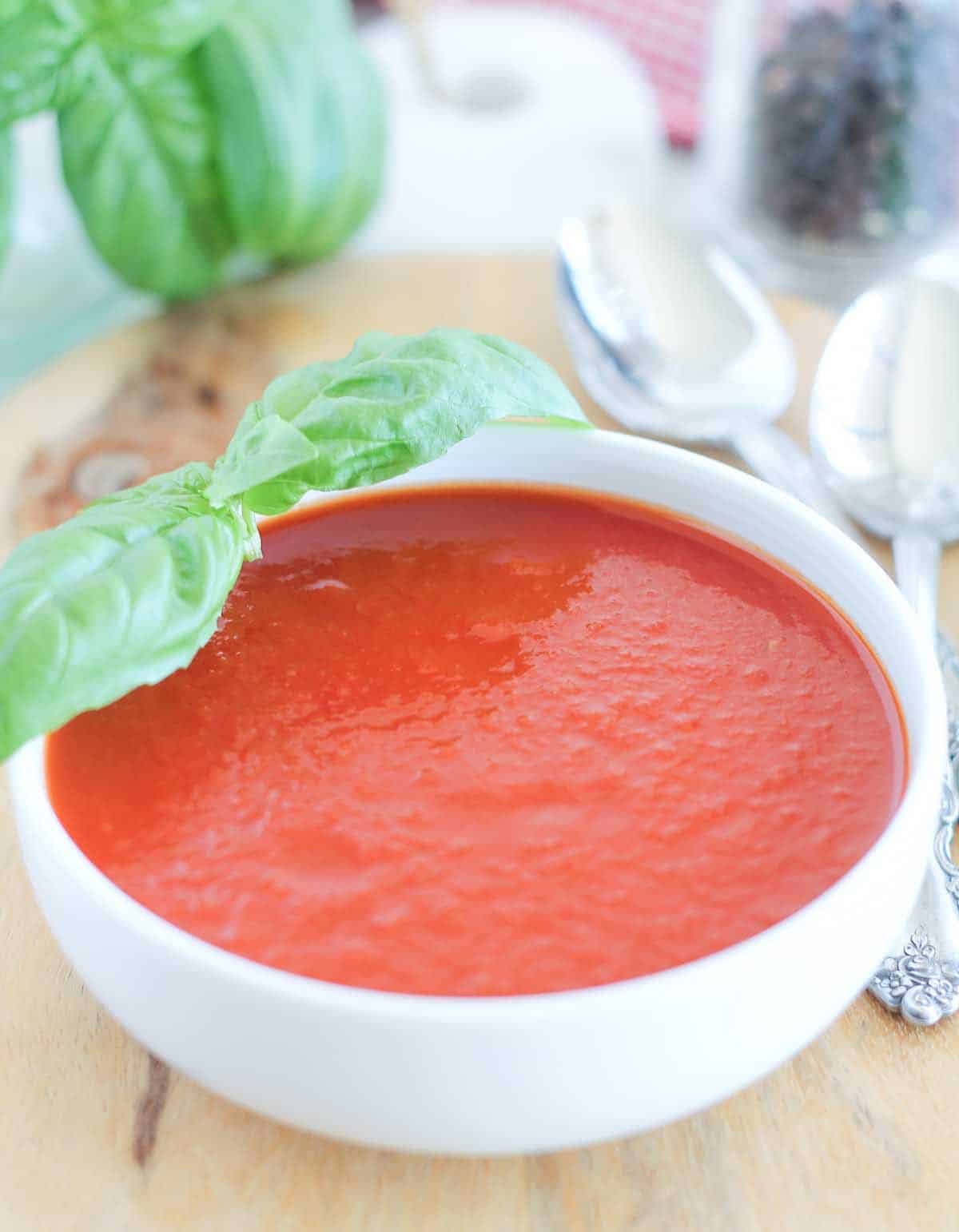 Be sure to follow me on social media! I love pinning to Pinterest, sharing on Facebook and posting pics to Instagram. See you there. 🙂
Originally posted on November 6, 2013. Updated August 12, 2020
As an Amazon Associate, I earn from qualifying purchases.
Roasted Tomato Basil Soup
Made from fresh tomatoes, this easy Roasted Tomato Basil Soup recipe is homemade at its BEST. It's a healthy fresh tomato soup that is dairy free and gluten free. Discover how to make a vegan soup creamy!
Instructions
Preheat the oven to 415 and line a baking sheet with parchment paper

Slice the tomatoes in half and, using a small spoon remove the seeds by gently scooping them out. Slice the tomatoes opposite from the stem so they are easier to seed!

Slide them onto the prepared baking sheet along with the garlic and the basil leaves. Toss everything with 2 tbsp of the olive oil then sprinkle on the sugar, sea salt & pepper. Stir everything well ( I massage using clean fingers), then turn all the tomatoes so the cut side is up.

Roast for 20 minutes, until the tomatoes begin to crisp on the top.

Meanwhile, caramelize the onions. In a large soup pot, heat 1 tbsp of the olive oil with the Earth Balance (or butter) over medium-low heat. Once it's warmed, add in the onions with a touch of sea salt & pepper. Stir well and continue stirring periodically for about 10 minutes until they are browned and caramelized.

Once the tomatoes are roasted, slide the contents of the baking sheet into the soup pot with the onions and stir well

Mix in the rest of the ingredients, bring them to a boil over medium-high heat, then lower to a simmer for about 45 minutes.

Remove the pot from the heat and set on the counter ( I place mine on a flat tea towel ). Using an immersion blender, pulse until you reach your desired soup consistency.

Add in more fresh basil or stir in some coconut or regular milk for a creamier flavour.

Serve warm. We serve with grilled cheese sandwiches!

This soup will keep covered in the fridge for up to 3 days.
Nutrition
Calories:
145
kcal
Carbohydrates:
15
g
Protein:
2
g
Fat:
9
g
Saturated Fat:
1
g
Sodium:
698
mg
Potassium:
671
mg
Fiber:
3
g
Sugar:
9
g
Vitamin A:
2605
IU
Vitamin C:
37
mg
Calcium:
36
mg
Iron:
1
mg