So, if I'm being perfectly honest, I really don't like tomatoes. Like I won't eat them on a sandwich or toss them in a salad but I will eat tomato sauce, and now … dun dun dun … this velvety, roasted tomato soup.
The whole 'not liking tomato' thing has been the bane of my existence since childhood. My mom loved tomatoes. Her favourite snack was fresh tomatoes from her garden, sliced on her baked bread and then toasted with cheese under the broiler. I loved that snack too only sans tomatoes. My mom couldn't understand how I could not like the tomatoes.
My best friend, Julie and her family are all huge tomato fans. I was invited to many meals with their family and there was almost always at least one, if not two or three, tomato based dishes that I would have to decline, feeling mortified about being an ungracious dinner guest.
Then there's Joe. He calls tomatoes 'God's food' and absolutely thinks I'm crazy that I detest them.
These beauties, however, are about to be transformed into a luxurious soup that even someone as anti-tomato as me can't resist 🙂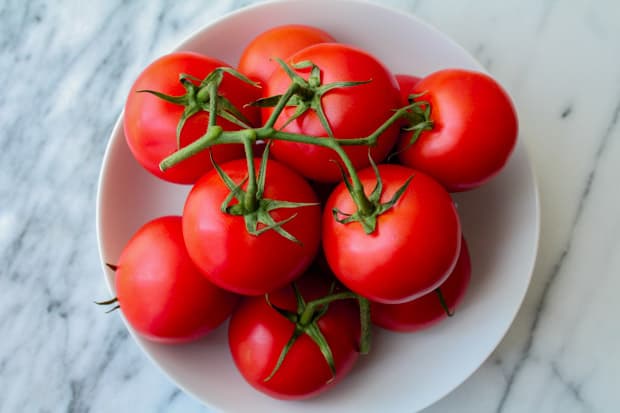 I conquered my fears by slicing all the tomatoes in half and then de-seeding them.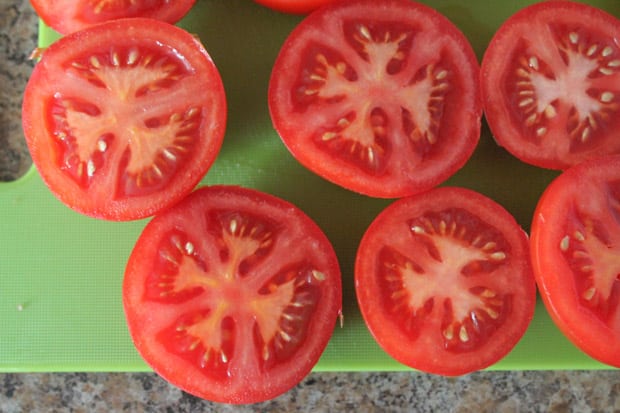 Stir them all around with some torn basil and some glorious crushed garlic and roast them for about 20 minutes.
While the tomatoes are roasting, caramelize some onions. This is what will take our soup to that next level 😉 Cook the onions over medium low heat and you will be rewarded with that savoury, caramelized flavour.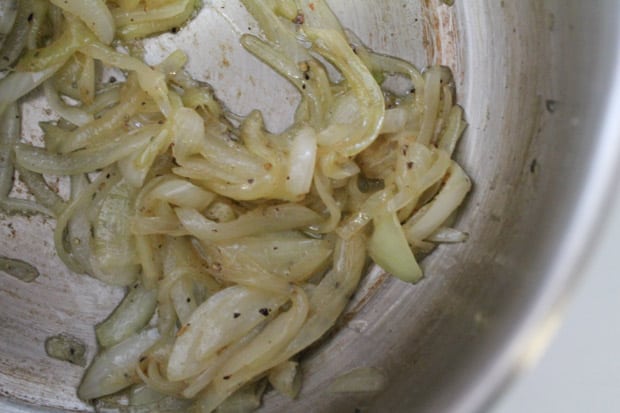 Once the tomatoes are finished roasting they should be crisp around the edges.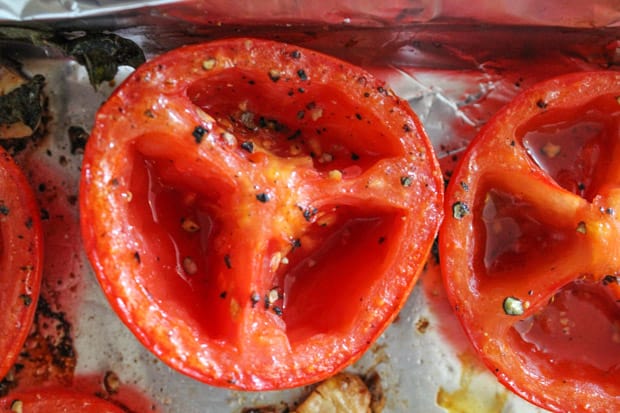 Add the roasted tomatoes along with the remaining ingredients including the water, veggie broth, basil, tomato sauce and the tomato paste to the pot. A trick I learned about using tomato paste is to buy the tube instead of the tin. Usually, you only need a few tablespoons of tomato paste, so when you buy the tin, there tends to be a lot of waste. The tube will last in the fridge and is handy in a pinch.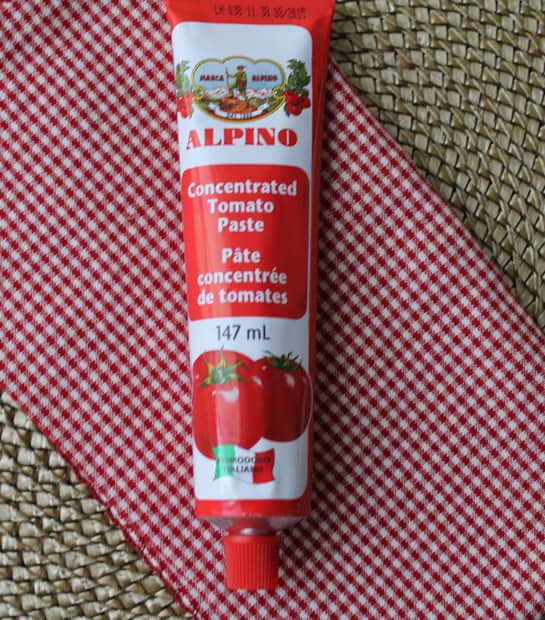 Bring the soup to a boil, reduce the heat and let the pot simmer over medium heat for about 45 minutes.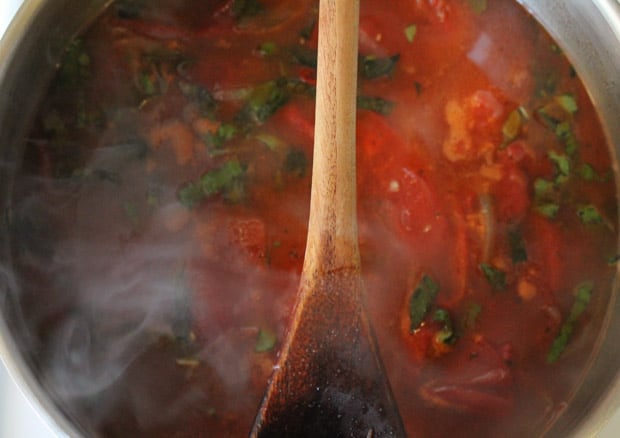 Then, for the first time ever (!), I used my immersion blender. Why I waited so long is beyond me. It was so easy, and with just a few pulses, I had a smooth texture, with no creepy clumps of tomato in sight! Just make sure you don't lift the blender too high above the liquid or you may have about one million tomato spatter dots to clean up 😉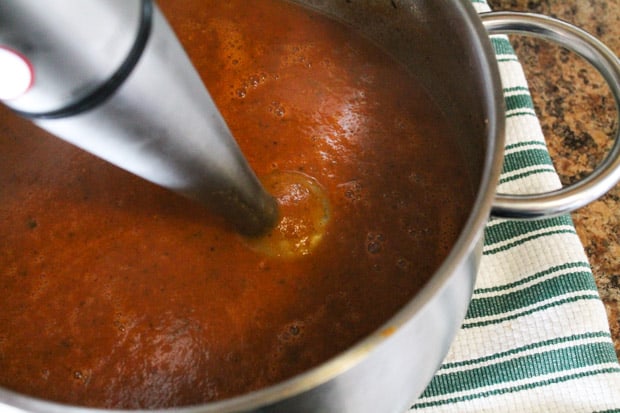 Smooth with the clean, freshness of the basil …  this soup was so.good.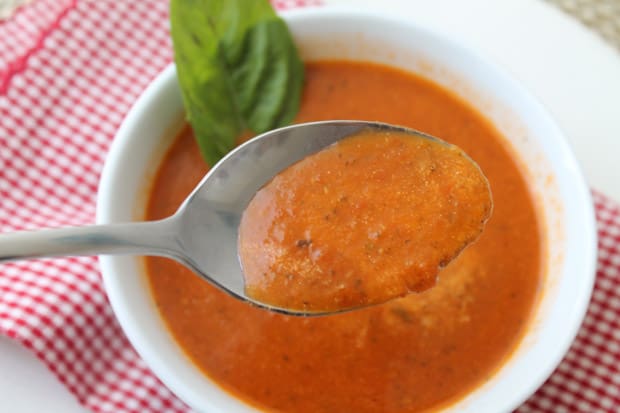 I saved a few of the basil leaves for the top which was nice. There is also the option to add in milk of some kind if you are looking for a creamier soup. I enjoyed this dish with my freshly baked paprika spiced spelt muffins and sopped up every last bit! 
Creamy Roasted Tomato & Basil Soup – Vegan, Grain & Gluten Free
Course:
Appetizer, Side Dish, Soup
Keyword:
gluten free tomato basil soup, vegan tomato basil soup
Ingredients
12

ripe tomatoes

15-20

fresh basil leaves

roughly torn

1

tsp

organic cane sugar

4

cloves

garlic

smashed

3

tbsp

olive oil

split

1

tbsp

Earth Balance

or butter

1

small onion

1

tin pasta sauce

4

cups

vegetable broth

2

cups

of water

2

tbsp

tomato paste

sea salt & freshly ground pepper

to taste
Instructions
Preheat the oven to 415 and line a baking sheet with tin foil

Slice the tomatoes in half and remove the seeds. Slice them opposite from the stem so they are easier to seed

Slide them onto the foil lined baking sheet along with the garlic and 5 of the basil leaves. Toss everything with 2 tbsp of the olive oil then sprinkle on the sugar, sea salt & pepper. Stir everything well using your fingers, then turn all the tomatoes so the cut side is up

Roast for 20 minutes, until the tomatoes begin to crisp on the top

Meanwhile, caramelize the onions. Heat 1 tbsp of the olive oil with the Earth Balance (or butter) over medium low heat and add in the onions with a touch of sea salt & pepper. Stir well and continue stirring periodically for about 10 minutes

One the tomatoes are roasted, slide the contents of the baking sheet into the pot with the onions and stir well

Mix in the rest of the ingredients, bring them to a boil, then simmer for about 45 minutes

Using an immersion blender, pulse until you reach your desired consistency

Add in more fresh basil or stir in some coconut or regular milk for a creamier flavour
Nutrition Facts
Creamy Roasted Tomato & Basil Soup – Vegan, Grain & Gluten Free
Amount Per Serving
Calories 145
Calories from Fat 81
% Daily Value*
Total Fat 9g 14%
Sodium 698mg 29%
Potassium 671mg 19%
Total Carbohydrates 15g 5%
Protein 2g 4%
* Percent Daily Values are based on a 2000 calorie diet.