So, today is Good Friday and the official kick off to the chocolate free-for-all extravaganza known as Easter has begun. Of course, we've come a long way from those tin foil wrapped eggs and now the focus is on a healthier chocolate fix.
Don't think I'm raining on your parade though! If chocolate bunnies are your tradition, have at 'er. Just keep it to the holiday and don't make it habit. Bad habits have been known to be so darn hard to break. 😉
OK, onto my bars. They are kind of reminiscent of those chewy, chocolate dipped granola bars we all thought were oh-so good for us back in the day. Isn't it funny what you used to think was 'good for you'. I considered Mr. Noodles to be a proper meal when I first live on my own. For real. Yikes, right?
No yikes with these Chewy Chocolate Almond Bars though. These are yum all the way. And real food, too. No weird additives/preservatives or harmful sugars. Isn't that what treating yourself is about, anyways? Quality is so underrated.
Just look at this chocolately amazingness.
This mixture gets hard to stir but that means it will hold together nicely.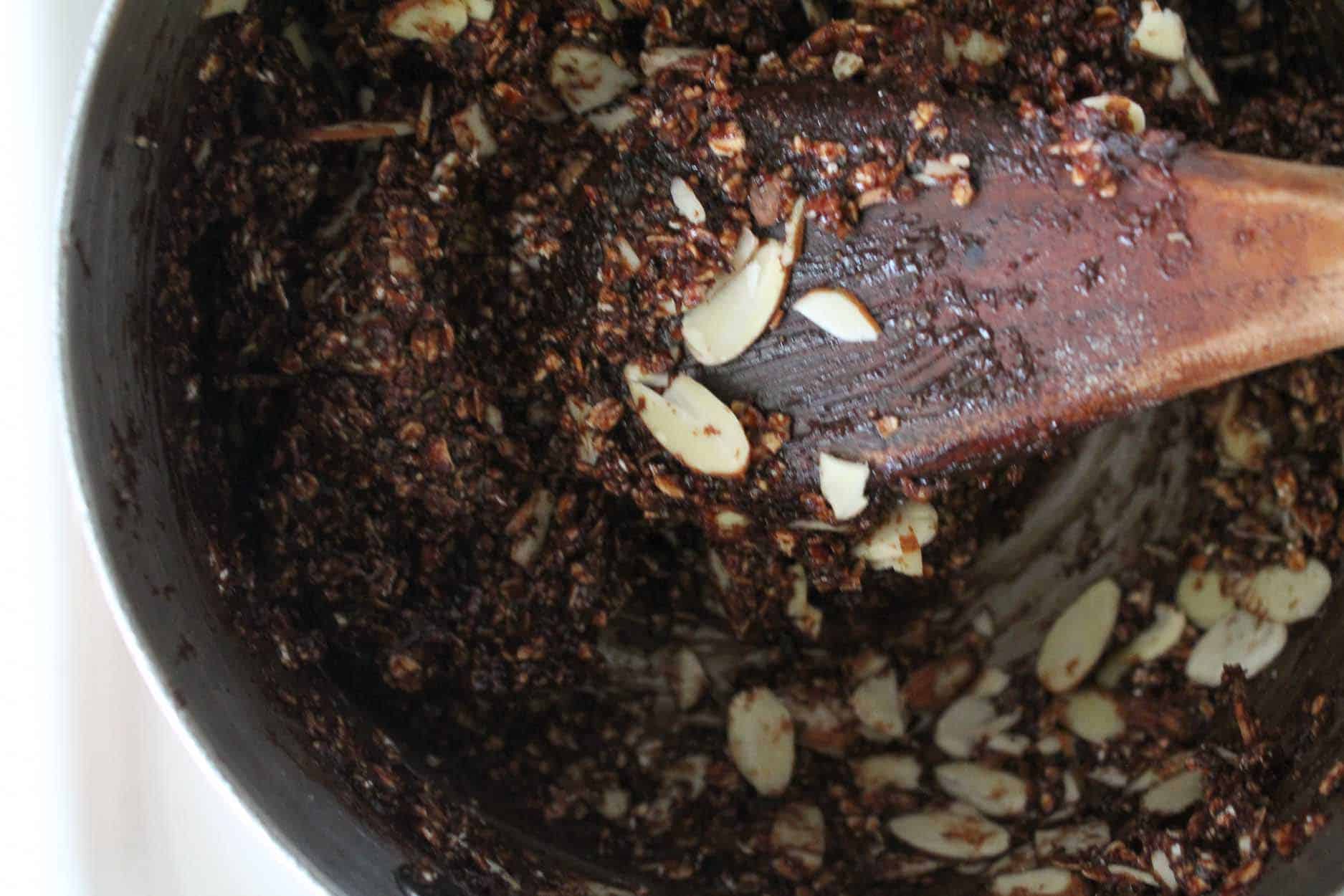 Some chia seeds pressed into the top are the 'crowning glory'. I love that little snap you get from biting into a chia seed. Great texture.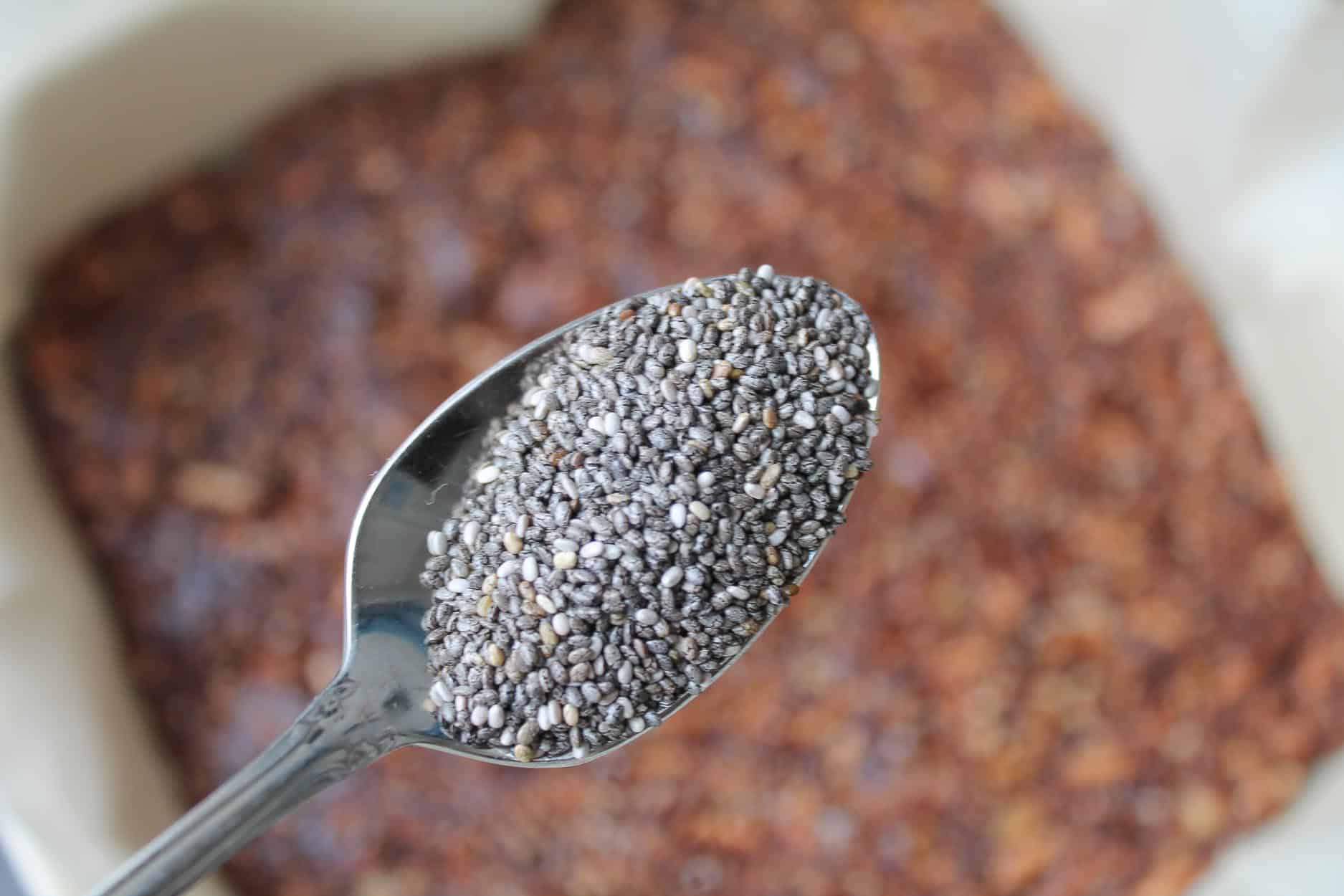 These Chewy Chocolate Almond Bars slice up super easily.
You could also cut them in half again if you are monitoring your portions.
Which I did not do.
Ooops.
No chocolate eggs for me this weekend! 😉
As an Amazon Associate I earn from qualifying purchases.
Chewy Chocolate Almond Bars – Vegan & Gluten Free
Keyword:
chewy chocolate almond bars
Instructions
Line a 9x9 dish with parchment, lightly grease the paper and set aside

In a large sauce pan over medium low heat, melt together the maple syrup, almond butter, coconut sugar and sea salt, stirring until smooth and liquidy

Remove from heat and stir in the cocoa powder, mixing until lump-free

Stir in the vanilla, then the oats, 1/2 cup at a time. It gets very hard to mix but that means they will hold together well. Stir in the slivered almonds, then fold in the cereal

Transfer the mixture to the lined 9x9 and press it in really well

Sprinkle the top with chia seeds and, using the back of a spoon, press the seeds into the top of the mixture

Set in the freezer for an hour, then slice into bars

Store, covered, in the fridge or freezer
Nutrition Facts
Chewy Chocolate Almond Bars – Vegan & Gluten Free
Amount Per Serving
Calories 219
Calories from Fat 81
% Daily Value*
Fat 9g14%
Sodium 89mg4%
Potassium 234mg7%
Carbohydrates 29g10%
Protein 5g10%
Calcium 92mg9%
Iron 1.6mg9%
* Percent Daily Values are based on a 2000 calorie diet.