This recipe for Kiwi Sorbet couldn't be easier. With only two ingredients, this frozen treat is destined to become a summertime favourite. Vegan, Paleo & Gluten Free.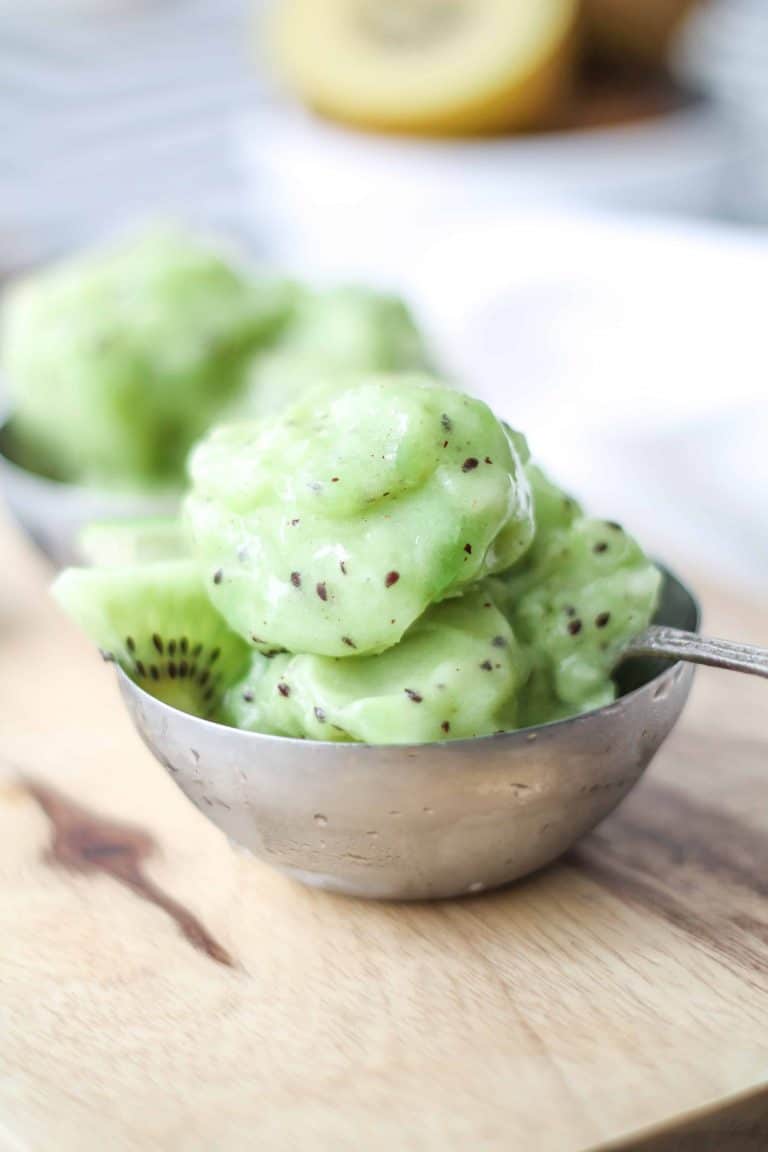 Don't you find that oftentimes, the simpler something is, the better? That rule applies to the sweetly delicious kiwifruit.
Are you a fan?
I've loved the simplicity of kiwis since childhood. My oldest brother, who did everything cool, was into the cut & scoop method of kiwi eating. Have you heard of it? Pretty self explanatory and SO simple. Cut that tasty sucker right in half and scoop out the goodness with a spoon. Done. Treat enjoyed.
So, cut to ( See what I did there? Cuuuuut to? Puns-R-Us), anyway, cut to last month when I was offered a sponsorship opportunity with zesprikiwi.com. They liked my idea for Kiwi Sorbet and I was chosen to join the project.
I never think I'll get asked for these things as my Instagram follows are so low. I only joined the Instagram train in October when we moved to Vancouver and I got my first cell phone.
Yes, you read that right.
First.
Cell phone.
Or is it Smart phone? I've shunned it for so long but needed it for our cross country relocation. Either way, I was forced into getting one so why not embrace it and go full Instagram. 😉
Back to kiwis for a second though so you can fully get behind this frozen treat. Like so many whole fruits, kiwis provide potassium, fibre and Vitamins C & E. That's a nice army of nutrients right there.
This Kiwi Sorbet is a killer recipe and I know I've done the fruit proud.
KIWI SORBET
This will become your summertime go-to.
It's so easy too!
Remember how everyone went nuts about banana soft serve? This is the exact same concept. Slice up fruit, freeze it, puree it up in the food processor and you have sor-BAY, baby.
I added some fresh lime juice and that was it. No sugars, no sweeteners at all. We loved the sour, tart taste. This is NOT your sickly sweet ice cream type dessert. This is refreshing. A palate cleanser. A hydrating, vitamin C fruit bomb!
Enjoy. 🙂
*This post was sponsored by Zespri Kiwifruit. Zespri SunGold Kiwifruit can be found at local supermarkets from May to October.
MORE HEALTHY DESSERT RECIPES:
Double Chocolate Hazelnut Torte
Peanut Butter Chocolate Chip Freezer Fudge
*Originally posted July 13, 2016. Updated June 1, 2019*
Be sure to follow me on social media! I love pinning to Pinterest, sharing on Facebook and posting pics to Instagram. See you there. 🙂
Kiwi Sorbet
Kiwi Sorbet. This recipe couldn't be easier! With only two ingredients, this frozen treat is destined to become a favourite. Vegan, Paleo & Gluten Free.
Keyword:
kiwi sorbet, sugar free desserts
Instructions
Peel the kiwis and slice them into rounds. Place the slices on a lined baking sheet and pop into the freezer until solid - approximately 2-3 hours

Transfer the frozen kiwi slices to a food processor or high speed blender and add the fresh lime juice. Pulse the fruit until it reaches the consistency of sorbet. You will have to scrape the sides down a few times to get consistency

Serve immediately or freeze. If you are freezing it will need a good 15 - 20 minute to thaw enough to eat

Can easily be doubled, tripled, or quadrupled
Nutrition Facts
Kiwi Sorbet
Amount Per Serving (2 g)
Calories 93
% Daily Value*
Sodium 4mg0%
Potassium 460mg13%
Carbohydrates 23g8%
Protein 1g2%
Vitamin A 120IU2%
Vitamin C 136.3mg165%
Calcium 57mg6%
Iron 0.6mg3%
* Percent Daily Values are based on a 2000 calorie diet.