Homemade Pineapple Frozen Yogurt is not only delicious it it super easy to make. Summertime treats are so much better when they are homemade. Gluten free recipe!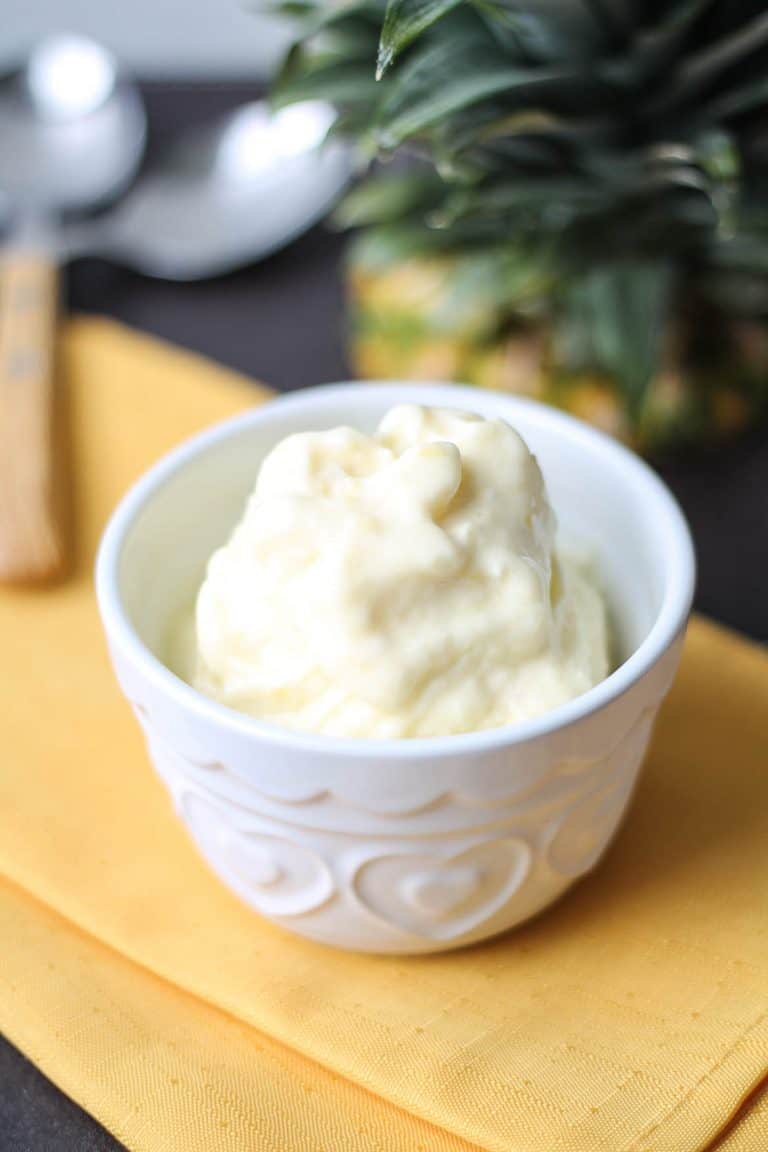 A few weeks ago, my friend Lisa and I attended VegFest, a local veggie-centric festival featuring local farms, health food stores, vegan bakeries, etc. etc.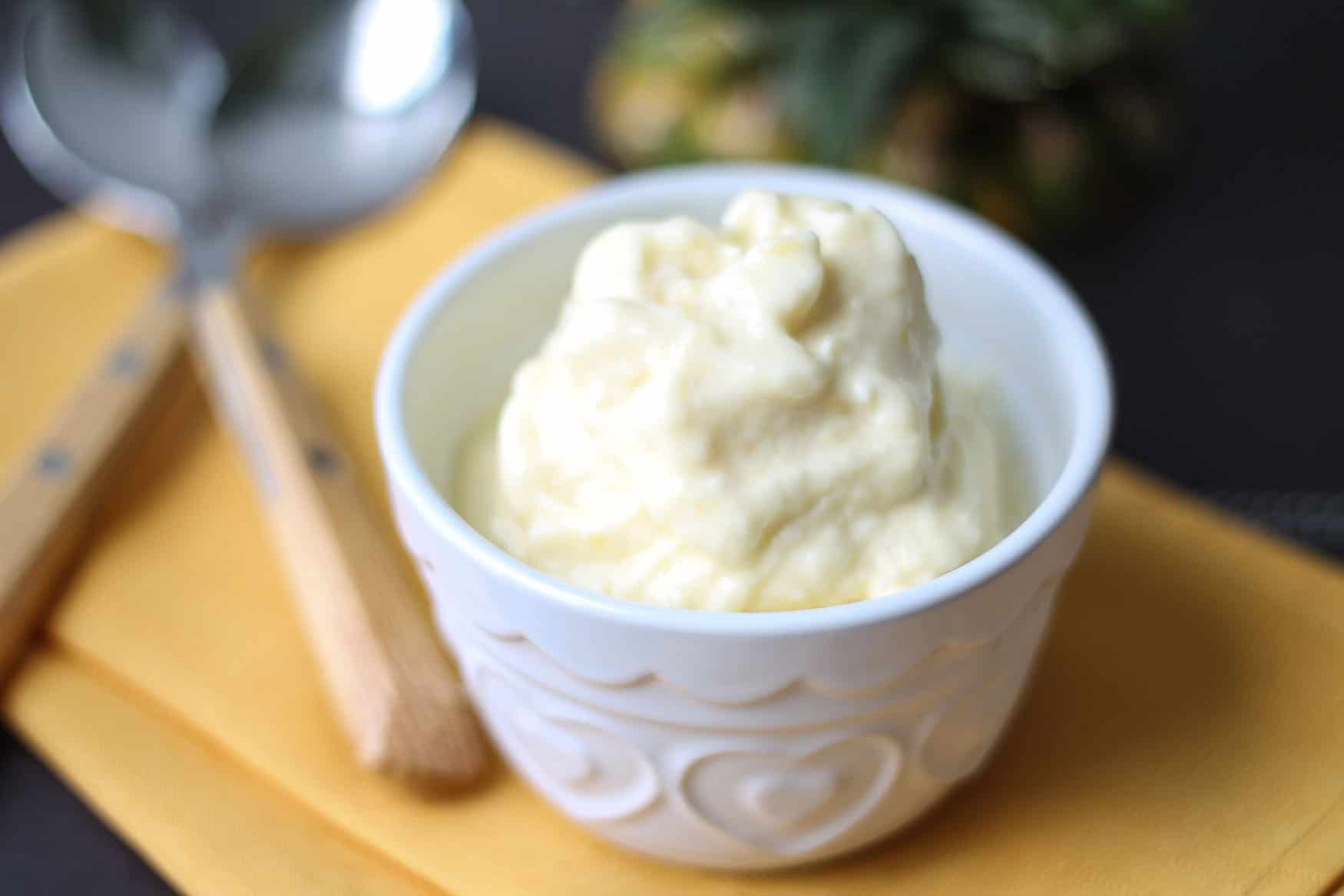 On the drive out there we talked about how some things are so simple yet people tend to make them out to be difficult. Case in point, fruit flavoured yogurts.
Lisa had seen a comment on a local farm's Facebook page asking why they didn't offer fruit yogurts.
She wanted to reply to the commenter and let her know that slicing up a strawberry or tossing some blueberries on top of your yogurt will, in fact, transform it into something much, much better that those chemically enhanced 'flavoured' yogurts you see in the dairy aisle.
PINEAPPLE FROZEN YOGURT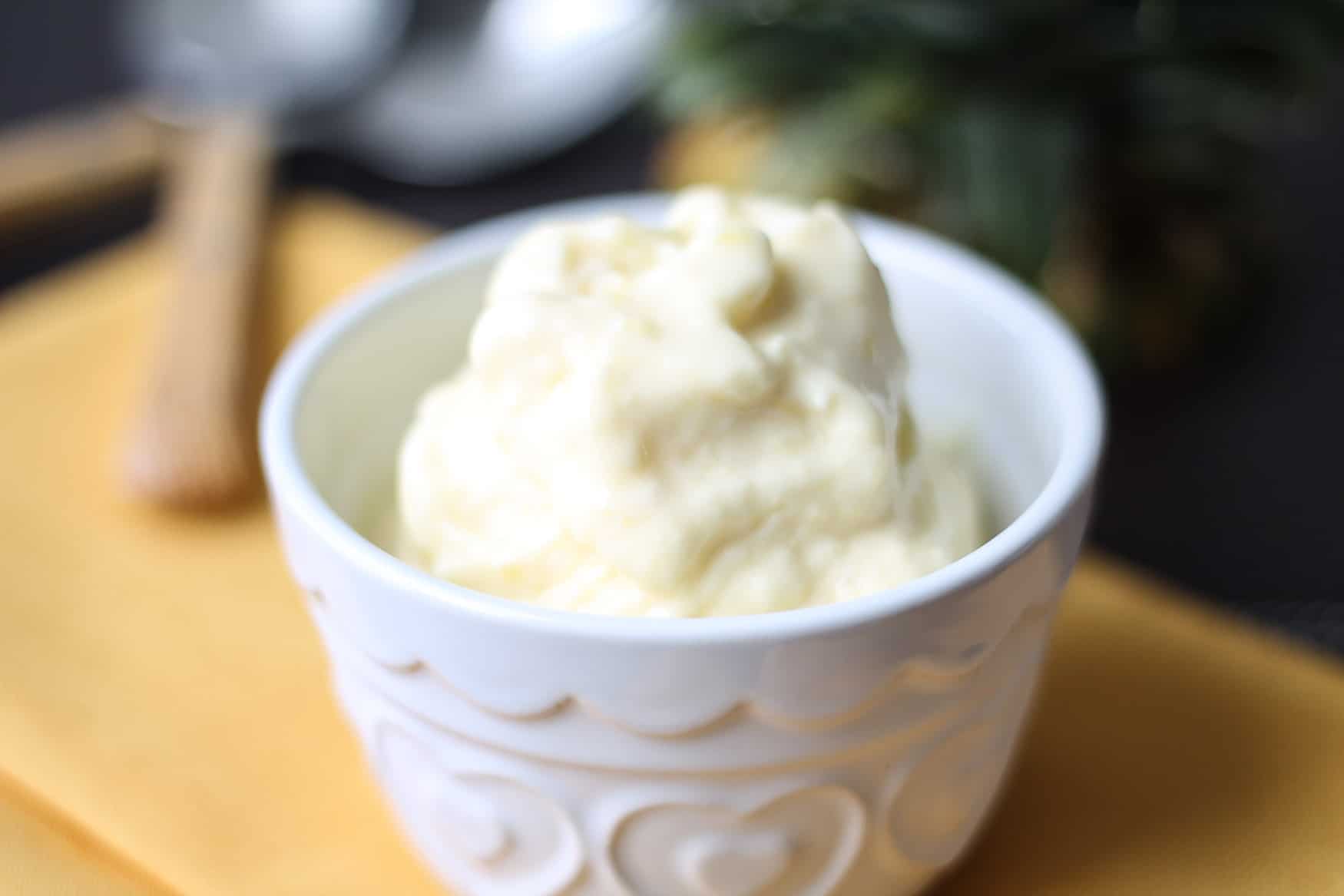 I remember those little plastic cups with the tear away, tin foil lids.
You'd scrape the fruit from the bottom and mix it in with your yogurt. The sad thing is to mimic the taste of fresh fruit, we are consuming added sugars and preservatives added by the companies that process the food.
This enhances the shelf life however, the whole time we are thinking our yogurt is oh-so healthy.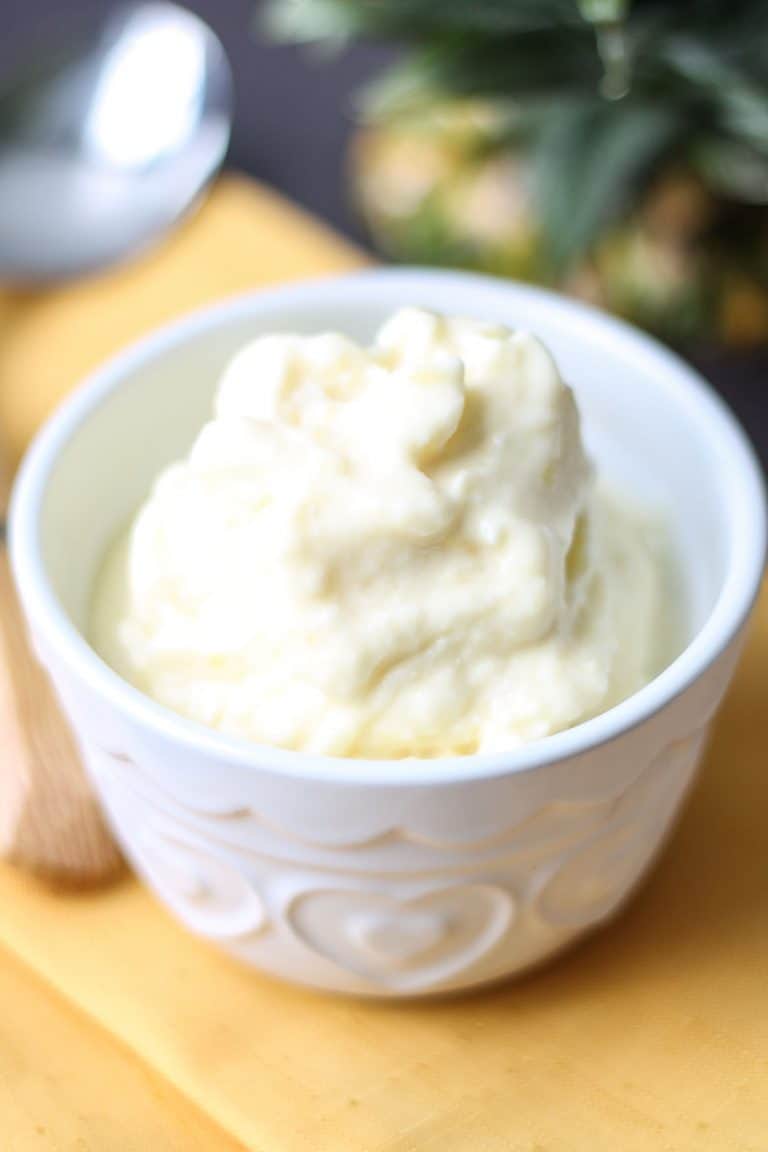 Well, it doesn't get any easier or more fresh than this Pineapple Frozen Yogurt. My pineapple addiction is a rather new thing. As a kid, my sister would get it on pizza (still does, I think!) and I though it was awful. Other than that, pineapple was just never around.
Lately, I've been picking up fresh pineapple and chopping it up to eat. I looooove how juicy and hydrating they are. Perfect for the summer heat.
Joe, however, is not a fan so I end up with a lot more pineapple than I can eat in one sitting. You can pop it into the fridge and just top your yogurt with it OR you can toss it in the freezer and make this deliciously frosty summer treat.
All it takes is a whirl in the food processor ( a good blender would probably work too) and BOOM!
Frozen freaking yogurt.
No added sugar, no weird gums or starches. Use a quality, preferably organic yogurt and this is snack is nutritionally sound.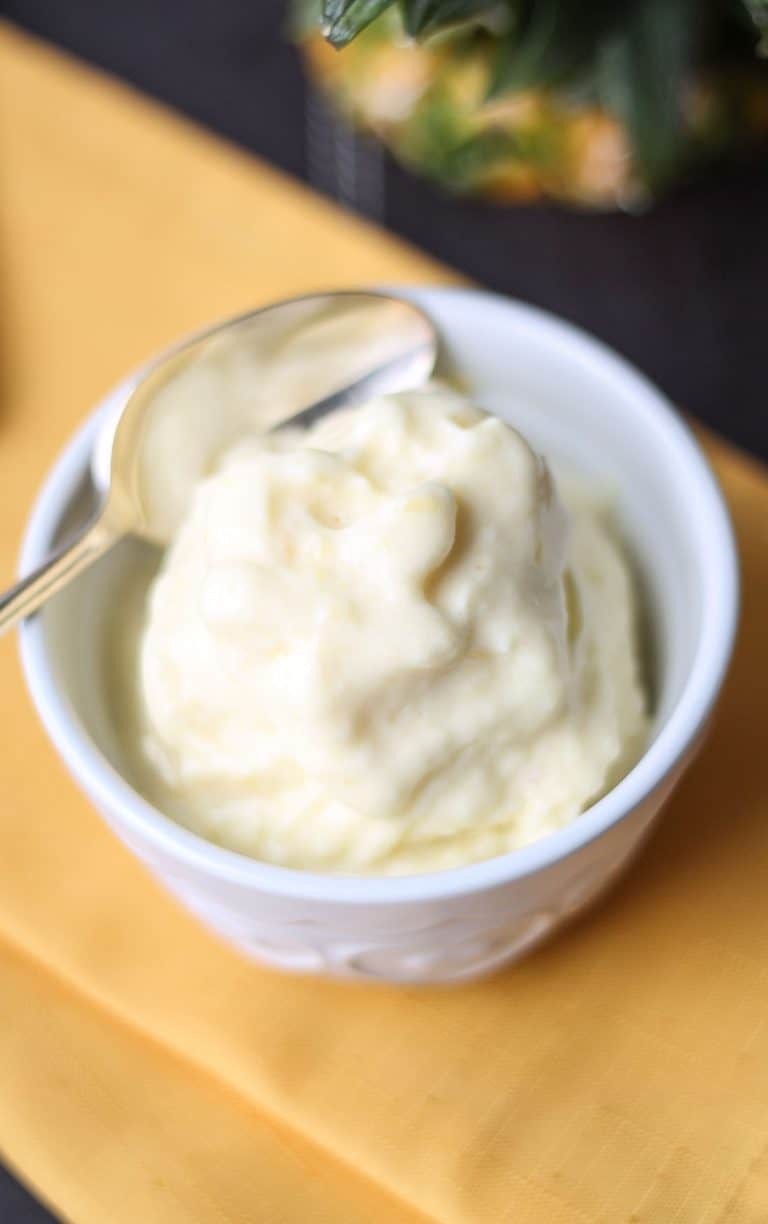 The kids will love it!
Enjoy. 🙂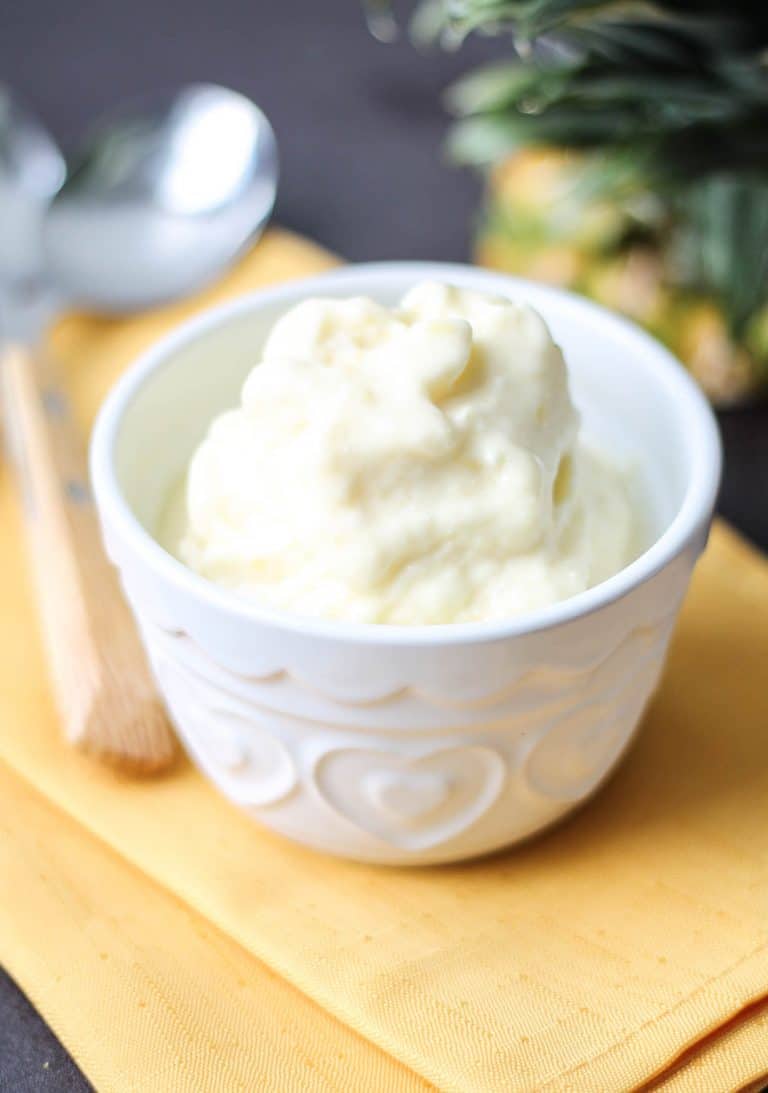 MORE GLUTEN FREE SNACK RECIPES:
Vegan Peanut Butter Chocolate Freezer  Fudge
Chocolate Chunk Cookie Dough Protein Balls
Originally posted September 5, 2014. Updated July 4, 2019
Be sure to follow me on social media! I love pinning to Pinterest, sharing on Facebook and posting pics to Instagram. See you there. 🙂
As an Amazon Associate I earn from qualifying purchases.
I used a Kitchen Aid Food Processor for this recipe.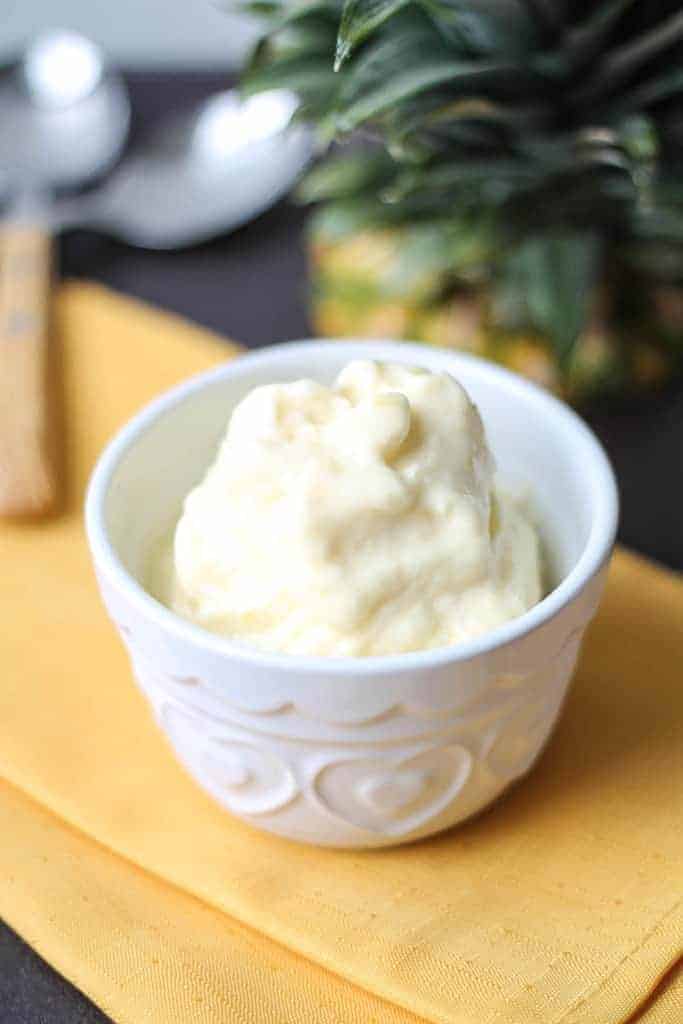 Pineapple Frozen Yogurt - Gluten Free
Keyword:
pineapple frozen yogurt
Ingredients
2

cups

frozen pineapple

1/4

cup

Greek yogurt

plain, unsweetened
Instructions
Place frozen pineapple and yogurt in a food processor and process on high until smooth and blended. You may have to stop and scrape the sides down and keep it moving