In the warm summer months, recipes like this Easy Greek Salad with Minted Lemon Dressing are in high rotation. Pair it with chicken or add chickpeas for added protein! Gluten Free.
I made this salad last night for dinner and quite ironically we watched Greece play Costa Rica in World Cup action. I didn't really plan it that way but it felt like a theme night. Too bad for the Greek side, however, as they lost during penalty kicks in dramatic fashion fit for a Greek tragedy.
It was cool to see such a small country like Costa Rica make it into the final eight for the first time ever, though. Their fans were literally weeping with joy! I loved it.
So onto this light fresh Greek salad!
It was super easy to throw together and was a great lazy Sunday dinner option.
I had a nice little stash of colourful veggies to work with.
Some tomatoes, peppers, cucumber and a nice head of leaf lettuce.
Hold up! Should there be lettuce in a Greek salad?
I had never seen lettuce in a Greek salad until I moved to Ontario. In fact, I worked at one of the busiest, most popular Greek restaurants back in the day in my hometown of Victoria, BC and they did not serve their Greek salad with lettuce. When I had my first salad in Ontario and lettuce arrived on plate I was truly shocked!
However, I have decided I quite like having it with the greens. Anything that adds those amazing, vital nutrients into my meals, right? Greens it is. 🙂
EASY GREEK SALAD WITH MINTED LEMON DRESSING
I like to wash up the lettuce first and store it in the fridge while I make the dressing and chop up the vegetables. This way it stays nice and crisp. There is nothing worse than limp lettuce and with the crazy humidity we had yesterday it was so nice to have cool, crisp greens.
The dressing?
Super simple. Some fresh minced garlic, fresh lemon juice, olive oil. I seasoned it with dried parsley and some fresh mint. Just a bit of mint. I didn't want it to over power the dressing, just add hits of it now then as you have the salad. Oh, and oregano! Oregano is a must.
I also tossed in a bit of the feta cheese I had to crumble over top of the salad.
It added a nice salty punch to the dressing. I used the fancy, complicated method of shaking the sh$t out of the dressing in a small mason jar.
Toss all of the veggies together with the greens and the dressing. I like to leave the tomatoes on the side because, truth be told, I hate tomatoes!!
I know!!
It is funny because all of the most important people in my life absolutely l-o-v-e tomatoes and cannot comprehend that I can't stand them. If I could change one thing about myself it would be the fact that I don't enjoy tomatoes. It's like, to my loved ones, that I'm a little bit not normal.
Just a little bit. 😉
So, tomatoes or not, this salad is fresh and delicious.
We paired it with a cold, chopped up chicken breast from the fridge and it was a great Sunday meal.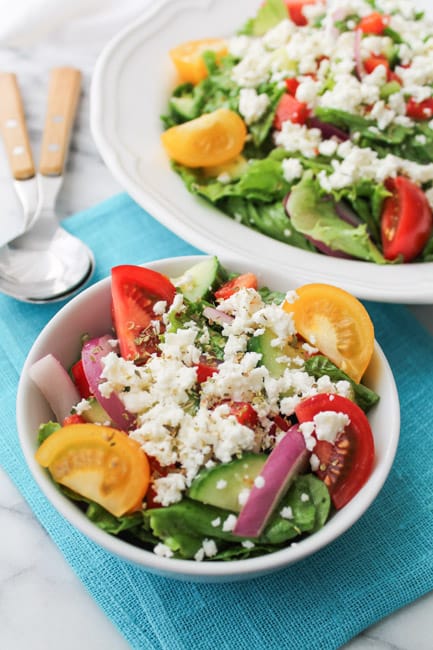 MORE HEALTHY SALAD RECIPES:
Chicken Avocado Salad with Toasted Pecans
Greek Style Lentil Chicken Salad
Originally posted June 30, 2014. Updated July 24, 2019
Be sure to follow me on social media! I love pinning to Pinterest, sharing on Facebook and posting pics to Instagram. See you there. 🙂
As an Amazon Associate I earn from qualifying purchases.
I use these mixing bowls in recipes like this
Easy Greek Salad with Minted Lemon Dressing
In the warm summer months, recipes like this Easy Greek Salad with Minted Lemon Dressing are in high rotation. Pair it with chicken or add chickpeas for added protein!
Keyword:
gluten free recipes
Ingredients
For the salad:

1

head of lettuce

rinsed and torn

1

pepper

chopped

½

medium red onion

sliced

½

cucumber

chopped

1-2

tomatoes

quartered

¼

cup

feta cheese

For the dressing:

¼

cup

fresh lemon juice

about 1 medium lemon

2

tbsp

olive oil

2

garlic cloves

minced

3

mint leaves

chopped

1

tbsp

feta cheese

crumbled

¼

tsp

herbamere

or sea salt

¼

tsp

dried parsley

¼

tsp

dried oregano
Instructions
Toss all ingredients in a large bowl, except the cheese and tomatoes

Shake all of the dressing ingredients in a small glass jar and pour over the salad. Toss well, massaging the dressing into the leaves

Split into two large bowls and top with tomatoes and the feta cheese. Sprinkle with oregano