This Crunchy Detox Salad is a tasty way to kickstart a healthy eating routine. It features tons of colorful veggies and a creamy lemon ginger dressing.
As an Amazon Associate, I earn from qualifying purchases.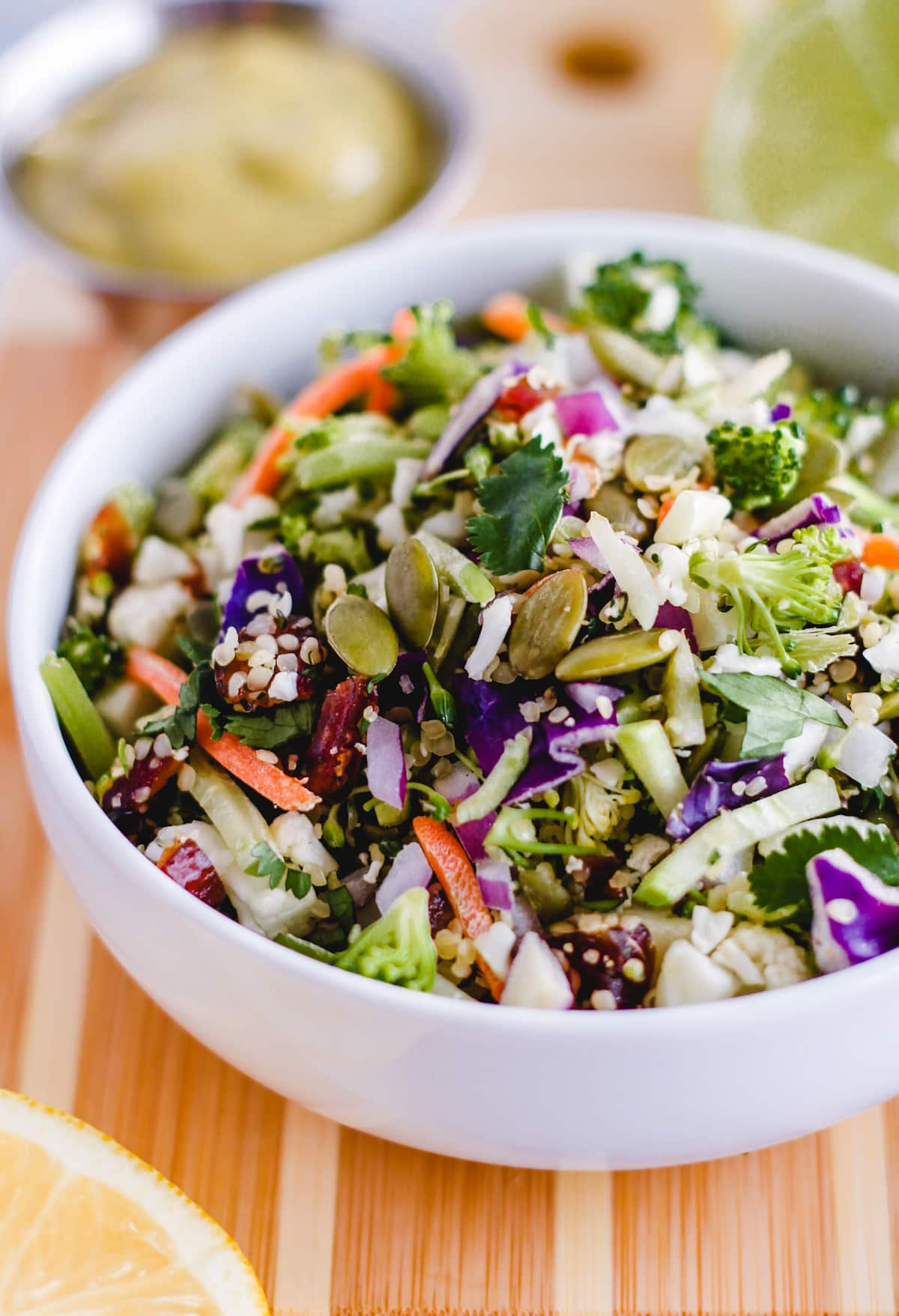 We are huge fans of this crunchy detox salad. Other faves include this Pasta Salad with No Mayo and this Spring Onion Potato Salad recipe. We have a ton of healthy salad recipes at The Honour System so be sure to check them all out.
Why we love this recipe
It is perfect for after a period of indulgence or unhealthy eating to reset our eating habits and reintroduce healthier options. The human body has its own efficient detoxification system, and this salad is really intended as a nice kickstart.
This salad has a ton of fiber, vitamin C, antioxidants, and even a good portion of protein. It ticks a lot of healthy boxes and can aid in the body's natural detoxification process.
This recipe is naturally vegan and gluten-free. Bonus!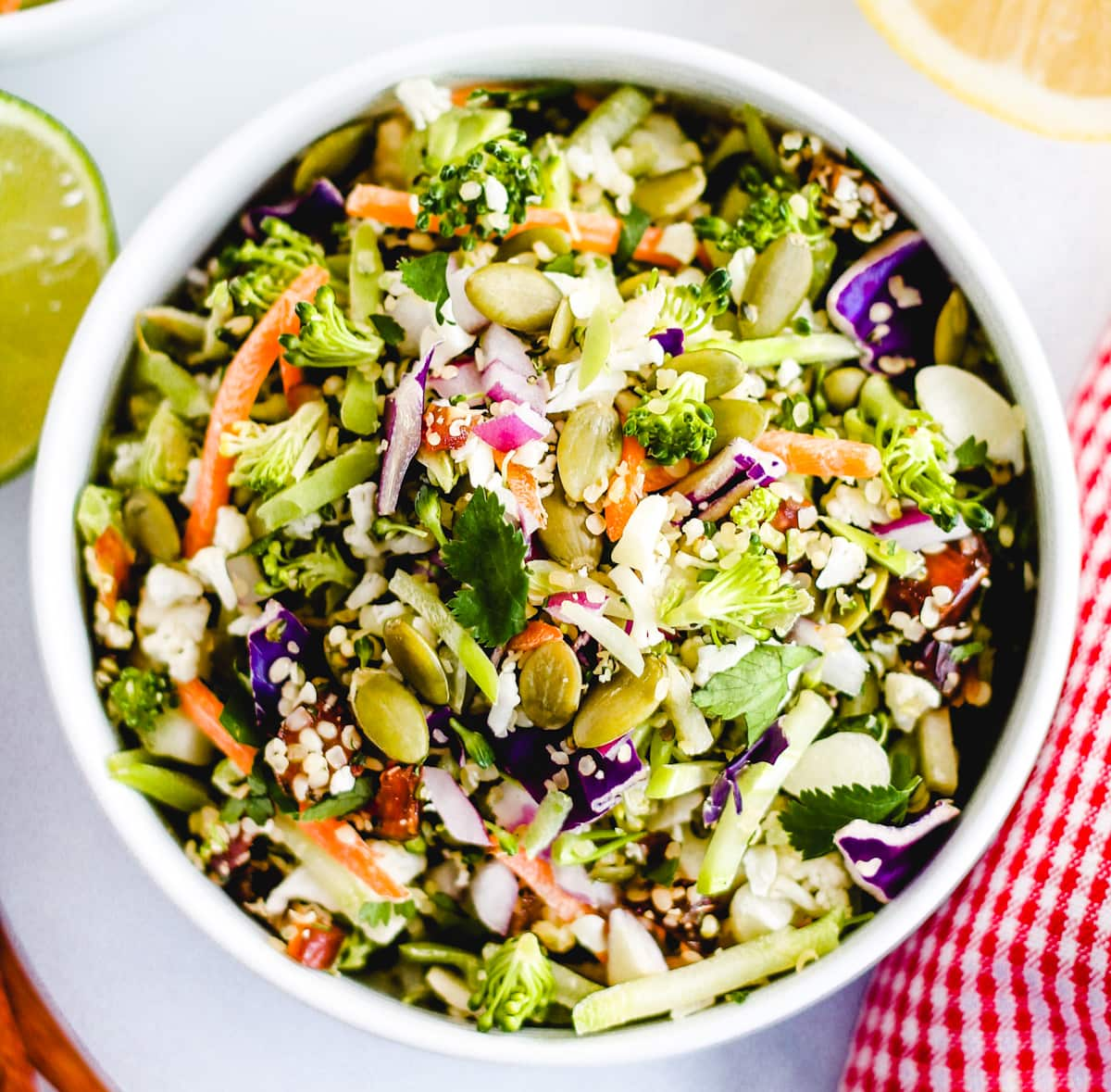 Ingredients
For the salad
chopped vegetables – use a variety of your favorite, in-season vegetables. You can also substitute a pre-made slaw mix instead of chopping the veggies yourself. It's a bit of a cheat but such a timesaver. We like an organic broccoli slaw mix that has red cabbage, shaved brussels sprouts, carrots, cauliflower, and broccoli.
red onion – we prefer red onions in a salad as they are a bit milder and sweeter than white onions.
fresh cilantro – this fresh herb may aid digestion and support a healthy gut. A well-functioning digestive system is essential for the body's natural detoxification processes. You can also use fresh parsley or shredded kale.
hemp hearts – hemp seeds add a boost of complete protein.
pumpkin seeds – substitute sunflower seeds and spiced walnuts for variety.
dates – substitute different dried fruit like raisins, apricots, or dried apples.
For the dressing
avocado – this creates a smooth and luscious dressing. You can also substitute olive oil.
apple cider vinegar – this promotes digestive health which is perfect for our cleansing salad.
fresh citrus juice – we generally use lime and lemon juice for the citrus but oranges would be lovely as well.
garlic – fresh garlic is best but granulated garlic will work in a pinch.
fresh cilantro – is rich in vitamins, minerals, and dietary fiber, which are all important components of a healthy diet that can contribute to overall well-being.
ground ginger – ground ginger contains bioactive compounds that have anti-inflammatory effects. Reducing inflammation can support the body's ability to heal and recover and is perfect for our detox salad.
dates – this adds a hint of sweetness to the dressing. You could substitute a bit of honey instead.
fine sea salt + freshly ground black pepper
Equipment
Instructions
Step 1
First, chop your vegetables or give them a quick pulse in a food processor.
Add the veggies to a large bowl.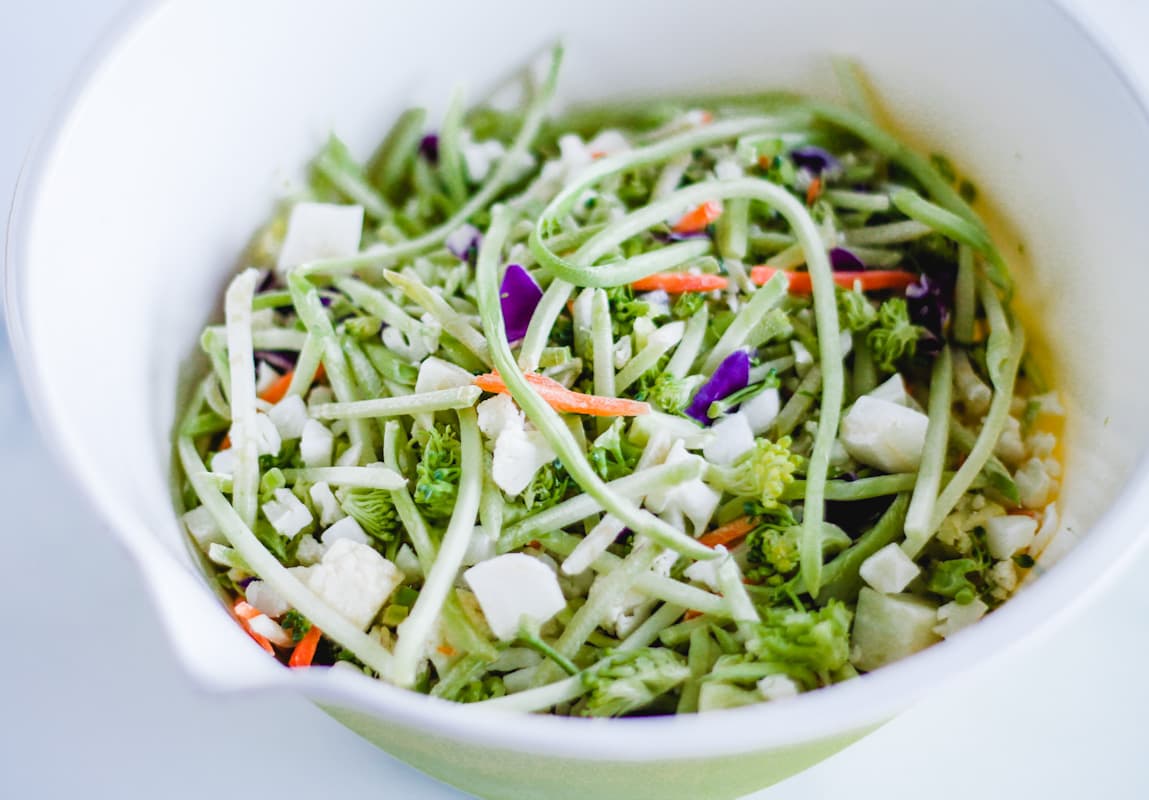 Step 2
Next, add the cornucopia of goodness!
Hemp seeds, pumpkin seeds, chopped dates, red onions, and fresh cilantro.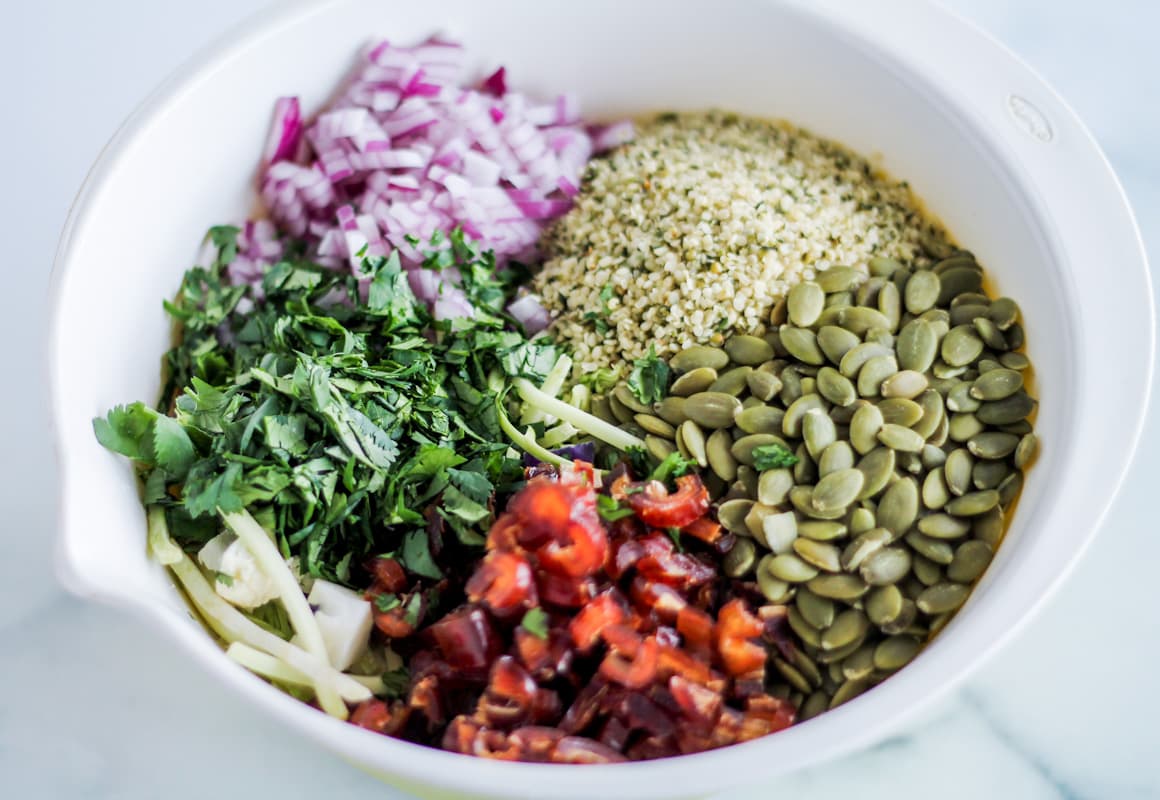 Step 3
Finally, give it all a good toss. It really is a rainbow!
Step 4
Set the bowl aside and make the dressing by blending the ingredients together in a blender (or use a food processor or immersion blender).
Pour the dressing over the salad and stir it well to coat the ingredients.
Expert tip
Remember you can simply use a pre-chopped slaw mix to simplify.
It is a quick shortcut that makes life easy.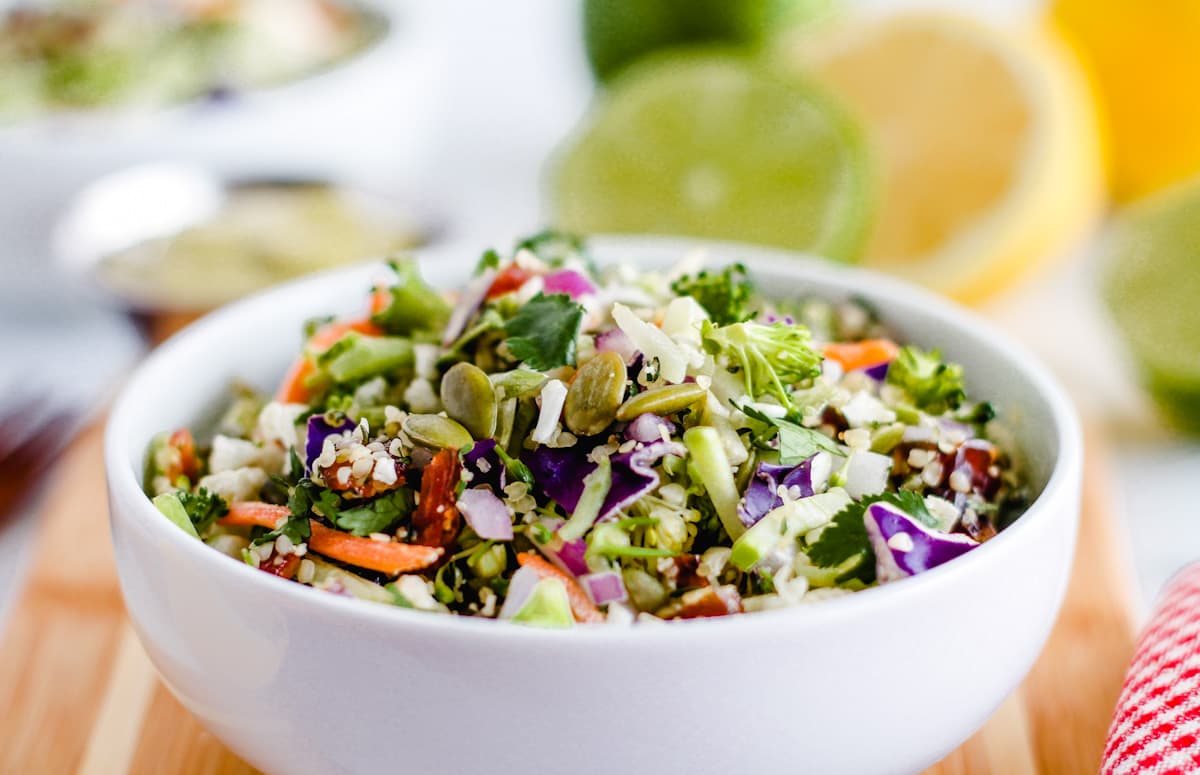 Recipe variations
Make it a Mediterranean style by adding some feta cheese, and olives and substituting fresh dill instead of the cilantro.
Add cooked brown rice for added bulk by way of healthy carbohydrates.
Give this salad a tropical spin by tossing in chopped pineapple and mango and using fresh mint instead of cilantro. Pour a bit of coconut milk into the dressing!
Serving Suggestions
This salad can be substantial enough to serve as a main course. You can add a source of protein like grilled chicken, tofu, quinoa, or chickpeas to make it a complete and satisfying meal.
Layer the ingredients in mason jars to create portability. Start with the dressing at the bottom, followed by the sturdier ingredients, and end with the fresh herbs on top. Seal the jars and refrigerate until ready to serve. Shake well before eating.
Serve the detox salad alongside refreshing and hydrating detox drinks like cucumber-infused water, lemon-ginger water, or herbal iced teas such as Butterfly Pea Tea or Iced Green Tea.
FAQS
How is a detox salad different from a regular salad?
This salad includes specific ingredients that are thought to have detoxifying properties, such as ginger, cilantro, and lemon. These ingredients were chosen for their potential health benefits and ability to aid digestion and reduce inflammation.
Are detox salads safe for everyone?
This salad is made with fresh, whole foods that are generally safe for most people. However, if you have any allergies, dietary restrictions, or underlying health conditions, it's essential to be mindful and consult with a healthcare professional if you have any concerns.
Storage tips
This makes six generous portions so it works well for meal prep. The flavor develops even more from marinating in the fridge and it tastes even better.
Keep it refrigerated for up to a week in an airtight container for easy lunches or a quick side dish.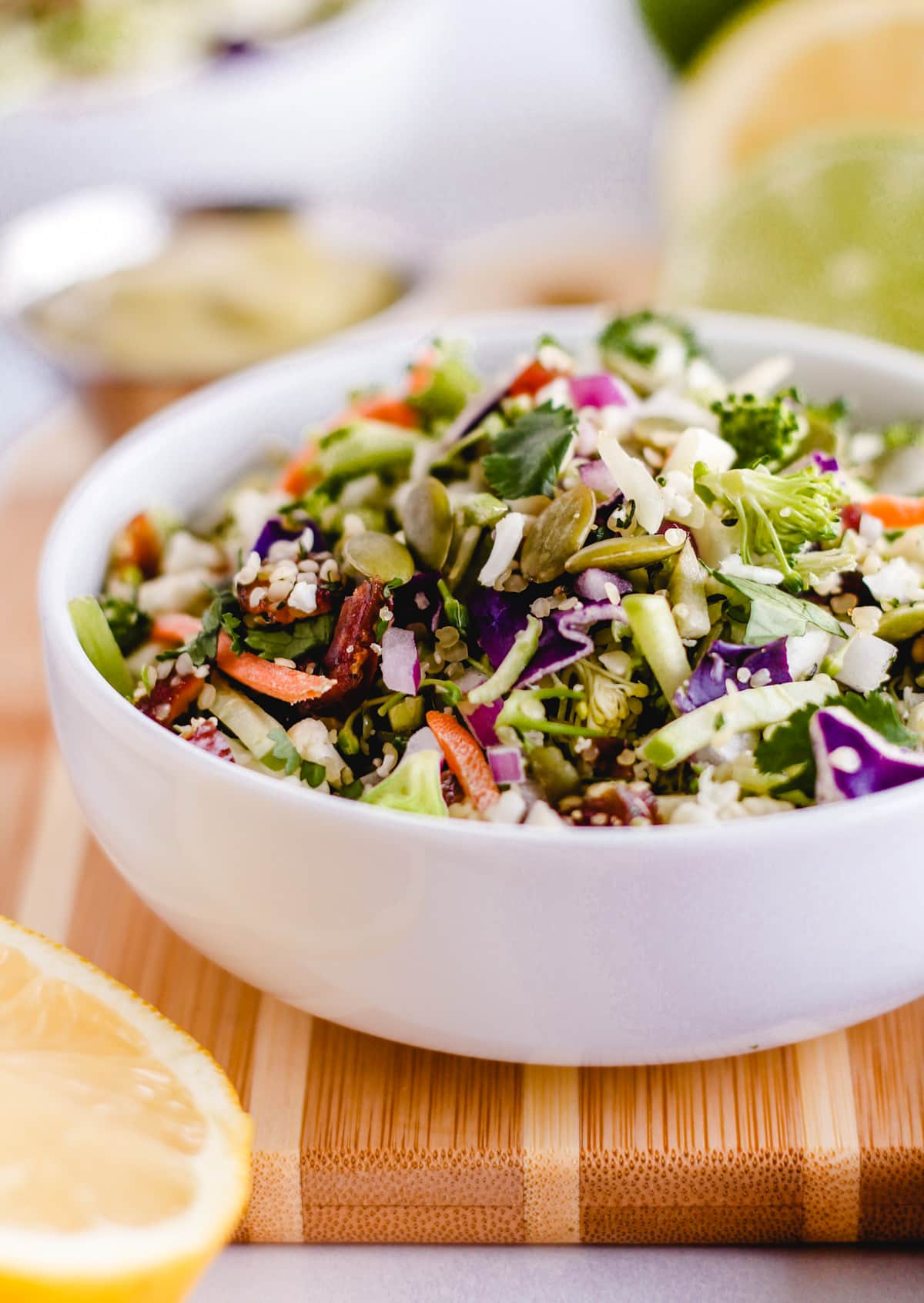 This post was originally part 2 of a 12-day cleanse series for the blog a few years ago. Here are the details and links to the other posts:
Here's a recap of what I ate on Day 2 of my cleanse:
Hot water with lemon + cayenne pepper
1 medium pear
Detox Green Smoothie
A handful of almonds x 2
Chopped Detox Salad
2 clementines
Chopped Detox Salad
Handful of almonds
A large apple, sliced, sprinkled with cinnamon and almond butter
Links to the 12-day cleanse posts:
More healthy salad recipes
**This recipe was originally posted on December 30, 2014, updated on February 10, 2021, updated on January 2, 2022, and again on July 30, 2023, with recipe notes, writing, and photos.**
If you've tried my Crunchy Detox Salad, please rate the recipe and let me know how it turned out by leaving me a comment below. I'm always interested in feedback!
Be sure to follow me on social media! I love pinning to Pinterest, sharing on Facebook, and posting pics on Instagram. See you there. 🙂
As an Amazon Associate, I earn from qualifying purchases.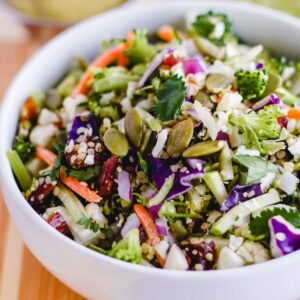 Crunchy Detox Salad
This Crunchy Detox Salad is a tasty way to kickstart a healthy eating routine. It features tons of colorful veggies and a creamy lemon ginger dressing.
Ingredients
For the salad
5

cups

chopped vegetables – cabbage, broccoli, carrots, and cauliflower.

*or use a pre-chopped slaw mix

¼

cup

finely diced red onion

⅓

cup

chopped cilantro

½

cup

hemp hearts

⅓

cup

pumpkin seeds

½

cup

chopped dates
For the dressing
½

ripe avocado

¼

cup

apple cider vinegar

⅓

cup

fresh citrus juice – we use fresh lemon and lime

2

cloves

garlic

¼

cup

chopped cilantro

½

tbsp

ground ginger

3

dates (if your dates have hardened, soften by soaking them in hot water for 5 minutes and then draining the water off)

½

tsp

sea salt

¼

tsp

fresh pepper
Instructions
Add all of the salad ingredients to a large mixing bowl. Toss the ingredients well and set aside.

Add the dressing ingredients to a blender and blend until smooth.

Pour the dressing over the salad and toss well again to coat.

You can serve right away but this salad tastes best after an hour or so in the fridge.
Notes
Nutrition
Calories:
250
kcal
Carbohydrates:
29
g
Protein:
11
g
Fat:
12
g
Saturated Fat:
1
g
Trans Fat:
1
g
Sodium:
226
mg
Potassium:
648
mg
Fiber:
4
g
Sugar:
17
g
Vitamin A:
540
IU
Vitamin C:
92
mg
Calcium:
88
mg
Iron:
4
mg