Spicy Spaghetti Squash Stir Fry + Detox Days 6-8 Recaps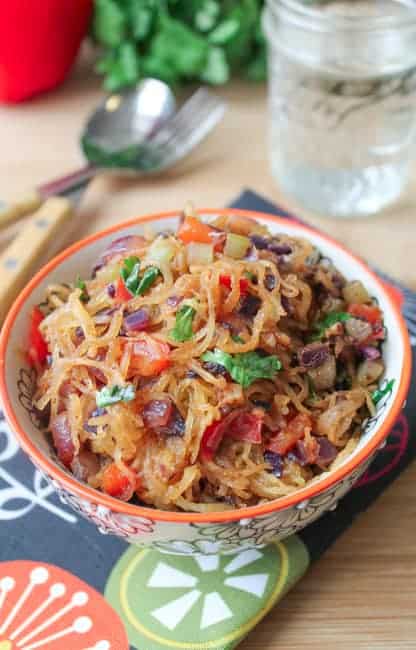 My main objective with this detox is to really increase my fruit and veggie intake. That is something that can get a little stale. Smoothies are super good because you can pulverize and drink down a healthy amount of greens but, as far as meals are concerned, I can sometimes have a harder time coming up with new and interesting ideas.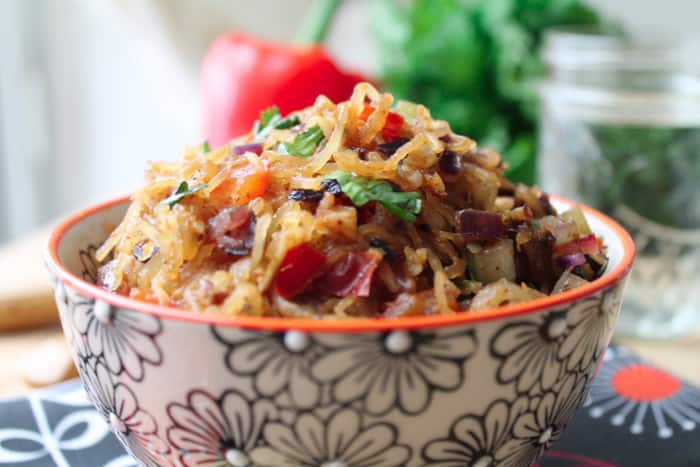 Especially without the use of grains. I've opted to eliminate grains during my detox just to see what kind of effect it has when I reintroduce them. I'm assuming nothing is going to happen but since I'm doing a cleanse anyway, I figured why not conduct a little experiment while I'm at it?
Enter my friend, spaghetti squash! A grain loving girls best friend. 😉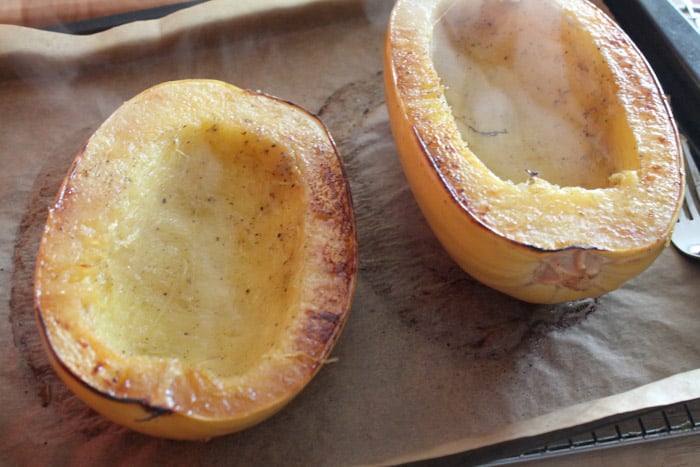 Check out my –> how-to if you need a method. I saved the other half of the squash for another recipe for a little later in the week.
Simply stir fry a bunch of veggies and add in a bit of chili powder and the detoxers best friend, cayenne pepper. Just a very little bit, mind you! That sh$t is hot. 😉 Don't forget the garlic!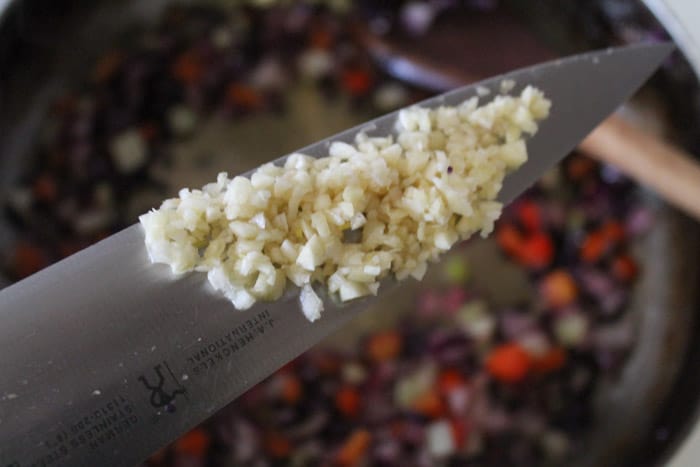 Stir in the spaghetti squash and then comes the final touch. Fresh cilantro. I adore crisp, clean cilantro and it is a nice compliment to the heat of the spices. If I had an avocado, that would have been brilliant. Even better would be cheese, but … detox.
Speaking of, here's a recap of my eats for the last few days.
Day 6
lemon H2O with cayenne
2 clementines
detox smoothie
almonds
scrambled eggs/onions/peppers
almonds x 2
apple/cinnamon/almond butter

Day 7
lemon H2O with cayenne
2 clementines
hard boiled egg
1 medium apple
detox smoothie
detox friendly granola x 2
scrambled eggs/onions/peppers
detox friendly granola x 2
apple/cinnamon/almond butter
Day 8
lemon H2O with cayenne
1 medium blood orange
spaghetti squash stir fry
detox friendly granola
detox smoothie
detox friendly granola
apple/cinnamon/almond butter
*Curiously, Day 7 was my first day back at the gym after the holidays. Much bigger appetite!
I have to say how much I have been lov-ing the Detox Friendly Granola. We had a power outage on the weekend just as I was pulling out a batch from the oven. Joe and I happily endured the blackout munching away on it by flashlight.
Romantic. Winky face.
At more than halfway through, I'm feeling pretty darn great. My pants are fitting great, and really, that's my best gauge. I will weigh myself at the end of the cleanse for curiosity's sake also. I'll let you know. 🙂
Meanwhile, enjoy those veggies kids!
Check out Day 1 , Day 2 , Day 3 , & Days 4-5 .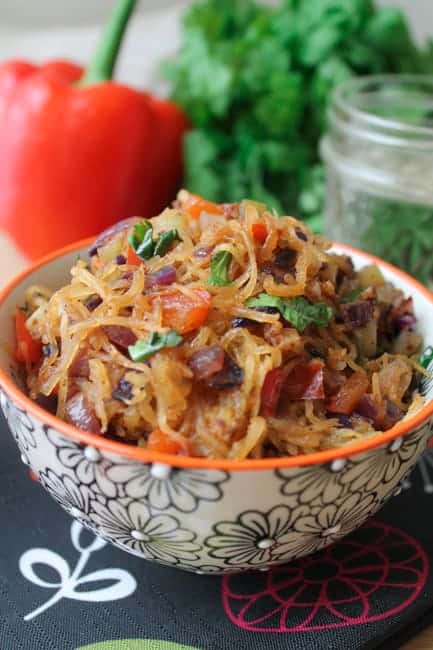 As an Amazon Associate I earn from qualifying purchases.
Spicy Spaghetti Squash Stir Fry
Ingredients
2

tbsp

olive oil

1/4

red onion

chopped

2

small celery stalks

chopped

1/2

red pepper

chopped

1/2

cup

chopped red cabbage

3

cloves

garlic

minced

1 1/2

cups

cooked spaghetti squash

1/4

tsp

chili powder
small pinch cayenne

if desired

2-3

tbsp

fresh cilantro

torn

fresh avocado

optional
Instructions
Warm the olive oil in a skillet over medium heat

Add in the onion, celery, peppers, and cabbage. Season with salt and pepper and stir fry until tender, about 6-7 minutes

Lower the heat and stir in the spices and spaghetti squash. Cook until warmed through

Top with fresh cilantro and serve with fresh sliced avocado
Nutrition
Calories:
176
kcal
Carbohydrates:
11
g
Protein:
1
g
Fat:
14
g
Saturated Fat:
2
g
Sodium:
55
mg
Potassium:
317
mg
Fiber:
2
g
Sugar:
4
g
Vitamin A:
1550
IU
Vitamin C:
55.4
mg
Calcium:
47
mg
Iron:
0.5
mg