Toasted Sesame Vegetarian Stir Fry – Gluten Free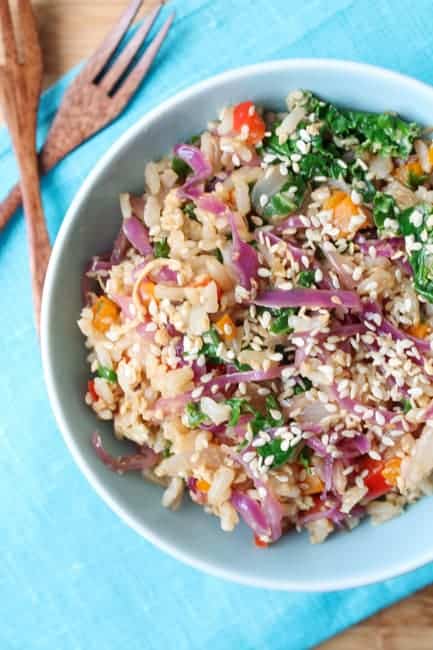 When you read my recipes, a lot of times they call for half of an onion or half a red pepper. Ever wonder what happens to the other half? It can go into soups or stews … or … it can be turned into this delicious stir fry that your family will never guess is good for them.
And isn't that the goal, really?
To get your loved ones (and yourself, of course!) eating healthy but not feeling deprived. Looking forward to dinner even if it's a plate of veggies. Because a plate of veggies can be so tasty and satisfying. Seasonings and oils can take a plate of leftover vegetables from your crisper and transform them into magic for dinner.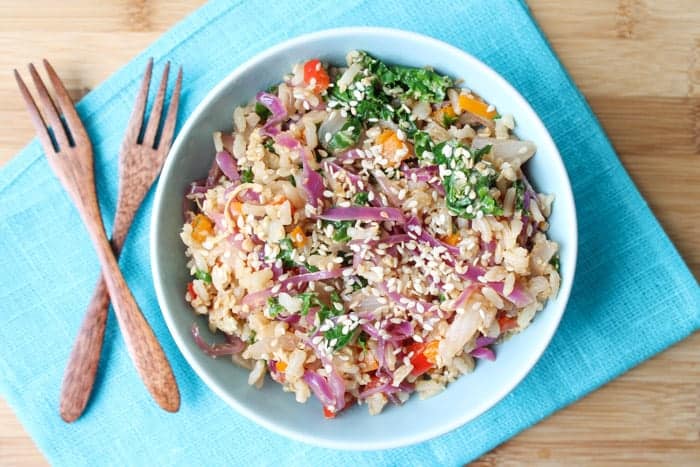 What we enjoy about this dish in particular is how much it is reminiscent of Chinese delivery, which was a staple of ours back in the days of eating garbage food, smoking, etc.
Oh, you didn't know I smoked? Quite a shocker, I know. Part of my enthusiasm for this healthy lifestyle is that I know everyone can achieve it. We all have it in us. It just all comes down to desire. When I quit smoking (ten years ago in December!) I didn't take medication or chew gum. I didn't have fake cigarettes or taper off from it. I quit. Cold freaking turkey. And at the risk of sounding smug, it wasn't even that hard. Why? Because I was ready. I had the desire.
Now, I have the desire to treat my body as kind as possible. If that means feeding it a rainbow of vegetables, then that is what I want to do. And who wouldn't when it tastes like this! Say good bye to takeout forever. 🙂
The key to this dish is the toasted sesame oil. I know it's a higher ticket item at around fifteen dollars, but the bottle will last forever and it's such an essential flavour to Asian style cooking. Well worth the investment.
To up my toasted sesame game even more, I actually toasted some sesame seeds by lightly heating them in a cast iron pan.
Using the same pan heat up some of the lovely toasted sesame oil and then add in a cornucopia of vegetables and let them soak up the flavour.
For added protein, I scrambled in a couple of eggs, but that is optional if you'd prefer this to be a vegan dish.
Some cooked brown rice for a bit more bulk, and my favourite condiment, soy free soy sauce, rounds out the seasonings.
It's always promptly devoured and a great way to use up those veggies!

As an Amazon Associate I earn from qualifying purchases.
Toasted Sesame Vegetarian Stir Fry – Gluten Free
Instructions
If you don't have any cooked rice, now is the time to do it. 1 ½ cups of dry rice should yield about 3 cups of cooked

Toss sesame seeds into a large pan and set heat to medium. Stir the seeds every so often and cook for 2-3 minutes, until lightly toasted. Transfer seeds to a small bowl and set aside

Add toasted sesame oil to the pan and keep it over medium heat. Stir in the peppers, cabbage and onion, and season with sea salt and pepper

Stir fry the veggies until tender, about 5 minutes. Stir in the kale and once it's wilted a bit, 2 minutes or so, stir in the minced garlic

If you are using eggs, now is the time to crack those into your pan on top of the veggies. Stir them well and keep scrambling them around the pan until they are cooked through

Add in the cooked brown rice and top with the soy-less soy sauce (or use soy if you prefer) and once again, stir everything together

Top with toasted sesame seeds and serve
Nutrition
Calories:
705
kcal
Carbohydrates:
85
g
Protein:
20
g
Fat:
32
g
Saturated Fat:
5
g
Cholesterol:
163
mg
Sodium:
1721
mg
Potassium:
841
mg
Fiber:
8
g
Sugar:
3
g
Vitamin A:
6430
IU
Vitamin C:
97.2
mg
Calcium:
267
mg
Iron:
5.5
mg