Toasted Sesame Chicken with Quinoa – Gluten Free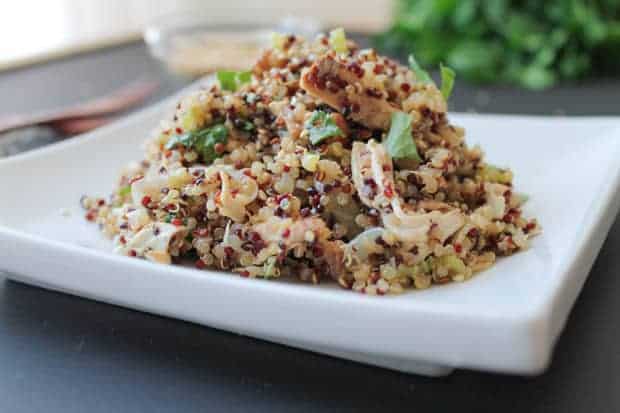 When I can get Joe to eat not one, but two (!) servings of quinoa, I know I'm onto something special. This sesame chicken with quinoa is that something. I know I may go on and on when Joe really enjoys something I've created in the kitchen, but I feel like he really is a good barometer for those with kids or men they feed. He can be picky and suspicious, but he is also honest. When he really likes something it's such an affirming feeling. I know he's telling me the truth. Because I love him, I selfishly want to keep him healthy so I have him around for a long, long time.
The best part was how super easy this dish was to make. It was one of those times, you know, when you are just throwing random bits and bobs into a bowl and it turns into a meal you know you want to have again. We couldn't wait to dive into leftovers for lunch the next day. Another bonus! Reheats beautifully. 🙂
I had chicken already cooked from earlier in the week. If there is one healthy cooking tip I can pass along it's to always cook extra chicken. My typical routine is to cook chicken on Monday, usually paired up with baked potato. Instead of two chicken breasts (one each) I cook four and store the extra two cooked pieces in the fridge. Then later on in the week I use them in things like avocado chicken salad, chicken fried brown rice, or something like this quinoa. It just cuts down on prep time for home cooked meals when you are busier later in the week.
First things first, I got my quinoa cooking on the stove. I had just enough for one cup of dried quinoa leftover from this Spicy Butternut Squash with Quinoa I made awhile back, which when cooked made enough for four portions of this recipe.
While the quinoa's a-cookin', I toasted some sesame seeds over lowish heat.
I poured the toasted seeds into a dish and used the same pan to sauté up my vegetables in toasted sesame oil. Use whatever veggies you have on hand. I had onions and celery in the fridge to use up so in they went.
Toss in the chicken and stir everything well.
Mix the chicken mixture with the cooked quinoa and top it all off with a toasted sesame oil dressing using my Faux Soy Sauce. The finishing touches are a sprinkling of fresh cilantro, which I had leftover from the chili I made last week, and the freshly toasted sesame seeds.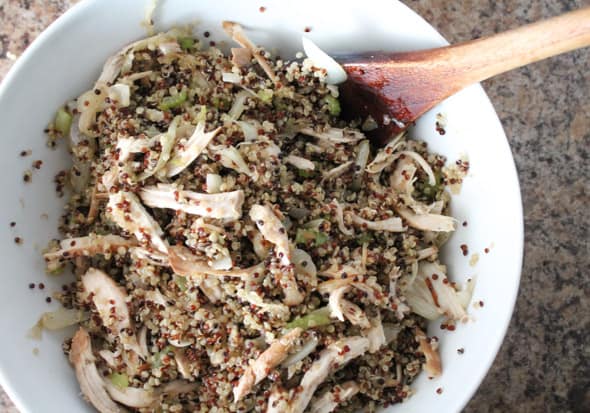 Random perfection!

As an Amazon Associate I earn from qualifying purchases.
Toasted Sesame Chicken with Quinoa
Instructions
Rinse quinoa well and bring to a boil in 1.5 cups of water (or broth), lower heat, cover and simmer quinoa for 10 minutes, or until water has absorbed. Remove from heat and set aside

While the quinoa is cooking, heat a pan over medium low heat and add sesame seeds. Toast them by stirring them in the pan until they have slightly browned, watching not to burn them, about 3 minutes. Pour them out into a dish or on a plate

In the same pan over medium low, heat 1 tbsp toasted sesame oil. Add in the sliced onion and celery, stirring until softened, about 5 minutes. Stir in minced garlic until fragrant then stir in the cooked chicken

Whisk dressing ingredients in a large mixing bowl, then add in the chicken mixture and stir well. Add in the cooked quinoa, stir again and serve.
Nutrition
Calories:
516
kcal
Carbohydrates:
31
g
Protein:
34
g
Fat:
27
g
Saturated Fat:
4
g
Cholesterol:
73
mg
Sodium:
134
mg
Potassium:
532
mg
Fiber:
4
g
Vitamin A:
20
IU
Vitamin C:
1.7
mg
Calcium:
132
mg
Iron:
4.2
mg