This homemade Spicy Chicken Soup with Peppers recipe is the perfect light, healthy meal and a quick, easy way to use up leftover rotisserie chicken. Pair it with a salad or toss in some cooked rice or noodles. Gluten Free and packed with nutrition and heat!
I know what you're thinking. Spicy Chicken Soup with Peppers? It's almost summer! Where are the salads?
In my defense this is a broth based, clear soup with crisp-tender peppers and fresh cilantro for that clean, fresh taste. It's light but balanced with some spice thrown in there by way of my secret spicy sauce.
Who doesn't love a secret sauce?
Spicy Chicken Soup with Peppers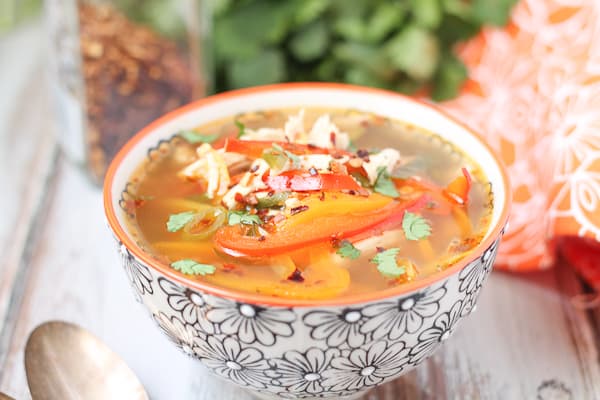 So, what is this spicy potion? It's as simple as chili flakes stirred into a bit of ketchup.
Booooom!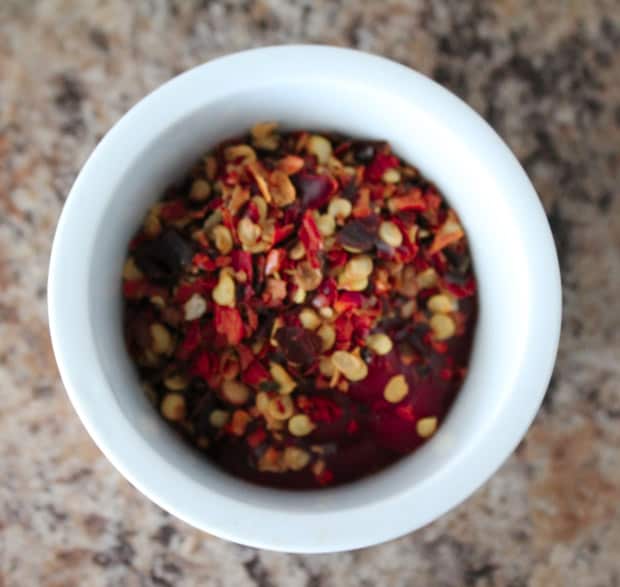 I use a full tablespoon of chili flakes but, start out with half of that if you're not down with to much fire. I like it on the spicier side.
Slice up some green onions and cut some peppers into thin strips. I used red, yellow and orange peppers. Talk about eating a rainbow. 🙂
This soup comes together super fast. Bring your chicken broth or stock to a simmer, add in the peppers and spicy ketchup, cook them until crisp tender, then stir in your cooked chicken and fresh cilantro.




Top each bowl with some of the sliced green onion. I actually had some quinoa in the fridge (surprise, surprise!) so I stirred in a portion to my soup and it was awesome. I highly recommend adding in some cooked grains if you have some.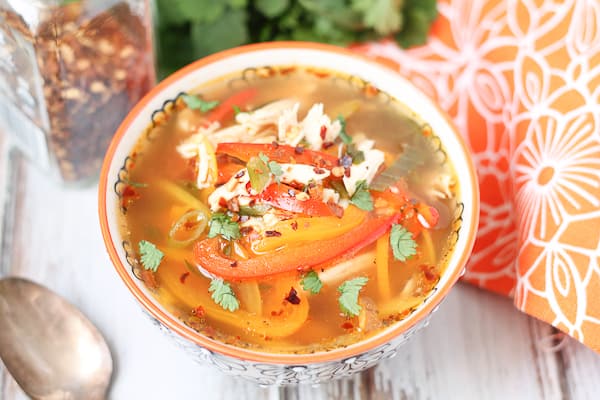 FIY – I will be doing a 7 day cleanse coming up and a few people have expressed an interest in joining me.
My mantra is "You can do anything for 7 days". I will post more info next week so, if you're in, get mentally prepared and ready to detox!
MORE GLUTEN FREE SOUP RECIPES:
Creamy Coconut Curry Vegetable Soup
*Originally posted May 2013. Updated April 20, 2018*
Be sure to follow me on social media! I love pinning to Pinterest, sharing on Facebook and posting pics to Instagram. See you there. 🙂
As an Amazon Associate I earn from qualifying purchases.
Spicy Chicken Soup with Peppers
Keyword:
gluten free chicken recipe, spicy chicken soup
Ingredients
6

cups

chicken broth

1 ½

peppers

cut into strips (I used ½ if 3 different coloured peppers)

3

tbsp

ketchup

1

tbsp

chili flakes

3

cups

chicken

cooked and shredded

½

bunch of cilantro leaves

2

green onions

sliced on the diagonal
Instructions
In a large saucepan bring the broth to a simmer

Meanwhile, stir the chili flakes into the ketchup

Add the peppers and the spicy ketchup to the broth and stir well

Let cook at a simmer until peppers are crisp-tender, about 5 minutes

Add in the chicken and cilantro and stir

Ladle evenly into bowls and top each with the fresh green onions