Sweet Potato Gratin with Caramelized Onion & Sauteed Kale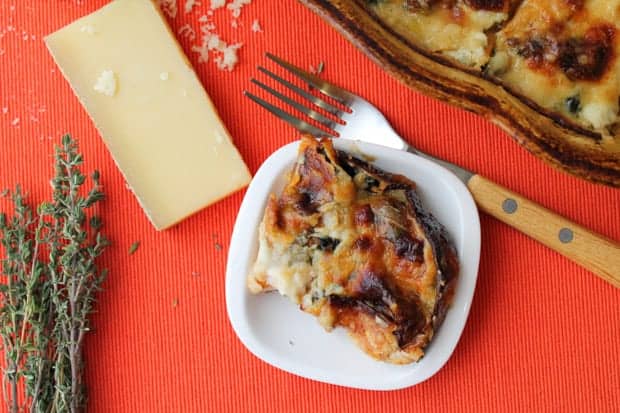 So we all know that sweet potatoes offer more nutrition than your standard white potato. They are lower in calories, higher in fibre and contain more beneficial nutrients like vitamin C and beta-carotene. That being said, in my opinion, they are also much tastier. For this gratin, I was looking to make a rich, cheesy, and savoury dish that will make you forget all about the 'other' potato.
Considering I made a point of stating the health benefits of sweet potatoes I should also make the point that this dish is definitely more of an indulgence. I'm using quality, organic ingredients, yes indeedy. I'm subbing out the cream and using whole milk instead to lighten it up a tad and I am adding in the glorious goodness of kale. Regardless, if you want to fit into your jeans tomorrow, please don't eat multiple servings 😉 Anyway, you are going to want to share this and receive all the accolades that will accompany it. Yes, it's that good. Joe, who doesn't like sweet potatoes, devoured his portion pretty darn fast. Apparently, he does like sweet potatoes after all!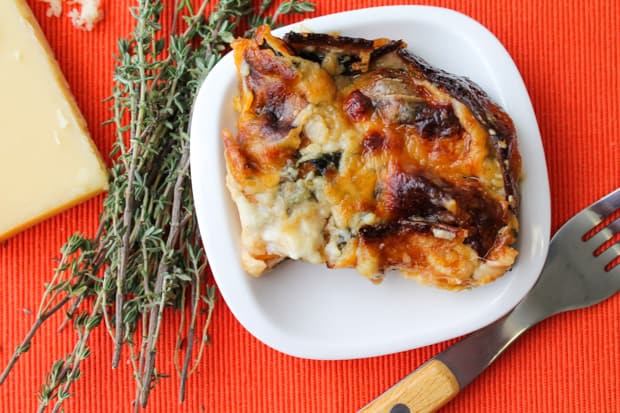 I will also warn you that this is a time consuming recipe. Not hard or complicated, despite fancy terms like roux and béchamel, but there are a number of steps. Joe wandered into the kitchen, and surveying the scene, commented that whatever I was doing 'looked ambitious'. Ha! Well, he wasn't kidding but I promise you will be rewarded for your patience and hard work.
The first step is to peel and thinly slice your sweet potatoes. I made this job a little easier by using a mandolin. If you don't have one, I strongly recommend adding it to your Christmas wish list. Mandolins are super useful in the kitchen. After the potatoes are sliced chop up the fresh herbs. I used parsley, rosemary and thyme.
The next step is to caramelize the onions which I did with some butter over low heat. Once they are soft, add in the kale and stir. Once the kale is wilted, remove from the heat and set the pot aside.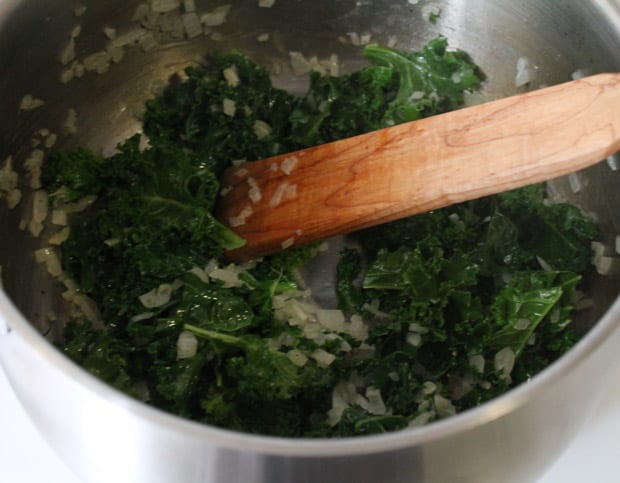 Now onto the chef-y things. First place your milk and some minced garlic in small pot over medium-lowish heat. You don't want to curdle the milk to make sure the heat isn't too high. Most gratin recipes call for cream but really, I don't think it's necessary. If you are using some nice cheeses, like we will be, your dish will be plenty creamy enough. Trust.
Once the milk is heated up and slightly thickened you can start your roux! That's really just a fancy French word for flour and butter 😉 I rolled with my usual spelt flour. Once the butter starts to foam, add in the flour and whisk it, whisk it good! Think Devo while you whisk 🙂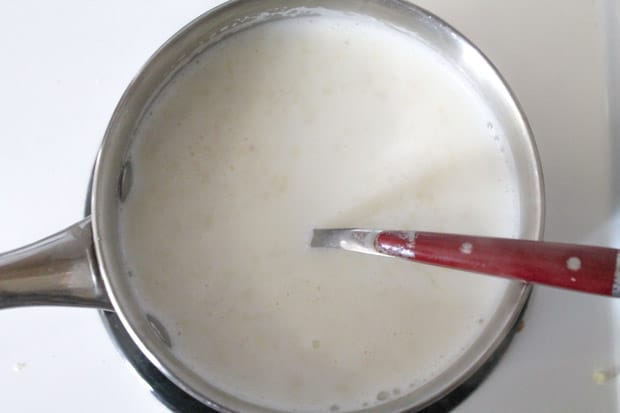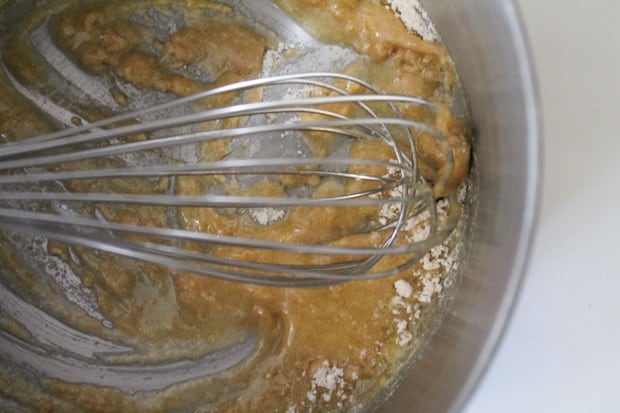 Combine the roux with the milk and garlic mixture and stir it really well. Presto! Bechamel sauce. You may now brag.
Now the fun part! In a buttered casserole dish layer all your components. Potato, kale & onions, cheese, bechamel, and repeat. This recipe makes to layers, finishing with a sprinkling of cheese which will result in a nice, browned, crispy topping.
Off it goes into the oven to bake. What comes out is pure gold. I served this up with my lemon rosemary chicken (I'll be posting this later in the week) and I loved every bit of my meal. So did my friends at work, who were the lucky recipients of my leftovers. And my jeans still fit. Winning!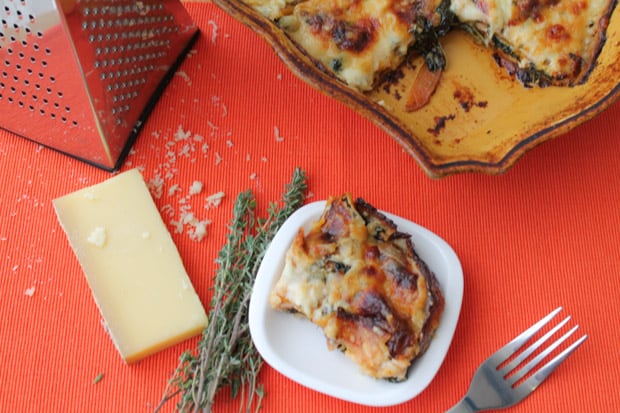 As an Amazon Associate I earn from qualifying purchases.
Sweet Potato Gratin with Caramelized Onion & Sauteed Kale
Ingredients
4

tbsp

butter

½

large onion

finely chopped

3

large stalks of kale

small pieces torn from the rib & rinsed

Pinch

nutmeg

2

cups

whole milk

2

garlic cloves

minced

2

tbsp

spelt flour

2

large sweet potatoes

peeled & sliced into thin rounds

1

tbsp

each fresh parsley

thyme & rosemary, minced

½

cup

each Gruyere & Parmesan cheese

shredded
Instructions
Preheat oven to 400, butter a 9×13 baking dish and set aside

Melt 2 tablespoons of butter in a large pot over medium low heat, then add onions, stirring, until softened, about 5 minutes. Add kale, pinch of nutmeg, salt and pepper and cook, stirring, until kale has wilted, about 8 minutes. Remove the pot from the heat & set aside

Combine milk and garlic in small saucepan and bring to a simmer; keep warm. Melt two tablespoons butter in a medium saucepan over medium heat and stir in flour to make the roux. Whisk for one minute, then slowly whisk in warm milk and boil, whisking for one minute. Season with sea salt & pepper

Layer half of the sweet potatoes in the buttered baking dish. Then layer with half of the herbs and 1/3 of the cheese. Distribute half of the kale & onions mixture over the cheese, then pour half of the bechamel sauce on. Repeat this with the rest of the potatoes, the remaining herbs, 1/3 of the cheese, the rest of the kale & onions, then the remaining béchamel and finish with the last 1/3 of the cheese on top

Bake gratin for about 1 hour until golden and bubbly, and most of the liquid is absorbed. At an hour, my liquid wasn't fully absorbed but the top was pretty brown. I turned the heat down to 240 and cooked for another 20 minutes. Let stand 10 minutes before serving
Nutrition
Calories:
229
kcal
Carbohydrates:
18
g
Protein:
8
g
Fat:
14
g
Saturated Fat:
8
g
Cholesterol:
40
mg
Sodium:
175
mg
Potassium:
415
mg
Fiber:
1
g
Sugar:
6
g
Vitamin A:
9520
IU
Vitamin C:
37
mg
Calcium:
265
mg
Iron:
0.8
mg