Lemon Chicken Vegetable Soup – Gluten Free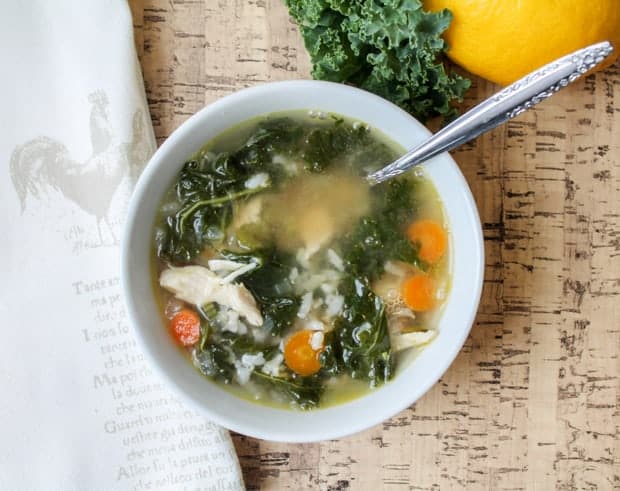 I made this soup on a dreary Monday. It was one of those cloudy, miserable days where only chicken soup will do. As luck would have it I happened to have two beautiful, leftover lemon rosemary chicken breasts in my fridge just begging to added to my soup.
This is such a great time saver by the way. If you are cooking two chicken breasts for dinner, why not cook four? It makes your life so much easier later in the week when you can simply throw that cooked chicken into some soup or make into chicken salad or sandwiches. Boom!
OK, back to the soup. You can pack it with whatever veggies you desire. I rolled with celery, carrots, onions and kale. I'm a little obsessed with adding kale to things lately! Usually, the uber nutritious leafy green is reserved for my green smoothies however, with the colder weather officially taking hold in Southern Ontario, smoothies have taken a back seat to warm soups and my beloved kale has found a home in things like my sweet potato gratin and this tasty soup.
I planned on using brown rice in this soup to give it some whole grain love. I had pre cooked chicken but no grains in the fridge so the first thing I did was to get my rice cooking on the back burner so it could be bubbling away while I prepared the soup.
I melted together a little butter and some olive oil and sauteed up the celery, carrots and onions. Once they were softened up, I threw in minced garlic and the kale.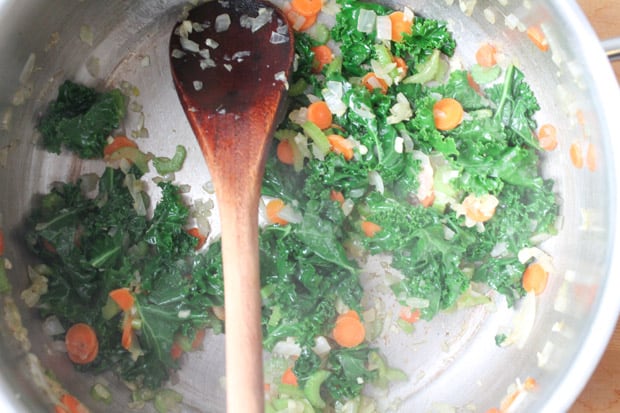 Since I've been making my own veggie broth lately, I used it for this soup. I love having my homemade broth! As a typical control freak I like to be able to determine what exactly is going into my food and making my own broth gives me the power to use less prepackaged things. During the colder seasons, I expect to be eating lots of broth based meals, like soups and stews, and I feel so accomplished using my own, from scratch broth. #feelingproud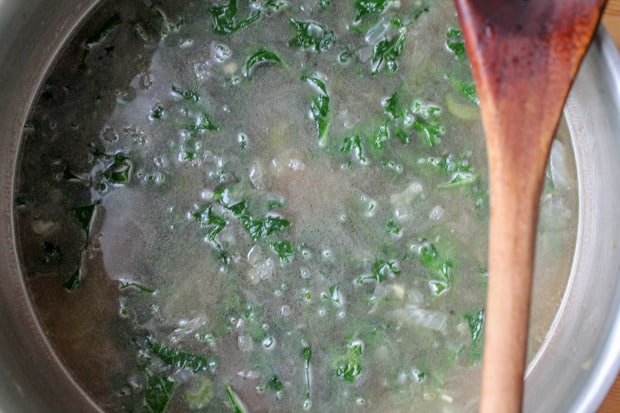 After the broth has had a chance to mix and mingle with the veggies, I added in the chicken and cooked brown rice. Give it all a good stir and let it cook for about 10 more minutes.
We loved this soup. The lemon rosemary chicken was absolutely perfect in it. I had 2 bowls as did Joe. It was almost therapeutic on such a grey, rainy day.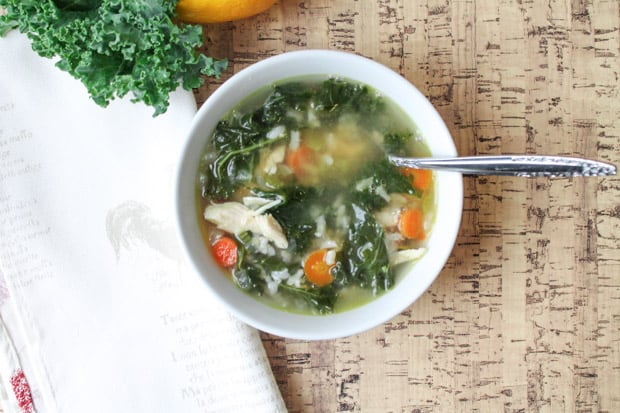 Next time you see the drops start to drizzle down, take my advice and keep this soup in mind.
Oh, and a blanket and a good book doesn't hurt either 😉 Enjoy!

As an Amazon Associate I earn from qualifying purchases.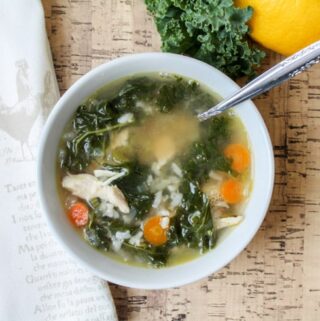 Lemon Chicken Vegetable Soup
Ingredients
1

tbsp

olive oil

1/2

tbsp

butter

8

baby carrots

sliced

4

small stalks celery

chopped

½

large onion

diced

3

leaves

kale

torn into pieces & rinsed

3

cloves

garlic

minced

6

cups

broth

1

cup

water

2

lemon rosemary chicken breasts

cooked & shredded

2

cups

brown rice

cooked
Instructions
In a large pot over medium heat, melt together olive oil and butter

Add in the carrots, celery and onion and season with sea salt and pepper. Cook for 3 minutes. Add the kale and garlic and cook for about 2 minutes more.

Add the broth and water and bring to a boil. Simmer over low heat, stirring occasionally for about 20 minutes.

Add the brown rice and chicken to the pot and stir. Simmer for about 10 minutes
Nutrition
Serving:
4
Calories:
512
kcal
Carbohydrates:
85
g
Protein:
21
g
Fat:
9
g
Saturated Fat:
2
g
Cholesterol:
39
mg
Sodium:
1559
mg
Potassium:
854
mg
Fiber:
4
g
Sugar:
5
g
Vitamin A:
8020
IU
Vitamin C:
55.4
mg
Calcium:
128
mg
Iron:
2.8
mg