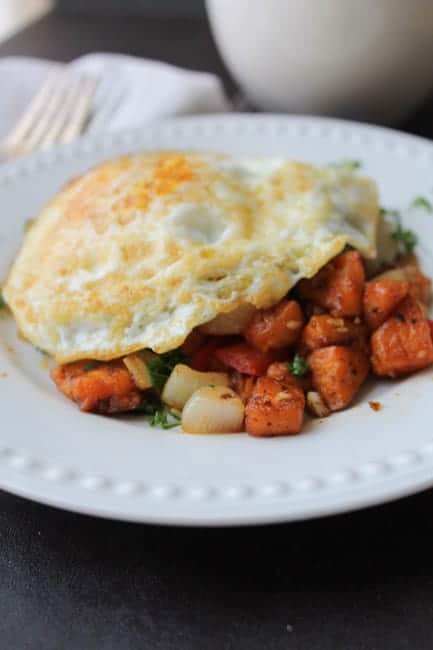 Can you believe it's the home stretch of my detox? I feel so great and am really proud of myself for sticking with it. I've been working on a post of my best tips for you so stay tuned for that. 🙂
Today's detox friendly recipe is a special favourite of ours.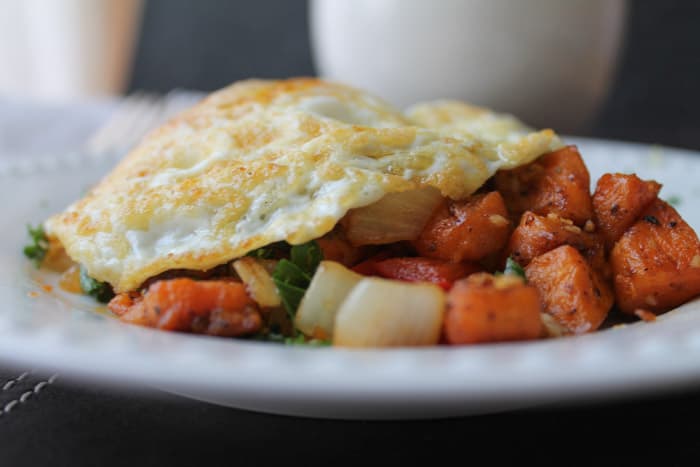 I say 'ours' because even though Joe is not actively participating, (and by that I mean he's eating cheese and drinking coffee. Damn him! ) he is eating meals that I'm preparing, like the Detox Soup and the smoothies. He's also eating more than his share of my Sugar Free Granola! Eat your cheese, buddy. 😉
But, I digress …
This particular Sweet Potato and Egg combo is one to remember. The beauty of it is that it can be enjoyed for any meal. Have some time on a weekend morning and feel like a fancy breakfast? This is great. Maybe it's a cold, stark winter evening and you need some warm, comfort food to heat you up. This was the case for us and it was fabulously good.
Veggies this bright in colour can only mean good things, right?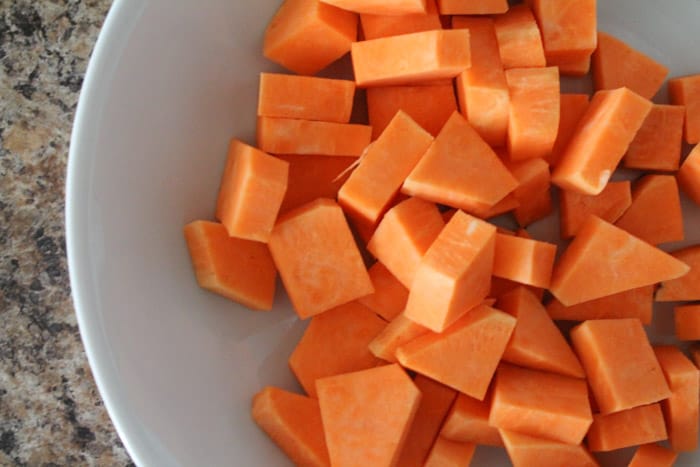 The eggs make this dish. We love them fried in olive oil with a touch of sea salt. Leave the yolks a little runny so you can sop it up with the sweet potatoes.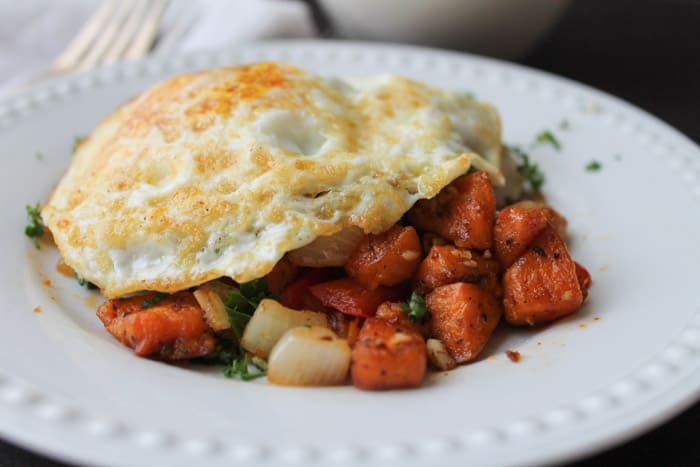 Great, filling and non-detox tasting, if you know what I mean. 😉
Here's a recap of the last two days:
Day 9                                                                                                          Day 10
lemon H2O with cayenne                                                                     lemon H2O with cayenne
blood orange                                                                                            pear
green smoothie                                                                                        green smoothie
lemon basil chicken salad                                                                      almonds
sugar free banana bread  (recipe coming Friday!)                           sweet potato hash & eggs
apple/cinnamon/almond butter                                                         almonds x 2
sugar free banana bread x 4 ( yes 4! I blame PMS)                         apple/cinnamon/almond butter
*As always, I'm drinking at least ten cups of water/herbal teas daily
*I'm also back on grains a bit as I had brown rice in my salad. No reaction, thankfully
As you can see that Sugar Free Banana Bread is the detox bomb! Stay tuned for that recipe on Friday.
Meanwhile, enjoy your comfort food. 🙂
Check out recaps from Day 1 , Day 2 , Day 3 , Days 4-5 , and Days 6-8
As an Amazon Associate I earn from qualifying purchases.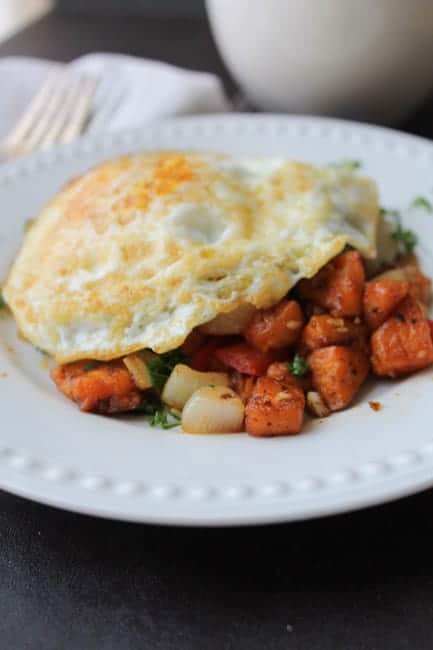 Sweet Potato Hash with Eggs
Course:
Breakfast, Main Course
Keyword:
sweet potato hash eggs
Ingredients
2

sweet potatoes

peeled and cut into 1/2" cubes

2

tbsp

olive oil

divided

1/2

tsp

chili powder

1/2

tsp

cumin

pinch

cayenne pepper

1/2

tsp

sea salt

1

red pepper

diced

½

medium sweet onion

diced

3

cloves

garlic

minced

2

tbsp

fresh chopped parsley

4

eggs + 1-2 tbsp olive oil for frying
Instructions
Preheat oven to 400 and line a baking sheet with parchment/foil

Toss the cubed sweet potato with 1 tablespoon of olive oil until well coated then add chili powder, cumin, cayenne, salt & pepper and stir well

Transfer potatoes to the lined baking sheet and roast for 20 minutes, stir the potatoes around to check for any hot spots and put back in the oven for another 15-20. Set the pan aside

Heat a tablespoon of olive oil in a large skillet over medium heat. Sauté the onions and peppers until soft, about 7-9 minutes. Stir in the garlic and cook, stirring for another 1-2 minutes

Lower the heat to medium low and transfer the potatoes form the baking sheet to the skillet and stir

In a separate skillet, heat 1-2 tablespoons of olive oil and fry the eggs to your liking. We preferred a slightly runny yolk

Plate your potato hash, sprinkle with fresh parsley and top with fried eggs
Nutrition Facts
Sweet Potato Hash with Eggs
Amount Per Serving
Calories 402
Calories from Fat 198
% Daily Value*
Total Fat 22g 34%
Cholesterol 327mg 109%
Sodium 796mg 33%
Potassium 764mg 22%
Total Carbohydrates 35g 12%
Protein 14g 28%
* Percent Daily Values are based on a 2000 calorie diet.