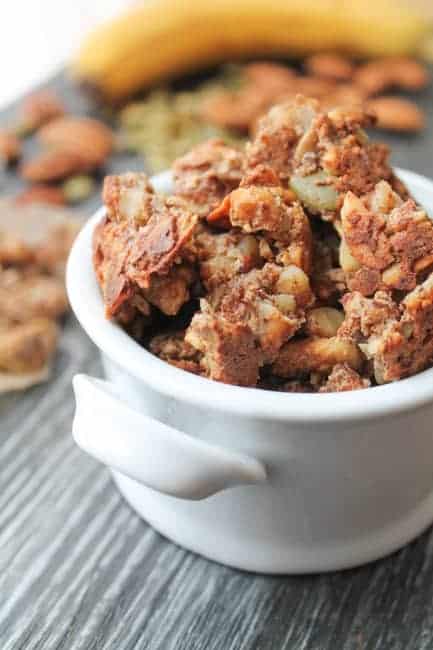 By the end of day three of my detox, I was really bored with snacking on almonds. There needed to be an alternative and did I ever find it in this Detox Friendly Granola.
OK.
Are you ready for the list?
Sugar free, Gluten Free, & Grain Free.
Boom city.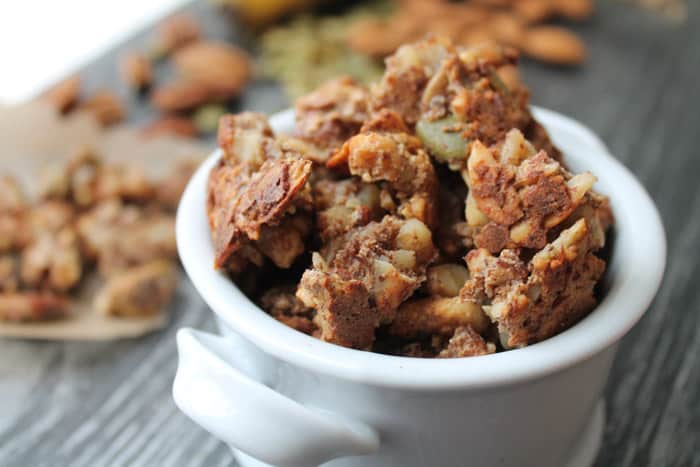 After some Googling, I found a bunch of renditions of what's sometimes referred to as 'Banola'. It's basically using bananas as the only sweetener in this granola that features nuts and seeds and is free of the usual oats. Not that I don't love my oats. I am only skipping out on grains for the first seven days of this cleanse then I'm hopping right back on the brown rice train.
My Brand Ambassadorship with North Coast Naturals means they sometimes send me my favourite Daily Cleanse, which I use all the time in my Hemp Seed Energy Balls. Now, I found it apropos to use it in this Granola for some texture in the place of the typical oats. This product is ideal because it doesn't lose any of it's nutritional value when it is exposed to heat. Nice!
Super easy is always nice while on a cleanse. There can be a lot of work involved when you are making every . single . meal . in a limited fashion. This recipe ticks all of the required boxes as far as simple and detox friendly. Stir together the nuts along with the Daily Cleanse (or ground flax) and some ground almonds. Stir 'em up.
Blend together a couple of bananas with and egg and some cinnamon and mix it into the nut mixture.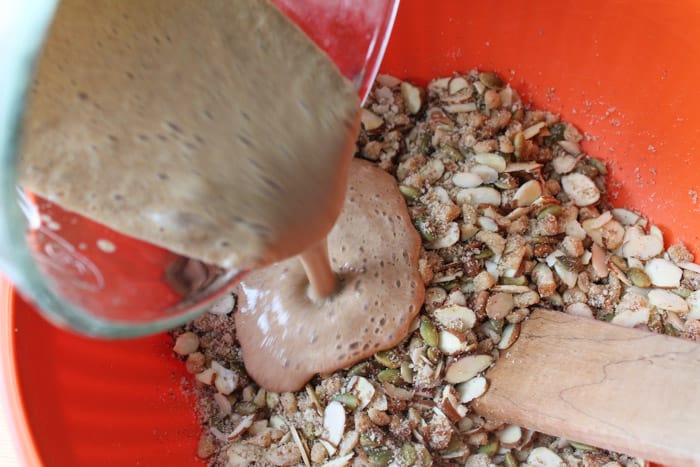 I was suuuuper skeptical when I put this in the oven. It looked like detox food. 🙁 Not what I was going for obviously.
My attitude starting shifting when the aroma began swirling through my kitchen. Baking banana and toasty, cinnamony nuts. Warm and enticing.
When I took it out at the half way point to flip it over, I was still feeling a tad less cynical.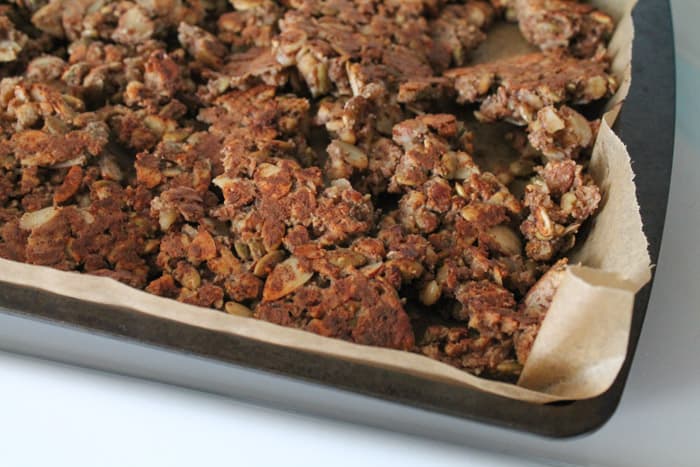 After the full time in the oven and a small cooling period, I took a small tentative bite. Then another. Then a few nibbly minutes passed an I figured I better shoot some photos before it disappeared.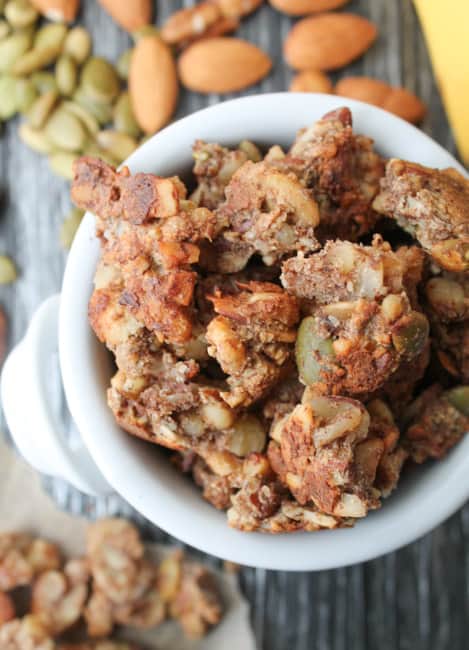 The verdict would be three thumbs up if possible! I have happily been munching away on this for the last two days. It is making this cleanse much easier. Yes, that good. I'm looking forward to playing around with this recipe. So much potential.
Here's a quick wrap up of my last couple days. Expect Granola and lots of it. 😉
Day 4                                                                                                Day 5                                                                              
lemon H20 with cayenne                                                lemon H20 with cayenne                                                                               

2 clementines                                                                    2 clementines

detox smoothie                                                                 detox smoothie

handful detox friendly granola                                      handful detox friendly granola

detox vegetable soup                                                        stir fried peppers & onions with spaghetti squash

handful granola x 2                                                           handful granola x 2

hard boiled egg                                                                  detox chopped salad
detox chopped salad                                                         hard boiled egg     

apple with cinnamon and almond butter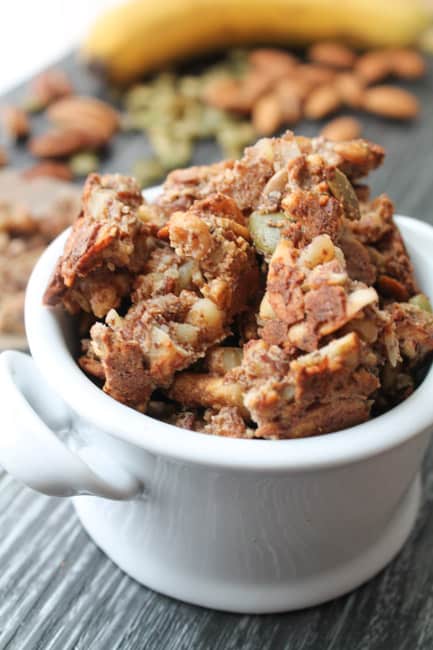 Check out Day 1, Day 2 , and Day 3 recaps.
Detox Friendly Sugar Free Granola
Ingredients
1 cup slivered almonds
1 cup chopped walnuts
1/2 cup pumpkin seeds
1/2 cup chopped pecans
1/4 cup chopped brazilnuts
1/2 cup ground almonds
1/4 cup Daily Cleanse (or ground flax)
2 bananas
1 egg
2 tsp cinnamon
2 tsp vanilla
1/4 tsp salt
Instructions
Heat oven to 350 and line a baking sheet with parchment paper
In a large bowl mix together the chopped and ground nuts with the ground flax and set aside
Place the bananas, egg, cinnamon, vanilla & salt in a blender and mix until smooth. About 60 seconds
Pour over nut mixture and stir well
Spread evenly onto the parchment lined baking sheet and pop into the oven for 15 minutes
Take it out and flip the pieces over and place it back into the oven for another 15 minutes to brow evenly
Let cool on the pan for 5 minutes or so then break into pieces
Store in a sealed container at room temperature
7.6.7
448
https://thehonoursystem.com/detox-friendly-sugar-free-granola-detox-days-4-5-recap/