Have you ever done a cleanse? I do them semi-regularly and this Detox Vegetable Soup is always the star of the show. No cabbage here though! This cleansing detox soup features sweet potatoes and kale as well as a smoky blend of warming spices.
What does a detox soup do? Mostly, it adds a TON of nutrient-packed vegetables to your meal. It does it in a way that is gentle and nourishing to your body.
If you want to know what soups help you lose weight it is recipes like this one over cream-based, white flour laden, heavier soups.
DETOX VEGETABLE SOUP
Well, hello! Welcome to my "Twelve Days of Detox" journal. In this post, I am outlining my first on my twelve-day cleanse.
Before I get down to business I should quickly mention a couple of things:
FULL DISCLOSURE! I'm not a doctor. Shocking, I know. If you have any medical conditions or have never done any kind of cleanse, please run things past your GP. I am not giving medical advice and don't know your individual situation. Again, speak to YOUR doctor.
Secondly, this is a recounting of my experience. Some may think it's too little food, others may think too much, etc. We are all unique and what works for me might not work for you. Use my detox routine as a guideline and modify it to suit your own needs/goals.
OK! Now that that's out of the way, here we go.
MY DETOX ROUTINE
It's fitting that I used the word routine to describe my detox. For the last five years or so I have been doing regular, seasonal detoxes. I enjoy the challenge and I always come away with better eating habits because of them. They truly have become a part of my routines like spring cleaning and vacations. I can't recommend it enough.
This time of year is especially indulgent. I heard a statistic the other day that the average person gains three to five pounds over the holidays.
It doesn't sound like that much, but if you don't lose it those pounds can add up. Three pounds times ten years is THIRTY extra pounds. Yikes. Sneaky sneaky. It can creep up so slowly.
Now, you can see why a detox is such a timely idea after Christmas/New Years'. I would estimate that the extra three to five will disappear in about twelve days. 😉
THE RULES OF THIS CLEANSE
Here are the rules I follow:
no dairy
no caffeine
eliminate processed sugar
no alcohol
eliminate grains (just for the first seven days)
lots of veggies, fruit, and healthy fats are the staples.
I start ev-er-y day with hot water and lemon. I sprinkle in some cayenne pepper for good measure (it helps to naturally heat your body which is said to aid in detoxification ) but it's totally optional.
Stock up on those lemons!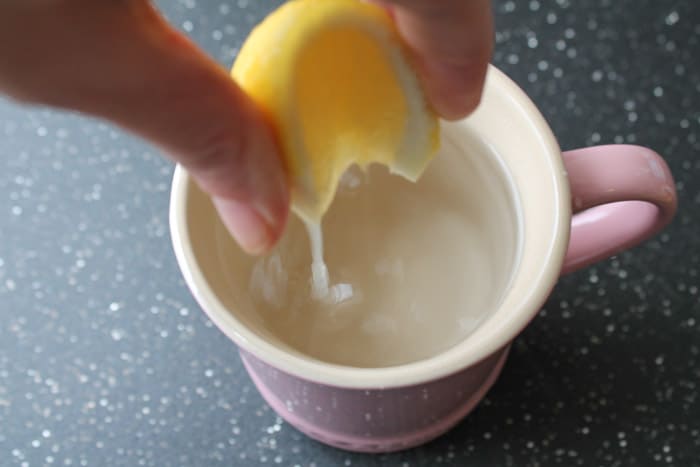 Next, comes a piece or two of fruit. For my day one, it was a couple of clementines.
Yummy!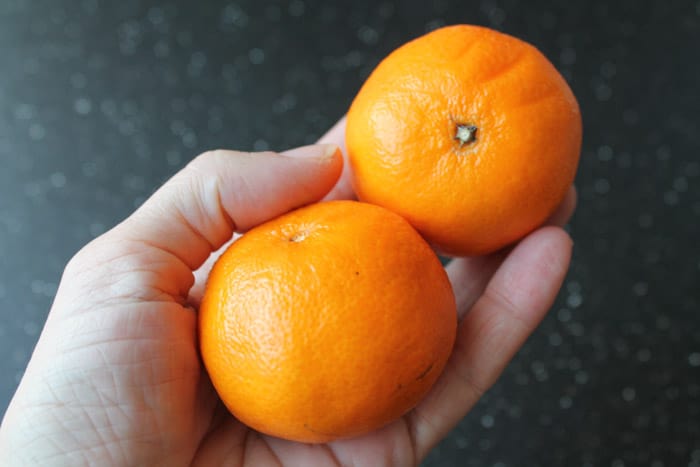 About half an hour after your fruit it's smoothie time.
For day one I enjoyed this –> Detox Green Smoothie.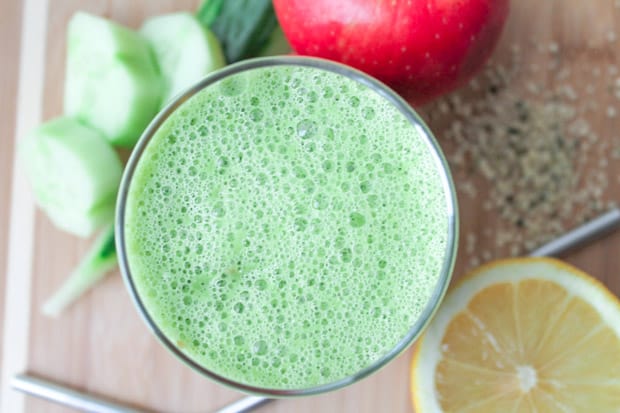 Maybe an hour or two after my breakfast I had a handful of almonds and another clementine.
This kept me going while I got the preparations underway for this amazing fat flushing detoxifying vegetable soup.
HOW TO MAKE DETOX SOUP
For this spicy detox soup you will need:
olive oil
carrots
celery
onions
tomaotes
garlic
sweet potato
sea salt and pepper
smoked paprika
canned beans
broth
kale
parsley
Other than the chopping of the veggies, this soup is uber easy. There are the usual suspects of onions, celery, carrots but the featured vegetable is chopped sweet potato.
It . makes . this . soup .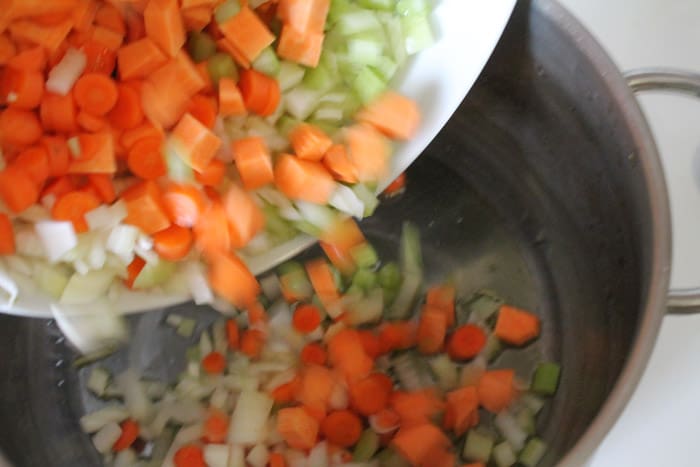 The secret ingredient that ties this soup together is smoked paprika.
It goes well with the flavours of the sweet potato and is so warming.
I had a generous bowl of this for lunch followed by another handful of almonds for 'dessert'.
It's funny how absolutely luxurious almonds become during a cleanse. 😉
Another bowl of veggie soup for dinner and I was good until my evening snack.
For my snack I thoroughly enjoyed an enormous apple sliced into wedges and sprinkled with cinnamon. I smothered it all in almond butter and practically licked my plate. I adore this snack. It will be happening every night without fail. Love it. 
Throughout the day I drank lots of water and herbal tea. I like peppermint tea and green tea with a squeeze of lemon.
DAY ONE
So this was how day one looked:
Hot water with lemon
Fruit (2 small clementine oranges)
Green Smoothie
Fruit/Almonds
Detox Soup
Almonds
Detox Soup
Apple with Cinnamon & Almond Butter
*I would guess -timate this to be around 1500 calories or so.
Other than a bit of a headache (due to lack of coffee, I'm sure) for about an hour or so, I felt pretty much normal. I had lots of energy though. Possibly due to veggie overload. 😉
This sugar free banana bread awaits you!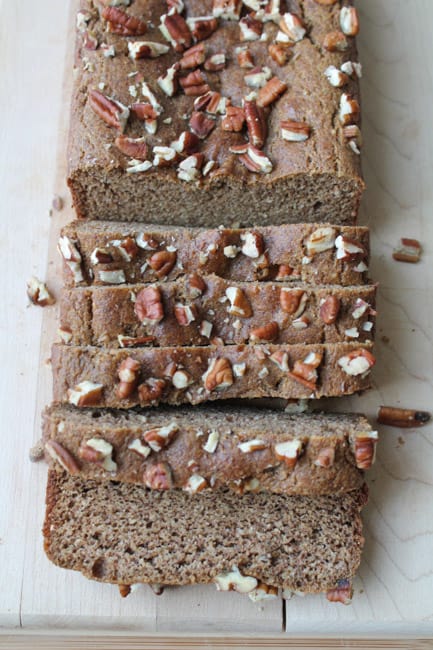 Originally posted December 29, 2014. Updated January 1, 2021.
As an Amazon Associate I earn from qualifying purchases.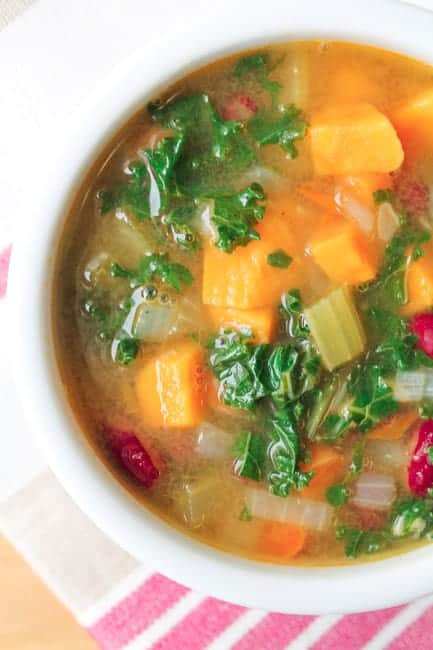 Detox Vegetable Soup
Have you ever done a cleanse? I do them semi-regularly and this Detox Vegetable Soup is always the star of the show. No cabbage here though! This cleansing detox soup features sweet potatoes and kale as well as a smoky blend of warming spices.
Course:
Main Course, Soup
Keyword:
detox vegetable soup
Instructions
In a large soup pot, heat olive oil over medium.

Stir in cubed sweet potato, carrots, celery, and onion. Season with sea salt and fresh pepper and stir well. Cook until softened, stirring occasionally, for 5-7 minutes.

Stir in tomatoes, garlic, and smoked paprika and cook for another minute or so, stirring frequently.

Stir in beans and broth and simmer on medium-low for 45 minutes, stirring occasionally and adding more water (I add up to 2 cups of water, ¼ cup at a time) as needed.

Stir in kale and parsley, remove from heat and let sit for five minutes, covered, to wilt the kale.

Store leftovers in a sealed container in the fridge.
Nutrition Facts
Detox Vegetable Soup
Amount Per Serving
Calories 175
Calories from Fat 72
% Daily Value*
Fat 8g12%
Sodium 80mg3%
Potassium 618mg18%
Carbohydrates 25g8%
Protein 4g8%
Vitamin A 17577IU352%
Vitamin C 65mg79%
Calcium 101mg10%
Iron 3mg17%
* Percent Daily Values are based on a 2000 calorie diet.