Discover how to make Balsamic Glaze with this easy recipe. Also known as a balsamic reduction which explains how this sweet dressing is made – by reducing balsamic vinegar down to a syrupy sauce to be added to salads, roasted vegetables, and more!
I had been familiar with balsamic reductions from higher-end restaurants that used them to finish off plates like lovely salads, chicken dishes, and more and I wondered how do you make balsamic glaze from scratch?
It turns out, it's not that difficult!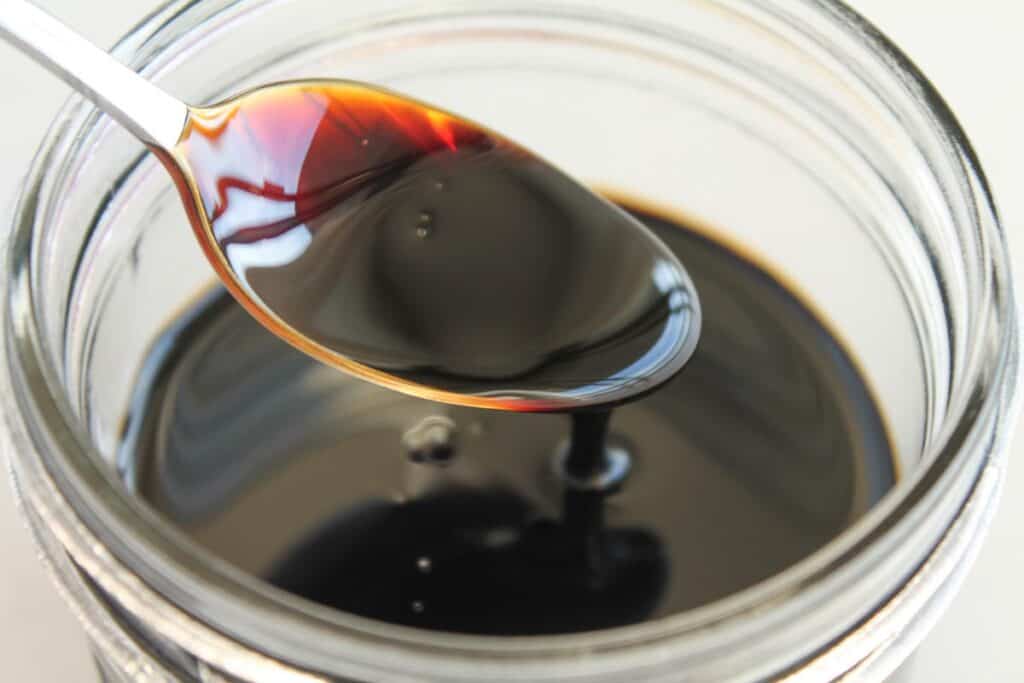 HOW TO MAKE BALSAMIC GLAZE
Is balsamic glaze the same as balsamic reduction? They are! In this recipe, I don't use any sweetener because when the vinegar reduces I find it sweet enough, but they are in fact the same thing.
What is balsamic glaze made from? Balsamic glaze is simply balsamic vinegar reduced down to a syrup-like consistency by heating it.
Here is what you need:
balsamic vinegar
honey or sugar (totally optional and I mostly make it without)
And that is it!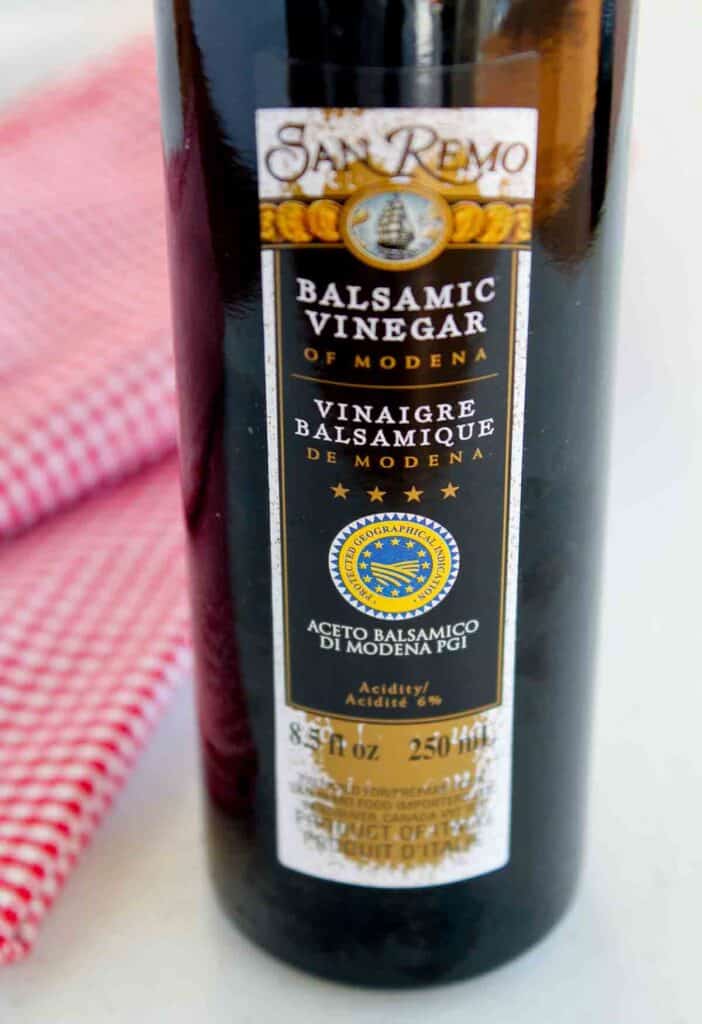 The whole thing takes about twenty minutes and will really clear out your sinuses if you want a good nasal cleansing. Whew!
Basically, heat the vinegar to a low bubbling boil and stir until it reduces to half the amount. I like to use a whisk and keep stirring at a regular consistent pace so that nothing burns. It takes about twenty minutes but if you use a sweetener like honey or sugar the reducing time will be less. More like eight to ten minutes.
Watch to see when it coats the back of a spoon.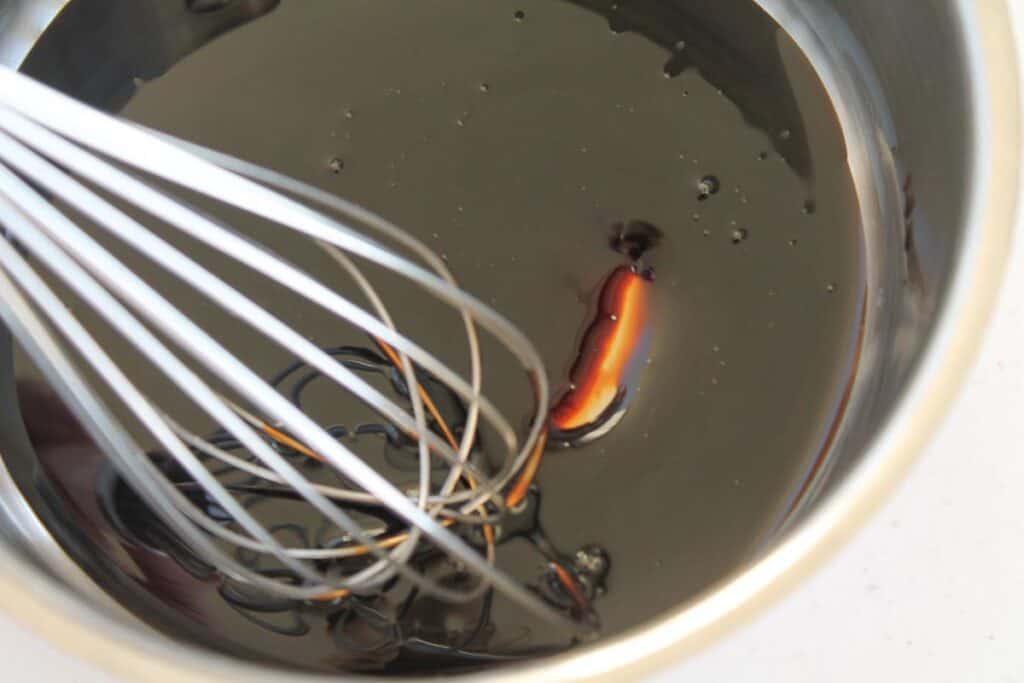 Once the balsamic glaze has reached the desired consistency you will want to remove your pan from the heat and place it on a trivet to cool down. It will reduce more while it cools.
FAQ
Are balsamic vinegar and balsamic glaze the same thing? Nope! The glaze or reduction is a cooked down version.
Heating the vinegar mellows the flavour and changes it from tasting acidic to capturing both a mildly sweet and savoury flavour.
What do you use balsamic glaze for? Use it in a salad dressing, drizzle over chicken or salmon. Balsamic reduction is also ah-mazing over cheese. Goat cheese or perhaps a mozzarella.
Here are some recipes using balsamic glaze: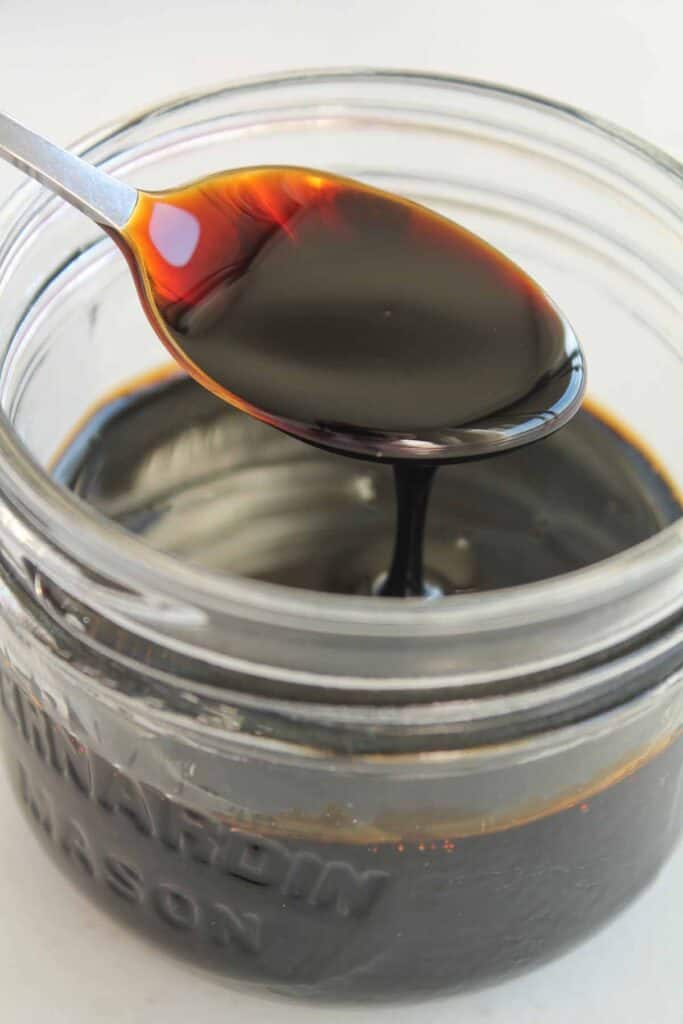 Is balsamic reduction bad for you? Not if you take it easy on the sweetener. A lot of store-bought products use sugar so I cannot vouch for them. As mentioned before the sweetener in this recipe is optional and if you do use it I recommend a natural source like honey or coconut sugar.
How long does balsamic reduction last? Up to a month.
Should I refrigerate balsamic reduction? It's not necessary. Store it in a sealed glass jar in a cool, dark spot.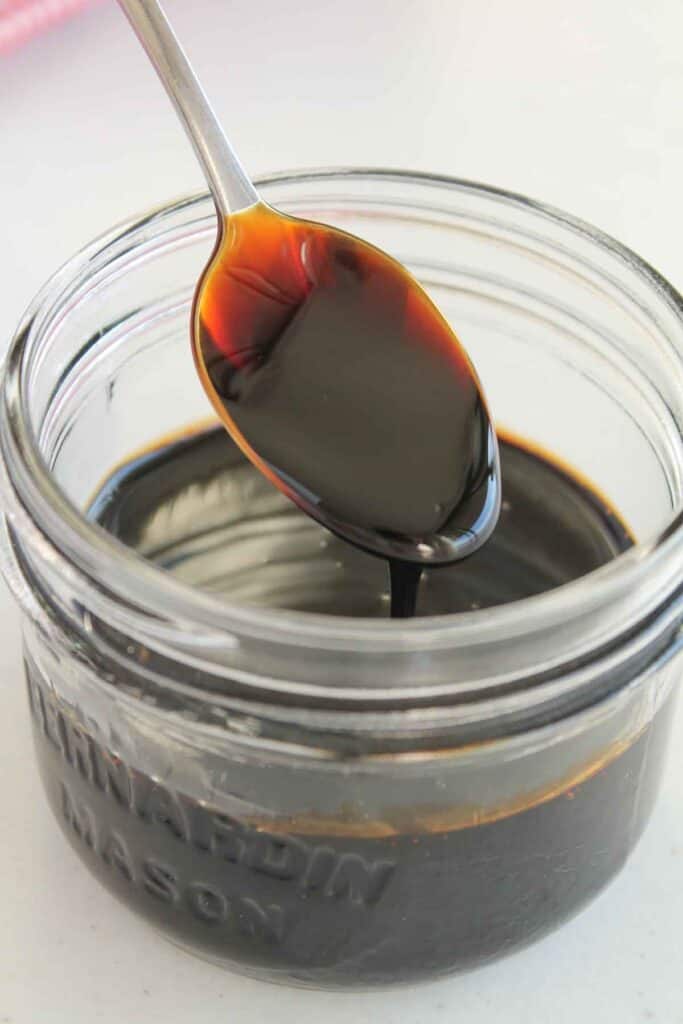 Originally posted November 24, 2014. Updated November 17, 2020.
Be sure to follow me on social media! I love pinning to Pinterest, sharing on Facebook, and posting pics on Instagram. See you there. 🙂
As an Amazon Associate, I earn from qualifying purchases.
How To Make Balsamic Glaze
Keyword:
balsamic reduction recipe, how to make balsamic glaze
Instructions
Pour the vinegar (and sweetener if using) into a small saucepan.

Over medium heat, bring the vinegar to a low boil.

Reduce the heat to medium-low and let the mixture lightly simmer, whisking every couple of minutes to make sure nothing sticks and burns.

When the vinegar has reduced in half, it should coat a spoon in thickness. If you use just the vinegar this will take about fifteen to twenty minutes. If you used a sweetener it will take less time – about eight to ten minutes.

Remove the pan from the heat and let it cool down completely.

Transfer the balsamic glaze to a glass jar with a lid. This will keep stored in a cool, dark spot for up to a month.
Nutrition Facts
How To Make Balsamic Glaze
Amount Per Serving
Calories 29
% Daily Value*
Sodium 5mg0%
Potassium 24mg1%
Carbohydrates 7g2%
Protein 1g2%
Calcium 6mg1%
Iron 1mg6%
* Percent Daily Values are based on a 2000 calorie diet.