Arugula Salad with Goat Cheese and Roasted Sweet Potato
Simple Arugula Salad with Goat Cheese and Roasted Sweet Potato – a tasty Fall side dish! Features an easy balsamic glaze dressing recipe.
I absolutely love this Fall arugula salad because what goes well with arugula? Roasted sweet potatoes! And healthy sweet potato recipes that are easy and delicious are right up my alley. You also can't go wrong with some tangy, creamy goat cheese crumbled all over.
ARUGULA SALAD WITH GOAT CHEESE AND ROASTED SWEET POTATO
If you aren't familiar with it you may be asking what does arugula taste like? Arugula is a dark leafy lettuce that has a sharp, peppery taste. It can have a strong flavour and be a little harsh on its own.
How do you make arugula taste better? Adding sweetness to offset the snappy greens makes everything balance out nicely. In this yummy salad recipe, we use sweet potatoes as well as the balsamic glaze dressing to bring that sweetness to the dish.
Add in the creamy goat cheese cheese and we have a winner, folks!
Does your spouse ever surprise you?
When Joe came meandering through the kitchen to see what was in the works I flat out told him he wouldn't like it. The goat cheese, sweet potato, arugula thing usually isn't his speed. Well, I was wrong! By the time I turned around he had totally finished a whole plate.
I was so happy.
Man pleasing meals, especially ones with arugula are doubly satisfying. I remember how impressed with myself I was when Joe first drank a green smoothie and declared it "Not bad". That to me means total success. 😉
Anyway, back to the recipe.
WHAT YOU NEED TO MAKE THIS ARUGULA SALAD
A few things to gather and we are on our way!
arugula
sweet potatoes
goat cheese
balsamic glaze
olive oil
garlic puree or garlic powder
dried rosemary
sea salt
STEP BY STEP
The first thing to do is get your sweet potatoes roasting. Can you cook sweet potato with the skin on? Yes, you can! In fact, a lot of nutrition is in those skins so I cook them with the skins on and I eat them too. 😉 Just give them a good scrub and it's probably a good idea to buy organic.
Slice up that scrubbed sweet potato, skin and all, into evenly sized rounds and toss them in olive oil. I used my rosemary infused version and highly recommend it. I also rubbed a little of the garlic purée into them as well. That stuff is the bomb.
If you don't have time to make it, garlic powder works fine too! I do both.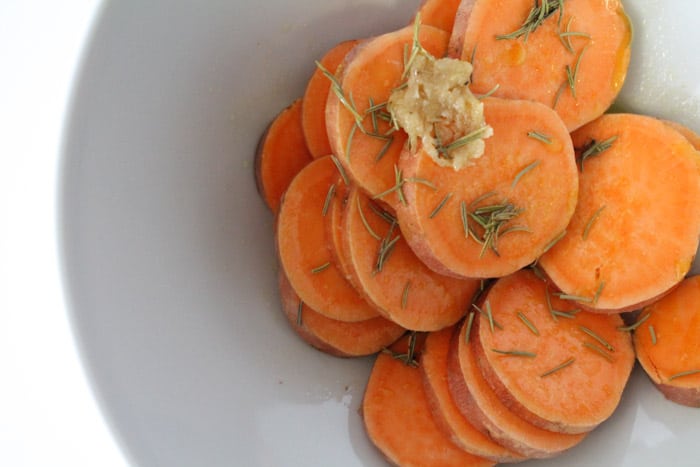 Lay the sweet potatoes out on a parchment lined baking sheet and pop them into a warm oven to roast. Meanwhile you can prep the rest of the salad.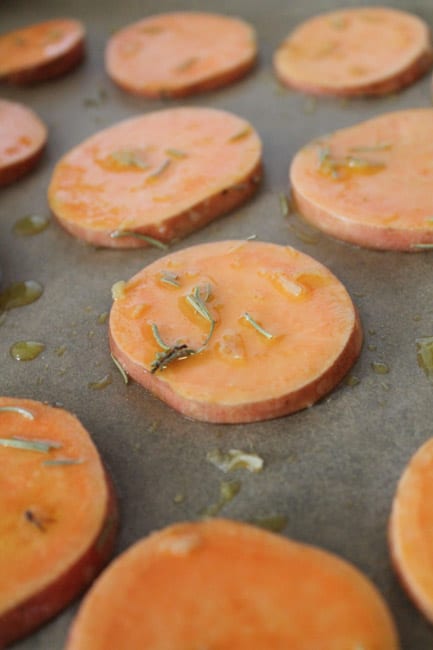 Onto our arugula! Is arugula the same as rocket? Yes, indeed they are one and the same. Both rocket and arugula are derived from Italian words.
Toss your arugula with a little balsamic and olive oil. Once again, I used the rosemary-infused oil and I also used the balsamic reduction I made earlier in the week. The flavours of a reduced vinegar are much sweeter which is a nice contrast to the peppery greens.
You can make your own as I did but balsamic glaze is also easily available at the grocery store too.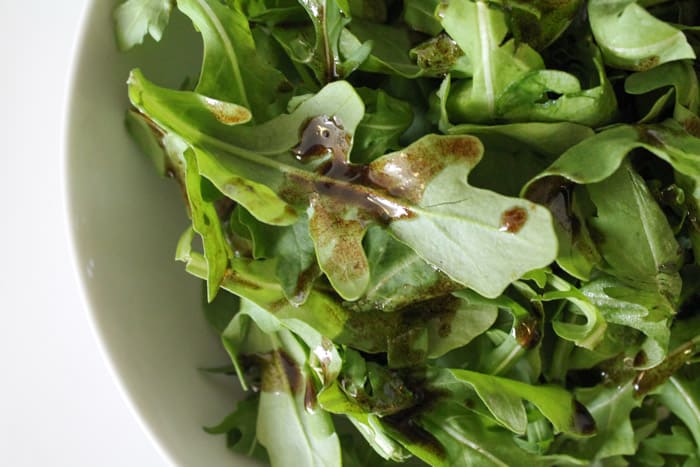 By now the roasted sweet potatoes are ready.
HOW TO SERVE THIS SALAD
Place those gloriously crispy potatoes on a plate and top them with the dressed arugula and crumble on your desired amount of goat cheese. I can't tell you how much cheese to use, just listen to your heart!
This arugula salad with goat cheese and roasted sweet potato is to be served warm right out of the oven and can be alongside any protein you like! Chicken, salmon, shrimp, steak, and of course turkey all will pair nicely with this arugula salad.
This dish is also great for the holidays, as it can look pretty fancy all drizzled in the balsamic.
The warm potato melts the cheese just enough. The textures are so perfect together.
This is a keeper recipe.
The potatoes alone are great if you just wanted to whip those up as a side dish! But why not go all in considering how simple the recipe is. Let me know if you give this recipe a try!
Enjoy!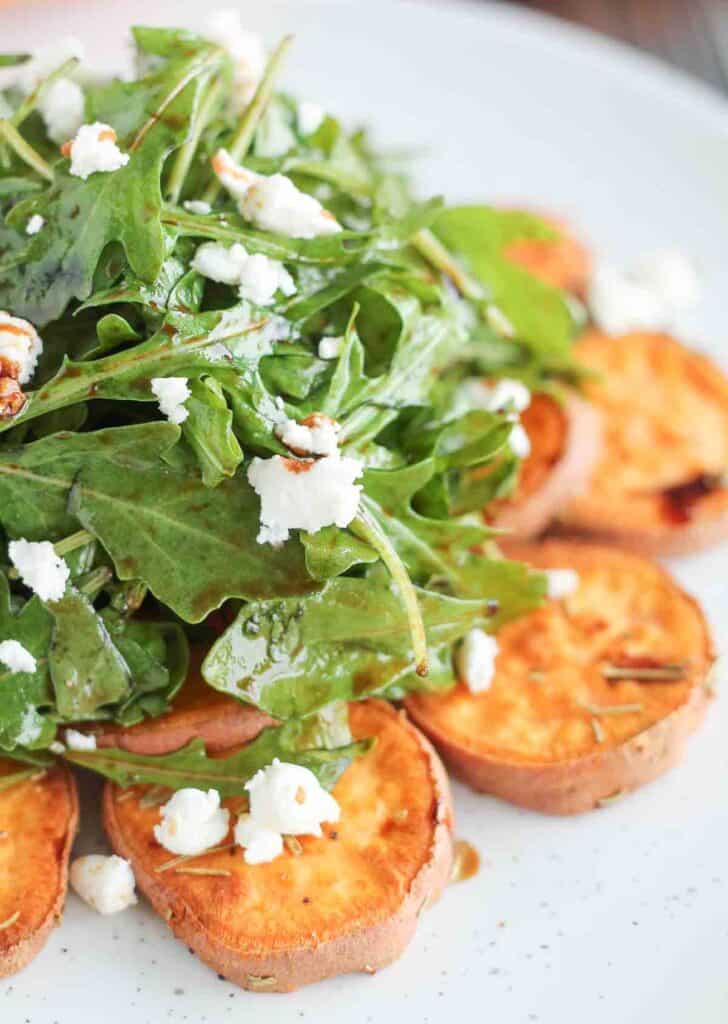 MORE HEALTHY SWEET POTATO RECIPES
Originally posted November 28, 2014. Updated December 1, 2020.
Be sure to follow me on social media! I love pinning to Pinterest, sharing on Facebook, and posting pics on Instagram. See you there.  🙂
As an Amazon Associate, I earn from qualifying purchases.
Arugula Salad with Roasted Sweet Potatoes and Goat Cheese
Simple Arugula Salad with Goat Cheese and Roasted Sweet Potato – a tasty Fall side dish! Features an easy balsamic glaze dressing recipe.
Instructions
Preheat your oven to 375 and line a baking sheet with parchment.

Scrub the sweet potato clean and slice it into 1/2 inch thick rounds and place them in a small mixing bowl.

Toss the sweet potato rounds in the oil, sea salt, garlic, and dried rosemary until well coated then place them evenly spaced onto the parchment-lined baking sheet.

Roast in the oven for 20-25 minutes, flip them, and roast for 5 minutes more.

Meanwhile, in a medium mixing bowl add the oil and balsamic reduction and, using a fork, stir it well to combine it. Add the arugula and toss it well to coat the leaves.

Take the sweet potatoes out of the oven and transfer them to a plate. Top the warm potatoes with the dressed greens and crumble the goat cheese on top. Drizzle with extra balsamic reduction, if desired. Serve immediately.
Nutrition
Calories:
371
kcal
Carbohydrates:
27
g
Protein:
8
g
Fat:
26
g
Saturated Fat:
7
g
Cholesterol:
13
mg
Sodium:
178
mg
Potassium:
528
mg
Fiber:
4
g
Sugar:
7
g
Vitamin A:
17274
IU
Vitamin C:
9
mg
Calcium:
144
mg
Iron:
2
mg