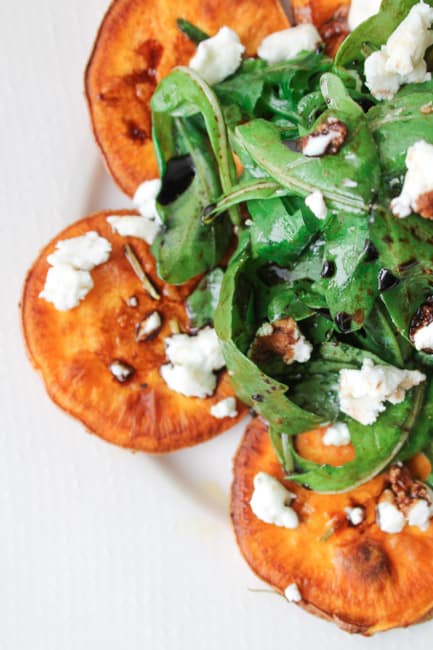 Don't you love it when a plan comes together?
After some tough, grocery wasting recipe fails, gratefully I have been on a bit of a hot streak. Today was no different. This warm salad recipe is so easy, fast and delicious.
Admittedly, it is a little of a 'lady zone' kinda dish. When Joe came meandering through the kitchen to see what was in the works I flat out told him he wouldn't like it. You know. The goat cheese, sweet potato, arugula thing usually isn't his speed. Well, I was wrong! By the time I turned around he had totally finished a whole plate. I was so happy. Man pleasing meals, especially ones with arugula are doubly satisfying. I remember how impressed with myself I was when Joe first drank a green smoothie and declared it "Not bad". That to me means total success. 😉
So onto how absolutely easy this is.
Slice up a scrubbed sweet potato, skin and all, into evenly sized rounds and toss them in olive oil. I used my rosemary infused version and highly recommend it. I also rubbed a little of the garlic purée into them as well. That stuff is the bomb.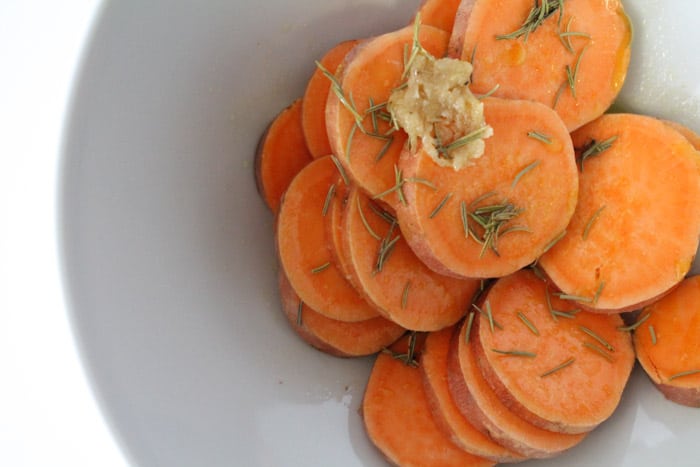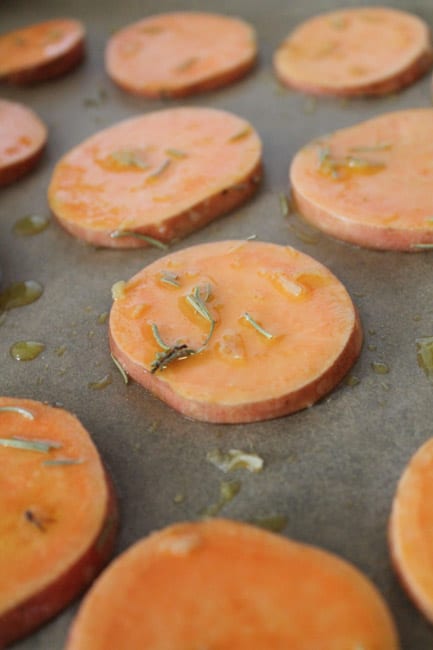 While they roast up in the oven, toss your arugula with a little balsamic and olive oil. Once again, I used the rosemary infused oil and I also used the balsamic reduction I made earlier in the week. The flavours of a reduced vinegar are much sweeter which is a nice contrast to the peppery greens.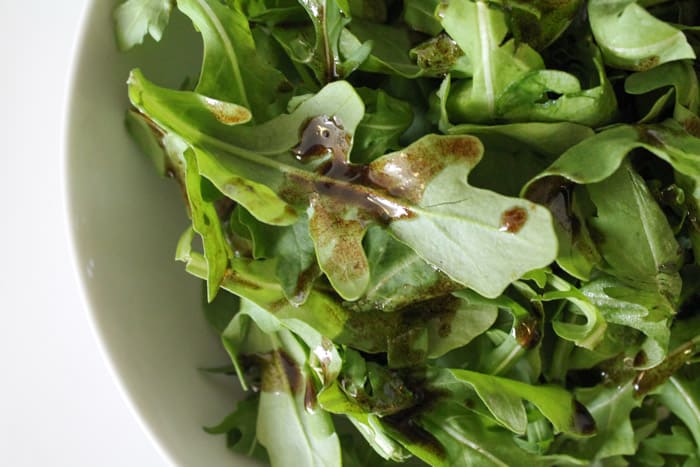 Once the potatoes are gloriously crispy, top them with the dressed arugula and sprinkle on your desired amount of goat cheese. The warm potatoes melted the cheese just enough. The textures were so perfect together.
This is a keeper recipe. The potatoes alone are great, if you just wanted to whip those up as a side dish.
Great for the holidays, as it can look pretty fancy all drizzled in the balsamic.
Enjoy!
As an Amazon Associate I earn from qualifying purchases.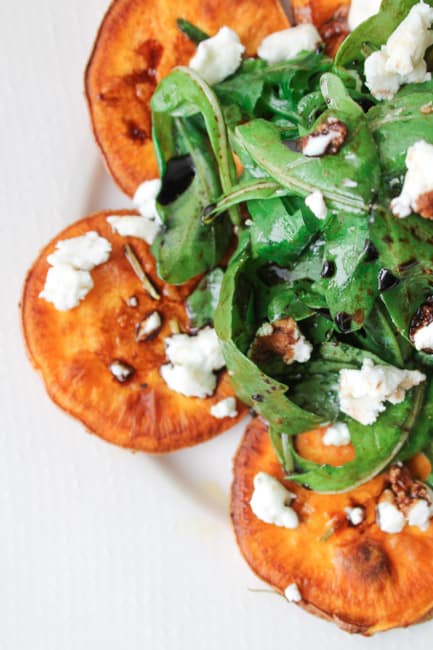 Arugula Salad with Roasted Sweet Potatoes & Goat Cheese – Gluten Free
Keyword:
arugula salad sweet potatoes goat cheese
Instructions
Preheat your oven to 375 and line a baking sheet with parchment

Toss the sweet potato rounds in the oil, sea salt and dried rosemary then rub in the garlic

Roast for 2o-25 minutes, flip and roast for 5 minutes more

Meanwhile toss the arugula in the oil and vinegar

Plate the potatoes and top with the greens and goat cheese. Drizzle with extra balsamic reduction, if desired