Trail Mix Salad coming up.
But first …
Sunday nights I spend doing various computer work while the Walking Dead plays in the background. And yes, Pinterest is computer work. 😉 Do you watch that show? It's pretty gruesome and sometimes, well a lot of the times, I'm kind of surprised I watch it. I mean, blood and gore are not thing. My Pinterest boards focus on beautiful things like art nouveau and haute couture, not zombies and dirty boots.
This dichotomy follows through with other things. I kind of eat like a hippie but I'm not really all that hippie-ish. I like fancy soaps, I spend more than a little time either flat ironing or curling my hair, and I'm also not that peace loving. I like to bitch and complain a bit. 😉
So, as un-hippy as my clothes may be, nothing screams granola quite like Trail Mix, am I right? If you want to get in touch with your inner bohemian, try this Trail Mix Salad. It's a light dinner option, that just like its name suggests, is great for on the road to travel with you to work or school, just like regular Trail Mix.
Only, it's a salad.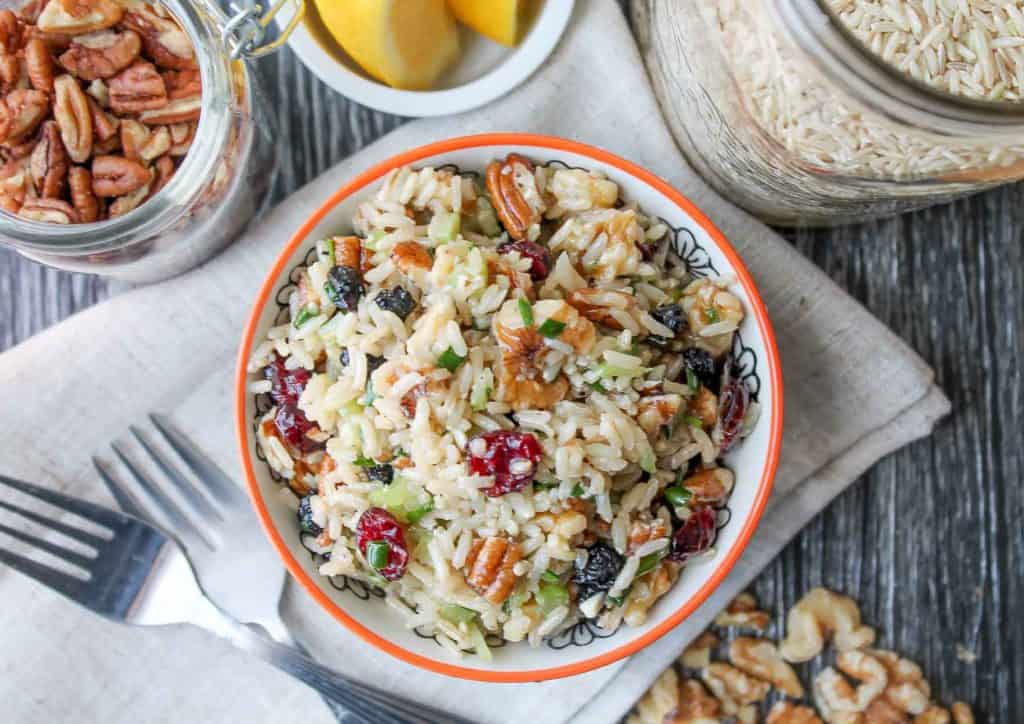 The usual suspect like dried fruit, and nuts, only instead of chocolate chips, because that would be weird, I tossed in some chopped veggies and cooked brown rice.
A little homemade mustard & lemon vinaigrette work perfectly.
Mine kept in the fridge for a full week and I loved digging into it when I was ready for lunch. I even noshed away on a small bowl as a snack one night.
While I watched The Walking Dead. Can anyone explain this?
Trail Mix Salad – Vegan & Gluten Free
Ingredients
FOR THE SALAD:
1 cup dry brown rice
1/2 cup dried fruit ( I used 1/4 cup each dried cranberries & dried blueberries)
1/3 cup chopped pecans
1/3 cup chopped walnuts
1/4 cup finely chopped chives
1/4 cup finely chopped celery
FOR THE DRESSING:
2 tbsp. vinegar
1 tbsp. lemon juice
1 clove garlic, minced
1 tsp mustard
1 tsp coconut sugar
4 tbsp. olive oil
sea salt & fresh pepper, to taste
Instructions
Cook the brown rice. I use --> this method
Meanwhile in a small jar, add all of the dressing ingredients, shake and set aside
Stir together the remaining ingredient in a large mixing bowl
Drain the rice and rinse well with cold water
Stir the rice with the nuts mixture. Shake the dressing again and pour over the rice mixture
Stir really well and serve
7.6.7
485
https://thehonoursystem.com/trail-mix-salad-vegan-gluten-free/