Chocolate Pecan Spelt Flour Cookies
Using a healthy, sprouted grain flour is a unique way to enjoy some extra nutrition in your cookies. These Chocolate Pecan Spelt Flour Cookies are one of those options. They taste so deliciously indulgent that no one would guess they are good for you.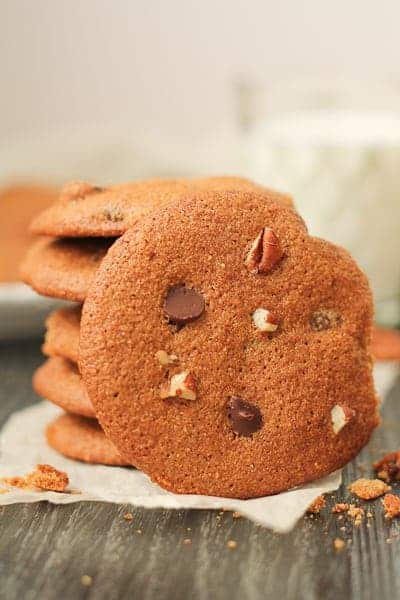 When I think of classic flavour combos, chocolate and pecans has to be up there as a favourite. These cookies are reminiscent of Turtles but without the unpronounceable additives that manufactured food is packed with. Eating healthier does not mean life without cookies but it does mean life without a mouthful of god knows what. It's actually pretty easy when you think about it! 🙂 Enjoy the treats, just make them yourself and use the best ingredients you can find.
Chocolate Pecan Spelt Flour Cookies
Have you ever baked using different types of flours? I've done quite a bit of experimenting with grains of all kinds, as well as almond flours and even coconut flour. I always come back to spelt flour. Luckily I don't suffer from any gluten allegies so I have a bit more freedom in that arena.
Spelt is one of the oldest crops in human history and has a whole host of fabulous benefits. For one, it's high in fibre which aids i you digestion. Nice. Secondly, it contains iron. I battle with low iron levels and any help that department is always welcome.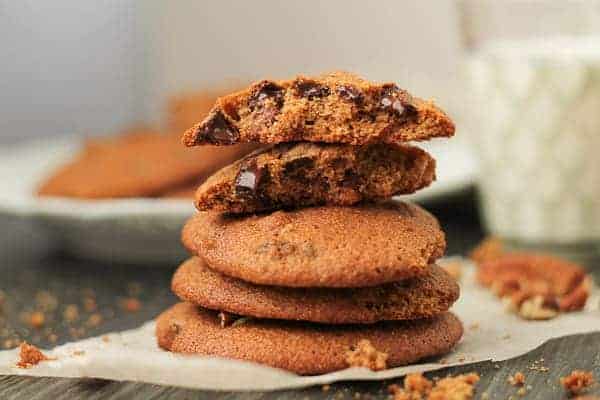 I also recommend lightly toasting those pecans first. It brings out that special something in the nuts giving them that warm crunch against the soft cookie. Mmmmm …. can't you just taste them?
And don't get me started on the melty chocolate. I actually got to enjoy it twice. Firstly, hot gooey chocolate straight out of the oven and then again the next morning when I warmed them slightly for this photo shoot.
And yes, I had those styled cookies for breakfast. No shame my friends. Remember all that fibre? 😉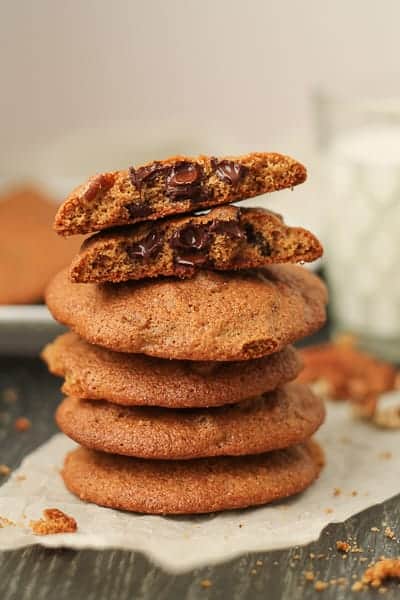 As an Amazon Associate I earn from qualifying purchases.
Chocolate Pecan Spelt Flour Cookies
Instructions
In a large mixing bowl cream together the butter, coconut sugar and maple syrup until combined. Add the egg and mix well.

In a seperate bowl whisk together the flour, salt and baking soda. Gradually stir the flour mixture in into the butter mixture. Once combined stir in the chocolate chips and pecans. Cover the bowl with saran and pop into the fridge for 20-30 minutes.

Preheat the oven to 375 and line 2 cookie sheets with parchment paper.

Scoop 1 tbsp sized spoonfuls of cookie dough onto the lined sheets.

Bake for 10-12 minutes or until the edges are browned.
Nutrition
Calories:
140
kcal
Carbohydrates:
15
g
Protein:
2
g
Fat:
8
g
Saturated Fat:
4
g
Trans Fat:
1
g
Cholesterol:
18
mg
Sodium:
95
mg
Potassium:
25
mg
Fiber:
1
g
Sugar:
9
g
Vitamin A:
147
IU
Vitamin C:
1
mg
Calcium:
16
mg
Iron:
1
mg