Chicken Enchiladas in a Spicy Sour Cream Sauce. This easy, healthy enchilada recipe features a creamy yet spicy sauce and sprouted grain tortillas.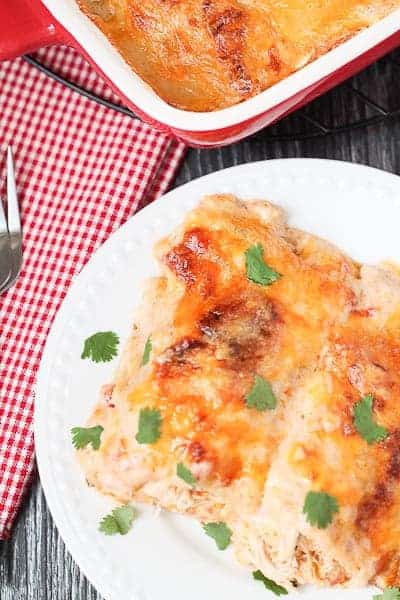 So the official name for this dish is Chicken Enchiladas in a Spicy Sour Cream Sauce.
Unofficially?
PMS Enchiladas. 😉
Sorry if that's a little TMI but I'm all about keeping it real here at The Honour System. Some months are a little more dramatic than others and that, my friends, is what is presently occurring.
So far this week, I've cried about doing the dishes, acted pouty at work, cried again during a TV show, and am currently attempting to eat my weight in cheese or cheesy things.
Hence, the PMS Enchiladas Chicken Enchiladas in a Spicy Sour Cream Sauce.
My strategy for these moments is to just ride the wave, indulge in what makes me feel comforted and hope that next week, I'm not too embarrassed to show my face at work and that my pants will still button up. 😉
These enchiladas are super easy, especially if you have cooked chicken on hand. Luckily, we had some in the fridge.
If we didn't, I might have cried about it.
I use the Ezekiel brand sprouted grain tortillas. They are a good size that make two portions per tortilla and have more nutritional value than white flour or corn tortillas.
This brand also carries great English muffins if you are looking for a recommendation in that area.
Using some broth, sour cream and spicy salsa, my sauce came together like a charm. If you were looking for a lighter option, and unflavoured Greek yogurt could sub in for the sour cream.
*Not recommended when PMSing.
These beauties are smothered in the sauce then blanketed with even more cheese.
BOOM!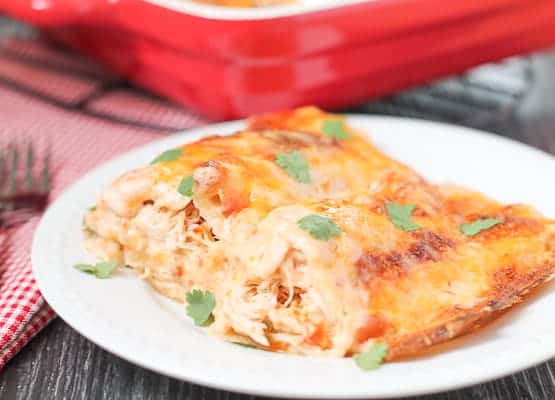 Hot, bubbly cheese and spicy goodness is just what the doctor ordered.
Best eaten in yoga pants.
And trust me.
Get someone else to do the dishes. 😉
Enjoy!
*This post was updated in 2018 with new photos
Chicken Enchiladas in a Spicy Sour Cream Sauce
Ingredients
3 10 inch tortillas
1 1/2 tbsp. flour
1 cup broth
1/2 cup sour cream
2 chicken breasts, shredded
1 1/2 cups grated cheese
1 1/2 tbsp. butter
1/4 cup salsa
Instructions
Preheat oven to 350 and grease a 9x9 baking dish. Set aside
Combine shredded chicken and 1/2 cup of the cheese and fill the 3 tortillas evenly. Place them in the greased baking dish
In a medium saucepan over medium heat, melt the butter. Whisk in the flour and let cook for one minute, stirring with the whisk. Add the broth and continue stirring for another 5 minutes or so until the mixture is thickened and bubbling up
Remove the saucepan from the heat and stir in the salsa. Once the mixture has slightly cooled, stir in the sour cream. Don't do this until the mixture has cooled slightly so the sour cream does not curdle
Pour the sauce over the prepared tortillas and top with the remaining cheese
Bake for 25 minutes then broil for 2-3 minutes to brown the top
7.8.1.2
472
https://thehonoursystem.com/chicken-enchiladas-spicy-sour-cream-sauce/