Energy Balls – 33 Recipes for Healthy Energy Bites
Simple, no-bake Energy Balls are nutrient-dense and taste sweet and satisfying. They are double-duty recipes as both quick bite-sized breakfasts and healthy on-the-go snacks.
Energy bite recipes usually only require simple pantry ingredients. Things like rolled oats/old fashioned oats, flaxseeds, and shredded coconut. They can include a mixture of healthy fats like all kinds of nut butter from peanut butter to cashew butter.
A natural sweetener like honey, maple syrup, or brown rice syrup means these bites are refined sugar-free.
Energy ball recipes are also so easy to make! Stir up a batch in a mixing bowl or a quick blitz in a food processor. They are the BEST for healthy food prepping – keep them in the freezer for weeks in an airtight container.
33 Healthy Energy Balls Recipes to Inspire your Health!
Having energy balls prepped and ready to go is one of the BEST ways to stay on track with your healthier eating goals. The easiest way to not eat junk is to not have it around. Treat yourself to these insanely delicious energy ball recipes!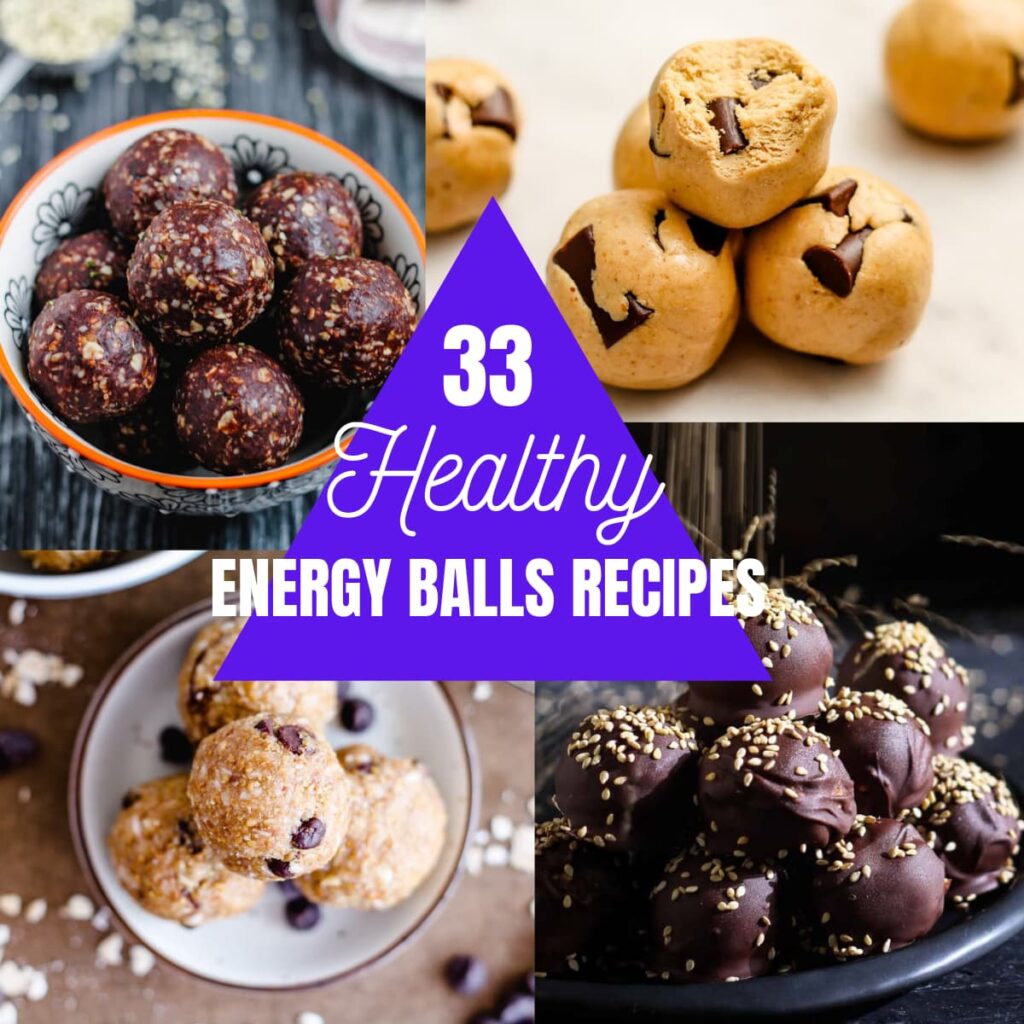 Cookie Dough Protein Balls
These Cookie Dough Protein Balls feature the classic flavor of cookie dough, packed with protein and ready in 15 minutes. These protein bites are also gluten-free.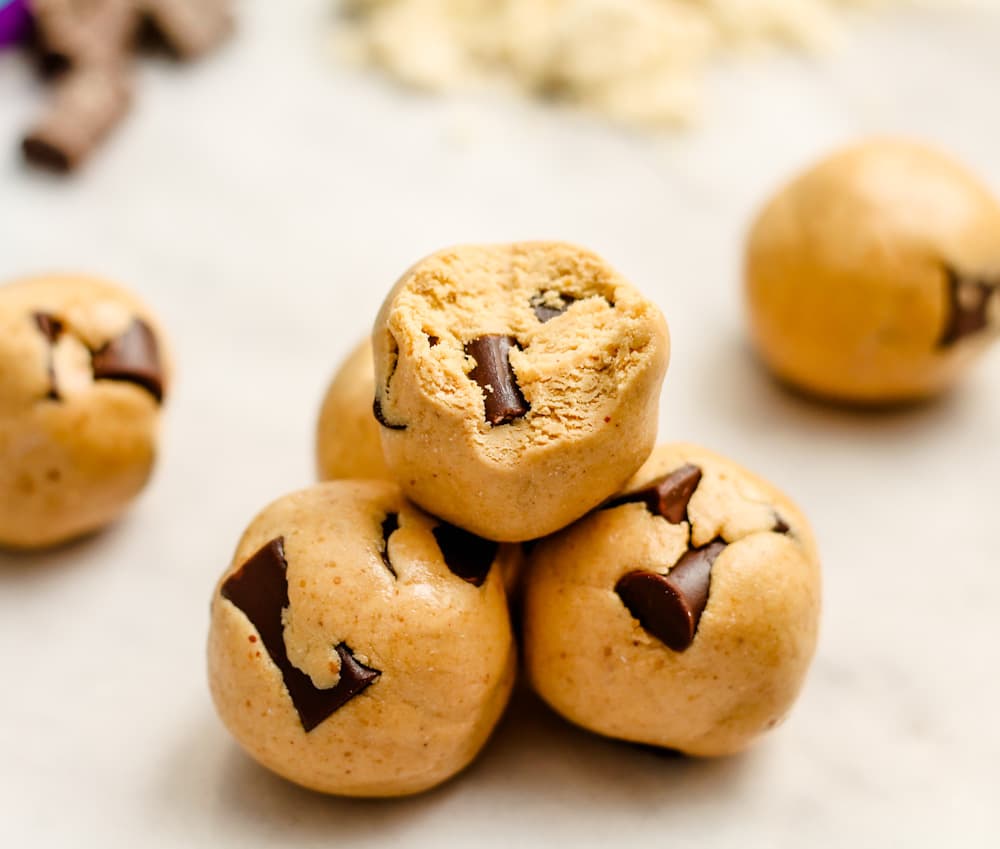 Chocolate Peanut Butter Hemp Balls
This recipe for Chocolate Peanut Butter Hemp Seed Balls is the answer for those looking for a naturally sweetened, protein-packed snack. Using gluten-free oats keeps these chocolate protein balls allergy-friendly. And they are vegan!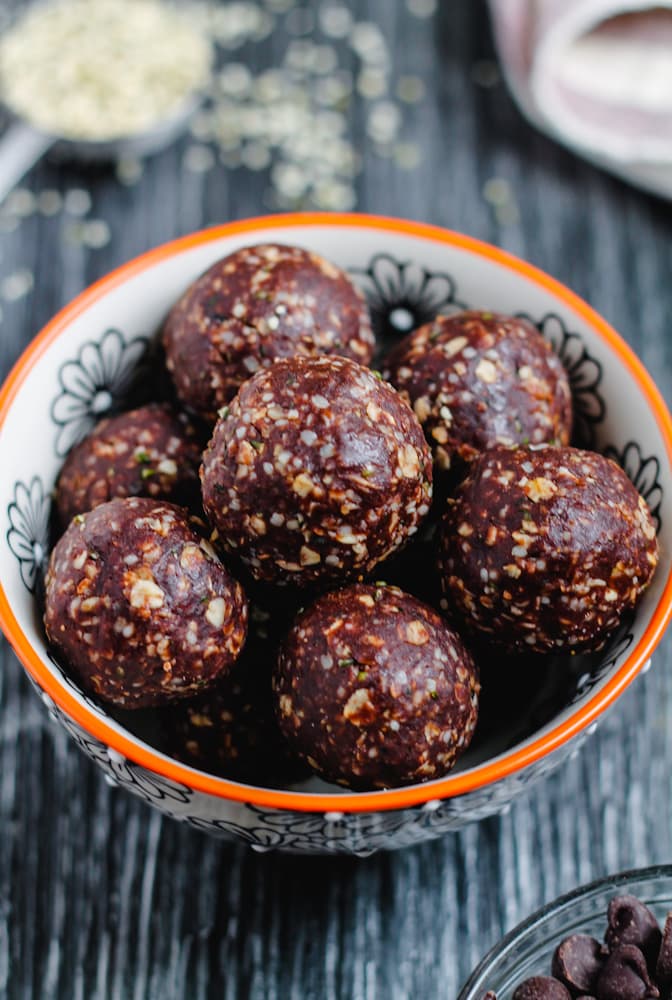 Maple Chocolate Pecan Energy Balls
These Maple Pecan Energy Balls are a sweet snack with that undeniably delicious combo of chocolate and pecans. Like a healthy Turtles candy in energy ball form!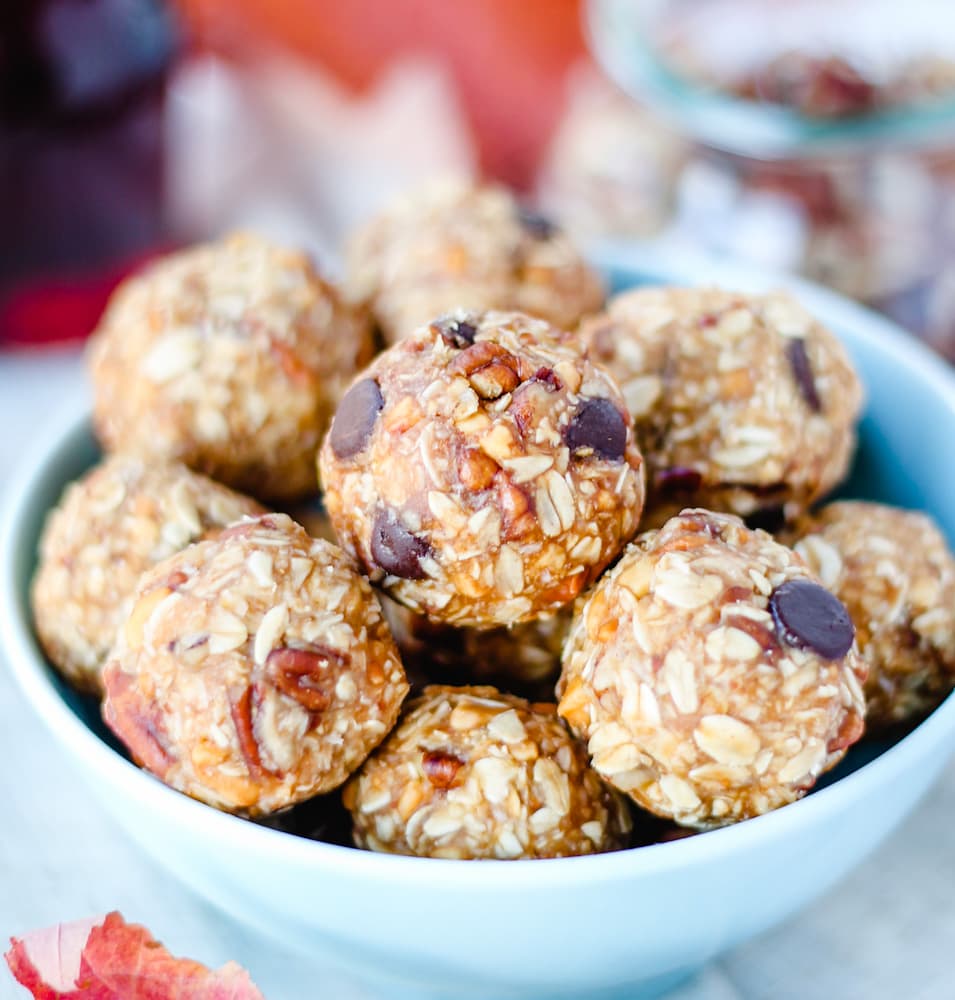 Vanilla Chocolate Chip Protein Balls
This healthy Chocolate Chip Cookie Dough Protein Balls recipe has that sweet and chewy texture you love. Featuring almond butter, coconut, and of course, protein powder. Super easy to make no bake protein balls.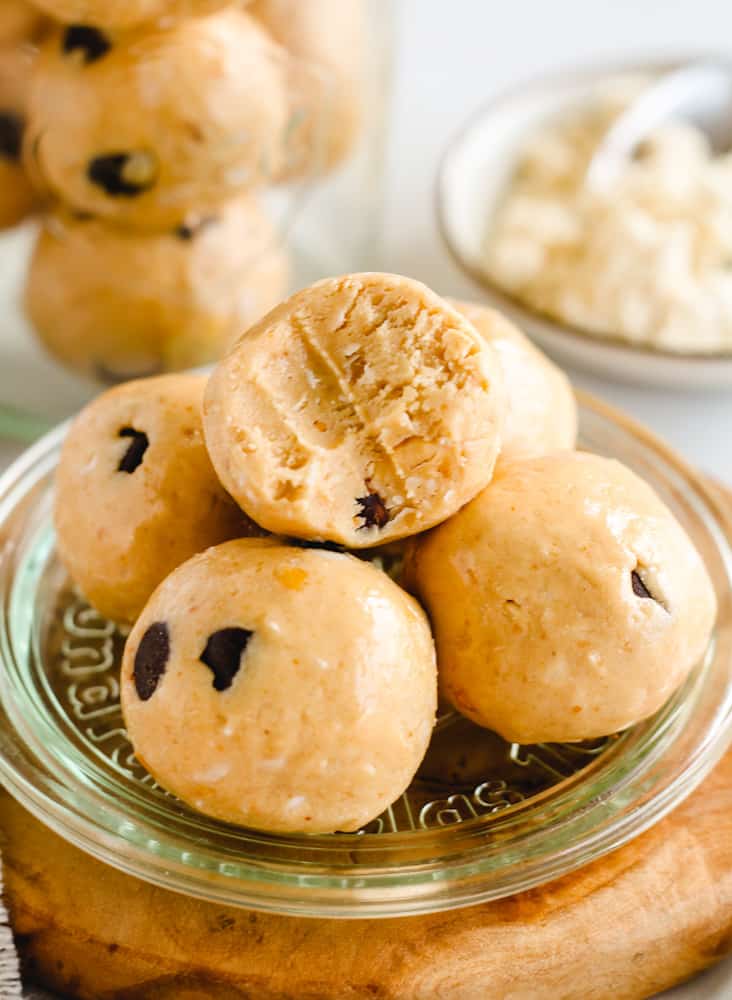 Apricot Coconut Bliss Balls
These gorgeous Apricot Coconut Bliss Balls are simple to prepare and utterly delicious. They are made with simple ingredients and come together quickly for a healthy snack! Vegan, gluten free and refined sugar free.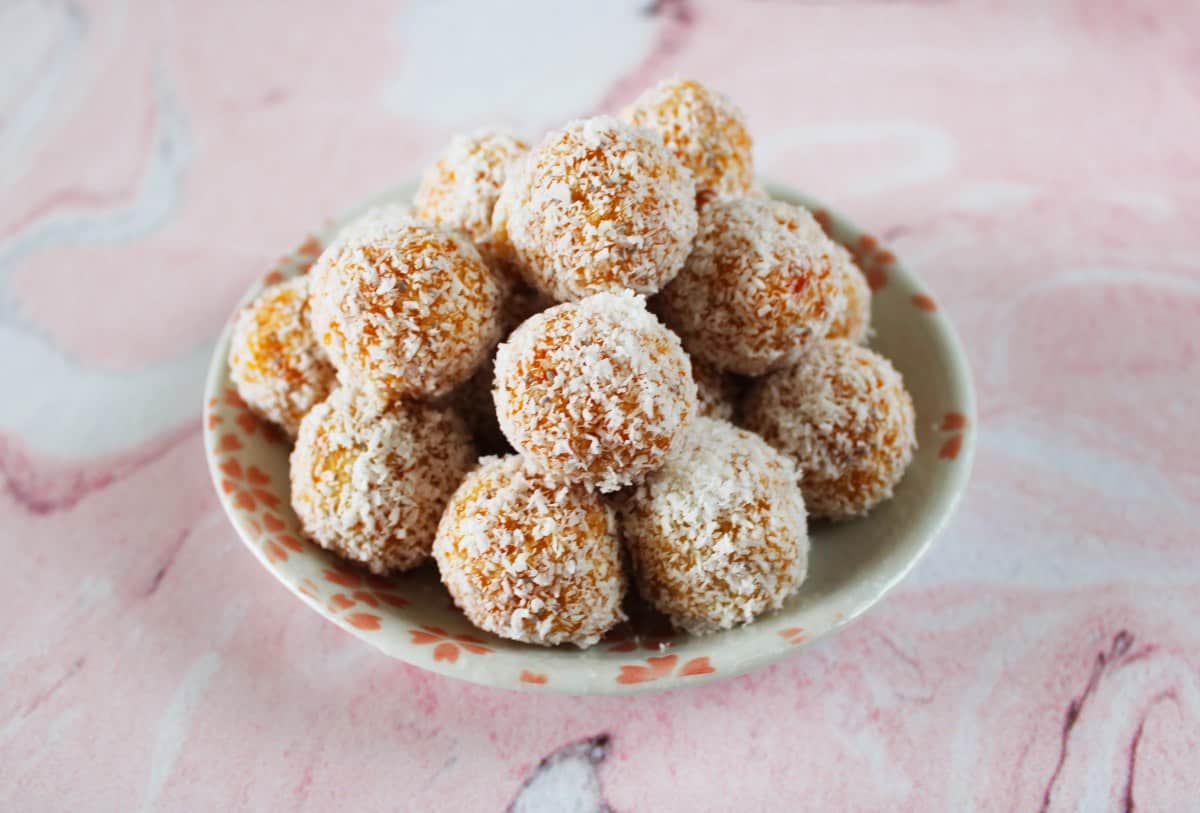 Crispy Lentil Energy Bites
Looking for a unique vegan and gluten-free treat? These Crispy Lentil Energy Bites are the recipe for you! Lentils are crisped up in the oven giving these bites a one-of-a-kind flavour. A fun homemade energy balls recipe.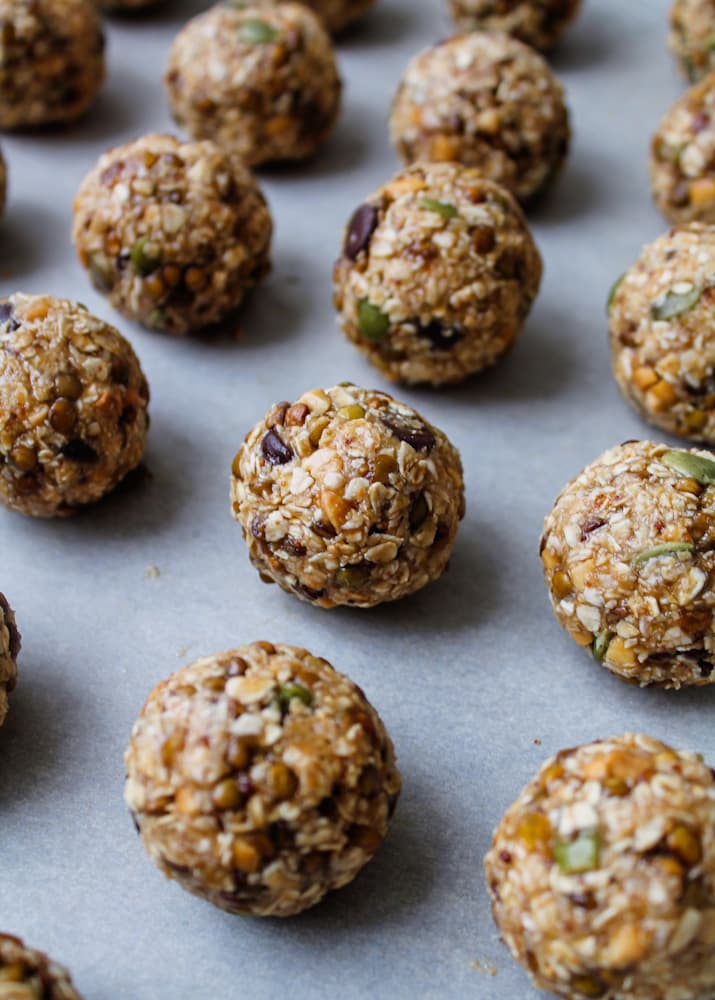 Cashew-Ginger Protein Energy Balls
Cashew-Ginger Protein Energy Balls: a perfect little bite-size energy ball recipe using oats, cashews, ginger powder, protein powder, and chia.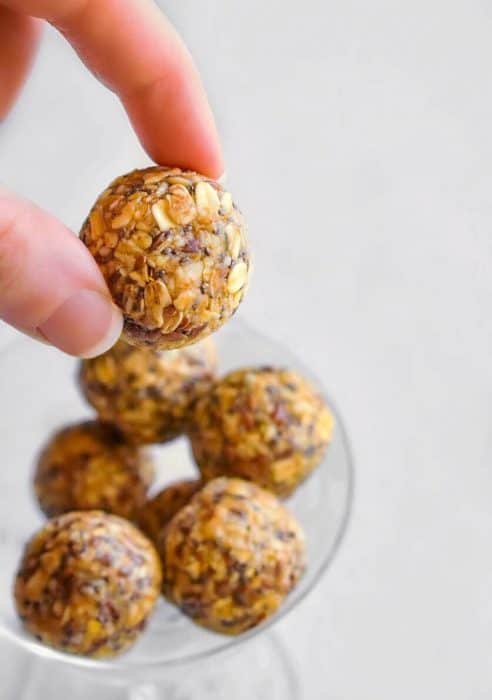 Oatmeal Cookie Balls
Enjoy this easy, no bake recipe for Peanut Butter Oatmeal Balls! These healthy, chocolate chip energy bites feature ground flaxseed, and old fashion oats.
Peanut Butter Rice Crispy Balls
One of my most favorite snacks are these Peanut Butter Rice Krispie Treats. They are sweet and chewy and peanut buttery. Yum, right? I love rice puff recipes, especially when they are simple and no-bake. Remember this recipe for rice krispie peanut butter treats to satisfy your cravings.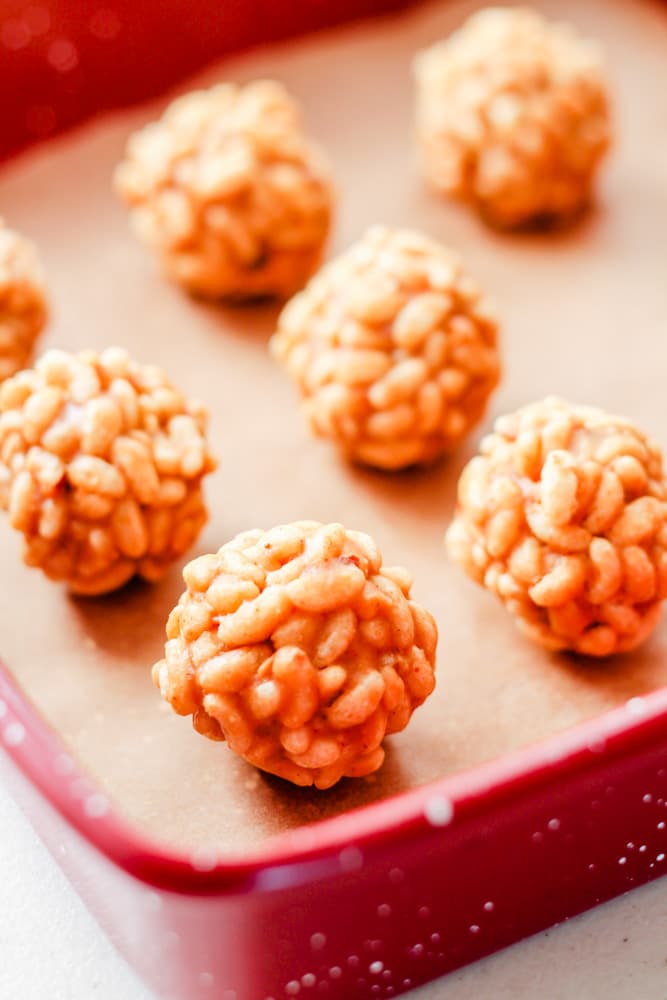 Keto Energy Balls
These grain-free keto energy balls are sweet, fudgy, and ready in just 15 minutes! You'd never guess they are healthy and sugar-free.
Chocolate Cherry Energy Balls
No-bake and healthy, these chocolate cherry energy balls with oatmeal taste like healthy black forest energy bites. They are the perfect guilt-free and healthy chocolate snack or dessert!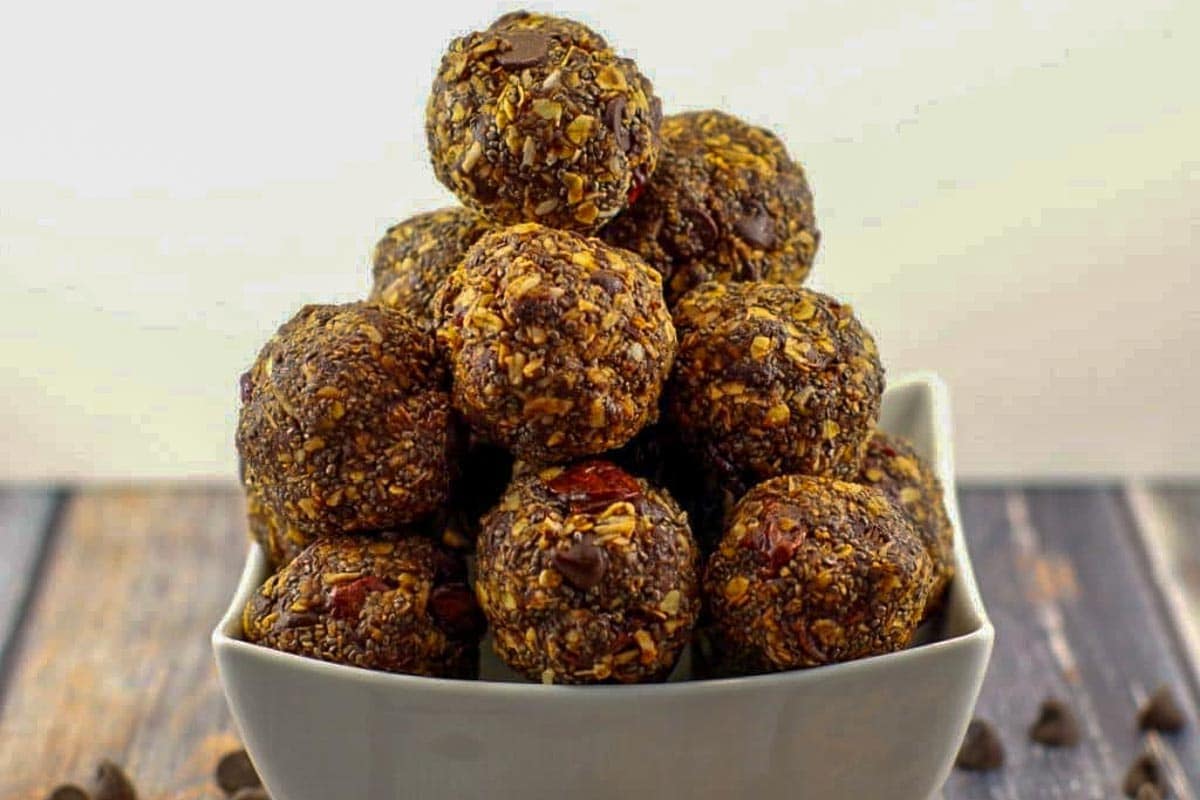 Vanilla Chia Protein Balls
Vanilla Protein Balls with Chia Seeds are the perfect go-to snack. Packed with protein and fiber, these protein balls with oats are whole food goodness that will satisfy your afternoon or post-workout cravings.
Sunflower Fig Balls
Just 4 ingredients and 5 minutes are all you need for these sweet little sugar free bites. Sunflower Fig Balls are a healthy snack that won't ruin your diet.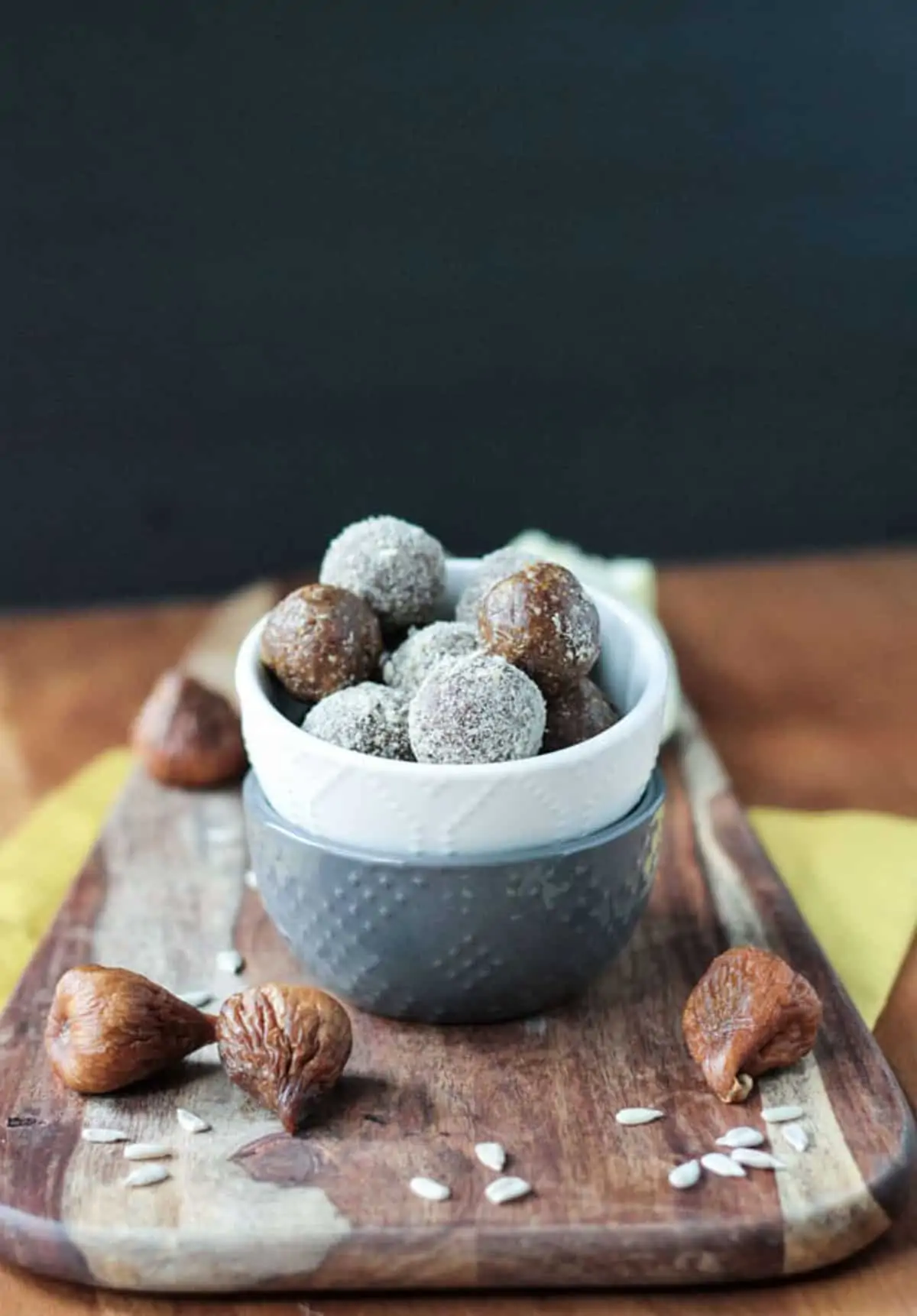 No-Bake Brownie Bites
Put this easy, healthy No Bake Brownie Bites recipe on your list of vegan energy balls. Gluten free fudge balls that feature the delicious combination of chocolate and peanut butter.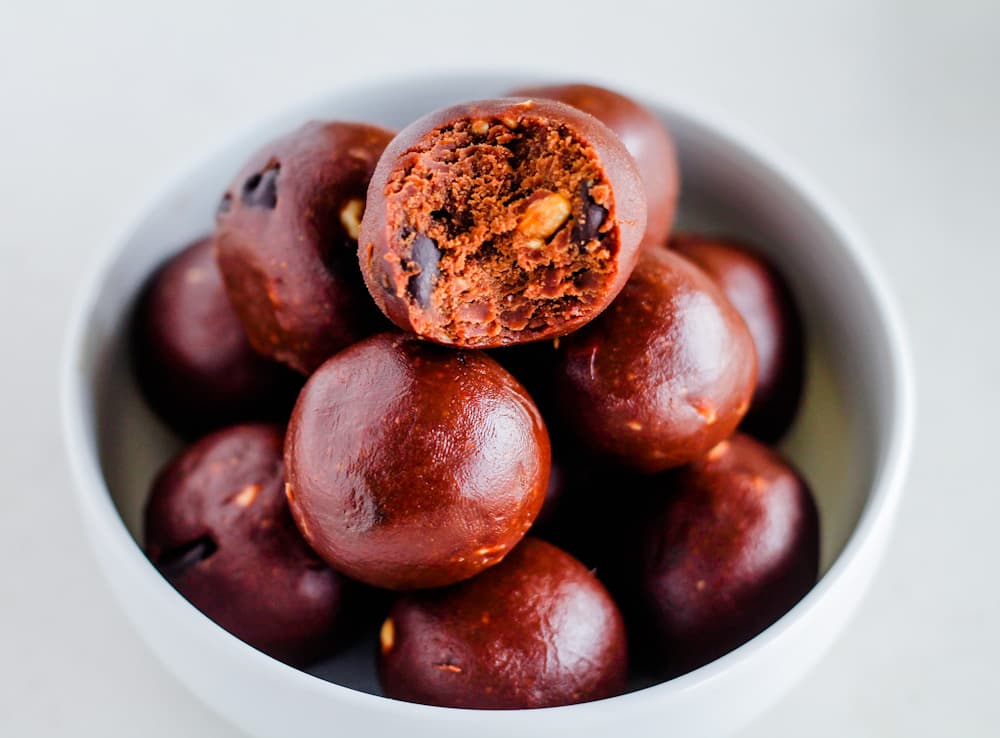 Key Lime Pie Energy Balls
Want a date balls recipe ready in just 15 minutes? These Key Lime Pie Energy Balls are easy to make, bursting with zesty lime flavour and perfect for a tasty snack or dessert.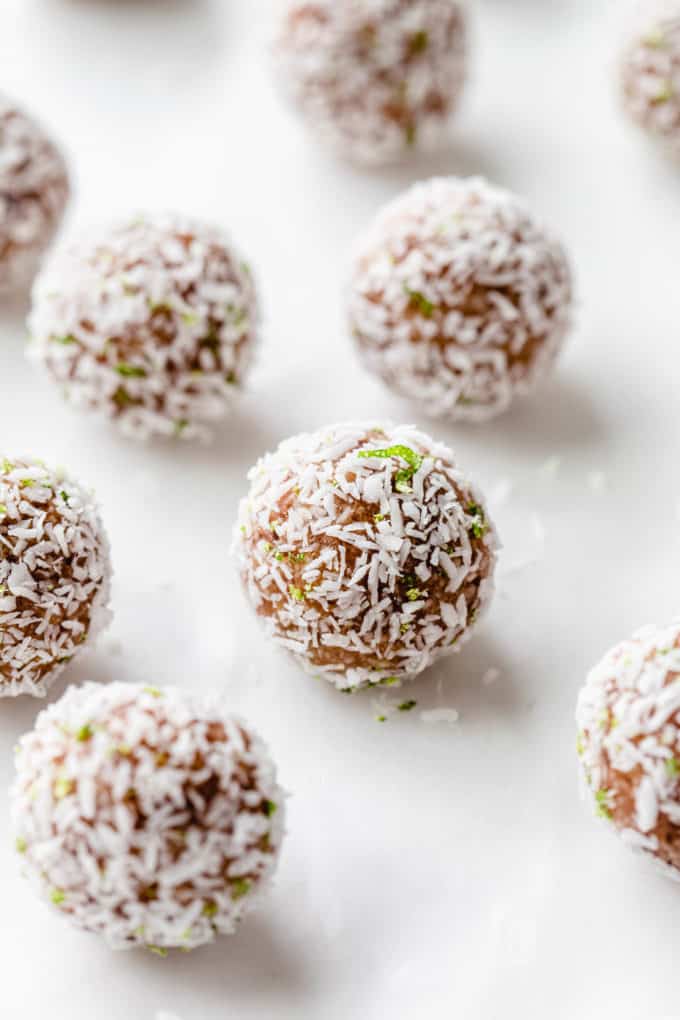 Almond Butter Energy Balls
Easy and no bake oat balls – these Almond Butter Energy Balls are the BEST. Using gluten free oats, ground flax seed, and dark chocolate chips makes this vegan treat something everyone can enjoy.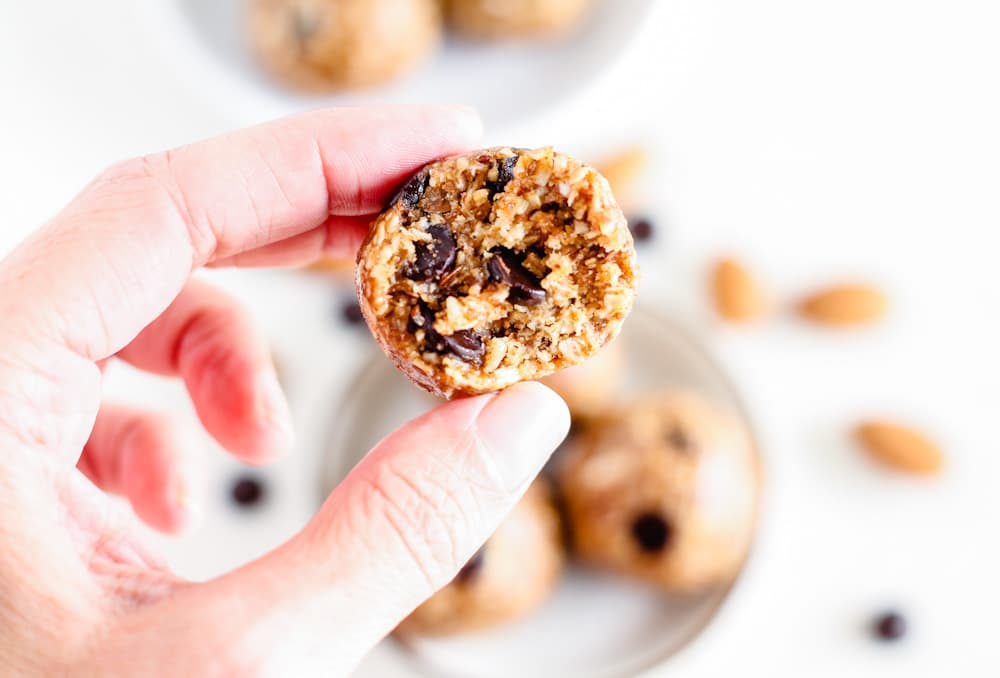 Almond Pulp Energy Balls
Do you make your own almond milk? If so, incorporate the leftover pulp into these tasty almond pulp energy balls. They're rich, chocolatey, nutritious, and the perfect on-the-go snack. Only 7 ingredients and ready in minutes.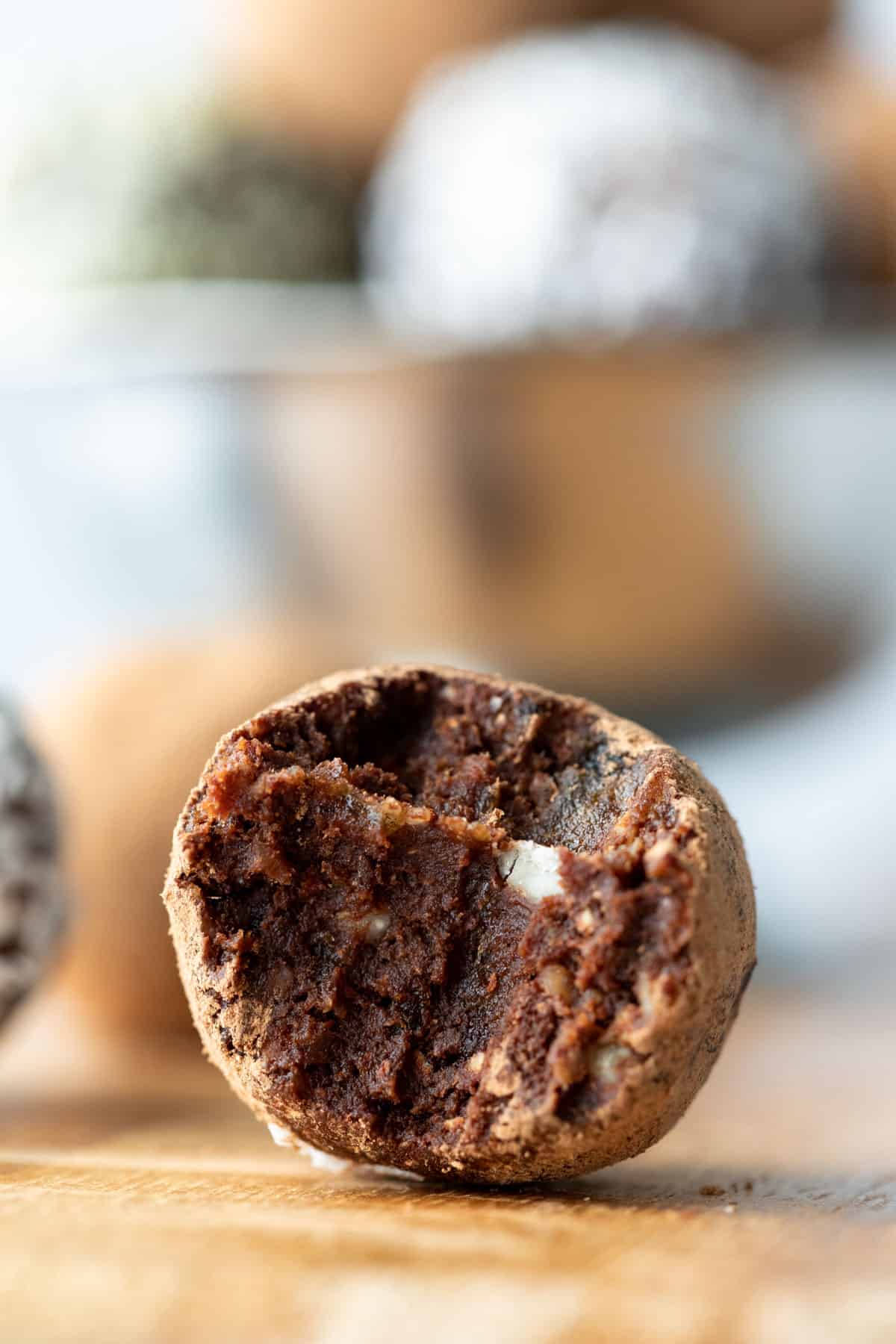 Hemp Seed Energy Balls
These Hemp Seed Energy Balls are a healthy, gluten-free snack featuring hemp seeds, flax seeds and sweetened with local honey and a hint of vanilla extract.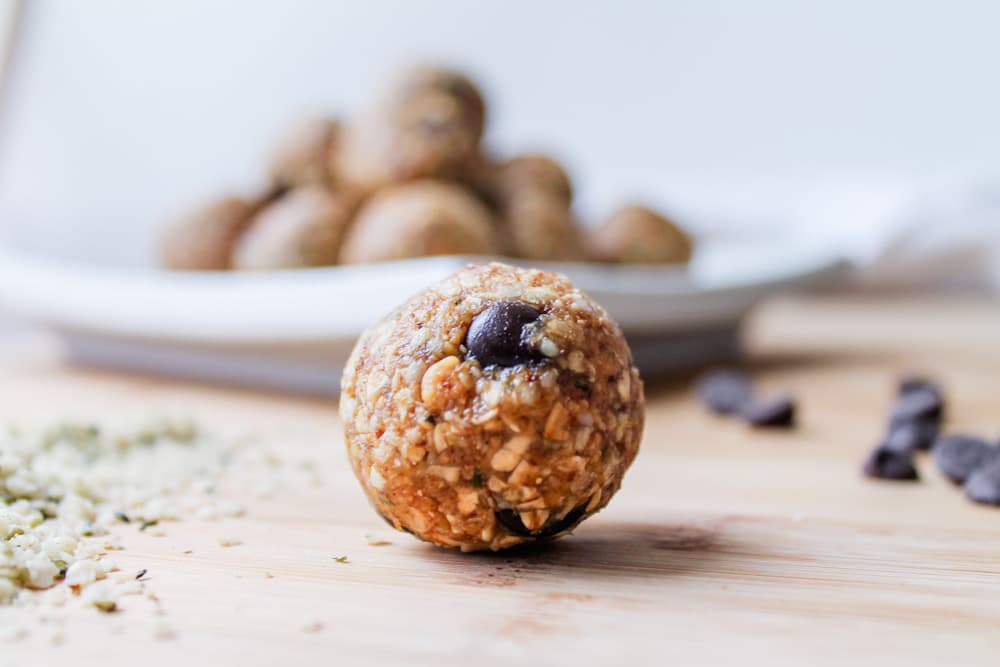 Peanut Butter Energy Balls
Easy Oat and Peanut Butter Energy Balls recipe. Made with only 3 ingredients, these healthy peanut butter oat balls are perfect to bring to school or work.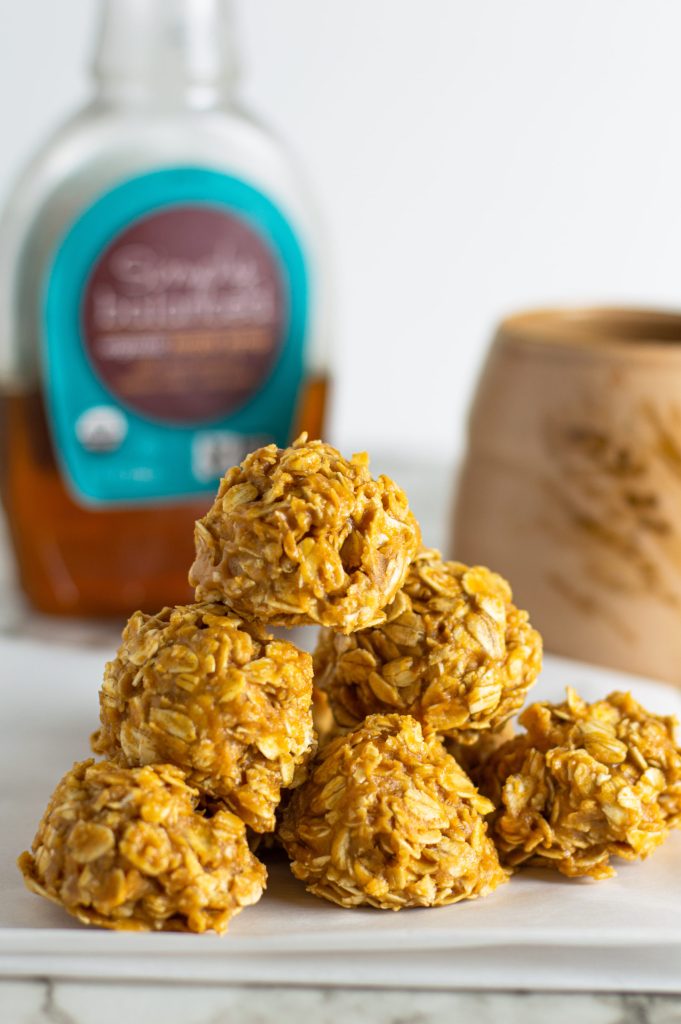 Matcha Red Bean Energy Balls
Matcha Red Bean Energy Balls are made with just 3 little delicious ingredients: adzuki beans, pecans, and Japanese matcha (green tea).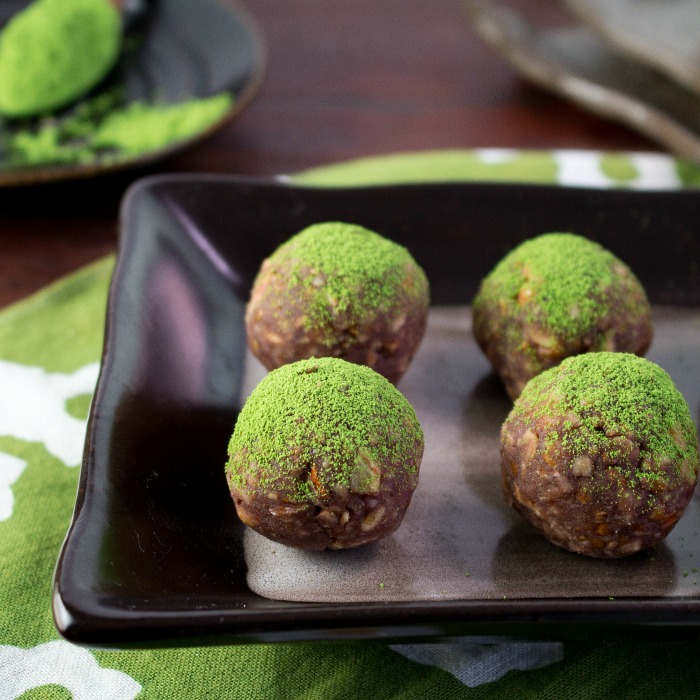 Chocolate Chia Power Balls
These healthy No Bake Chocolate Chia Power Balls are your gluten-free ticket to a healthy yet delicious pick-me-up. This easy-to-make snack is full of fiber and of course cocoa powder with lots of tasty chocolate flavor! Kids love it.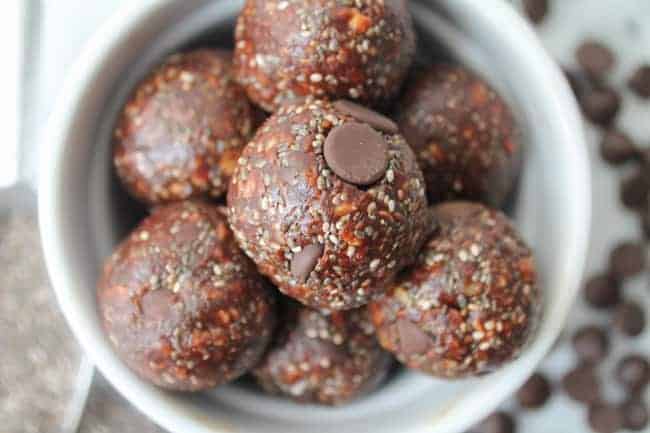 Cinnamon Protein Balls
These Cinnamon Protein Balls are made in just a few minutes with ingredients you likely already have on hand! These have delicious cinnamon and make the perfect dessert, snack, or grab-and-go breakfast for busy mornings.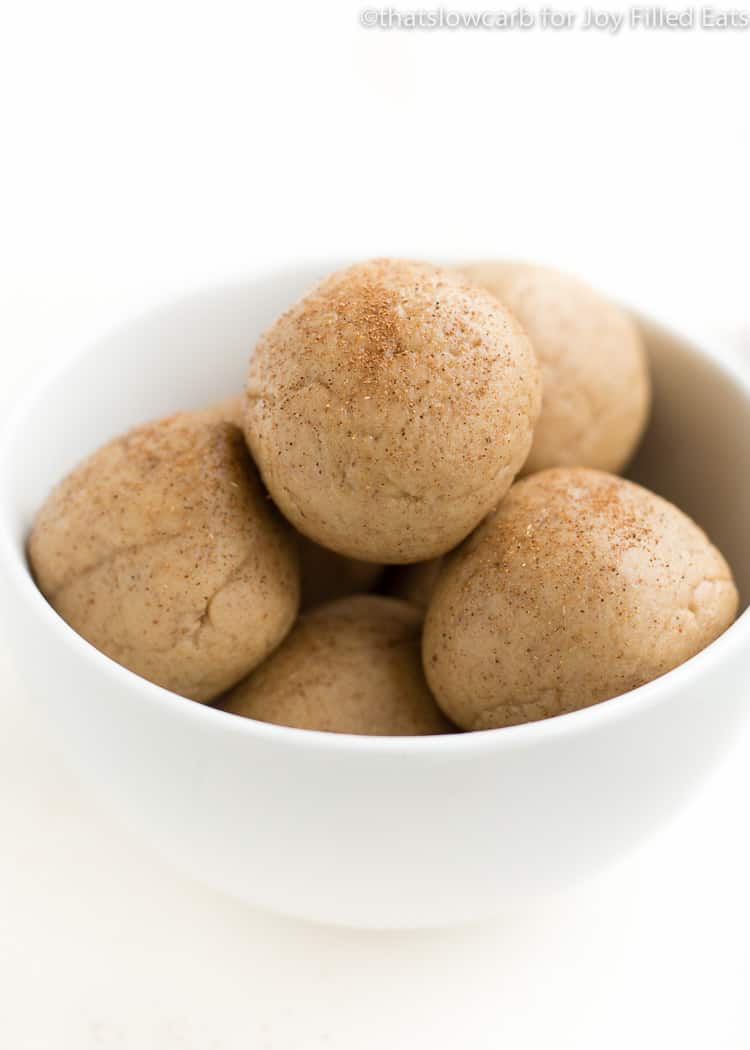 Gingerbread Chocolate Chip Bites
These gingerbread chocolate chip bites are a great no-bake, festive and healthy snack that comes together in just 10 minutes.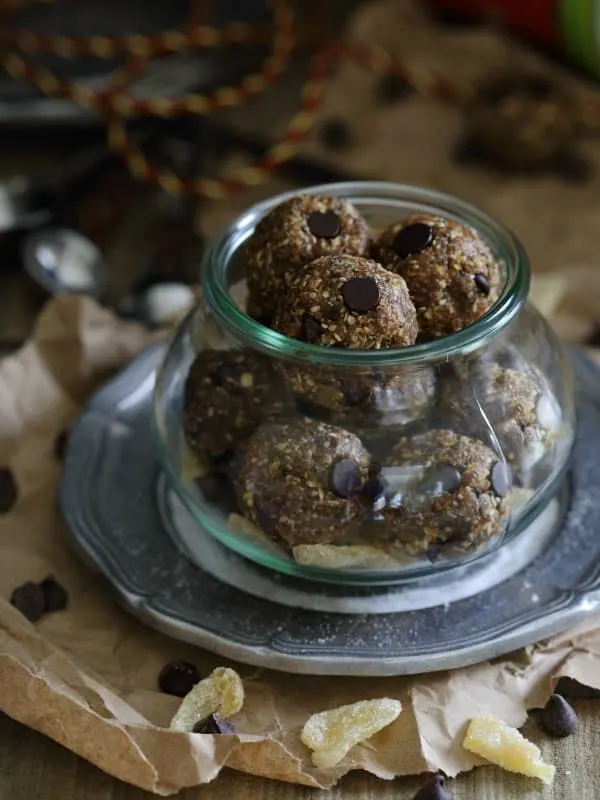 Almond Joy Protein Balls

These Almond Joy Protein Balls are like an Almond Joy bar in a bite-sized high-protein ball form!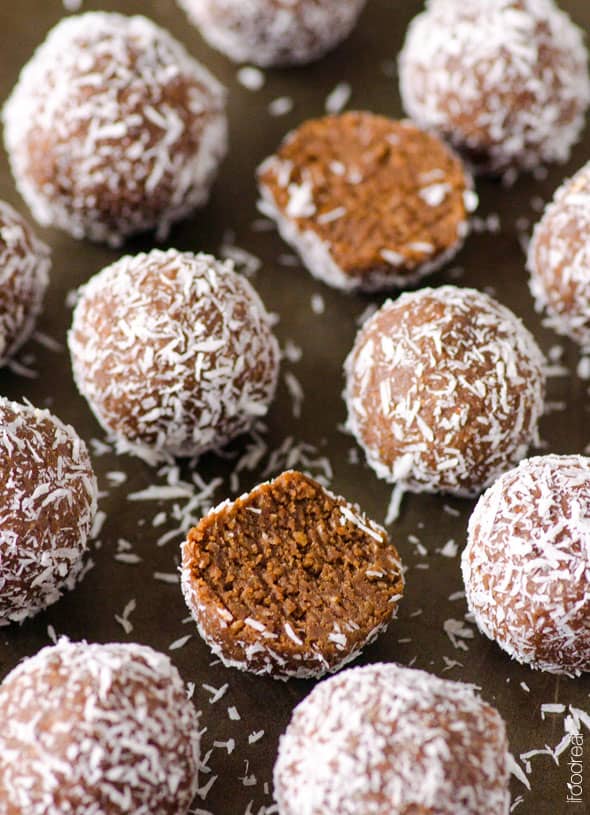 Pumpkin Spice Balls
These pumpkin spice balls are full of nutritious ingredients that make them the perfect choice for on-the-go snacking. Being both sweet and salty, they are guaranteed to please.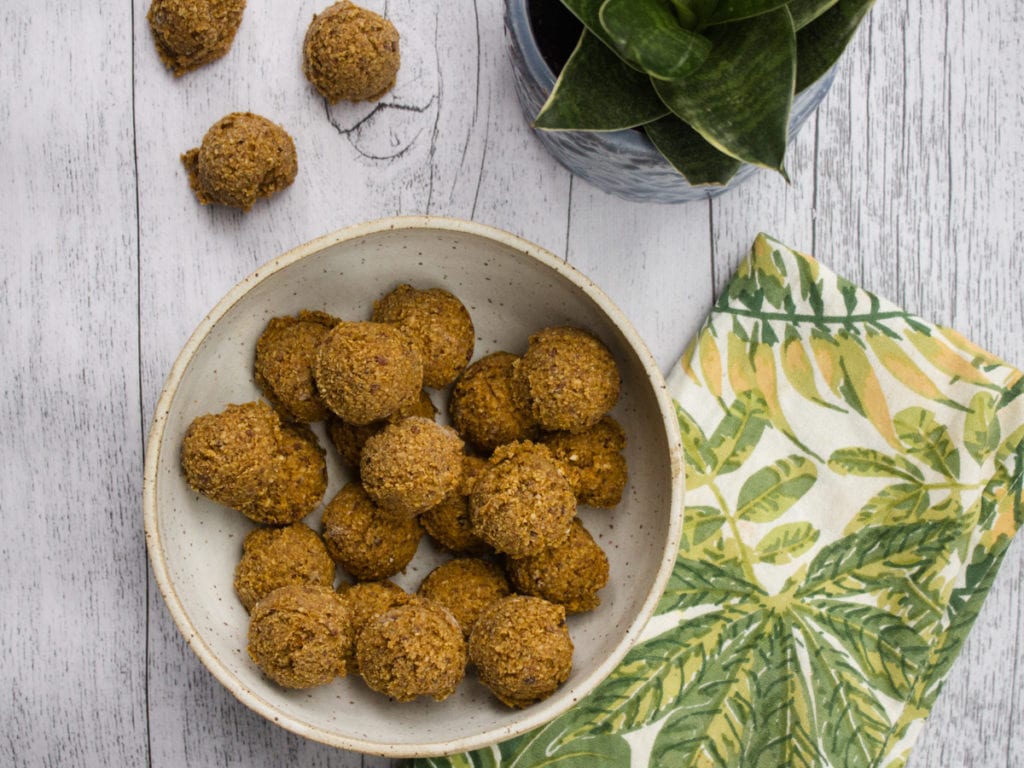 Keto Fat Bombs
Fat bombs are an easy keto snack that you can have on hand for some extra energy. The 3 fat bomb recipes included are butter cookie, chocolate chip cookie dough, and strawberry cheesecake.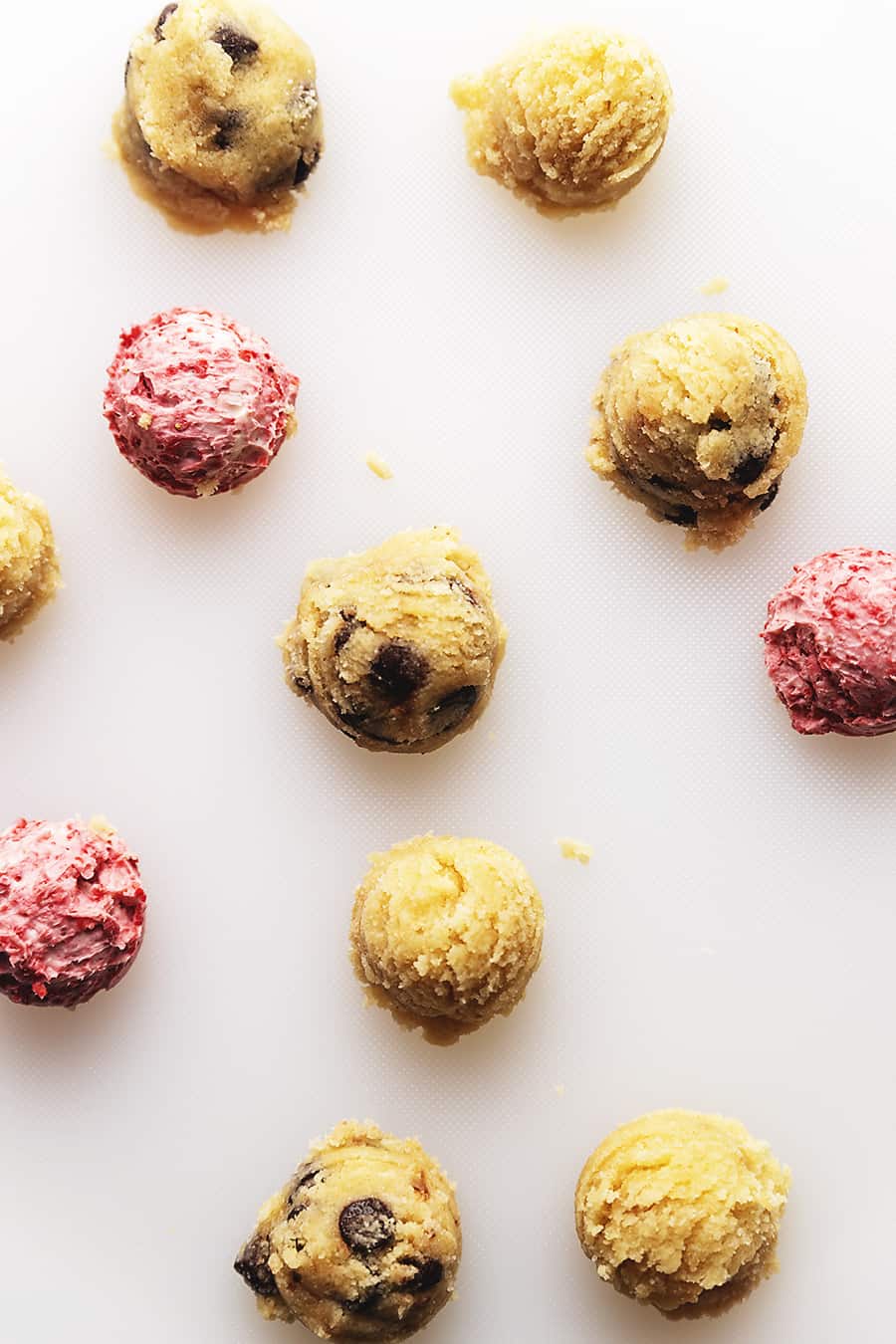 Almond Date Balls
Energy balls with dates are a perfect snack for post-workout or for healthy meal prep. These almond-date energy balls are full of protein.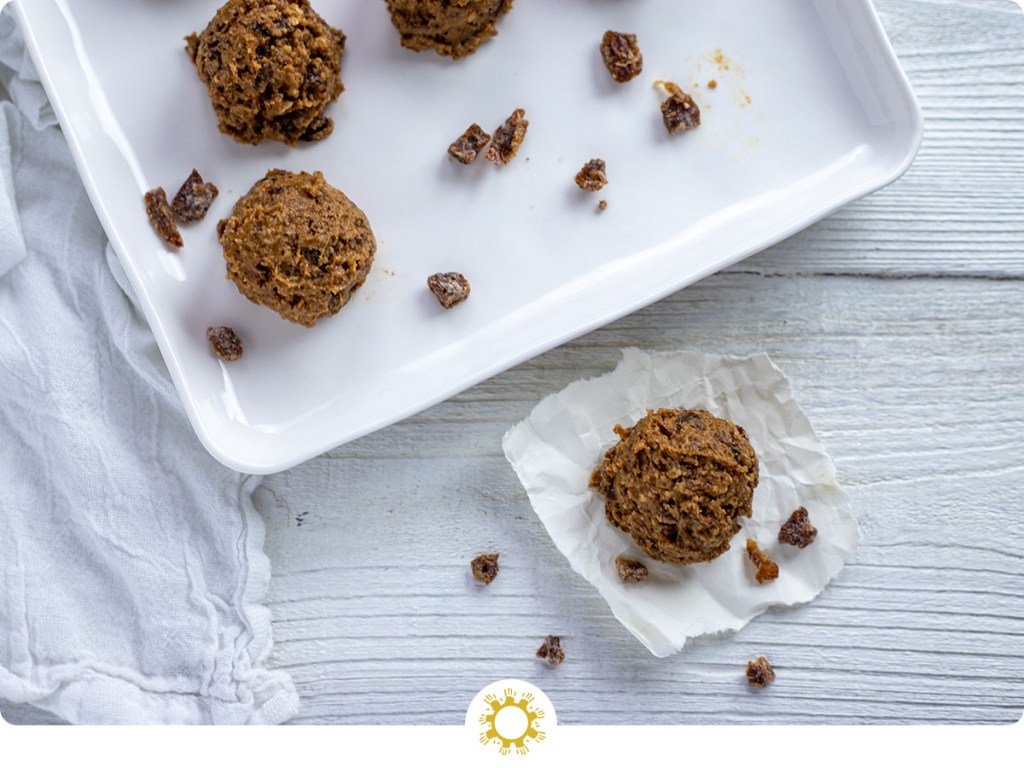 Coconut Date Balls
This healthy vegan recipe for Coconut Date Balls showcases the sweet natural caramel flavor notes in dates and is the perfect nutrient-dense treat! With only 5 ingredients, this recipe is easy to make in just 15 minutes.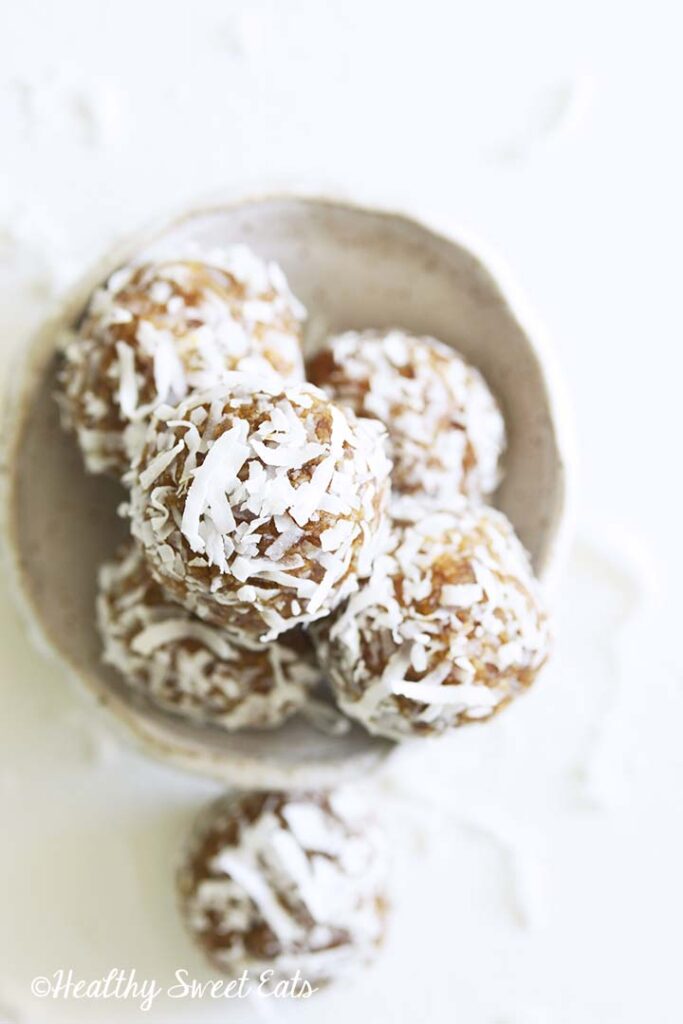 Blueberry Bliss Balls
Wild blueberries contain double the amount of antioxidants and have a stronger flavour than regular blueberries. They are combined with lemon to produce these healthy Blueberry Bliss Balls that are a quick & easy no bake treat that both adults and kids will love. They're perfect for meal prep as a large batch can be made in just 5 minutes.
Apricot Tahini Bliss Balls
Rich in protein and calcium, these Apricot Tahini Bliss Balls are a breeze to make and are a hit with everyone at home! They are so flavourful, thanks to the sweet tartness of dried apricots, balanced with a deep earthiness of tahini.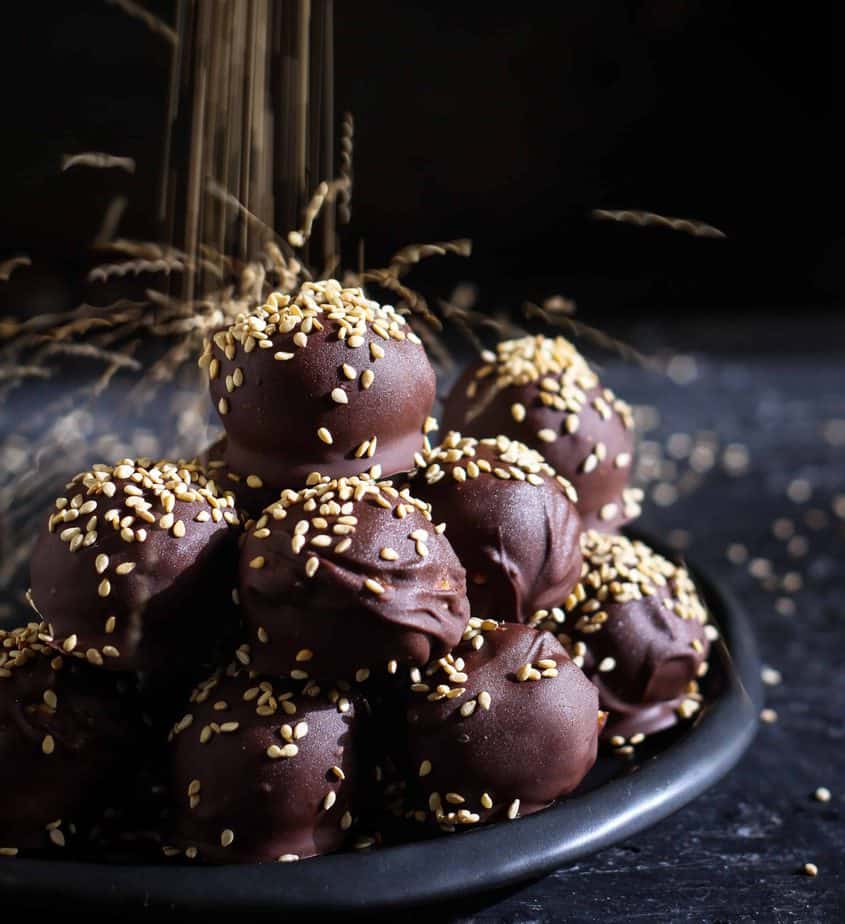 Let me know if you tried any of these Energy Ball recipes or let me know your favorite combos for energy balls!
Be sure to follow me on social media! I love pinning to Pinterest, sharing on Facebook, and posting pics to Instagram. See you there.  🙂
As an Amazon Associate, I earn from qualifying purchases.