Quinoa Fritters with Parmesan and Chives – Gluten Free
I love finding new ways to cook quinoa. It's just such an easy, nutritious, versatile, delicious side that I never get tired of it. I always have quinoa in the house.
These little fritters are not only a new way to enjoy quinoa, they are a new way to enjoy cheese! I do love a good cheesy recipe.
My very best healthy eating tip is to always cook extra. I know I've said it before but it really makes the preparation process so much easier. If you are cooking chicken, cook extra and throw some of the cold, cooked chicken into a wrap or on a salad. Having something like quinoa for dinner? Make extra quinoa and then use it for these fritters. That's exactly what I did this week.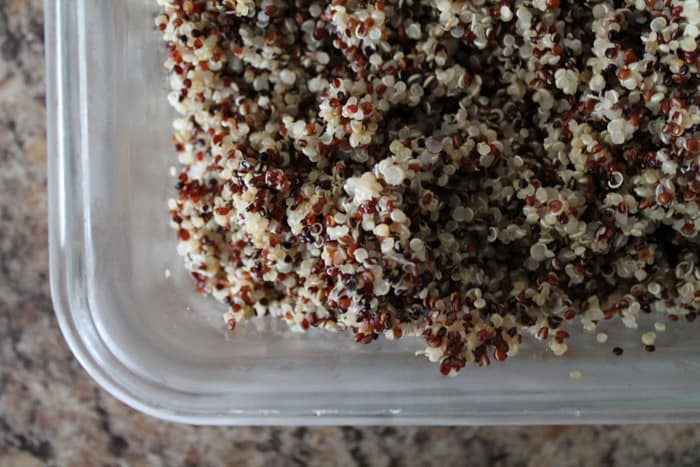 A relatively short ingredient list makes these even better. In addition to the quinoa there is chopped chives, almond flour, an egg, and of course, cheese. 🙂
I got down and dirty and just mixed 'er up with my hands. It's the best way to combine it. Oh, that and I got a manicure.
Once your olive oil has heated in the pan, form your quinoa fritters. I used a 1/4 cup measure which gave me six fritters. And again, manicure. 😉
Let them sizzle away. I did three at a time so I had room to move the flipper around. They were a tad fragile, so take care when flipping them.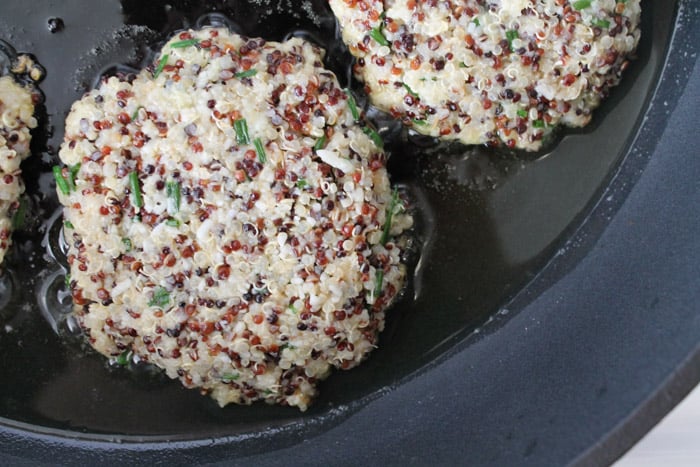 The result is a perfect little side dish. They have a nice crisp crust and the parmesan and quinoa blend perfectly together. Loved it!
If you're wondering exactly why I have a fancy manicure, I'll tell you. I'm leaving for a nice little vacation tomorrow! Out west, to BC, to visit my friends and family. I am so excited and definitely will share all of my adventures when I return. Ciao Ciao!
As an Amazon Associate I earn from qualifying purchases.
Quinoa Fritters with Parmesan and Chives – Gluten Free
Instructions
Place all ingredients, except for the oil, into a large bowl and mix with hands until well combined

Heat oil in a large pan over medium heat

Form six ¼ cup fritters, wetting hands if necessary, and cook three at a time. Flip after about five minutes. Be careful when flipping as they are a tad fragile. Cook for another five minutes, set aside, then cook the last three fritters

Sprinkle with extra parmesan and chives if you like. I did and liked it.
Nutrition
Calories:
299
kcal
Carbohydrates:
21
g
Protein:
12
g
Fat:
18
g
Saturated Fat:
4
g
Cholesterol:
52
mg
Sodium:
289
mg
Potassium:
189
mg
Fiber:
3
g
Sugar:
1
g
Vitamin A:
300
IU
Vitamin C:
1.5
mg
Calcium:
230
mg
Iron:
2
mg