Vegan & Gluten Free Almond Butter Cups – Healthier Halloween Treat Week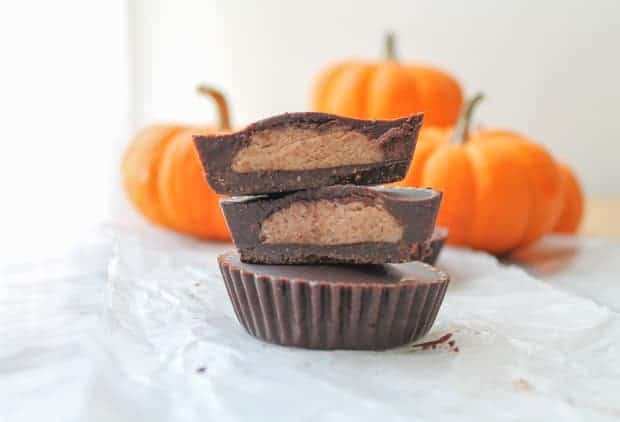 Healthier Halloween treat week continues! If you missed part one, check out these candy apples made from natural ingredients here. As for today, this is an adaptation of a recipe I did awhile back and there's no time like Halloween to re-visit it and make it into something new. The original is a peanut butter cup but for this edition there is a pocket of almond butter in the centre, sweetened naturally with maple syrup.
No Halloween is complete without chocolate cups. The typical store bought brand name version is artificial and laced with chemicals. The Honour System way is made with natural superfoods. No tricks here! Just pure treats 🙂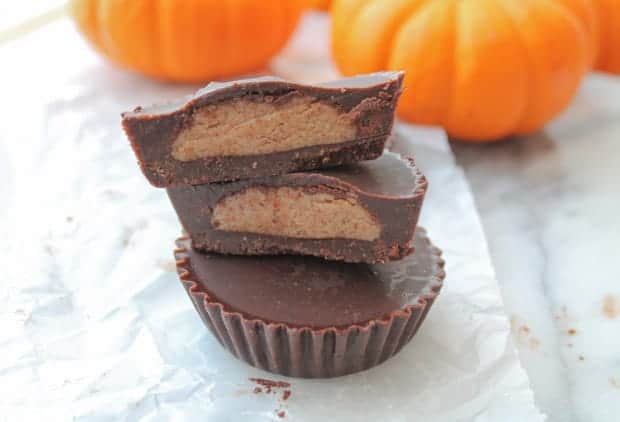 My time spent making my own almond butter last week is now paying off using it in these healthier Halloween treats! Since my almond butter has been in the fridge, I put in in a small saucepan over very low heat to soften it up a tad.
I also melted down the coconut oil so it was liquid as well. You don't want it hot, just melted. Mix the almond butter and coconut oil with some good quality cocoa powder and a touch of vanilla.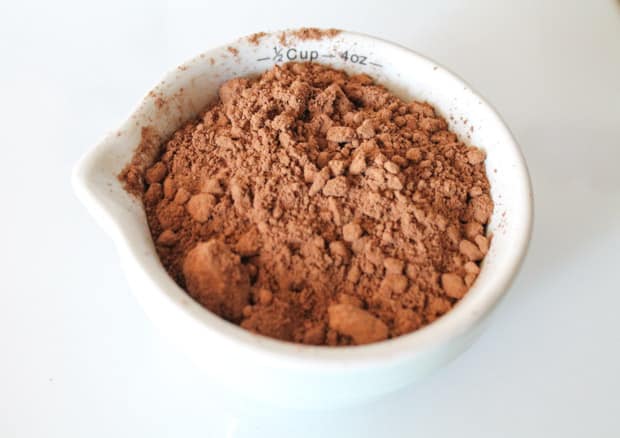 Then fill 10 lined muffin cups with about a tablespoon of the chocolate mixture, enough to cover the bottom and pop it into the freezer for about 5 minutes. In the meantime, flatten out 10 disks of the almond butter, about a heaping tablespoon, and place them on a small plate. This is where having a firm almond butter from the fridge works in your advantage.
Take the muffin tin out of the freezer and place an almond butter disk in the centre of each, then cover with the remaining chocolate mixture. Off they go, back to the freezer to set for about 15 minutes.
This recipe is super easy and delicious but the best part is how they are every bit as decadent as the manufactured chocolate cups. I strongly advise everyone to make these for friends and family this Halloween. They will be so impressed!

As an Amazon Associate I earn from qualifying purchases.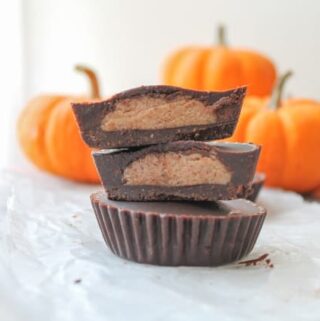 Vegan & Gluten Free Almond Butter Cups
Instructions
Line 10 muffin cups and set aside

Melt the coconut oil over low heat until liquid but not hot and pour into a medium mixing bowl

Using the same sauce pan, soften 1/2 cup of the almond butter over low heat, then mix it together with the coconut oil and the remaining ingredients, with the exception of ½ cup of the almond butter

Cover the bottom of the lined muffin cups with about 1 tablespoon of the chocolate mixture and set in the freezer for about 5 minutes to set

Meanwhile, shape the remaining ½ cup of almond butter into 10 disks, about a heaping tablespoon each

Remove the muffin tin from the freezer and place an almond butter disk into each lined cup, then cover it with the rest of the chocolate mixture

Place it back into the freezer for an additional 15 minutes

I cut these into quarters and stored them in the freezer in a covered container
Nutrition
Calories:
280
kcal
Carbohydrates:
12
g
Protein:
6
g
Fat:
25
g
Saturated Fat:
10
g
Sodium:
3
mg
Potassium:
270
mg
Fiber:
4
g
Sugar:
6
g
Calcium:
101
mg
Iron:
1.5
mg