Vegan & Gluten Free Coconut Caramel Cups – Healthier Halloween Treat Week
Well, the day has finally arrived! After a great week of healthified treats, Halloween Day is here and this is the final post before night falls and the trick or treating gets under way.
This is actually the second year we haven't bought any Halloween candy. The funny thing is, the building we live in doesn't allow trick or treating. I won't tell you how many years we've lived here but it's definitely longer than two. Yes, I'm now feeling sheepish 😉 The gross amount of Halloween candy we ate …
Anyway, I digress!
Onto these healthy, natural coconut caramel cups, that make me think of those little Rolos that I used to eat when I was a kid. Just like Twix bars, I enjoyed Rolos because they came in multiples 🙂 I always felt like I was getting a better bargain.
To make sure I had a nice little army of cups, I used a lined mini muffin tin to shape them. Similar to the almond butter cups, I melted down some coconut oil until it was liquid and whisked it together with some softend almond butter (the last of my jar!), maple syrup and cocoa powder. There was only one snag. I had no cocoa powder! The last of it had gone into the almond butter cups and I decided to ignore the note for cocoa powder on my fridge when I went to the grocery store. Luckily, I live very close to Anise Apothecary in beautiful downtown Burlington, so I was able to pop over and grab some to finish up my recipe.
I spooned a small layer on the bottom of the lined muffin tins, about a teaspoon full and then popped the tray into the freezer fo r5 minutes to set.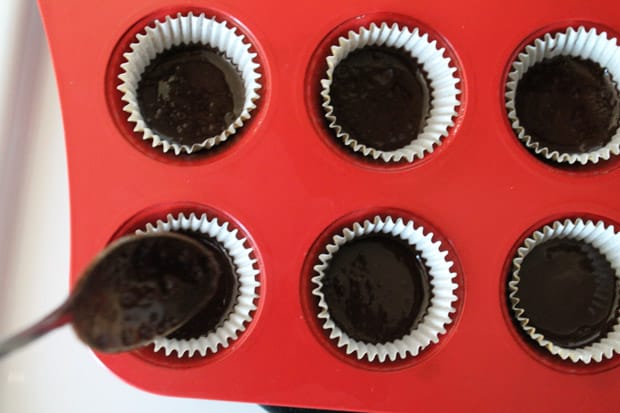 Meanwhile, I processed the dates and the other caramel ingredients until smooth. Unlike the caramel for the Twix bars, for this I used almond milk instead of water to thin it. It gave it a creamier consistency.
I dropped a teaspoon of the caramel into the well of each liner then flattened it with my finger. Wet your finger a touch so it doesn't stick to the date caramel. Top them off with the rest of the chocolate mixture and pop it back into the freezer to harden completely.
These were delightful little cups of sweetness. Creamy, silky and coconuty. The bite sized treat appealed to me. Kind of like Hallween candy always called my name. "I'm so small" it would cry "Eating 6 of me is really only like eating one!" Sound familiar?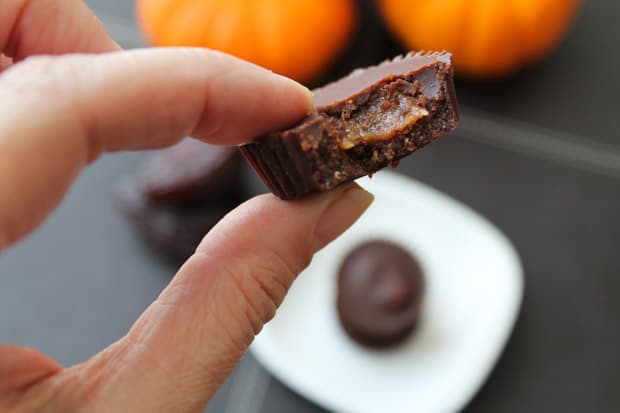 I hope you enjoyed this week of Healthy Halloween Treats! I'm off to look for the Great Pumpkin 🙂 Happy Halloween!!

As an Amazon Associate I earn from qualifying purchases.
Vegan & Gluten Free Coconut Caramel Cups
Instructions
Line a mini muffin tin and set aside

Blend together the chocolate coconut shell ingredients until smooth and well combined. Spoon a teaspoon sized amount to the bottom of each mini muffin cup, ensuring there is enough to coat the bottom and pop into the freezer for 5 minutes to set

Meanwhile, process the remaining ingredients in a food processor until smooth with no chunks of date left

Portion the date mixture into 12 and place them in each of the mini muffin wells, then press lightly so the dates mixture is flattened. It's helpful to wet your fingers a tad to keep them from sticking

Cover with the remaining chocolate mixture and pop back into the freezer for 15 minutes

Store in a covered container in the freezer
Nutrition
Calories:
98
kcal
Carbohydrates:
5
g
Protein:
1
g
Fat:
8
g
Saturated Fat:
4
g
Sodium:
2
mg
Potassium:
95
mg
Fiber:
1
g
Sugar:
3
g
Calcium:
30
mg
Iron:
0.5
mg