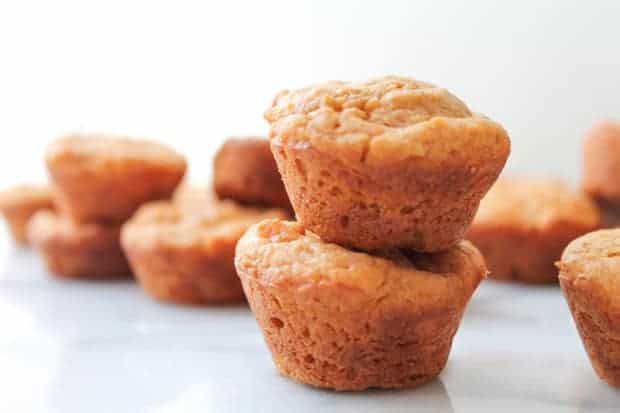 After my cream cheese stuffed carrot cake muffins, then the lemon berry muffins, I still had some cream cheese in the container to be used up. I think I've mentioned before how I always challenge myself to use all the groceries I buy. It is my never ending goal to not throw away any food because it goes bad. Before I meal plan for the week there is a thorough check through the fridge and cupboards to see what I have then I figure out what we'll eat based off what needs to be used up.
This week that happened to be the remainder of a container of cream cheese. Since the previous two recipes featuring the cream cheese were of the sweeter variety, I was on the hunt for something savoury. I found this recipe on Pinterest and knew it was the perfect option. Just a few tweaks and these puffed little buns were born. Creamy, yet smokey, the perfect addition to a nice warm bowl of soup on a crisp Fall evening.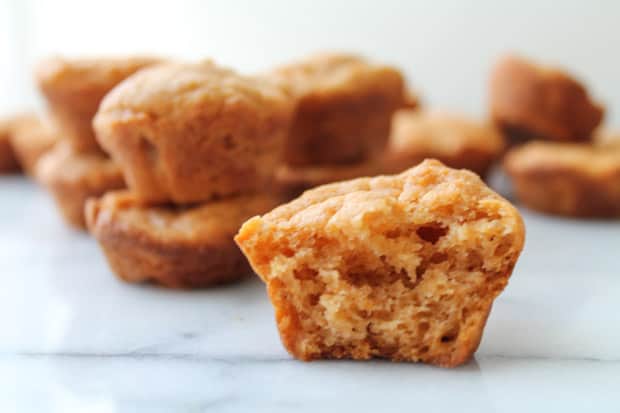 They came together pretty quickly. Well, if your butter is already softened it's quick 😉 We had pancakes for breakfast the day I made these buns and Joe someone left the butter out on the counter. It turned out to be a happy accident as the butter was soft and ready for the mixing bowl.
Everything except the milk is blended together until the cream cheese and butter are broken down and the mixture is crumbly. Then slowly mix in the milk. The batter is such a nice, light red colour from the smoked paprika. Almost pink, my favourite colour 🙂
I lightly buttered, then floured my mini muffin tin. Regrettably, I only have one mini muffin tin, so I had to do this in two batches. A second mini muffin tin is on my Christmas wish list 😉 Maybe a pink one! That's a hint for the guy who left the butter on the counter …
I filled the wells just over 3/4 and popped them into the oven. Since they brown much faster on the bottom, don't expect a golden top. They will just look slightly darker than the batter. Use a toothpick to ensure they are cooked through. Mine only needed 12 minutes to bake up nicely.
They were soft, sweetly smoked and just savoury enough. Not overly spicy or garlicky.  I do recommend eating these the same day or the next when they are totally light and flakey. They were the perfect marriage next to my bowl of oven roasted tomato soup. Watch for that recipe later this week! Yumm-y.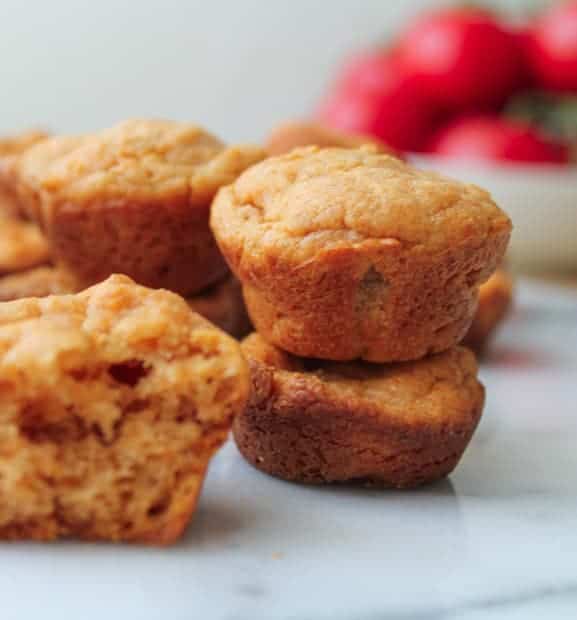 I adapted this recipe from Averie Cooks.
As an Amazon Associate I earn from qualifying purchases.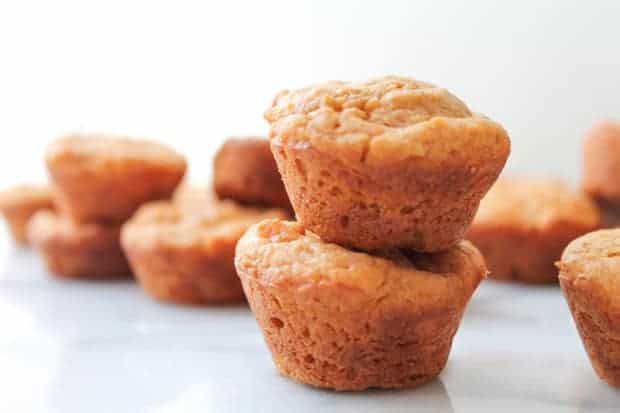 Mini Spelt Buns with Smoked Paprika & Cream Cheese
Keyword:
spelt flour recipe
Instructions
Preheat oven to 425 and lightly butter and flour 2 mini muffin tins; set aside.

In a large mixing bowl, combine all ingredients except milk and with a hand mixer blend until the butter and cream cheese are broken down and crumbly.

Slowly pour in the milk. The batter will be thick-ish

Using a small spoon, drop enough batter to fill the well of the mini muffin tin about ¾ of the way. They rise very well so be careful not to overfill.

Bake for 10 - 12 minutes, checking with a toothpick to ensure they are cooked through. They will not turn brown on the top but brown quickly on the bottom so be careful not to over bake them. Allow them to cool in pans for about 10 minutes. These buns are best fresh, or kept at room temperature in a sealed container.