I've only made eggplant a handful of times, but a recent craving for comfort foods led me to it. Really, I wanted a vegetable based vehicle for cheese. If you've been around this site for any amount of time, you will know my adoration of all things cheesy goodness. It seemed like such a simple idea to roast up a sliced eggplant and smother it with fresh basil, tomato sauce and, of course, the fromage. Cheese. Mwah! 😉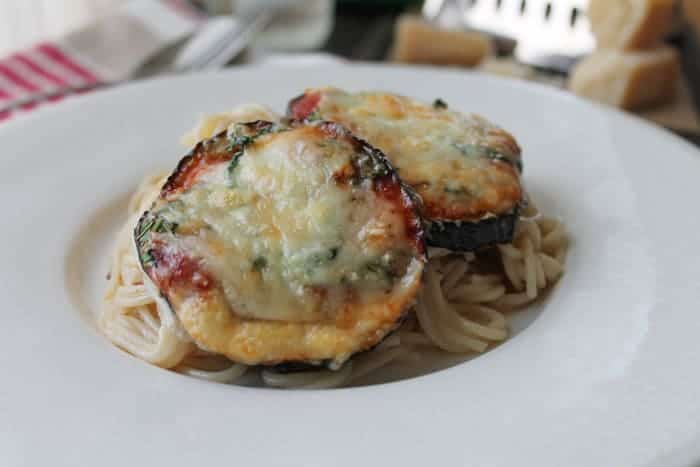 After a bit of research into roasting eggplants, I decided to slice it up and liberally sprinkle each slice with sea salt. This draws out the moisture and your roasted eggplant will have much better texture. Translation – it won't be a soggy mess. Boom.
Once the eggplant has been popped into the oven, I multitask my tail off. The water is set to boil and I prepare the 'dressing', I guess you'd call it, for the pasta. I had some brown rice spaghetti leftover from this great goat cheese & arugula number I made last week. The 'dressing' is simply olive oil, chili flakes, sea salt & pepper. Easy.
Slice up the fresh basil into ribbons. Basil smells so freaking good. Breathe it in! I also portion out my tomato sauce. I use an organic jarred variety to keep things quick and no fuss.
The I grated the cheese. I do this last because if I do it first, I snack away on the cheese while I do the rest of my prep. Must avoid eating the unfinished product! 😉
The roasted eggplant is then topped with said basil, sauce and cheese and transferred under the broiler to get all bubbly and crisp.
Toss the hot noodles with the spicy olive oil and top it with the eggplant slices. Then eat it up! There something so great about a fast, easily put together meal that looks and tastes like a restaurant type dish. Tell people you are having eggplant parm and watch their reaction. It will be a cross between admiration and slight jealousy.
They may be  inspired to try it themselves! Please send them my way. 🙂
As an Amazon Associate I earn from qualifying purchases.
Eggplant Parmesan with Spaghetti – Gluten Free
Keyword:
eggplant parmesan, gluten free eggplant parmesan
Instructions
Put the eggplant pieces on a double layer of paper towels and sprinkle both sides generously with salt. Leave the eggplant for about 30 minutes to draw out the liquid

Heat your oven to 375 and oil a baking sheet with ½ tbsp of the olive oil

After the 30 minutes, blot the eggplant dry with paper towels and lay the slices on your oiled baking sheet

Brush the tops of the eggplant with olive oil, and roast for 20 - 25 minutes, being careful not to overcook (it will become mushy)

While the eggplant roasts, start your pasta water and make your spaghetti. While the water boils, slice the fresh basil leaves, prep your tomato sauce and grate your cheeses and set these aside

Combine the pasta sauce ingredients in a large mixing bowl. Add in ¼ cup of the boiling pasta water and stir well. Drain the cooked pasta and toss with the sauce in the mixing bowl

When eggplant is cooked, remove it from the oven and turn the setting to broil

Spread a tablespoon or so of sauce on the top of each eggplant, sprinkle with basil slices and top with cheese. Put them under the broiler until the cheese is melted and slightly browned

Portion out 4 servings of pasta and top each with the eggplant
Nutrition Facts
Eggplant Parmesan with Spaghetti – Gluten Free
Amount Per Serving
Calories 304
Calories from Fat 180
% Daily Value*
Fat 20g31%
Cholesterol 22mg7%
Sodium 343mg15%
Potassium 420mg12%
Carbohydrates 21g7%
Protein 9g18%
Vitamin A 475IU10%
Vitamin C 4.7mg6%
Calcium 159mg16%
Iron 0.9mg5%
* Percent Daily Values are based on a 2000 calorie diet.